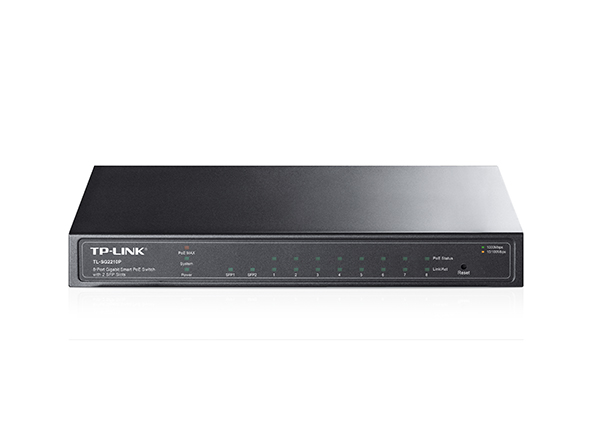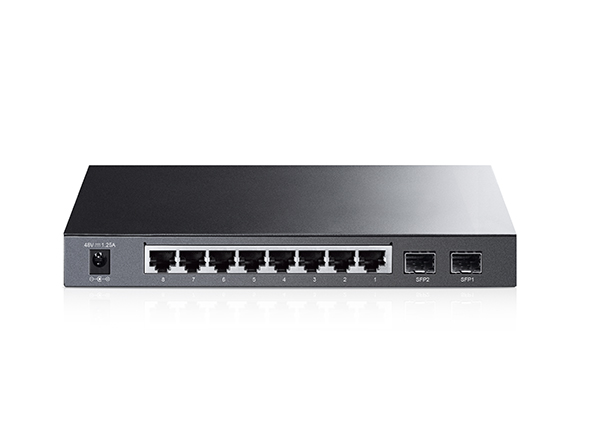 TL-SG2210P
JetStream 8 portos gigabites Smart PoE switch 2 db SFP csatlakozóval
8 db PoE csatlakozó, összesített 53W áramellátással és PoE tápellátási vezérléssel
Gigabites Ethernet kapcsolat minden csatlakozón teljes sebességű adatátvitelt biztosít
Beépített biztonsági lehetőségek, többek között 802.1Q VLAN, ACL, port biztonság és storm felügyelet segíti megóvni a LAN környezetet
L2/L3/L4 QoS és IGMP snooping optimalizálja a hang és a videó alkalmazásokat
WEB/CLI vezérlési mód, SNMP, RMON széles vezérlési funkciókat nyújt
Innovatív energiafelhasználási technológiával akár 50%-os áramfelhasználási megtakarítás is elérhető
Működése
A TP-Link gigabites Smart switch, a TL-SG2210P 8 db gigabites RJ-45 csatlakozóval és 2 SFP hellyel rendelkezik, minden RJ-45 csatlakozó támogatja a PoE szabványt 53W tápellátási teljesítménnyel és hasznos PoE tápellátási vezérlési funkcióval. A switch nagy teljesítményű, vállalati szintű QoS-t, hasznos biztonsági stratégiákat és bőséges Layer 2 funkciókat kínál.
A TP-Link gigabites Smart switch, a TL-SG2210P különösen a kis- és közép vállalkozásoknak tervezték, amik már hatékony hálózati vezérlést igényelnek. A TL-SG2210P széleskörű beállítási lehetőségekkel érkezik, mint Link Aggregation Group, 802.1Q VLAN, Access Control Lists (ACL), Quality of Service (QoS L2 to L4), Storm Control és IGMP Snooping,, ami a teljesítmény és a megbízhatóság felé irányul a növekedés érdekében. Ezenfelül a könnyen kezelhető webes kezelőfelület gyorsabb telepítési és konfigurálási, de kevesebb állásidőt jelent, ideális megoldást nyújtva a vállalkozás hálózatához.
IEEE 802.3af-kompatibilis Power over Ethernet
A TL-SG2210P 8 porton támogatja az IEEE 802.3af-kompatibilis PoE-t és összesen 53W áramellátását biztosít bármilyen 802.3af kompatibilis hálózati eszköz tápellátásához. Ez egy hatékony és költségkímélő választás, ha vezeték nélküli Access Pointokkal, térfigyelő kamerákkal, IP telefonokkal és egyéb PoE támogatott készülékekkel dolgozik, miközben megszabadul az elektromos kábelektől és további elosztóktól. A kompakt és flexibilis TL-SG2210P ideális, hogy rugalmasan használhassa a PoE-t vezeték nélküli Access Point vagy IP-alapú hálózati megfigyelő kamera elhelyezéséhez területenként vagy kisvállalati hálózatokhoz.
Fejlett QoS
Hang, adat és videó szolgáltatás integrálása a hálózatba a switch gazdag QoS szabályozása révén lehetséges. A rendszergazda kijelölheti forgalom alapján a prioritást a különböző eszközöknek, beleértve a Port prioritást, 802.1P prioritást és a DSCP prioritást, így a hang és videó mindig tiszta, sima és torzulásmentes lesz. Együtt a Voice VLAN-nal, amit a switch támogat, a hang alkalmazások sokkal simábban működnek.
Sokrétű Layer 2 funkciók
A Layer 2 switchek, mint a TL-SG2210P széleskörű lehetőséget nyújt a teljes Layer 2 funkciókhoz, beleértve a 802.1Q VLAN tag, port tükrözés, STP / RSTP / MSTP, Link Aggregation Control Protocol és a 802.3x Flow Control funkciókat. Ezen túlmenően a switch fejlett funkciókat biztosít a hálózat karbantartásához is, mint pl. hurok elleni védelem, kábeldiagnosztika és IGMP Snooping. Az IGMP Snooping biztosítja, hogy a switch intelligensen továbbítsa a multicast adatfolyamot csak az arra jogosult eszközöknek, miközben az IGMP elutasít minden olyan port szintű csatlakozást, ami illetéktelen hozzáférés lenne.
Vállalati szintű vezérlés
A TL-SG2210P-t könnyű használni és vezérelni. Támogatja a különböző felhasználóbarát megszokott vezérlési funkciókat, mint például a web alapú grafikus felhasználói felületet (GUI) vagy a szabványos parancssori felületet (CLI). Az SNMP (v1/2/3) és az RMON támogatás lehetővé teszi a switch-nek, hogy értékes státusz információkat kérdezzen le, és riasztást küldjön az abnormális eseményekről.
Switches for Surveillance

For general surveillance, TP-Link has designed a variety of PoE Switches to meet the requirements of most IPCs. Many robust features provide value well beyond basic networking needs, creating a versatile and reliable surveillance network to grow your business.

Long-Range PoE
Auto Camera Recovery
Enhanced Network Security

Hospitality

TP-Link Omada allows hotels to build reliable WiFi networks. Hotel WiFi network solutions including network topology, design, features, installation, and products are introduced.

Full WiFi coverage and wired connections
Flexible guest control
Seamless roaming
Easy Management

Education

Due to its reliable, scalable, and secure network solution, TP-Link has been widely acknowledged by global customers in the Education market ranging from infant schools with a few APs up to colleges and universities with hundreds of APs.

Easy management
High-density WiFi
Full WiFi coverage and wired connections
VPN and security
Hardver jellemzők
Szabványok és protokollok
IEEE 802.3i, IEEE 802.3u, IEEE 802.3z, IEEE 802.3ab,IEEE 802.3ad, IEEE 802.3af, IEEE 802.3at, IEEE 802.3x, IEEE 802.1d, IEEE 802.1s,IEEE 802.1w, IEEE 802.1q, IEEE 802.1p, IEEE 802.1x
Csatlakozások
8 db 10/100/1000 Mb/s RJ-45 csatlakozó
2 db 1000Mbps SFP bővítő
(Auto Negotiation/Auto MDI/MDIX)
Hálózati összeköttetés
10BASE-T: UTP 3, 4, 5 kategóriájú kábel (Max. 100 m)
100BASE-TX/1000BASE-T: UTP 5, 5e vagy magasabb kategóriájú kábel
(Max. 100 m)
1000BASE-X: MMF, SMF
Ventilátorok száma
Ventilátor nélküli
Hálózati tápegység
100~240VAC, 50/60Hz
Külső táőegység (kimenet: 48VDC/1.25A)
Energiafelvétel
Maximum (PoE-val): 63,4W (220V/50Hz)
Maximum (PoE nélkül): 10,4W (220V/50Hz)
PoE portok (RJ45)
Szabványos: 802.3af kompatibilis
PoE csatlakozók: 8 db
Tápellátás: 53W
Méretek (Sz x Mé x Ma)
209 x 126 x 26mm (8.2 x 4.9 x 1.0 in.)
Működési jellemzők
Sávszélesség/Backplane
20 Gb/s
Csomagtovábbítási sebesség
14,9 Mpps
Fizikai (MAC) cím tábla
8K
Csomag puffer memória
4.1 Mbit
Jumbo Frame
9 KB
Szoftver jellemzők
QoS (szolgáltatás minősége)
Támogatott a 802.1p CoS/DSCP prioritás
Támogatott a 4 prioritás sor
Sorbaállítás: SP, WRR, SP+WRR
Port- és adatmennyiségű alapú szabályozás
Hang (voice) VLAN
L2 és L2+ jellemzők
• 16 IP Interfaces- Support IPv4/IPv6 Interface• Static Routing- 32 IPv4/IPv6 Static Routes• DHCP Server• DHCP Relay- DHCP Interface Relay- DHCP VLAN Relay• DHCP L2 Relay• Static ARP• Proxy ARP• Gratuitous ARP• Link Aggregation- Static link aggregation- 802.3ad LACP- Up to 8 aggregation groups and up to 8 portsper group• Spanning Tree Protocol- 802.1D STP- 802.1w RSTP- 802.1s MSTP- STP Security: TC Protect, BPDU Filter/Protect,Root Protect• Loopback Detection• Flow Control- 802.3x Flow Control• Mirroring- Port Mirroring- CPU Mirroring- One-to-One- Many-to-One- Flow-Based- Ingress/Egress/Both• Device Link Detect Protocol (DLDP)• 802.1ab LLDP/ LLDP-MED
VLAN
Támogatott 512 VLAN egyidejűleg
Hozzáférés-jogosultsági lista (ACL)
L2~L4 csomagszűrés forrás és cél Mac/IP-cím,
TCP/UDP port 802.1p,
DSCP, protokoll és VLAN ID szűrés alapján,
Időkeret alapú
Biztonság
SSH v1/v2
SSL v2/v3/TLSv1
Port biztonság
Broadcast/Multicast/Unknown-unicast Broadcast Storm felügyelet
802.1x és Radius hitelesítés、IP-Mac-Port-VID összekapcsolás、ARP figyelkés、DHCP Snooping、DoS elleni védelem
L2 switching jellemzők
IGMP Snooping V1/V2/V3
802.3ad LACP (Max. 6 egyesített csoport,
4 port csoportonként)
Spanning Tree STP/RSTP/MSTP
BPDU Filtering/Guard
TC/Root Protect
Loop back detection
802.3x Flow Control
LLDP(LLDP-MED)
Vezérlés
Web-alapú GUI és CLI vezérlés
SNMP v1/v2c/v3, kompatibilis a publikus MIB-vel és a
TP-LINK private MIB-vel
RMON (1, 2, 3, 9 csoport)
CPU Monitoring
Port Mirroring
Időbeállítás: SNTP
Firmware frissítés: TFTP & Web
Rendszeriagnózis: VCT
SYSLOG & Public MIBS
Vezérlés
Omada App
Yes
Centralized Management
• Omada Hardware Controller (OC300)• Omada Hardware Controller (OC200)• Omada Software Controller
Cloud Access
Yes (Through OC300, OC200, or Omada Software Controller)
Management Features
• Web-based GUI• Command Line Interface (CLI) through telnet• SNMPv1/v2c/v3• SNMP Trap/Inform• RMON (1,2,3,9 groups)• SDM Template• DHCP/BOOTP Client• Dual Image, Dual Configuration• CPU Monitoring• Cable Diagnostics• EEE• SNTP• System Log
Egyéb jellemzők
Tanúsítványok
CE, FCC, RoHS
Csomagolás tartalma
TL-SG2210P
Tápegység
Gyorstelepítési útmutató
Telepítő CD
Gumitalp
Rendszerkövetelmény
Microsoft® Windows® 98SE, NT, 2000, XP, Vista™ vagy Windows 7/8, MAC® OS, NetWare®, UNIX® vagy Linux
Környezet
Működési hőmérséklet: 0℃~40℃ (32℉~104℉)
Tárolási hőmérséklet: -40℃~70℃ (-40℉~158℉)
Működési Páratartalom: 10%~90% változatlan halmazállapot
Tárolási Páratartalom: 5%~90% változatlan halmazállapot
From United States?
Get products, events and services for your region.