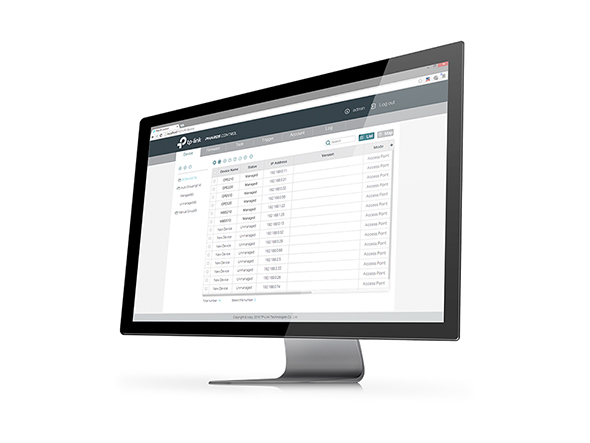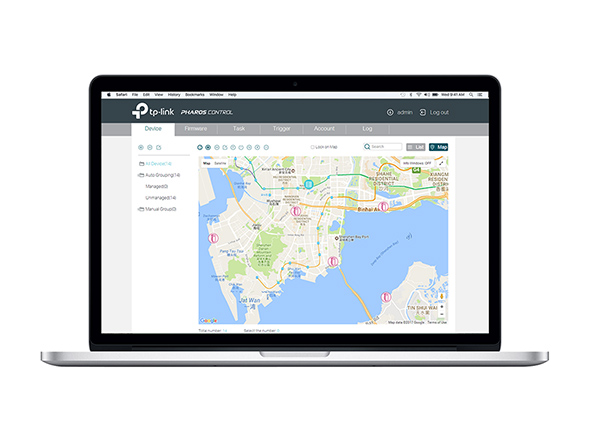 Pharos Control
Pharos központi vezérlő platform
Szabad központi vezérlési lehetőség a határtalan skálázhatóságért
Google Térkép-integrációja a pontosság érdekében
Böngésző / szerver architektúra az ultra kényelem érdekében (A kiszolgáló támogatja a Windows és a Linux rendszert)
Könnyen megfigyelhető hálózat bárhonnan
Bejelentett karbantartás azonnali riasztásokkal
Továbbfejlesztett funkciók,
intuitív megjelenés
Vezeték nélküli
hálózati vezérléshez
Pharos Control 2.0
Integrált
Google Map
Könnyű rálátás
a hálózatra bárhonnan
Riasztás küldése
e-mailben
A TP-Link ingyenes Pharos Control szoftvere lehetővé teszi a , hogy könnyedén kezelhessen korlátlan számú Pharos terméket a teljes, akadálytalan hálózati skálázhatóság érdekében. A tömeges kezelés egyszerre több eszköz konfigurálását és kezelését teszi lehetővé, így a rendszergazdák hatékony, költséghatékony és központosított kezelési platformot biztosíthatnak egy optimalizált hálózat számára.
Google Térkép Integráció a pontosságért
A Google Térkép integrálásával a valós idejű hálózati topológia és az eszközkezelés érthetőbb, korszerűbb és pontosabb, mint valaha. Minden hálózati eszköz tényleges helye, állapota és lefedettsége megjelenik a folyamatosan frissített Google Térképen, amely további hasznos információkat nyújt az eszközkezeléshez és a bővítéshez.
Kényelmes, böngésző alapú felépítés
A kényelem érdekében a Pharos Control 2.0 böngésző / szerver architektúrát használ (a szerver támogatja a Widnows és a Linux rendszert). Ahelyett, hogy a kliensszoftvert a hagyományos ügyfél / kiszolgáló modellbe telepítette volna, a rendszergazdák az egész hálózatot bármely PC böngészőjével kezelhetik. A kivételesen felhasználóbarát webes felület leegyszerűsíti az adminisztratív ellenőrzést, ami lényegesen nagyobb hálózati és menedzsment hatékonyságot eredményez.
Hagyományos C/S felépítés
Kényelmes hozzáférés böngészővel
Figyelje a hálózatot bárhonnan
A Pharos termékek felügyelete és kezelése több telephelyről a hálózatra csatlakoztatott bármelyik számítógépről lehetővé teszi a rendszergazdák számára, hogy teljes vezeték nélküli és távoli hálózati vezérlést végezzenek.
Azonnali risztás
Amikor a csatlakoztatott eszközök szakadozást
érzékelnek vagy megszakad a kapcsolat a központi
állomással, riasztást küldenek e-mailben a
rendszergazdának a helyzet kezeléséhez, mielőtt a
hálózatra és az ügyfelekre hatással lenne.
Eszközfelderítés és
állapot-megfigyelés
Ütemezett- és
karbantartási feladatok
Firmware frissítés és
konfigurálás
Wireless Networking for Elevators

TP-Link Omada offers a wireless solution for elevators: a wireless point-to-point link delivering a throughput of up to 867 Mbps. Wireless coverage extends to the entire shaft to connect surveillance cameras or digital signage directly to your network. Record real-time video to an NVR with virtually no hard wiring required—so there are no cables to wear out.

Easy Installation and Auto-Paring
Stable Connections at High-Speeds
Ideal for Elevator Camera
No Complex Cabling
Multi-Customer and Multi-Site Management
From United States?
Get products, events and services for your region.