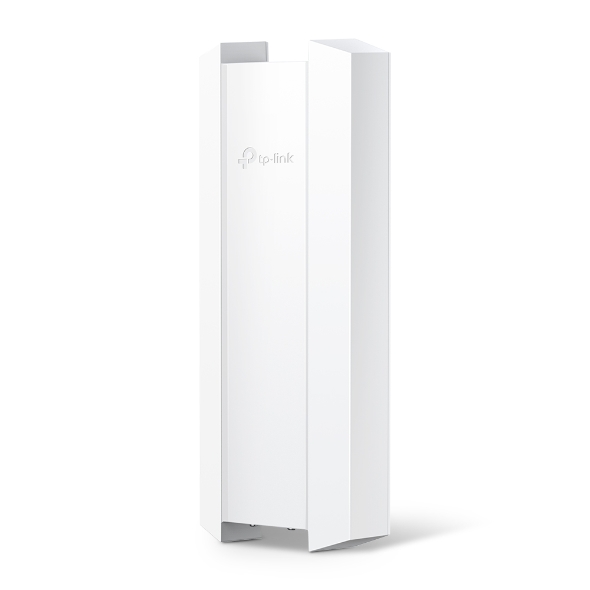 AX1800 Indoor/Outdoor WiFi 6 Access Point
WiFi

6 Sebesség

- D

ual-band, akár

1.8

Gbps

WiFi

6 sebesslg

Nagyobb hálózati hatékonyság – az OFDMA és a DL/UL MU-MIMO* több eszközre szállít adatokat egyszerre kevesebb késéssel

Nagy hatótávolságú lefedettség – Dedikált, nagy teljesítményű erősítő és professzionális antennák IP67 időjárásálló burkolattal

Optimalizált hálózati kapcsolat – Megszakítás nélküli WiFi-kapcsolatot biztosít a zökkenőmentes barangolás és az Omada Mesh technológia révén*

Központi Cloud Management

-

Integrálható az Omada SDN-be a felhőalapú eléréshez és a távoli kezeléshez
Teljesítményvezérelt WiFi 6 igényes kültéri környezetekhez
EAP610-Kültéri
Udvar

Úszómedence

Szabadtéri kávézó

Amfiteátrum

Park
Kétsávos WiFi 6 csatlakozás
A legújabb WiFi 6 technológiával működő AP akár 1,8 Gb/s sebességet biztosít, nagyobb adatátviteli sebességet biztosítva mind az 5 GHz-es, mind a 2,4 GHz-es sávon az igényes többfelhasználós forgatókönyvek esetén, például szabadtéri úszómedencékben, kávézókban és vidámparkokban. †
Omada WiFi 6 AP (2 × 2)
Omada WiFi 5 AP (2 × 2)
Hosszú távú lefedettség
A nagy teljesítményű erősítőkkel felszerelt professzionális antennák WiFi 6 technológiát használnak, hogy erős és kiterjedt vezeték nélküli lefedettséget biztosítsanak különféle kültéri környezetekben.
Nyalábformálás

Band Steering

Airtime fairness
Számos eszköz csatlakoztatása
Az OFDMA és a MU-MIMO nagymértékben javítja a többfelhasználós hatékonyságot, hogy több tucat ügyfél számára biztosítson egyidejű kapcsolatot nagy nyílt területeken.
Vezeték nélküli kamera

Laptop

Tablet

Telefon

Vezeték nélküli hangszóró
Zökkenőmentes integráció az Omada SDN Platformba
Az Omada Software Defined Networking (SDN) platform hálózati eszközöket, köztük hozzáférési pontokat, kapcsolókat és útválasztókat integrál, hogy 100%-ban központosított felhőkezelést biztosítson, és rendkívül méretezhető hálózatot hozzon létre – mindezt egyetlen interfészről vezérelve.
Problémamentes felhő- vagy helyszíni vezérlők

Központosított felhőkezelés

Zero-Touch Provisioning (ZTP)*
Internet
Mesh
Mesh
Felhő hozzáférés
Wi-Fi 6 AP nagy sűrűségű környezetekhez
Mennyezeti AP
Fali AP
Wi-Fi 6 Outdoor AP EAP610-Kültéri
JetStream PoE switch
Omada VPN Router
Böngésző
Omada App
Omada hardvervezérlő
Vagy
Omada szoftvervezérlő
Könnyű telepítés és nagyobb teljesítmény az Omada Mesh-től**
Könnyű párosítás, kevesebb vezetékezés
A Mesh technológiával az Omada EAP-k megkímélik Önt a plusz vezetékektől azáltal, hogy vezeték nélkül tovább és rugalmasabban kiterjesztik a WiFi jelet a nehezen beköthető területekre.
Hagyományos vezetékes hálózat

Mesh vezeték nélküli hálózat
Optimalizált hálózati teljesítmény
Az intelligens önszerveződés optimalizálja a legjobb utat az EAP-k között, míg az öngyógyítás biztosítja, hogy online maradjon akkor is, ha az egyik AP megszakad.
Intelligens önszerveződés
Maradjon mindig zökkenőmentes a Fast Roaming segítségével
Gondoskodik arról, hogy az ügyfelek megszakítás nélkül élvezhessék a streamelést mozgás közben azáltal, hogy az ügyfelek automatikusan az optimális jelet biztosító hozzáférési pontokra váltanak.**
IP67 időjárásálló ház kültéri környezethez
Az EAP610-Outdoor teljesen ellenáll a por behatolásának, az ütéseknek, a vibrációnak és a nedvességnek, így ellenáll a legszélsőségesebb környezetnek is.

6: Teljesen porálló. Nincs por behatolása.
7: Védelem fél órán keresztül 1 méter mélységű vízbe való teljes bemerítés ellen
6KV villámvédelem és 15KV ESD védelem

Nincs por behatolása

Vízálló ház
Sokoldalú szerelési megoldások
Szerelőkészleteink rugalmas szerelést tesznek lehetővé, akár belülről, akár kívülről.
· Rúdszerelés

· Falra szerelés
Több PoE opció az egyszerű telepítéshez
Az AP támogatja a 802.3at PoE+ és a passzív PoE tápegységet. A kényelmes üzembe helyezés érdekében PoE kapcsolóval vagy a mellékelt PoE adapterrel is táplálható.
Reset gomb
Gigabit Ethernet port PoE+
/ Passzív PoE támogatással
Egyszerű kezelés az Omada alkalmazással
Kövesse az ingyenes Omada alkalmazás konfigurációs utasításait, hogy percek alatt elvégezze a beállítást. Az Omada lehetővé teszi a beállítások konfigurálását, a hálózati állapot figyelését és az ügyfelek kezelését, mindezt egy okostelefonról vagy táblagépről.
Kattintson ide az Omada App-kompatibilis eszközök megtekintéséhez >
Hardver jellemzők
Csatlakozások
1× Gigabit Ethernet (RJ-45) Port (Support 802.3at PoE and Passive PoE)
Gomb
Reset
Hálózati tápegység
• 802.3at PoE• 48V/0.5A Passive PoE (PoE Adapter Included)
Energiafelvétel
• EU: 12.5W (802.3at PoE or Passive PoE)• US: 14.7W (802.3at PoE or Passive PoE)
Méretek (Sz x Mé x Ma)
• 280.4×106.5×56.8 mm (without antenna & mounting kit)
Antenna
• 2.4 GHz: 2× 4 dBi• 5 GHz: 2× 5 dBi
Weatherproof Enclosure
IP67
Felszerelés
Pole/Wall Mounting (Kits included)
Vezeték nélküli jellemzők
Wi-Fi sztenderd
IEEE 802.11ax/ac/n/g/b/a
Frekvencia
2.4 GHz, 5 GHz
Adatátvitel
• 802.11ax: 8 Mbps to 1201 Mbps (MCS0-MCS11, NSS = 1 to 2 HE20/40/80)• 802.11ac: 6.5 Mbps to 867 Mbps (MCS0-MCS9, NSS = 1 to 2 VHT20/40/80)• 802.11n: 6.5 Mbps to 300 Mbps (MCS0-MCS15, VHT 20/40)• 802.11g: 6, 9, 12, 18, 24, 36, 48, 54 Mbps• 802.11b: 1, 2, 5.5, 11 Mbps• 802.11a: 6, 9, 12, 18, 24, 36, 48, 54 Mbps
Sugárzási teljesítmény
• CE: <20 dBm (2.4 GHz, EIRP), <30 dBm(5 GHz, EIRP)• FCC: <25 dBm (2.4 GHz), <25 dBm(5 GHz)
Vezeték nélküli funkciók
• 1024-QAM• 4× Longer OFDM Symbol• OFDMA• Multiple SSIDs (Up to 16 SSIDs, 8 for each band)• Enable/Disable Wireless Radio• Automatic Channel Assignment• Transmit Power Control (Adjust Transmit Power on dBm)• QoS (WMM)• MU-MIMO• Omada Mesh**• Seamless Roaming**• Band Steering• Load Balance• Airtime Fairness• Beamforming• Rate Limit• Reboot Schedule• Wireless Schedule• Wireless Statistics based on SSID/AP/Client
Vezeték nélküli biztonság
• Captive Portal Authentication**• Access Control• Wireless Mac Address Filtering• Wireless Isolation Between Clients• SSID to VLAN Mapping• Rogue AP Detection• 802.1X Support• WEP, WPA-Personal/Enterprise, WPA2-Personal/Enterprise, WPA3-Personal/Enterprise
Vezérlés
Omada App
Yes
Centralized Management
• Omada Cloud-Based Controller• Omada Hardware Controller (OC300)• Omada Hardware Controller (OC200)• Omada Software Controller
Cloud Access
Yes (Through OC300, OC200, Omada Cloud-Based Controller, or Omada Software Controller)
Riasztás e-mailben
Yes
Mac-cím alapú vezérlés
Yes
SNMP
v1, v2c
Syslog helyi/távoli
Yes
SSH
Yes
Webes felelületű vezérlés
Yes
L3 Management
Yes
Multi-site vezérlés
Yes
Management VLAN
Yes
Egyéb jellemzők
Tanúsítványok
CE, FCC, RoHS
Csomagolás tartalma
• Access Point EAP610-Outdoor• Passive PoE Adapter• Power Cord• Mounting Kits• Waterproof Kits• Waterproof Antenna• Installation Guide
Környezet
• Operating Temperature: -30–70 ℃ (-22–158 ℉)• Storage Temperature: -40–70 ℃ (-40–158 ℉)• Operating Humidity: 10–90% RH non-condensing• Storage Humidity: 5–90% RH non-condensing
†A vezeték nélküli jel maximális sebessége az IEEE 802.11 szabvány előírásaiból származó fizikai sebesség. A tényleges vezeték nélküli adatátviteli sebesség és a vezeték nélküli lefedettség nem garantált, és a hálózati feltételek, az ügyfelek korlátai és a környezeti tényezők, például az építőanyagok, az akadályok, a forgalom nagysága és sűrűsége, valamint a kliens elhelyezkedése miatt változhat.
*A Zero-Touch kiépítéshez az Omada felhőalapú vezérlő használata szükséges. Kérjük, látogasson el a www.tp-link.com/omada-cloud-based-controller/product-list webhelyre, hogy megbizonyosodjon arról, hogy mely modellek kompatibilisek az Omada Cloud-Based Controllerrel.
**Az Omada Mesh, a Seamless Roaming és a Captive Portal használatához Omada SDN-vezérlők használata szükséges. Kérjük, olvassa el az Omada SDN vezérlők felhasználói kézikönyvét a konfigurációs módszerekről.
From United States?
Get products, events and services for your region.