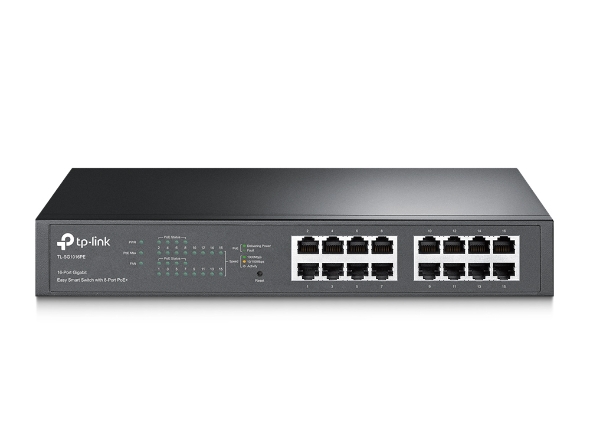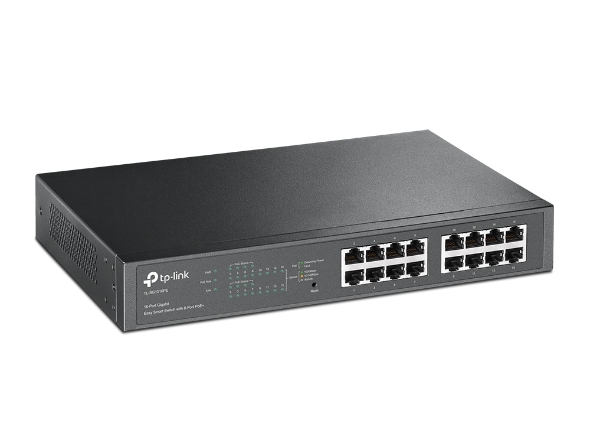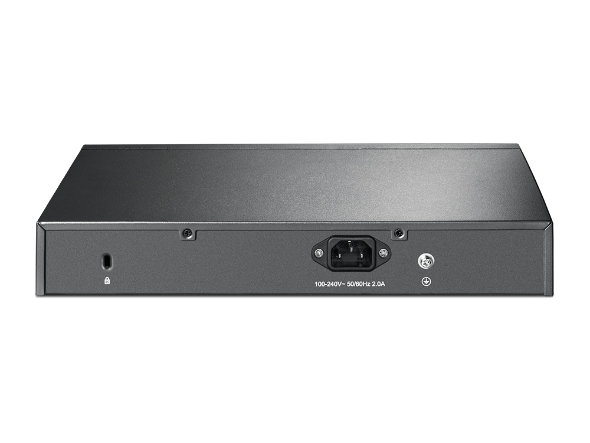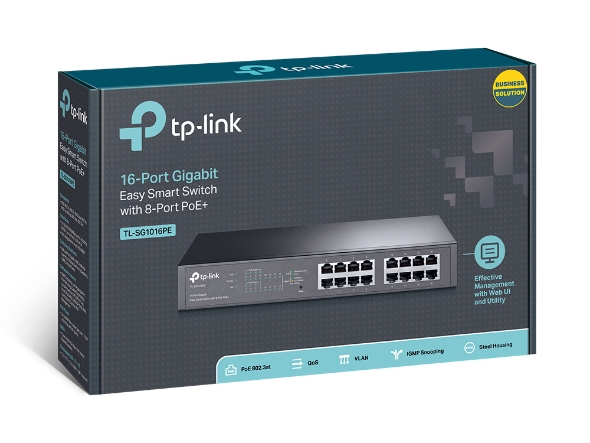 TL-SG1016PE
16 portos gigabites Easy Smart PoE switch 8 PoE+ csatlakozással
16 db 10/100/1000 Mb/s RJ45-ös port
8 PoE+ támogatott csatlakozóval felszerelt, hogy a tápellátás és az adattovábbítás egy kábelen történjen
Együttműködik az IEEE 802.3af/at-kompatibilis PoE+ eszközökkel, kibővítve az otthoni vagy irodai hálózatot
Plug & Play kialakítással egyszerű hálózatbeállítás
Webes felhasználói felület és vezérlő program az egyszerűbb kezeléshez
Működése
A TL-SG1016PE egy 16 portos gigabites asztali/Rackbe szerelhető switch, 8 csatlakozó támogatja a PoE+ szabványt. Lehetőséget nyújt, hogy megnövelje vezetékes hálózatát egyetlen Ethernet kábellel, amin az adat és a táp is továbbításra kerül. A 110W összteljesítménnyel, 30 W teljesítményű csatlakozóval a TL-SG1016PE képes tápot biztosítani olyan eszközöknek mint vezeték nélküli Access Point, IP-kamera vagy IP-telefon. Sőt, az innovatív energiahatékony technológiával a TL-SG1016PE 75% -os energiamegtakarítást is elérhet, ami egy környezetbarát megoldás a vállalati hálózathoz.
Hogyan működik?
A TL-SG1016PE 8 csatlakozója támogatja a Power over Ethernet Plus (PoE+) szabványt, aminek révén automatikusan felderíthető és árammal látható el bármilyen IEEE 802.3af/at kompatibilis készülék. Ilyen esetekben az áram és az adat együtt kerül továbbításra egyetlen kábelen, lehetővé téve, hogy megnövelje hálózatát, és beüzemeljen olyan eszközöket is mint AP-k, IP-kamerák vagy IP-telefonok.
Túlterhelési priorizálás
A TL-SG1016PE egyik magasabb prioritású feladata, hogy védje a rendszert, ha a tápellátás túlterheltté válna. Ha az összes PoE+ eszköz fogyasztása nagyobb vagy egyenlő, mint 110W, a 8 PoE+ csatlakozóknál a fontosabb portok kiemelt helyre kerülnek, az alacsonyabb prioritásúaknál pedig megszűnik a tápellátás.
Port priorítási funkció
*Prioritás (1. port > 2. port > 3. port > 4. port > 5. port > 6. port > 7. port > 8. port): Ez a funkció megvédi a rendszert, ha a tápellátás túlterhelt lesz. Például, ha 1., 2., 3. csatlakozó 30W-ot, az 5. csatlakozó 15W-ot használ (maximális teljesítmény portonként 30W), a rendszer teljesítménye 110W összesen (a PoE max LED zöldre vált, ha valamennyi PoE eszköz tápigénye nagyobb vagy egyenlő 110W-nál). Ha egy további eszközt a 4. porthoz illesztenek 20W teljesítménnyel, akkor a rendszer az 5. port tápellátását megszünteti, mivel a teljesítmény elérte a 110W-os határt. Így az 1., 2. és 3. port 30W-t fog használni, és a 4. port 20W-t fog használni, az 5. port tápellátása pedig megszűnik, mivel a besorolás alapján alacsonyabb prioritása van.
Könnyű használni
TL-SG1016PE-t egyszerű beüzemelni és használni. Nem kell konfigurálni vagy beszerelni. Az asztali/rackbe szerelhető kivitelezésével, kiemelkedő teljesítményével és minőségével a TP-Link TL-SG1016PE 16 portos gigabites switch 8 PoE porttal nagyszerű választás otthoni vagy irodai hálózatának bővítéséhez.
Switches for Surveillance

For general surveillance, TP-Link has designed a variety of PoE Switches to meet the requirements of most IPCs. Many robust features provide value well beyond basic networking needs, creating a versatile and reliable surveillance network to grow your business.

Long-Range PoE
Auto Camera Recovery
Enhanced Network Security

Hospitality

TP-Link Omada allows hotels to build reliable WiFi networks. Hotel WiFi network solutions including network topology, design, features, installation, and products are introduced.

Full WiFi coverage and wired connections
Flexible guest control
Seamless roaming
Easy Management

Education

Due to its reliable, scalable, and secure network solution, TP-Link has been widely acknowledged by global customers in the Education market ranging from infant schools with a few APs up to colleges and universities with hundreds of APs.

Easy management
High-density WiFi
Full WiFi coverage and wired connections
VPN and security
Hardver jellemzők
Szabványok és protokollok
IEEE 802.3i, IEEE 802.3u, IEEE 802.3ab, IEEE 802.3x, IEEE 802.1q, IEEE 802.1p
Csatlakozások
16 db 10/100/1000 Mb/s RJ-45 csatlakozó
Auto-Negotiation, Auto-MDI/MDIX
Hálózati összeköttetés
10BASE-T: 3, 4, 5 kategóriás UTP-kábel (maximum 100 m)
EIA/TIA-568 100Ω STP (maximum 100 m)
100BASE-TX: 5, 5e kategóriás UTP-kábel (maximum 100 m)
EIA/TIA-568 100Ω STP (maximum 100 m)
1000BASE-T: 5, 5e, 6 vagy magasabb kategóriás UTP-kábel (maximum 100 m)
EIA/TIA-568 100Ω STP (maximum 100 m)
Ventilátorok száma
1
Fizikai biztonsági zár
Yes
PoE portok (RJ45)
Szabványos: 802.3at/af kompatibilis
PoE+ csatlakozók: 1-8. csatlakozó
Tápellátás: 110W
Méretek (Sz x Mé x Ma)
294 x 180 x 44 mm (11.6 x 7.1 x 1.7 in.)
Felszerelés
Rack Mountable
Max. áramfelvétel
14.72W (110V/60Hz with no PD connected)131.42W (110V/60Hz with 110W PD connected)
Max Heat Dissipation
50.22 BTU/h (with no PD connected)448.41 BTU/h (with 110W PD connected)
Működési jellemzők
Switching teljesítmény
32Gbps
Csomagtovábbítási sebesség
23.8Mbps
Fizikai (MAC) cím tábla
8K
Csomag puffer memória
4.1Mbit
Jumbo Frame
9KB
Szoftver jellemzők
QoS (szolgáltatás minősége)
Támogatott a port alapú/802.1p/DSCP prioritás
Priorizálási funkció
Sebességkorlátozás
Storm-felügyelet
L2 jellemzők
IGMP Snooping V1/V2/V3
Link agregáció
Port Mirroring
Kábeldiagnosztika
Hurokvédelem
VLAN
Támogatott 32 VLAN egyidejűleg
MTU/Port/Tag VLAN
Vezérlés
Webes kezelőfelület
Easy Smart konfigurálási segédprogram
Továbbítás módja
Store-And-Forward
Egyéb jellemzők
Tanúsítványok
FCC, CE, RoHS
Csomagolás tartalma
TL-SG1008PE
Tápkábel
Beüzemelési útmutató
Segéd-CD
Beszerelési készlet,
Gumitalp
Rendszerkövetelmény
Microsoft® Windows® a segédprogram futattásához
Környezet
Működési hőmérséklet: 0℃~40℃ (32℉~104℉)
Tárolási hőmérséklet: -40℃~70℃ (-40℉~158℉)
Működési Páratartalom: 10%~90% változatlan halmazállapot
Tárolási Páratartalom: 5%~90% változatlan halmazállapot
From United States?
Get products, events and services for your region.