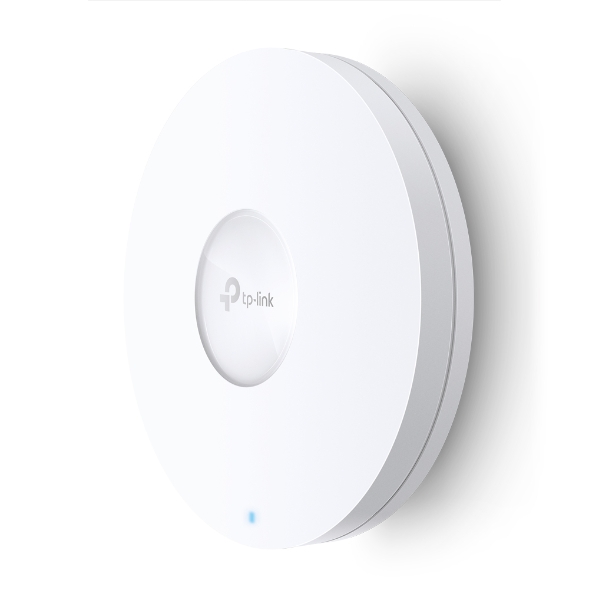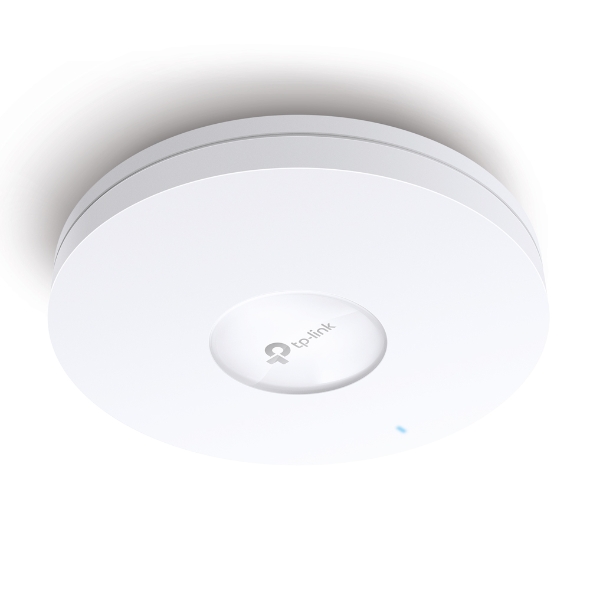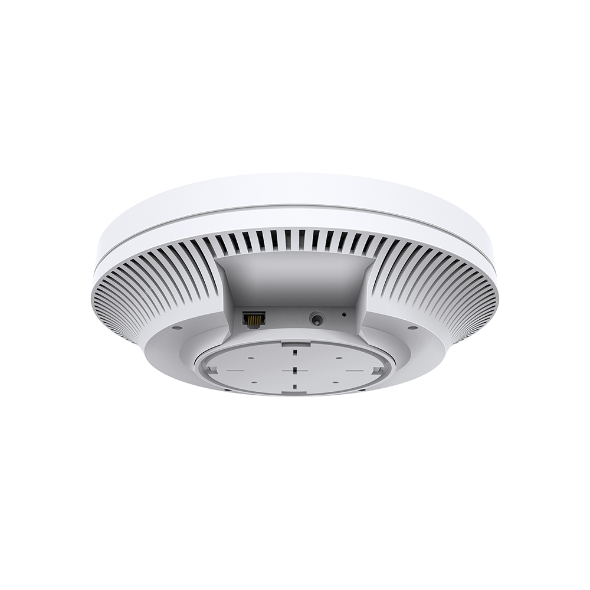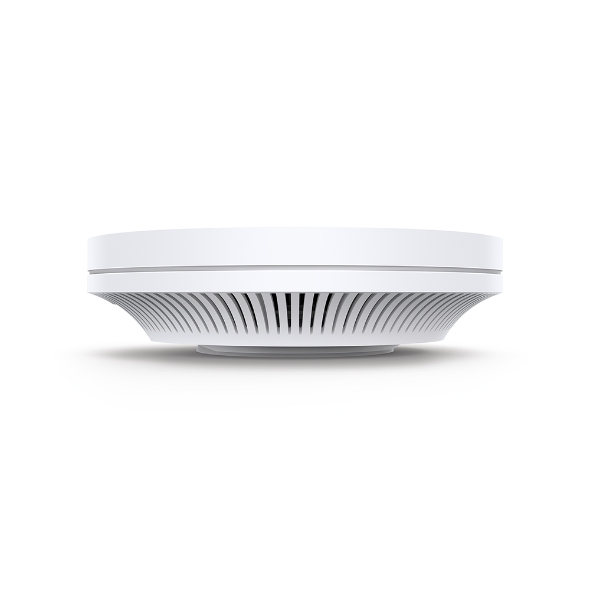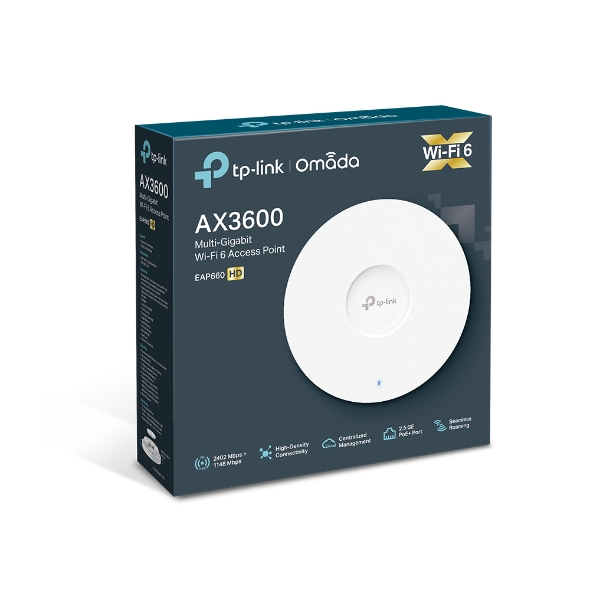 EAP660 HD
AX3600 Vezeték nélküli Dual Band Multi-Gigabit mennyezeti AP
AX Technológia: 802.11ax(Wi-Fi 6) megnövelt sebesség, hatékonyság

1024QAM és Long OFDM Symbol támogatás: Egyszerre 574Mbps a 2.4GHz és 1201Mbps az 5GHz sávon, összesen 1775Mbps Wi-Fi sebesség

High-Density : 4× megnövelt kapacitás hogy több kliens csatlakozhasson egyidőben
Seamless Roaming támogatás - nincs megszakadás a hálózatban barangolás közben
Power over Ethernet(802.3at) támogatás - egyszerű telepítés
Omada SDN integráció—Omada Cloud Megoldás az üzleti hálózatokhoz, Zero-Touch Provisioning(ZTP), Központi Cloud Management
Guest network és portál rendszer támogatás (SMS/Facebook Wi-Fi/ Voucher, stb. authentikációval)
Band Steering technológia támogatása, hogy a kliensek mindig az 5ghz-es, gyorsabb hálózathoz csatlakozzanak - ha támogatják az 5ghz-es sávot.
Load balance - kliensek automatikus elosztása az accesspointok között
Management VLAN támogatás, hogy a rendszergazdák külön és biztonságosan tudják managelni a hálózati eszközöket.
Hihetetlen teljesítményű
AX3600 Wi-Fi
Nagy sűrűségű környezetekhez
EAP660 HD
High-Density csatlakoztathatóság 4-szeresen megnövelt kapacitással
OAz OFDMA és az Uplink & Downlink MU-MIMO akár 4-szeresére növeli a hálózati kapacitást a Wi-Fi 5-höz (802.11ac) képest nagy sűrűségű környezetben, így több eszközt is csatlakoztathat egyszerre. Használja ki a többfelhasználós képességeket, és feljessze vállalkozását, mint még soha.
Vendéglátás

Kiváló minőségű és teljes lefedettségű Wi-Fi

Étterem

Teljes Wi-Fi lefedettség
zsúfolt
környezetben

Bevásárlóközpont

Social Marketing
az O2O számára

Konferenciaterem

Vezeték nélküli és vezetékes
csatlakozások
gyakori használathoz

Vasútállomás

Nagy teljesítményű Wi-Fi
Fejlett Wi-Fi sebesség 4 adatfolyammal
Az Omada Wi-Fi 6 Access Point a legújabb 802.11ax technológiákat tartalmazza, mint például az 1024 QAM és a Long OFDM Symbol, amely lehetővé teszi az EAP eszköz számára, hogy akár 3550 Mbps-ig (2402 Mbps 5 GHz-es sávon és 1148 Mbps 2,4 GHz-es sávon) növelje a sebességet. A 8 adatfolyamnak köszönhetően a többfelhasználós átviteli sebesség hihetetlenül megnövekedett, hogy több alkalmazást hajtson végre egyszerre.
1024 QAM
25%-kal több adat
egyszerre kódolva
Long OFDM Symbol
11%-al gyorsabb sebesség
5GHz
4 Stream 802.11ac
1733Mbps
4 Stream 802.11ax
2402Mbps
2.4GHz
4 Stream 802.11ac
600Mbps
4 Stream 802.11ac
1148Mbps
Omada SDN – Intelligens felhőalapú megoldás üzleti hálózatokhoz
Az Omada Software Defined Networking (SDN) platform integrálja a hálózati eszközöket, beleértve az AP-kat, switch-eket és a Gateway eszközöket, garantálva egy erőteljes üzleti hálózatot nagyobb hatékonysággal, biztonsággal és megbízhatósággal.
Wi-Fi 6 AP nagy sűrűségű környezetekhez
EAP660 HD
Fali AP
Mennyezeti AP
JetStream PoE Switch
SafeStream Security Gateway
Cloud Hozzáférés
Omada
Cloud-Based Kontroller
Problémamentes központi felhőkezelés:
A teljes hálózat 100%-ban központosított felhőkezelése különböző helyekről – mindez egyetlen felületről vezérelhető bárhol, bármikor.
Optimalizált vezetékes teljesítmény 2,5 GE PoE+ porttal
A 2,5 Gigabites Ethernet-porttal ellátott EAP660 HD kivételes teljesítményt nyújt, hogy kielégítse a jobb és gyorsabb Wi-Fi iránti végtelen keresletet. A 802.3at PoE+ szabvány ideális a rugalmas telepítéshez.
2.5 GE PoE+ Port
Seamless Roaming
A 802.11k/v roaming a klienseket mozgáskor automatikusan az optimális jellel rendelkező AP-ra kapcsolja, zökkenőmentes átmenet érdekében. Ez lehetővé teszi, hogy az olyan érzékeny alkalmazások, mint a VoIP és a videókonferenciák zavartalanul működjenek.
Növelje a hálózat hatékonyságát
gazdag, fejlett funkciókkal
Band Steering

Automatikusan áthelyezi a kétsávos eszközöket a szélesebb 5 GHz-es sávra a gyorsabb kapcsolat érdekében

Load Balance

Biztosítja, hogy nagyszámú felhasználó zökkenőmentes hálózati élményben legyen a nagy sűrűségű üzleti hálózatokban

Airtime Fairness

Növeli az átlagos átviteli sebességet erősen zsúfolt környezetben
Könnyen felszerelhető a kifinomult ipari kialakításnak köszönhetően
1: nyomja fel 2: egyszerűen forgassa el a rögzítéshez
Biztonságos vendéghálózat Facebook Wi-Fi-vel és SMS-bejelentkezéssel
A Guest Network emelt szintű biztonságos hozzáférést biztosít a Wi-Fi-hálózatot megosztó vendégek számára, a beléptető portál segítségével pedig csak a jogosult vendégek használhatják a hálózatot. Az SMS- és Facebook-hitelesítés hozzáadása még tovább egyszerűsíti a beépített portált, így gyorsítja a kapcsolódást, ami felendíti vállalkozását.
Hospitality

TP-Link Omada allows hotels to build reliable WiFi networks. Hotel WiFi network solutions including network topology, design, features, installation, and products are introduced.

Full WiFi coverage and wired connections
Flexible guest control
Seamless roaming
Easy Management

Education

Due to its reliable, scalable, and secure network solution, TP-Link has been widely acknowledged by global customers in the Education market ranging from infant schools with a few APs up to colleges and universities with hundreds of APs.

Easy management
High-density WiFi
Full WiFi coverage and wired connections
VPN and security

High-Density Environment

Equipped with enterprise chipsets, dedicated antennas, advanced RF functions, and auto channel selection and power adjustment, Omada Wi-Fi 6 and Wi-Fi 5 APs have high concurrency capacity for high-density environments.

Enhanced Multi-User Capability
Improved Dense WiFi Experience
Full WiFi Coverage
Hardver jellemzők
Csatlakozások
1× 2.5 Gbps Ethernet Port (supports IEEE802.3at PoE)
Gomb
Reset
Hálózati tápegység
• 802.3at PoE
• 12 V DC

Energiafelvétel
• EU: 18.5 W• US: 21.5 W
Méretek (Sz x Mé x Ma)
9.6 × 9.6 × 2.5 in (243 × 243 × 64 mm)
Antenna típusa
Internal Omni• 2.4 GHz: 4× 4 dBi• 5 GHz: 4× 5 dBi
Felszerelés
Ceiling /Wall Mounting (Kits included)
Vezeték nélküli jellemzők
Wi-Fi sztenderd
IEEE 802.11ac/n/g/b/a
Frekvencia
2.4GHz and 5GHz
Adatátvitel
5GHz:Up to 2402Mbps2.4GHz:Up to 1148Mbps
Vezeték nélküli funkciók
• 1024-QAM
• 4× Longer OFDM Symbol
• OFDMA
• Multiple SSIDs (Up to 16 SSIDs, 8 for each band)
• Enable/Disable Wireless Radio
• Automatic Channel Assignment
• Transmit Power Control (Adjust Transmit Power on dBm)
• QoS(WMM)
• MU-MIMO
• Seamless Roaming
• Band Steering
• Load Balance
• Airtime Fairness
• Beamforming
• Rate Limit
• Reboot Schedule
• Wireless Schedule
• Wireless Statistics based on SSID/AP/Client

Vezeték nélküli biztonság
• Captive Portal Authentication
• Access Control
• Wireless Mac Address Filtering
• Wireless Isolation Between Clients
• SSID to VLAN Mapping
• Rogue AP Detection
• 802.1X Support
• WEP, WPA-Personal/Enterprise, WPA2-Personal/Enterprise, WPA3-Personal/Enterprise


Átviteli teljesítmény
• CE:<20 dBm(2.4 GHz, EIRP)<23 dBm(5 GHz, EIRP)• FCC:<26 dBm (2.4 GHz)<26 dBm (5 GHz)
Vezérlés
Omada App
Yes
Centralized Management
• Omada Cloud-Based Controller
• Omada Hardware Controller (OC300)
• Omada Hardware Controller (OC200)
• Omada Software Controller

Cloud Access
Yes (Through OC300, OC200, Omada Cloud-Based Controller, or Omada Software Controller)
Riasztás e-mailben
Yes
LED ki/bekapcsolás
Yes
Mac-cím alapú vezérlés
Yes
SNMP
v1, v2c, v3
Syslog helyi/távoli
Local/Remote Syslog
SSH
Yes
Webes felelületű vezérlés
HTTP/HTTPS
L3 Management
Yes
Multi-site vezérlés
Yes
Management VLAN
Yes
Egyéb jellemzők
Tanúsítványok
CE, FCC, RoHS
Csomagolás tartalma
• EAP660 HD
• Power Adapter
• Ceiling/Wall Mounting Kits
• Installation Guide


Rendszerkövetelmény
Microsoft Windows XP, Vista, Windows 7, Windows 8, Windows10, Linux
Környezet
Operating Temperature: 0℃~40℃ (32℉~104℉)Storage Temperature: -40℃~70℃ (-40℉~158℉)Operating Humidity: 10%~90% non-condensingStorage Humidity: 5%~90% non-condensing
†A vezeték nélküli jel maximális sebessége az IEEE 802.11 szabvány előírásaiból származó fizikai sebesség. A tényleges vezeték nélküli adatátviteli sebesség és a vezeték nélküli lefedettség nem garantált, és a következőktől függ: 1) környezeti tényezők, beleértve az építőanyagokat, fizikai tárgyakat és akadályokat, 2) a hálózati feltételek, beleértve a helyi interferenciát, a forgalom nagysága és sűrűsége, a termék elhelyezkedése, a hálózat összetettsége és a hálózati többletterhelés, valamint 3) a kliens korlátozásai, beleértve a névleges teljesítményt, helyet, kapcsolatot, minőséget és a kliens állapotát.
From United States?
Get products, events and services for your region.