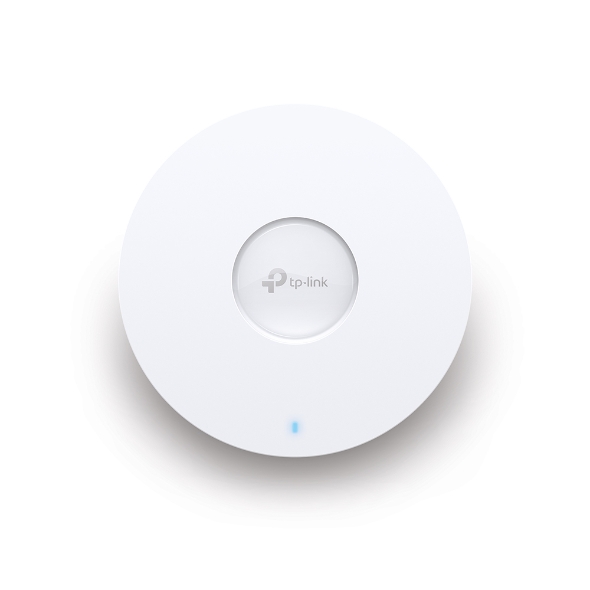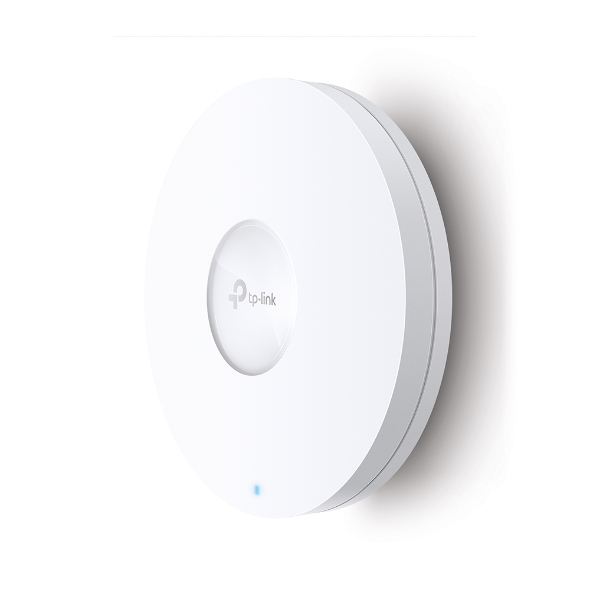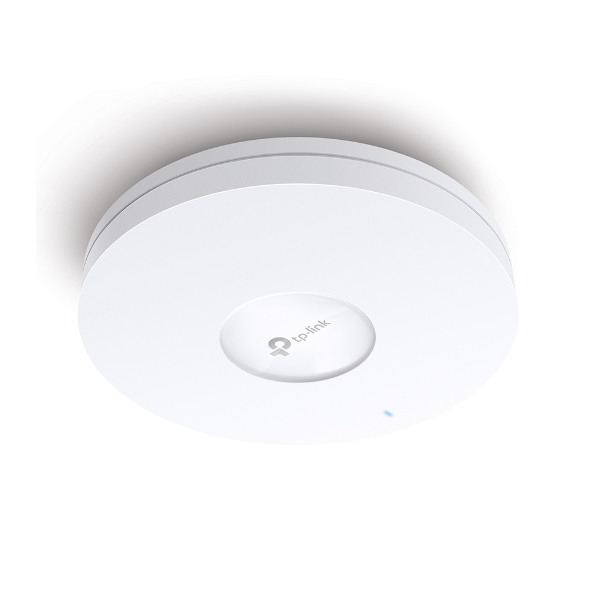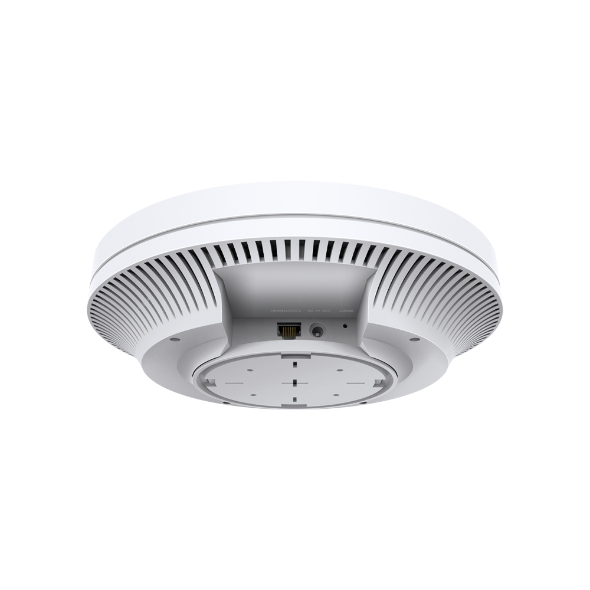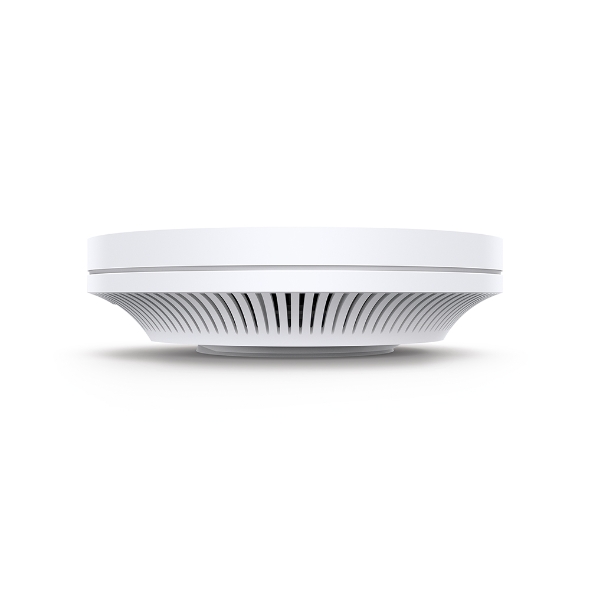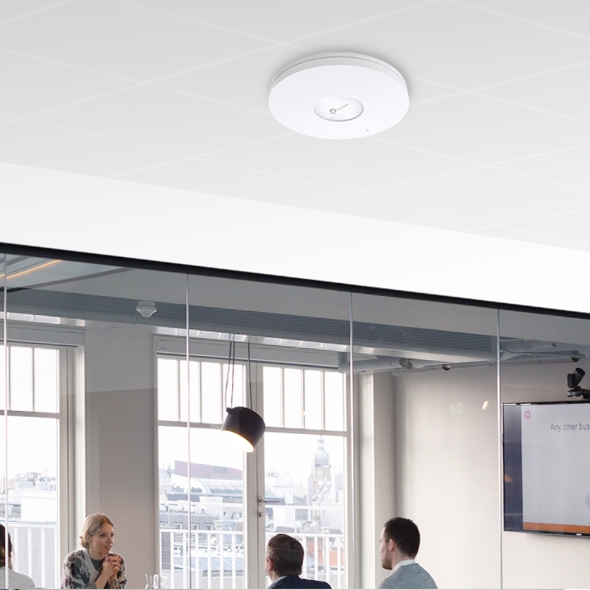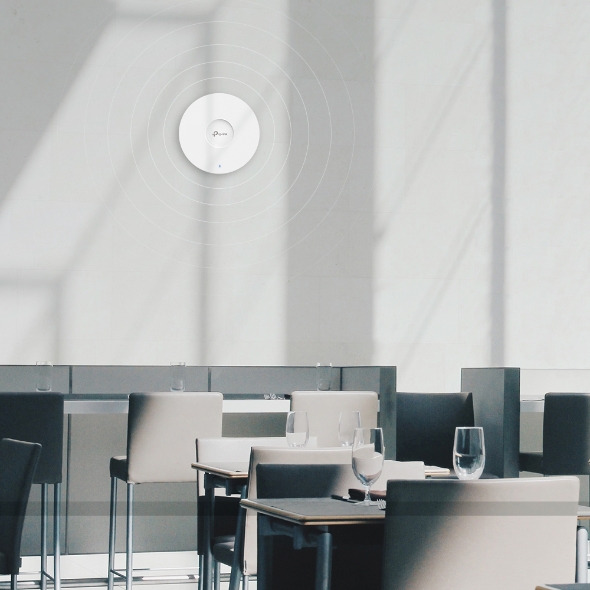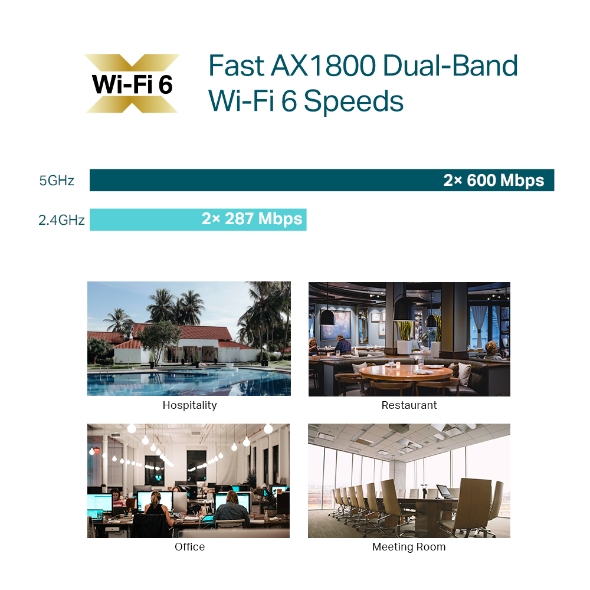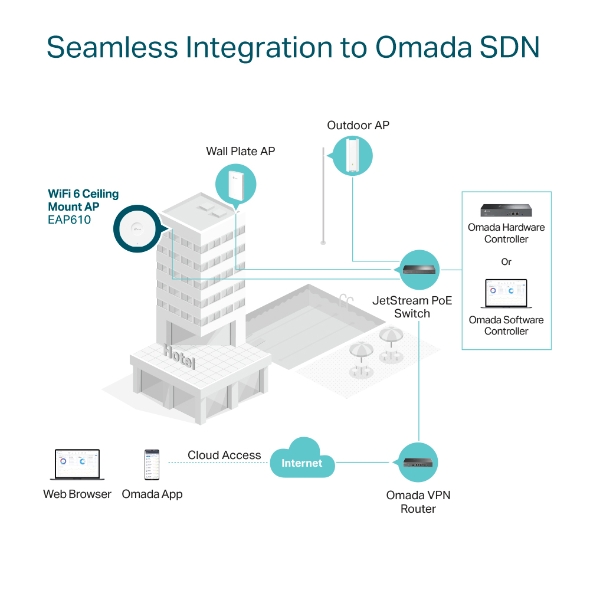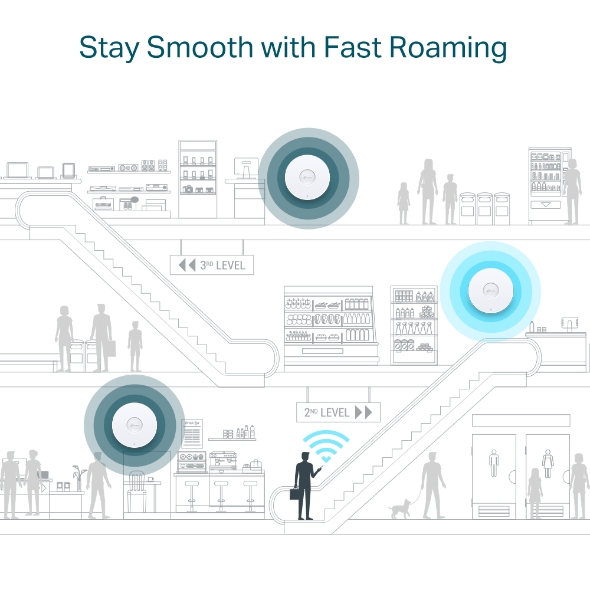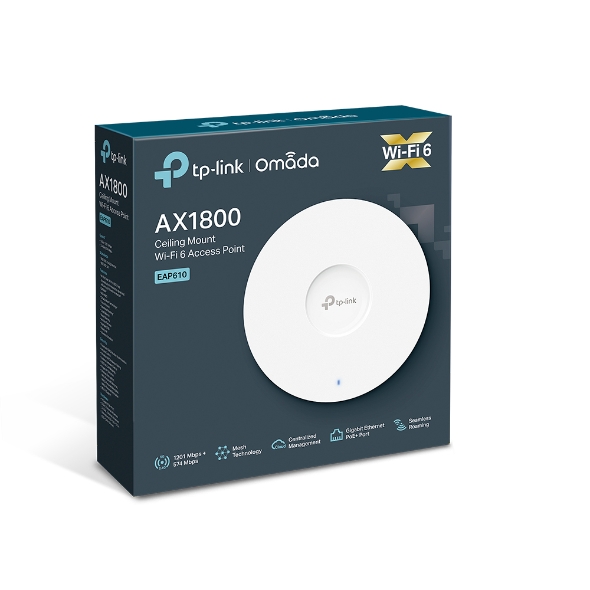 AX1800 Wireless Dual Band Ceiling Mount Access Point
Ultra gyors WiFi 6 Sebesség: Egyidőben 574 Mbps a 2.4 GHz és 1201 Mbps az 5 GHz sávon, összesen 1775 Mbps Wi-Fi sebesség.†
WiFi 6: Több csatlakoztatott eszköz, nagyobb sebesség.
Központi Cloud Management: Kezelje a hálózatát a helyszínen vagy távolról a cloud-on keresztül bárhonnan a világból.
Roaming: Nincs többé megszakadt videóhívás vagy voip kapcsolat, az kliensek megszakadás nélkül barangolhatnak a hálózati eszközök között.§
Omada Mesh: Wireless Mesh kapcsolat az AP-k között, egyszerű beállítás és telepítés.§
PoE+ : Támogatj a Power over Ethernet (802.3at) szabványt és a normál DC tápegységet is.
Biztonságos Guest Network: Több authentikáció megoldás (SMS/Facebook Wi-Fi/ Voucher, stb.) és külön Guest Network (teljesen szeparált) létrehozása.
Tudjon meg többet az Omada Wi-Fi 6-ról>​
Mit tesz lehertővé ez az eszköz
Az EAP610 egy AX1800 mennyezetre szerelhető WiFi 6 AP, ideális a WiFi 6-ra való frissítéshez, például irodákban, egyetemeken, üzletekben és szállodákban. A WiFi 6 technológiával nagyobb sebességet, kisebb késést és nagyobb kapacitást biztosít. A fejlett funkciók, köztük az Omada Mesh, a Seamless Roaming, a MU-MIMO, a Captive Portal tovább növelik a hálózat biztonságát, hatékonyságát és lefedettségét.
Ezenkívül ez a termék integrálva van az Omada Software Defined Networking (SDN) rendszerbe, és központilag kezelhető felhőalapú hozzáféréssel az Omada hardvervezérlőn vagy szoftvervezérlőn keresztül. A teljes hálózat bármely csatlakoztatott számítógépről történő vezérlésének, beállításának és megjelenítésének képessége minden eddiginél hatékonyabbá teszi a központi üzleti Wi-Fi-kezelést.
Kiváló WiFi 6 sebesség
Frissítsen WiFi 6-ra akár 1775 Mbps sebességig (egyidejűleg 574 Mbps 2,4 GHz-en és 1201 Mbps 5 GHz-en) 50%-kal gyorsabb sebességet biztosít, mint a WiFi 5†. Ezenkívül minden alkalmazás gördülékenyebbnek tűnik a drasztikusan megnövelt WiFi-sebességgel‡, 4 adatfolyammal, 1024 QAM-mal és hosszabb OFDM időkkel.
Nagyobb hatékonyság több eszközhöz
A WiFi 6 funkciók, mint például az OFDMA és a MU-MIMO, több klienst is kezelnek zsúfolt környezetben, például tipikus irodai helyiségekben, szállásokon és klinikákon. Élvezze a nagyobb sebességet több eszközön, kevesebb késéssel.‡
Software Defined Networking (SDN) Felhőalapú hozzáféréssel
Az Omada Software Defined Networking (SDN) platform hálózati eszközöket, köztük AP-kat, switch-eket és router-eket integrál, hogy 100%-ban központosított felhőkezelést biztosítson és rendkívül méretezhető hálózatot hozzon létre – mindezt egyetlen interfészről vezérelve.
• Hardver vagy Softver Kontroller
• Központosított Felhőalapú Menedzsment
• Több webhelyes felhőkezelés
• Intelligens Felügyelet
Könnyű párosítás, kevesebb kábelezés
A Mesh technológiával az Omada EAP eszközök megkímélik Önt a kábelezéstől azáltal, hogy vezeték nélkül továbbterjesztik a WiFi jelet a nehezen elérhető területekre.
Optimalizált hálózati teljesítmény
Az intelligens self-organization optimalizálja a legjobb utat az EAP eszközök között, míg a self-healing biztosítja, hogy Ön online maradjon akkor is, ha az AP megszakad.
Maradjon mindig zökkenőmentes a Fast Roaming segítségével§
Gondoskodik arról, hogy a kliensek megszakítás nélkül élvezhessék a streamelést, amikor mozognak azáltal, hogy automatikusan az optimális jelet biztosító AP-ra csatlakoznak.
Könnyen telepíthető a kifinomult ipari tervezésnek és a PoE támogatásnak köszönhetően
Az EAP610 támogatja a DC és a 802.3at PoE+ szabványt is a rugalmas telepítésekhez. Az elegáns megjelenés és az egyszerű rögzítési forma még könnyedebbé és egyszerűbbé teszi a telepítést.
Biztonságos vendéghálózat akár 16 SSID-val
A vendéghálózati hozzáférés fokozott biztonságot nyújt a kliensek számára. A különböző SSID-k rugalmas hozzáférés-kezelést is lehetővé tesznek.
Beléptető portál Facebook WiFi-vel és SMS-bejelentkezéssel
A beléptető portál (beleértve az SMS-t, a Facebook WiFi-t és Voucher-t) és a 802.1x-es hitelesítés segít fenntartani a jogosult vendégeket a hálózat használatára. Fokozza vállalkozását egy személyre szabott marketingoldallal.
WPA3 nyílt nyilvános hálózatokhoz
A fejlett vállalati biztonsággal és az Enhanced Open™ funkcióval a WPA3 nagyobb adatbiztonságot nyújt a korábban nem biztonságos és nyitott WiFi hotspotok számára.
Band Steering
Automatically moves dual band devices onto the wider 5GHz band for faster connections.
Airtime Fairness
Növeli az átlagos hálózati átviteli sebességet erősen zsúfolt környezetben.
Easy Management with the Omada App
Kövesse az ingyenes Omada alkalmazás konfigurációs utasításait a beállításhoz percek alatt. Az Omada lehetővé teszi a beállítások konfigurálását, a hálózati állapot figyelését és a kliensek kezelését, mindezt egy okostelefonról vagy táblagépről.
Hardver jellemzők
Csatlakozások
1× Gigabit Ethernet (RJ-45) Port (supports IEEE802.3at PoE)
Gomb
Reset
Hálózati tápegység
• 802.3at PoE• 12 V / 1 A DC
Energiafelvétel
• EU: 12.8 W (For PoE); 10.8 W (for DC)• US: 13.9W (For PoE); 11.8 W (for DC)
Méretek (Sz x Mé x Ma)
9.6 × 9.6 × 2.5 in (243 × 243 × 64 mm)
Antenna típusa
Internal Omni• 2.4 GHz: 2× 4 dBi• 5 GHz: 2× 5 dBi
Felszerelés
Ceiling /Wall Mounting (Kits included)
Vezeték nélküli jellemzők
Wi-Fi sztenderd
IEEE 802.11ax/ac/n/g/b/a
Frekvencia
2.4 GHz and 5 GHz
Adatátvitel
5 GHz: Up to 1201 Mbps2.4 GHz: Up to 574 Mbps
Vezeték nélküli funkciók
• 1024-QAM• 4× Longer OFDM Symbol• OFDMA• Multiple SSIDs (Up to 16 SSIDs, 8 for each band)• Enable/Disable Wireless Radio• Automatic Channel Assignment• Transmit Power Control (Adjust Transmit Power on dBm)• QoS(WMM)• MU-MIMO • Seamless Roaming• Omada Mesh• Band Steering• Load Balance• Airtime Fairness • Beamforming• Rate Limit• Reboot Schedule• Wireless Schedule• Wireless Statistics based on SSID/AP/Client
Vezeték nélküli biztonság
• Captive Portal Authentication• Access Control• Wireless Mac Address Filtering• Wireless Isolation Between Clients• SSID to VLAN Mapping• Rogue AP Detection• 802.1X Support• WPA-Personal/Enterprise, WPA2-Personal/Enterprise, WPA3-Personal/Enterprise
Átviteli teljesítmény
• CE:<20 dBm(2.4 GHz, EIRP)<23 dBm(5 GHz, EIRP)• FCC:<25 dBm (2.4 GHz)<25 dBm (5 GHz)
Vezérlés
Omada App
Yes
Centralized Management
• Omada Hardware Controller (OC300)• Omada Hardware Controller (OC200)• Omada Software Controller
Cloud Access
Yes (Through OC300, OC200, or Omada Software Controller)
Riasztás e-mailben
Yes
LED ki/bekapcsolás
Yes
Mac-cím alapú vezérlés
Yes
SNMP
v1, v2c, v3
Syslog helyi/távoli
Local/Remote Syslog
SSH
Yes
Webes felelületű vezérlés
HTTP/HTTPS
L3 Management
Yes
Multi-site vezérlés
Yes
Management VLAN
Yes
Egyéb jellemzők
Tanúsítványok
CE, FCC, RoHS
Csomagolás tartalma
• EAP610• Power Adapter• Ceiling/Wall Mounting Kits• Installation Guide
Rendszerkövetelmény
Microsoft Windows XP, Vista, Windows 7, Windows 8, Windows10, Linux
Környezet
• Operating Temperature: 0–40 ℃ (32–104 ℉)• Storage Temperature: -40–70 ℃ (-40–158 ℉)• Operating Humidity: 10–90% RH non-condensing• Storage Humidity: 5–90% RH non-condensing
† A maximális vezeték nélküli jelsebesség az IEEE 802.11 szabvány előírásaiból származó fizikai sebesség. A tényleges vezeték nélküli adatátviteli sebesség és vezeték nélküli lefedettség nem garantált, és 1) környezeti tényezők, beleértve az építőanyagokat, fizikai tárgyakat és akadályokat, 2) a hálózati feltételek, beleértve a helyi interferenciát, a forgalom mennyiségét és sűrűségét, a termék elhelyezkedését, a hálózat összetettsége és a hálózati költségek, valamint 3) az ügyfél korlátozásai, beleértve a névleges teljesítményt, a helyet, a kapcsolatot, a minőséget és az ügyfél állapotát.
Wi A Wi-Fi 6 (802.11ax) és az olyan funkciók használata, mint az OFDMA és a MU-MIMO, megköveteli az ügyfelektől, hogy támogassák a megfelelő szolgáltatásokat.
§Az Omada Mesh és a Seamless Roaming használatához Omada vezérlők szükségesek.
From United States?
Get products, events and services for your region.