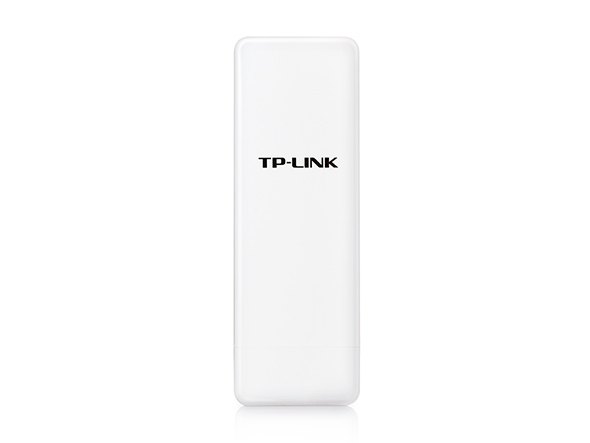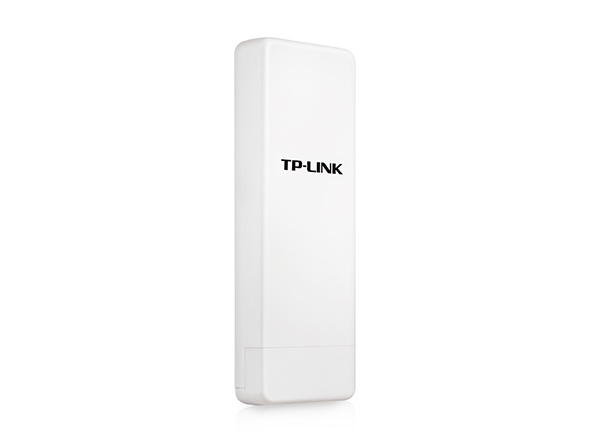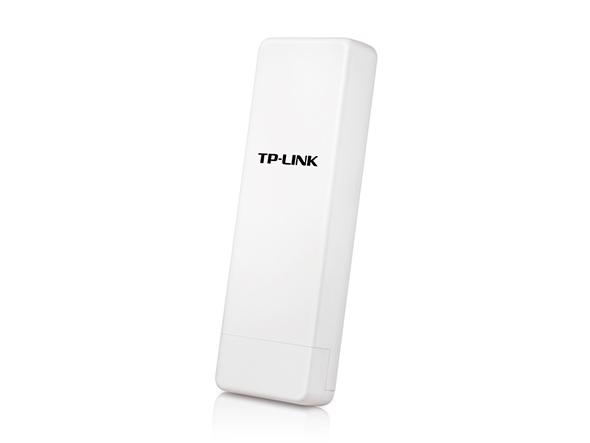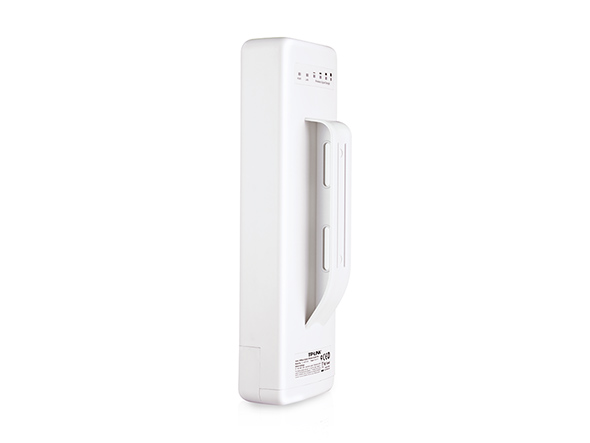 TL-WA7510N
CPE WiFi d'extérieur à forte puissance 5GHz 150Mbps
Répond aux exigences de la norme IEEE 802.11a/n, vitesse sans fil jusqu'à 150 Mbps.
La fréquence 5GHz limite les perturbations causées par d'autres dispositifs 2,4 GHz et augmente la stabilité.
Boîtier résistant aux intempéries et intègrant une protection Antifoudre 4KV et ESD 15 KV.
Antenne 15 dBi double polarisation pour établir une connexion sans fil longue distance.
Forte puissance pour renforcer la portée du signal et la vitesse de connexion.
Power over Ethernet passif pour une mise en place aisée jusquà 60m.
Puissance d'émission élevée
Design d'extérieur Professionnel
Avec la puissance de transmission sans fil , TL- WA7510N produit un signal puissant et robuste pour surmonter les longues distances.
Le TL-WA7510N est conçu pour fonctionner dans des environnements extérieurs hostiles, même dans des conditions climatiques les plus difficiles.
étanche

boitier
antifoudre 4000V

Protection
15KV ESD

Protection
résistance température

-30°C to 70°C
Up to 60 Meters PoE connecteur terre
Applications Multiples
Le dispositif n'est pas limité à son mode point d'accès par défaut. Le TL-WA7510N prend également en charge les modes Routeur Client AP (client WISP), Routeur AP, Pont, Répéteur et Client.
Accès Wi-Fi
Backbones Wi-Fi
Surveillance Wi-Fi
TL-WA7510N
Outils de Gestion intelligente
Outil 1: Orientation de l'antenne

Les utilisateurs peuvent utiliser l'outil de pointage de l'antenne pour régler la direction de leurs points d'accès, en utilisant une fonction qui vous affiche la force du signal en temps réel.

Outil 2: Dépassement de délai ACK

Le dépassement de délai étant réglable dans le logiciel ACK en fonction de la distance entre deux AP, il permet aux utilisateurs de définir une distance spécifique en vue d'établir la connexion sans fil la plus robuste possible.

Outil 3: Ping Watch Dog

En réglant quelques paramètres simples avec l'outil de ping Watch Dog, les utilisateurs peuvent utiliser cette commande pour vérifier la qualité de la liaison sans fil.
CPE510
CPE210
TL-WA7510N
TL-WA7210N
TL-WA5210G

Wireless Performance

Wireless Speed

5GHz 300Mbps

2.4GHz 300Mbps

5GHz 150Mbps

2.4GHz 150Mbps

2.4GHz 54Mbps

Transmit Power

27dBm

27dBm

27dBm

27dBm

27dBm

Antenna

13dBi

9dBi

15dBi

12dBi

12dBi

MIMO

√

√

-

-

-

Coverage Range

15km+

5km+

5km+

5km+

2km+

Hardware

Processor

560MHz

560MHz

400MHz

400MHz

180MHz

Memory

64MB DDR2

64MB DDR2

32MB DDR

32MB DDR

16MB DDR

Compatibility

802.11a/n

802.11b/g/n

802.11a/n

802.11b/g/n

802.11 b/g

External Antenna Interface

-

-

1 * RP-SMA

1 * RP-SMA

1 * RP-SMA

Weatherproof Enclosure

√(IPX5)

√(IPX5)

√

√

√

Dual Ethernet Ports

√

√

-

-

-

PoE Passthrough

√

√

-

-

-

Grounding Terminal

√

√

√

√

√

Lightning Protection over
Ethernet Cable

√

√

-

-

-

ESD Protection

15kV

15kV

15kV

15kV

15kV

Lightning Protection

6kV

6kV

4kV

4kV

4kV

Power Supply

24V Passive PoE
Adapter
24V Passive PoE
Adapter

12V Power Adapter + Passive PoE Injector

Software

Operation Modes

AP / Client / Bridge / Repeater / AP Client Router (WISP Client) / AP Router Mode

MAXtream TDMA Mode

√

√

-

-

-

Channel Bandwidth

5/10/20/40MHz

5/10/20/40MHz

20/40MHz

20/40MHz

20MHz

Transmit Power Control

Stepping 1dBm

Stepping 1dBm

Stepping 3dBm

Stepping 3dBm

-

Antenna Alignment

√

√

√

√

√

Throughtput Monitors

√

√

-

-

-

Spectrum Analyzer

√

√

-

-

-

Iperf Speed Test Tool

√

√

-

-

-

Pharos Control Supported
(Central Network Management Application)

√

√

-

-

-
Wireless Networking for Elevators

TP-Link Omada offers a wireless solution for elevators: a wireless point-to-point link delivering a throughput of up to 867 Mbps. Wireless coverage extends to the entire shaft to connect surveillance cameras or digital signage directly to your network. Record real-time video to an NVR with virtually no hard wiring required—so there are no cables to wear out.

Easy Installation and Auto-Paring
Stable Connections at High-Speeds
Ideal for Elevator Camera
No Complex Cabling
Multi-Customer and Multi-Site Management
Peru WISP

TP-Link Helps WISP to Provide Reliable Wireless Connectivity in Peru

Peru WISP

TP-Link Helps WISP to Provide Reliable Wireless Connectivity in Peru

"The performance of CPE was better than expected, working stable even with -85 dBm of received power." —David Grillo, Engineer, Kroton
CARACTERISTIQUES MATERIELLES
Interface
1 port RJ45 10/100 Mbps à détection automatique (Auto MDI/MDIX, PoE).
1 connecteur SMA inversé externe
1 terminal de mise à la terre
Bouton
Bouton Reset (Réinitialisation)
Alimentation externe
12VDC / 1.0A
Standards WiFi
IEEE 802.11a , IEEE 802.11n
Dimensions (LxPxH)
250 x 85 x 60.5mm
Antenne
15dBi Dual-Polarized Directional Antenna
Type d'antenne
Antenne directionnelle bipolarisée 15 dBi
Faisceau d'antenne
Horizontale: 60°
Verticale: 14°
Protection
Protection ESD 15KV
Protection parafoudre 4000 V
Borne de mise à la terre intégrée
Caractéristiques WiFi
Fréquence
5.150-5.250GHz
5.250-5.350GHz (Dynamic Frequency Selection)
5.470-5.725GHz (Dynamic Frequency Selection)
5.725-5.825GHz
Note: elle varie selon les différents pays ou régions.
Débit du signal
11a : Jusqu'à 54 Mbps (dynamique)
11n : Jusqu'à 150 Mbps (dynamique)
Sensibilité de réception
802.11a 54M: -77dBm 48M: -79dBm 36M: -83dBm 24M: -86dBm 18M:-91dBm 12M:-92dBm 9M:-93dBm 6M:-94dBm
802.11n 150M: -73dBm 121.5M: -76dBm 108M: -77dBm 81M: -81dBm 54M:-84dBm 40.5M:-88dBm 27M:-91dBm 13.5M:-93dBm
Modes WiFi
Mode Routeur / Client point d'accès (Client fournisseur d'accès sans fil)
Mode Point d'accès / Client / Pont / Répéteur
Fonctions WiFi
Pont WDS, Statistiques sans fil
Sécurité WiFi
Activer le SSID/ Désactiver le filtrage d'adresse MAC 64/128/152 bit chiffrements WEP, WPA/WPA2/WPA-PSK/WPA2-PSK (AES/TKIP)

Fonctions avancées
PoE jusqu'à 60 mètres
Fournit un indicateur de signal par LED de 4 niveaux
(PoE passif injecteur fourni, ne supporte pas la norme 802.3af des switches PoE)

Puissance de transmission
<20dBm ( CE )
<27dBm ( FCC )
Autres
Certification
CE, FCC, RoHS
Contenu de l'emballage
TL-WA7510N
Unité d'alimentation
Injecteur de puissance
CD de ressources
Guide d'installation rapide
Système requis
Microsoft Windows 98SE, NT, 2000, XP, Vista™ or Windows 7, MAC OS, NetWare, UNIX or Linux.
Environnement
Température de fonctionnement : -30°C~70°C (-22°F~158°F)
Température de stockage : -40℃~70℃ (-40℉~158℉)
Humidité de fonctionnement : 10 %~90 %, sans condensation
Humidité de stockage : 5 %~95 %, sans condensation
De United States?
Infos produits, événements, services pour votre pays.