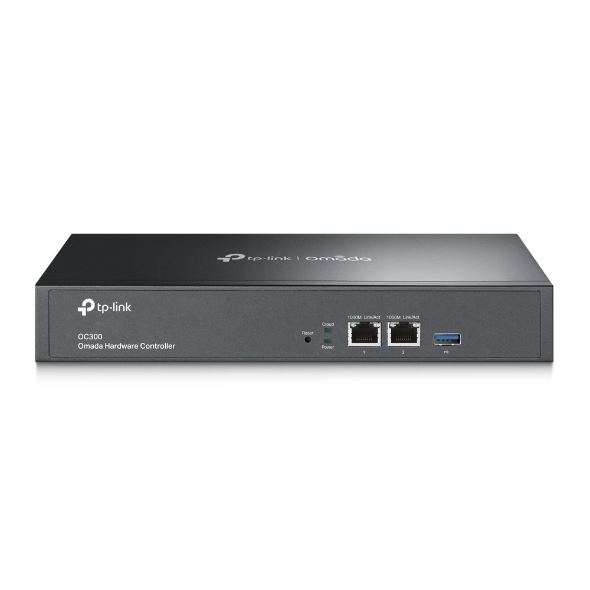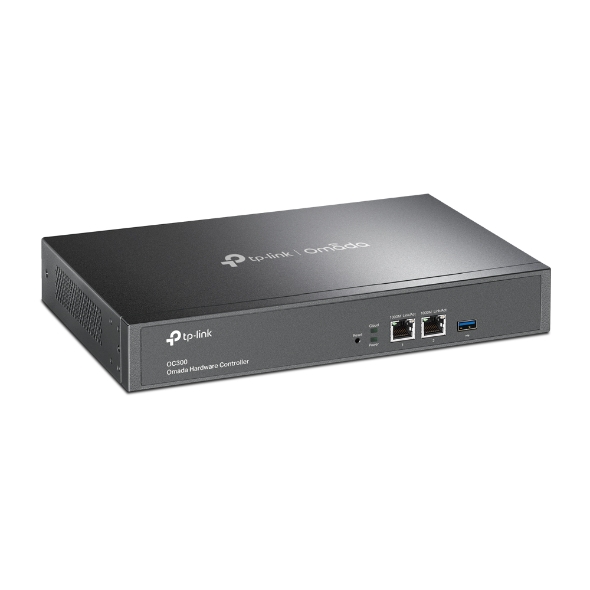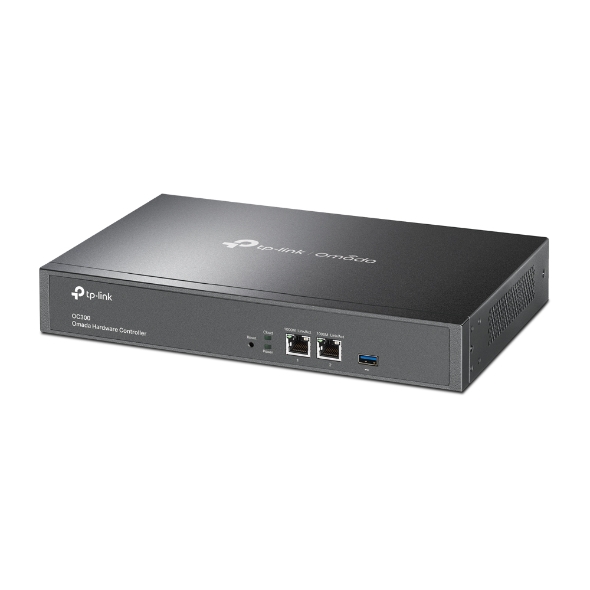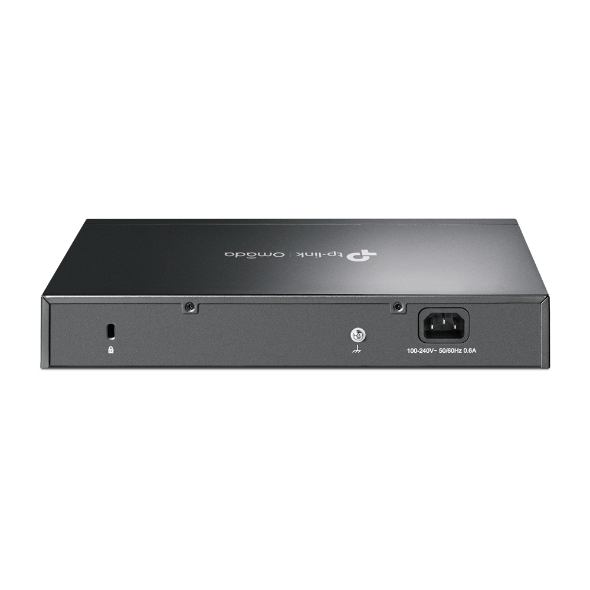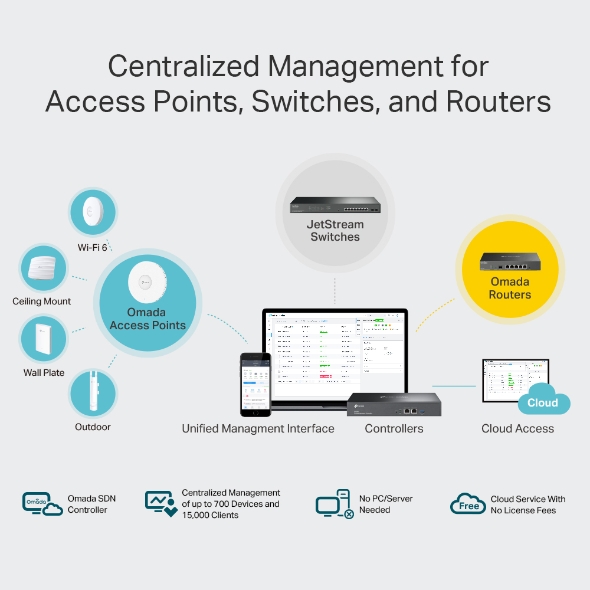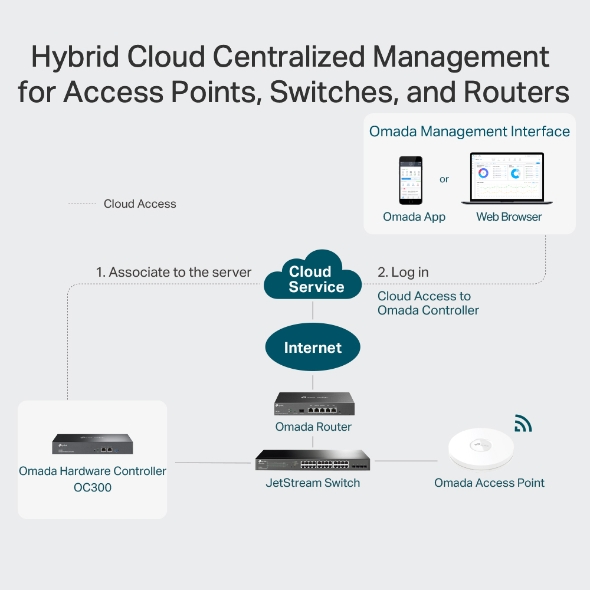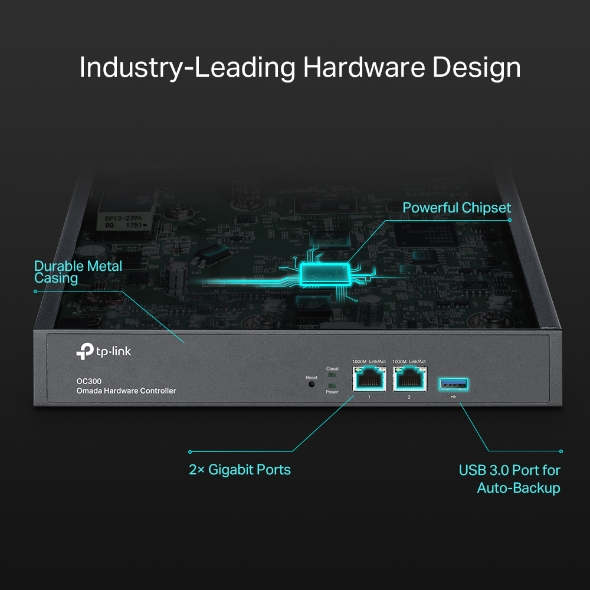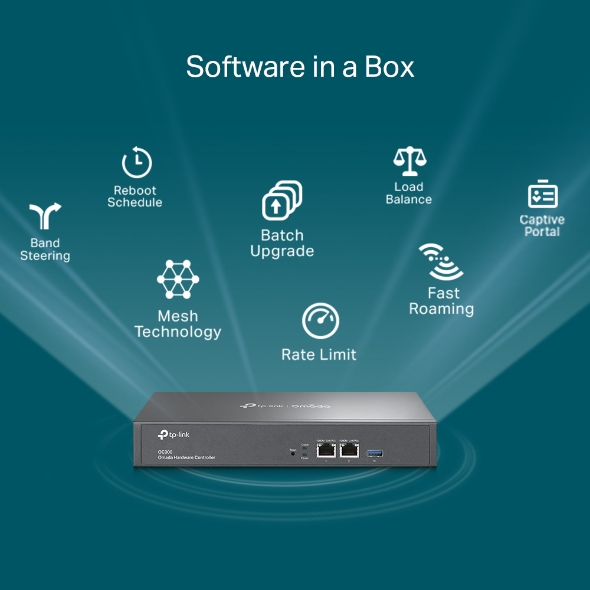 Contrôleur Hardware Omada (<500 appareils)
Gestion centralisée de jusqu'à 500 points d'accès Omada, switches JetStream et routeurs SafeStream.
Accès au Cloud pour gérer n'importe où, à tout moment.
Surveillez et gérez les appareils localement avec la sécurité et la stabilité ultimes.
L'application Omada pour une gestion pratique.
Conception matérielle de pointe avec un chipset puissant, un boîtier métallique durable et un port USB 3.0 pour la sauvegarde automatique.
La gestion des lots, la gestion multisite et les mises à jour du micrologiciel à distance bénéficient de la maintenance du réseau.
Le tableau de bord facile à utiliser permet de voir facilement l'état de votre réseau en temps réel et de vérifier l'utilisation du réseau et la distribution du trafic.
La topologie du réseau permet aux administrateurs informatiques de voir et de dépanner rapidement les connexions en un coup d'œil.
GARANTIE A VIE

Hardware Controller
Gestion centralisée professionnelle des points d'accès, des switches et des passerelles
OC300
Administration centralisée
pour un contrôle absolu de votre réseau
OC300, le contrôleur matériel de la plate-forme Omada Software Defined Networking (SDN), offre une gestion 100% centralisée des points d'accès, commutateurs et passerelles, tous contrôlés à partir d'une seule interface..
Contrtôleur Omada SDN

Administratinon centralisée jusqu'à 500 appareils et 15 000 Clients

Aucun PC/Serveur requis

Service Cloud sans abonnement payant
WiFi 6
Plafonnier
Mural
Outdoor
Points d'accès Omada
Switches JetStream
Passerelles SafeStream
Interface Administration Unifiée
Contrôleurs
Accès Cloud
Cloud
Cloud hybride pour une facilité maximale
Doté de la technologie cloud hybride, le contrôleur matériel Omada OC300 vous permet de contrôler à distance l'ensemble du réseau où que vous soyez dans le monde avec un accès au cloud. Gérez localement les appareils avec une sécurité et une stabilité optimales.
Accès Cloud
1. Associate to the server
Omada Hardware Controller OC300
Cloud Service
Internet
SafeStream Gateway
JetStream Switch
2. Log in
Cloud Access to Omada Controller
Omada Access Point
Omada Management Interface
Omada App
or
Web Browser
Durable Metal Casing
2× Gigabit Ports
Powerful Chipset
USB 3.0 Port for Auto-Backup
Conception matérielle de pointe
Doté d'une conception avancée et du dernier chipset, l'OC300 dispose d'une puissance de traitement suffisante pour prendre en charge la gestion massive de votre réseau d'entreprise. La conception en rack / bureau permet une installation plus simple et flexible.
Easy and Intelligent Network Monitoring
The easy-to-use dashboard makes it easy to see your real-time network status; check network usage and traffic distribution; receive network condition logs, abnormal event warnings, and notifications; or even track key data for better business results. Network topology helps IT admins quickly see and troubleshoot connections at a glance.
Multiple Factors Guarantee Easier Network Maintenance
Batch Management, Multi-Site Management, and Remote Firmware Updates

Improve network maintenance without needing to configure on-site or manage devices one by one.

Powerful Scheduling

Maintain your network easily with more agile and effective processing. No manual tasks required.

Backup Schedule

Reboot Schedule

Wi-Fi Schedule

PoE Schedule

Channel Adjustment Schedule
Greater Convenience with the Omada App
Remotely access and configure your whole network with a tap of your phone from anywhere in the world.
Choose the Right Controller that Fits Your Business
Omada On-Premises Controller
Omada Cloud-Based Controller
Hardware Controller
(OC300)
Hardware Controller
(OC200)
Software Controller
Management Scale
<500 Devices
<100 Devices
<1,500 Devices*
Unlimited**
Usage Method
Connect to the intranet
Deploy to intranet servers
or private clouds
Log in and use
Network Type
Small/Medium local network
Medium/Large network
Medium/Large multi-site network
Pricing Model
Hardware costs
Free
Device license fee
Cloud Access
√
√
√
√
Automatic Channel
Selection
-
-
-
√
Zero-Touch
Provisioning
-
-
-
√
*Actual management scale of the Omada Software Controller depends on the PC/server's hardware specifications.
**Device management capacity of the Omada Cloud-Based Controller v4.x is 1,500 and can be upgraded to v5.0 for unlimited capacity. V5.0 is currently in development. Should you need to manage over 1,500 devices with v4.x, please contact us for further help.
Hospitality

TP-Link Omada allows hotels to build reliable WiFi networks. Hotel WiFi network solutions including network topology, design, features, installation, and products are introduced.

Full WiFi coverage and wired connections
Flexible guest control
Seamless roaming
Easy Management

Education

Due to its reliable, scalable, and secure network solution, TP-Link has been widely acknowledged by global customers in the Education market ranging from infant schools with a few APs up to colleges and universities with hundreds of APs.

Easy management
High-density WiFi
Full WiFi coverage and wired connections
VPN and security

Retail

A good wireless network cannot only serve the network office system of the mall, but also bring a more comfortable shopping experience to customers. The TP-Link Omada SDN Solution empowers store owners to create a modern and compelling in-store experience for every customer.

Boost online business
Full WiFi coverage
Seamless roaming
High-concurrent clients
Easy management
Many network technologies such as XGS-PON help Covid-19 Vaccine Center

Many network technologies such as XGS-PON help Covid-19 Vaccine Center

Many network technologies such as XGS-PON help Covid-19 Vaccine Center

Many network technologies such as XGS-PON help Covid-19 Vaccine Center
CARACTERISTIQUES MATERIELLES
Interface
• 2× 10/100/1000 Mbps Ethernet Ports• 1× USB 3.0 Port
Alimentation
100–240 V~50/60 Hz, 0.6 A
Dimensions
294 × 180 × 44 mm
Administration
Omada App
Yes
Administration Centralisée
• Up to 500 Omada access points, JetStream switches, and SafeStream routers• Up to 15,000 clients
Accès Cloud
Yes
Administration Niveau 3
Yes
Administration Multi-sites
Yes
Fonctions d'administration
• Automatic Device Discovery • Batch Configuration• Batch Firmware Upgrading • Intelligent Network Monitoring• Abnormal Event Warnings• Unified Configuration• Reboot Schedule• Captive Portal Configuration
Autres
Certification
CE, FCC, RoHS
Contenu de l'emballage
• Omada Hardware Controller OC300• Quick Installation Guide • Ethernet Cable• Power Cord• Rackmount Kit
Système requis
Microsoft® Windows®10, 8, 7,Vista™, XP or MAC® OS, NetWare®, UNIX® or Linux
Environnement
• Operating Temperature: 0–50 ℃
• Storage Temperature: -40–70 ℃
• Operating Humidity: 10–90% RH non-condensing
• Storage Humidity: 5–90% RH non-condensing
De United States?
Infos produits, événements, services pour votre pays.