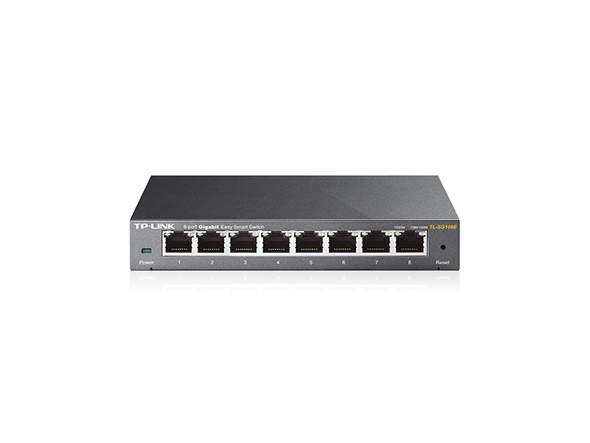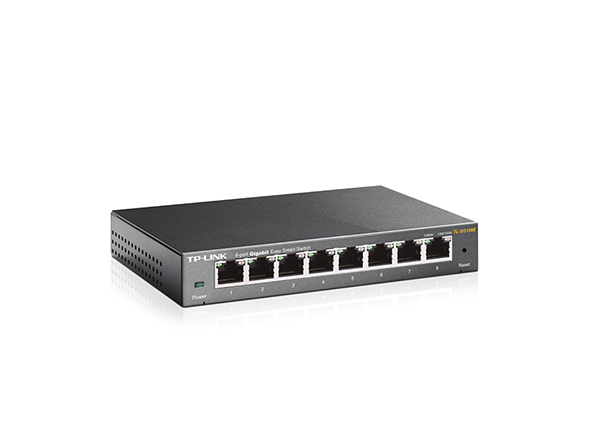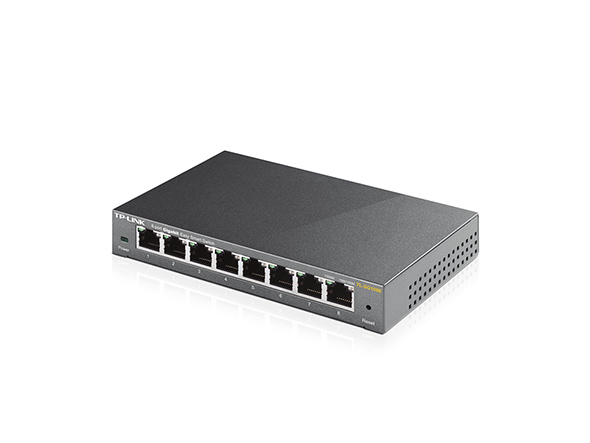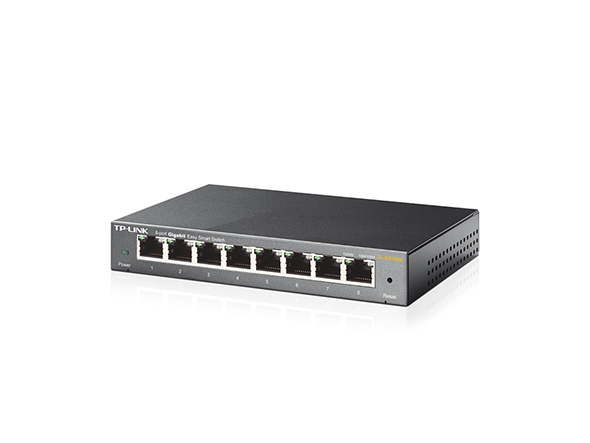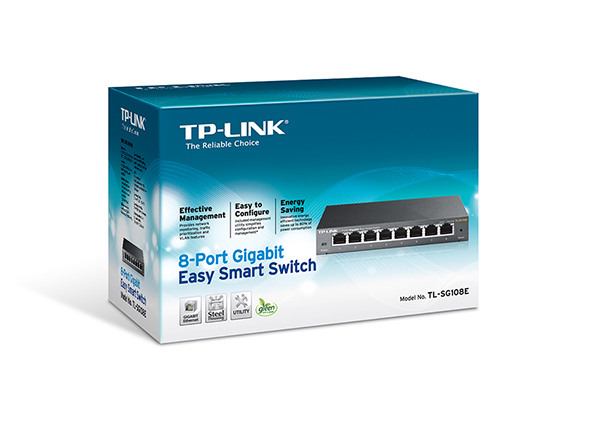 TL-SG108E
Easy Smart switch 8 Ports Gigabit
8 ports RJ45 10/100/1000Mbps
Surveillance du réseau, priorisation du trafic et fonctions VLAN
Technologie innovante d'économies d'énergie réduisant la consommation de près de 80%
Configuration simple du réseau associé à une connectivité Plug and Play
Administrez de façon centralisée tous les switches Easy Smart Switch avec l'utilitaire de configuration
Fonctionnalités
L'Easy Smart switch 8 Ports Gigabit TL-SG108E est le complément idéal d'un commutateur non administré, conçu pour les réseaux des petites et moyennes entreprises qui nécessitent une gestion de réseau simple. Les administrateurs réseau peuvent efficacement contrôler le trafic via la réplication de port, la prévention du bouclage et les fonctions de diagnostics du lien Ethernet. Pour optimiser le trafic de votre réseau d'entreprise, le TL-SG108E offre le support de la QoS par port ou par TAG pour permettre à votre traffic sensible à la latence de circuler de façon fluide et sans instabilités. En outre, les VLAN basés sur les ports, les TAG ou le MTU peuvent améliorer la sécurité et répondre à plusieurs exigences de segmentation du réseau. Grâce à sa technologie à haut rendement énergétique novatrice, le TL-SG108E peut économiser jusqu'à 80% d'énergie, ce qui en fait une solution écologique pour votre réseau d'entreprise.
Administration simple et efficace
L'Easy Smart switch 8 Ports Gigabit TL-SG108E offre une surveillance du réseau permettant d'observer le comportement du trafic. Avec la réplication de ports, la prévention du bouclagele diagnostic du lien Ethernet le TL-SG108E peut identifier et même localiser des problèmes de connexion dans votre réseau d'entreprise. En outre, les administrateurs peuvent donner des priorités au trafic en utilisant les priorités par pour ou selon IEEE802.1P, afin de garantir que voix et vidéo sont toujours fluide et sans latence. Pour améliorer les performances en matière de sécurité et de réseau, le TL-SG108E supporte les MTU VLAN, les VLAN par port et les fonctions VLAN 802.1Q. Le TL-SG108E est un bon produit de mise à niveau pour un switch non administrable, offrant de nombreuses fonctions améliorant votre réseau et l'expérience utilisateur.
Utilitaire sous Windows uniquement
Economisez de l'énergie avec votre réseau
Vous avez maintenant le choix de passer au vert lorsque vous passez à un réseau gigabit ! Cette nouvelle génération de Easy Smart switch 8 Ports Gigabit TL-SG108E intègre les dernières technologies éconergétiques qui peuvent considérablement augmenter la capacité de votre réseau en consommant beaucoup moins d'énergie. Il ajuste automatiquement la consommation d'énergie en fonction de l'état ​​de la liaison et de la longueur du câble afin de limiter l'empreinte carbone de votre réseau.
Éteignez les ports inactifs
Quand un ordinateur ou un matériel réseau est éteint, le port correspondant d'un switch continuera à consommer des quantités non négligeables d'énergie. Le TL-SG108E peut détecter automatiquement l'état de chacun des ports et réduire la consommation d'énergie des ports qui sont au repos.
Budget energétique selon la longueur du câble
Idéalement, des câbles plus courts consomment moins d'énergie et génèrent moins de pertes de courant sur leur longueur, ce qui n'est pas le cas avec la plupart des appareils qui utilisent la même quantité d'énergie à travers le câble indépendamment du fait qu'il mesure 10 ou 50 mètres de longueur. Le TL-SG108E analyse la longueur du câble Ethernet connecté et ajuste la consommation d'énergie en conséquence, au lieu de maintenir la quantité d'énergie à l'identique pour chaque port dans une solution classique.
Facilité de mise en oeuvre
Le TL-SG108E est facile à utiliser et à gérer. la fonction Auto MDI / MDI-X sur tous les ports évite l'utilisation de câbles croisés ou de ports Uplink. L'Auto-négociation sur chaque port détecte la vitesse de connexion d'un périphérique réseau (parmi 10, 100 ou 1000 Mbps) et ajuste sa communication automatiquement pour assurer compatibilité et performances optimales. Sa taille compacte le rend idéal pour les ordinateurs de bureau avec un espace limité, pratique et sûr. les DEL fournissent l'état des ports en temps réel et permettent un diagnostic de pannes basique.
CARACTERISTIQUES MATERIELLES
Standards et Protocoles
IEEE 802.3, IEEE 802.3u, IEEE 802.3ab, IEEE 802.3x, IEEE 802.1q, IEEE 802.1p
Interface
8 10/100/1000Mbps RJ45 Ports
AUTO Negotiation/AUTO MDI/MDIX
Interface réseau
10BASE-T: UTP category 3, 4, 5 cable (maximum 100m)
EIA/TIA-568 100Ω STP (maximum 100m)
100BASE-TX: UTP category 5, 5e cable (maximum 100m)
EIA/TIA-568 100Ω STP (maximum 100m)
1000BASE-T: UTP category 5, 5e, 6 or above cable (maximum 100m)
EIA/TIA-568 100Ω STP (maximum 100m)
Nombre de ventilateurs
Fanless
Alimentation
External Power Adapter(Output: 9VDC/0.6A)
Consommation
Maximum: 4.48W (220V/50Hz)
Dimensions (LxPxH)
6.2*4.0*1.0 in. (158*101*25 mm)
Consommation maximale
3.55W(220V/50Hz)
Max dissipation thermique
12.12BTU/h
Performances
Capacité de commutation
16Gbps
Taux de transfert de paquets
11.9Mpps
Tableau d'adresses MAC
4K
Mémoire tampon des paquets
1.5Mb
Trame Géante
15KB
CARACTERISTIQUES LOGICIELLES
Qualité de Service QoS
Support Port-based/802.1p/DSCP priority
Support 4 priority queues
Rate Limit
Storm Control
Fonctions N2
IGMP Snooping V1/V2/V3
Link Aggregation
Port Mirroring
Cable Diagnostics
Loop Prevention
VLAN
Supports up to 32 VLANs simultaneously (out of 4K VLAN IDs)
MTU/Port/Tag VLAN
Méthode de transmission
Store-And-Forward
Autres
Certification
FCC, CE, RoHS
Contenu de l'emballage
TL-SG108E
Power Cord
Installation Guide
Resource CD
Rubber Feet
Système requis
Microsoft® Windows® for running Utility
Environnement
Operating Temperature: 0℃~40℃ (32℉~104℉)
Storage Temperature: -40℃~70℃ (-40℉~158℉)
Operating Humidity: 10%~90% non-condensing
Storage Humidity: 5%~90% non-condensing
1. For V2 and later version.
2. DSCP QoS is for V2 and later version.
De United States?
Infos produits, événements, services pour votre pays.