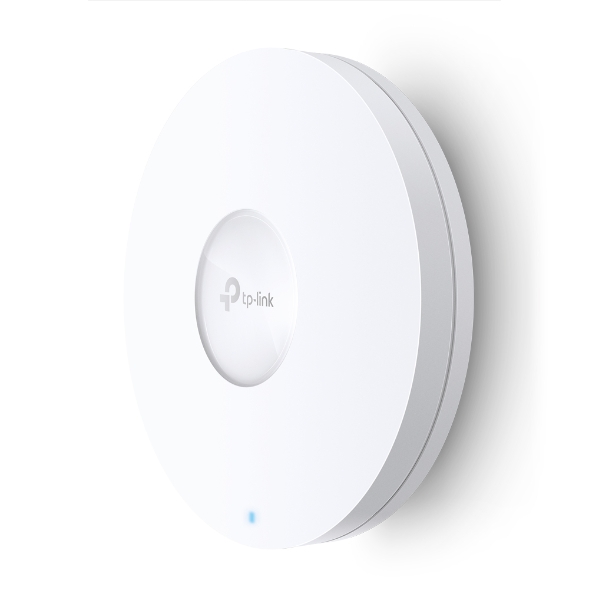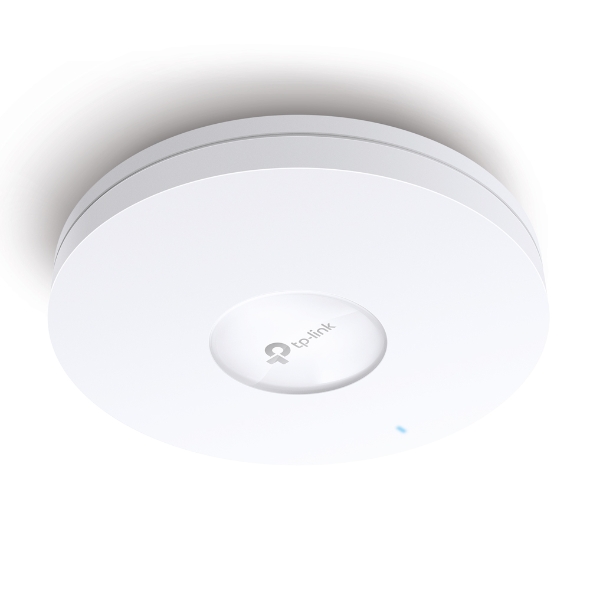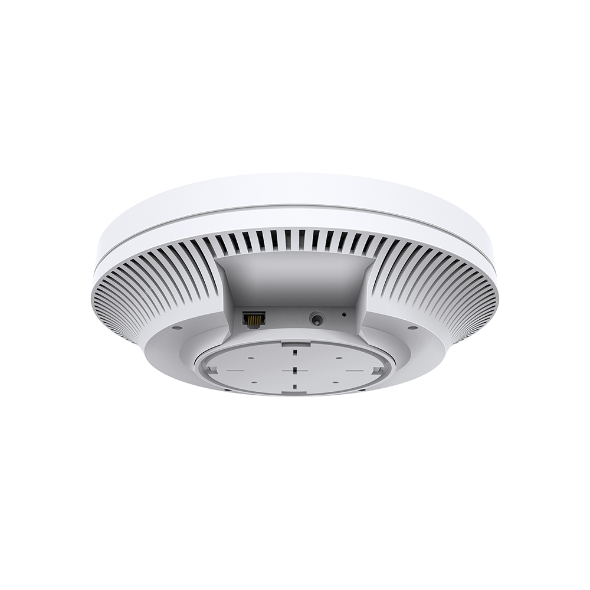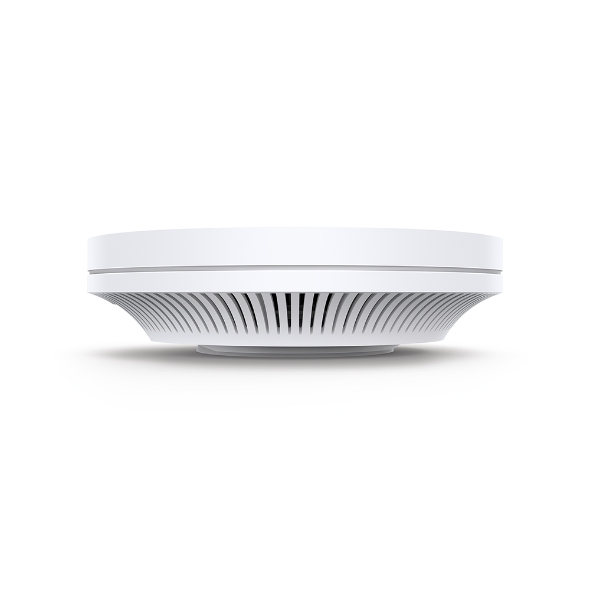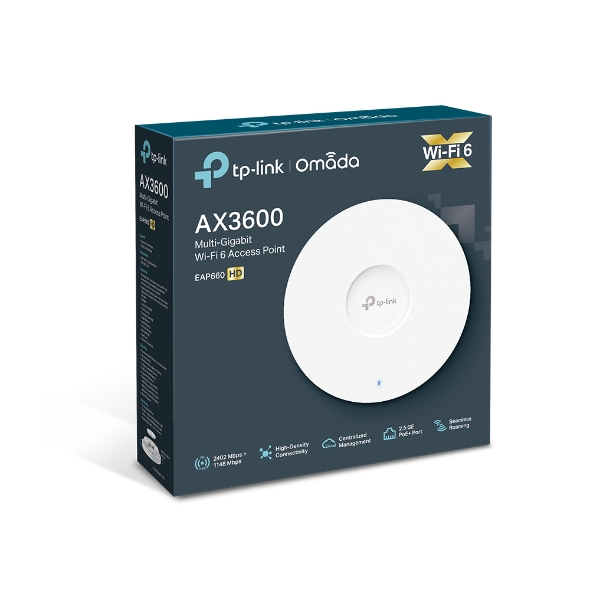 Point d'accès WiFi 6 - AX3600 bi-bande Multi-Gigabit plafonnier
Débits ultra-rapides WiFi 6 : 1148 Mbps simultanés sur 2,4 GHz et 2402 Mbps sur 5 GHz totalisent 3550 Mbps de vitesses Wi-Fi. †
Connectivité haute densité: 4 fois plus de capacité pour connecter plus d'appareils simultanément. ‡
Intégré dans Omada SDN: Zero-Touch Provisioning (ZTP) §, Centralized Cloud Management et Intelligent Monitoring.
Gestion centralisée: accès au cloud et application Omada pour une commodité et une gestion ultra faciles.
Port 2.5G: Un port Ethernet 2.5 Gbps augmente le débit Internet total.
Itinérance transparente: même les flux vidéo et les appels vocaux ne sont pas affectés lorsque les utilisateurs se déplacent entre les emplacements.
Prise en charge PoE +: prend en charge Power over Ethernet (802.3at) pour un déploiement et une installation pratiques.
Réseau Invité Sûr: avec plusieurs options d'authentification (SMS / Facebook WiFi / Voucher, etc.) et de nombreuses technologies de sécurité sans fil.
En savoir plus sur Omada Wi-Fi 6>
Bénéficie du remplacement produit J+1 (Next Business Day) si partenaire TP-Link France
GARANTIE A VIE
WiFi Pro AX3600
Haute Performance pour
Environnements Haute Densité
EAP660 HD
Connectivité haute densité avec capacité 4 × augmentée
OFDMA * et Uplink & Downlink MU-MIMO ** augmentent la capacité du réseau jusqu'à 4 × par rapport au Wi-Fi 5 (802.11ac) dans les environnements haute densité pour connecter plus d'appareils simultanément ‡ . Tirez parti des capacités multi-utilisateurs et mettez à niveau votre entreprise comme jamais auparavant.
Hôtellerie

WiFi Haute Qualité et large couverture

Restaurant

Couverture WiFi complète
Environnement
Haute Densité

Boutique

Social Marketing


Salle Réunion

Connexions filaires
et WiFi pour
usage intensif

Station / Gare

WiFi Haute Densité
Débit ultra-rapide avec 8 flux spatiaux
Le point d'accès Omada Wi-Fi 6 intègre les dernières technologies 802.11ax telles que 1024 QAM et Long OFDM Symbol, ce qui permet à l'EAP d'augmenter les vitesses globales jusqu'à 3550 Mbps (2402 Mbps sur une bande de 5 GHz et 1148 Mbps sur une bande de 2,4 GHz ) † . Avec 8 flux spatiaux, le débit multi-utilisateur est incroyablement augmenté pour piloter plus d'applications.
1024 QAM
25% plus de données
encodées en une seule fois
Long OFDM Symbol
11% plus rapide
5 GHz
4 flux 802.11ac
1733 Mbps
4 flux 802.11ax
2402 Mbps
2.4 GHz
4 flux 802.11ac
1148 Mbps
Omada SDN - Solution cloud intelligente pour les réseaux d'entreprise
La plate-forme Omada SDN (Software Defined Networking) intègre l'adminsitratino à distance des périphériques réseau : points d'accès, switches et passerelles TP-Link, garantissant un réseau d'entreprise puissant avec une efficacité supérieure, une sécurité accrue et une fiabilité accrue.
WiFi 6 AP for High-Density Environments
EAP660 HD
Wall Plate AP
Outdoor AP
Ceiling Mount AP
JetStream PoE Switches
SafeStream Security Gateway
Cloud Access
Omada
Cloud-Based Controller
Administration centralisée via le Cloud :
Gestion cloud 100% centralisée de l'ensemble du réseau à partir de différents sites, le tout contrôlé à partir d'une seule interface n'importe où, n'importe quand.
Performances câblées optimisées avec port 2.5 GE PoE+
Equipé d'un port Ethernet 2,5 Gigabit, l'EAP660 HD offre des performances multi-gigabits exceptionnelles pour prendre en charge la demande insatiable d'un WiFi meilleur et plus rapide. La compatibilité avec la norme 802.3at PoE + est idéale pour un déploiement flexible.
Port 2.5 GE PoE+
Itinérance transparente
L'itinérance 802.11k / v fait basculer automatiquement les clients vers le point d'accès avec le signal optimal avec une transition transparente lors du déplacement. △ Cela permet aux applications sensibles telles que la VoIP et les vidéoconférences de ne pas être interrompues.
Augmentez l'efficacité du réseau dans tous les aspects
grâce à de riches fonctionnalités avancées
Band Steering

Déplace automatiquement les appareils double bande sur la bande plus large de 5 GHz pour des connexions plus rapides.

Load Balance

Garantit à un grand nombre d'utilisateurs une expérience réseau fluide dans les réseaux d'entreprise à haute densité

Airtime Fairness

Augmente le débit moyen du réseau dans les environnements fortement encombrés
Facile à monter avec un design industriel raffiné
1 pousser 2 tourner pour verrouiller
Réseau invité sécurisé avec Facebook Wi-Fi et connexion SMS
Fournit un accès sécurisé élevé aux invités partageant votre réseau WiFi, avec un portail captif aidant à maintenir uniquement les invités autorisés à utiliser le réseau. L'ajout de l'authentification SMS et Facebook simplifie encore davantage le portail captif pour simplifier la connectivité et dynamiser votre entreprise.
Hospitality

TP-Link Omada allows hotels to build reliable WiFi networks. Hotel WiFi network solutions including network topology, design, features, installation, and products are introduced.

Full WiFi coverage and wired connections
Flexible guest control
Seamless roaming
Easy Management

Education

Due to its reliable, scalable, and secure network solution, TP-Link has been widely acknowledged by global customers in the Education market ranging from infant schools with a few APs up to colleges and universities with hundreds of APs.

Easy management
High-density WiFi
Full WiFi coverage and wired connections
VPN and security

High-Density Environment

Equipped with enterprise chipsets, dedicated antennas, advanced RF functions, and auto channel selection and power adjustment, Omada Wi-Fi 6 and Wi-Fi 5 APs have high concurrency capacity for high-density environments.

Enhanced Multi-User Capability
Improved Dense WiFi Experience
Full WiFi Coverage
CARACTERISTIQUES MATERIELLES
Interface
1× 2.5 Gbps Ethernet Port (supports IEEE802.3at PoE)
Bouton
Reset
Alimentation
• 802.3at PoE
• 12 V DC

Consommation
• EU: 18.5 W

Dimensions (LxPxH)
243 × 243 × 64 mm
Type d'antenne
Internal Omni• 2.4 GHz: 4× 4 dBi• 5 GHz: 4× 5 dBi
Montage
Ceiling /Wall Mounting (Kits included)
Caractéristiques WiFi
Standards WiFi
IEEE 802.11ac/n/g/b/a
Fréquence
2.4GHz and 5GHz
Débit du signal
5GHz:Up to 1300Mbps2.4GHz:Up to 450Mbps
Fonctions WiFi
• 1024-QAM
• 4× Longer OFDM Symbol
• OFDMA
• Multiple SSIDs (Up to 16 SSIDs, 8 for each band)
• Enable/Disable Wireless Radio
• Automatic Channel Assignment
• Transmit Power Control (Adjust Transmit Power on dBm)
• QoS(WMM)
• MU-MIMO
• Seamless Roaming
• Band Steering
• Load Balance
• Airtime Fairness
• Beamforming
• Rate Limit
• Reboot Schedule
• Wireless Schedule
• Wireless Statistics based on SSID/AP/Client
Sécurité WiFi
• Captive Portal Authentication
• Access Control
• Wireless Mac Address Filtering
• Wireless Isolation Between Clients
• SSID to VLAN Mapping
• Rogue AP Detection
• 802.1X Support
• WEP, WPA-Personal/Enterprise, WPA2-Personal/Enterprise, WPA3-Personal/Enterprise

Puissance de transmission
• CE:<20 dBm(2.4 GHz, EIRP)<23 dBm(5 GHz, EIRP)• FCC:<26 dBm (2.4 GHz)<26 dBm (5 GHz)
Administration
Omada App
Yes
Administration Centralisée
• Omada Cloud-Based Controller
• Omada Hardware Controller (OC300)
• Omada Hardware Controller (OC200)
• Omada Software Controller
Accès Cloud
Yes (Through Omada Software Controller or OC200)
Alertes Email
Yes
DEL ON/OFF
Yes
Administration de contrôle d'accès des adresses MAC
Yes
SNMP
v1, v2c, v3
Journal système local/distant
Local/Remote Syslog
SSH
Yes
Administration par interface WEB
HTTP/HTTPS
Administration Niveau 3
Yes
Administration Multi-sites
Yes
Administration VLAN
Yes
Autres
Certification
CE, FCC, RoHS
Contenu de l'emballage
• EAP660 HD
• Power Adapter
• Ceiling/Wall Mounting Kits
• Installation Guide
Système requis
Microsoft Windows XP, Vista, Windows 7, Windows 8, Windows10, Linux
Environnement
Operating Temperature: 0℃~40℃
Storage Temperature: -40℃~70℃
Operating Humidity: 10%~90% non-condensing
Storage Humidity: 5%~90% non-condensing


* Les débits de signal WiFi maximum sont les débits physiques dérivés des spécifications de la norme IEEE 802.11. Le débit de données WiFi et la couverture WiFi réels ne sont pas garantis et varieront en raison de 1) des facteurs environnementaux, notamment les matériaux de construction, les objets physiques et les obstacles, 2) les conditions du réseau, y compris les interférences locales, le volume et la densité du trafic, l'emplacement du produit, complexité du réseau et surcharge du réseau, et 3) limitations du client, y compris les performances, l'emplacement, la connexion, la qualité et l'état du client.
‡ 4 × Augmentation de la capacité fait référence à l'augmentation du débit médian dans un environnement dense par rapport au point d'accès 4 × 4 11ac standard.
§Zero-Touch Provisioning nécessite l'utilisation de Omada Cloud-Based Controller.
△ L'itinérance transparente nécessite que les clients doivent prendre en charge 802.11k / v et peut nécessiter une configuration supplémentaire. Les performances peuvent varier en fonction de l'appareil client.
* L'utilisation d'OFDMA nécessite que les clients prennent également en charge OFDMA.
** Les fonctionnalités UL MU-MIMO peuvent être activées par des mises à jour logicielles.
De United States?
Infos produits, événements, services pour votre pays.