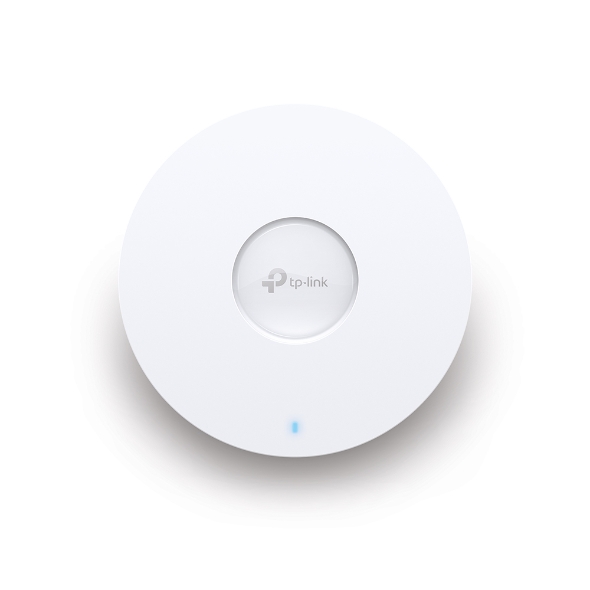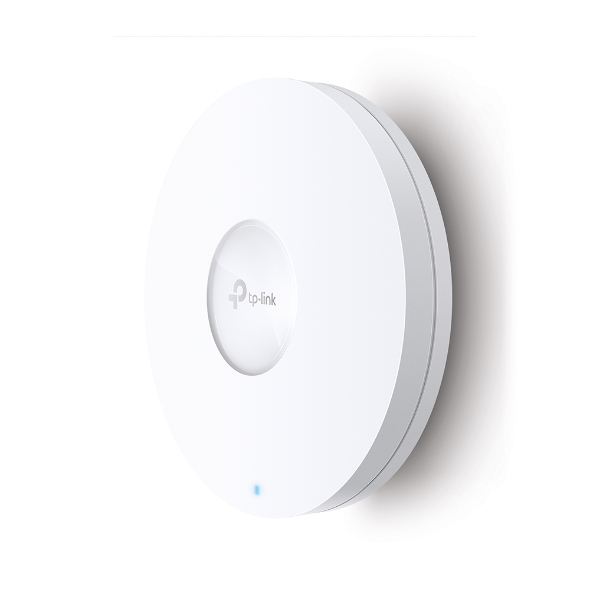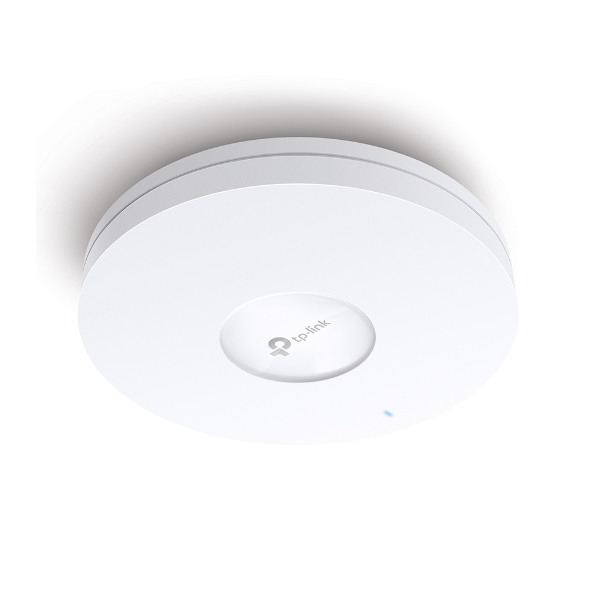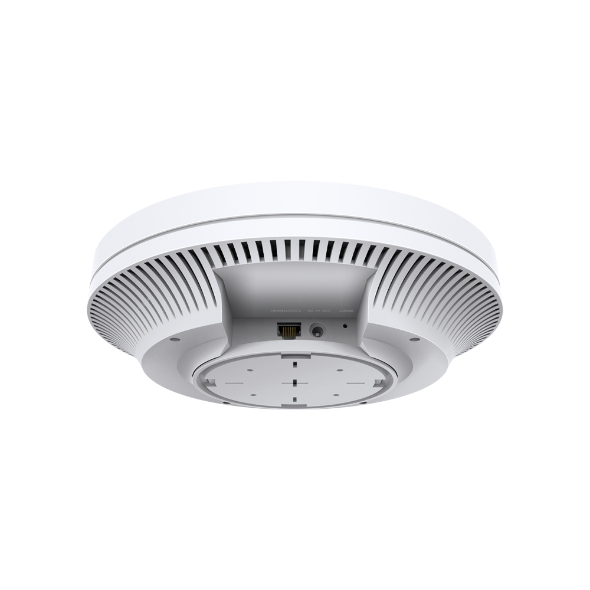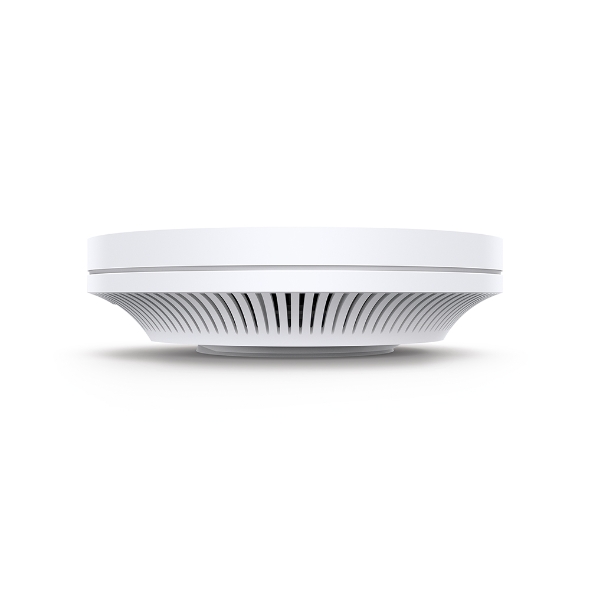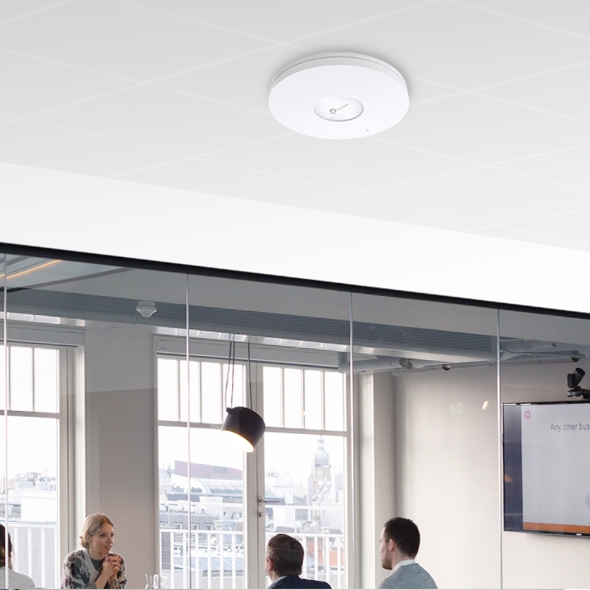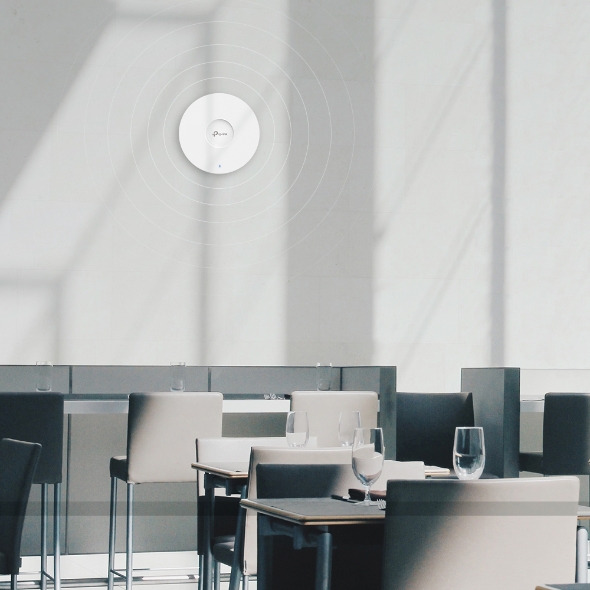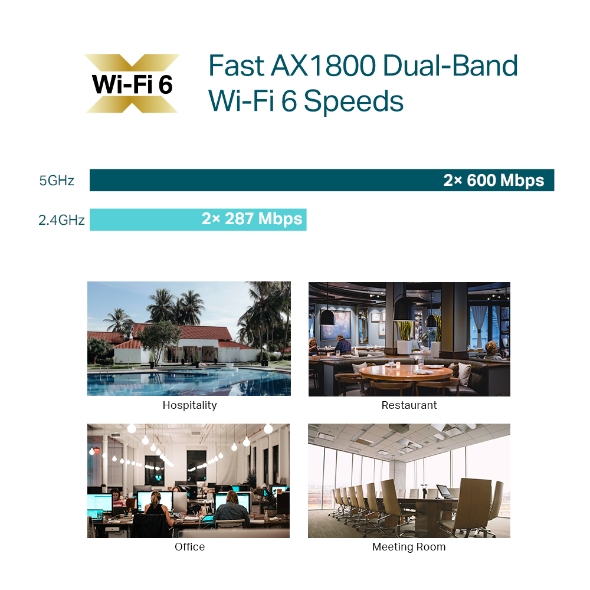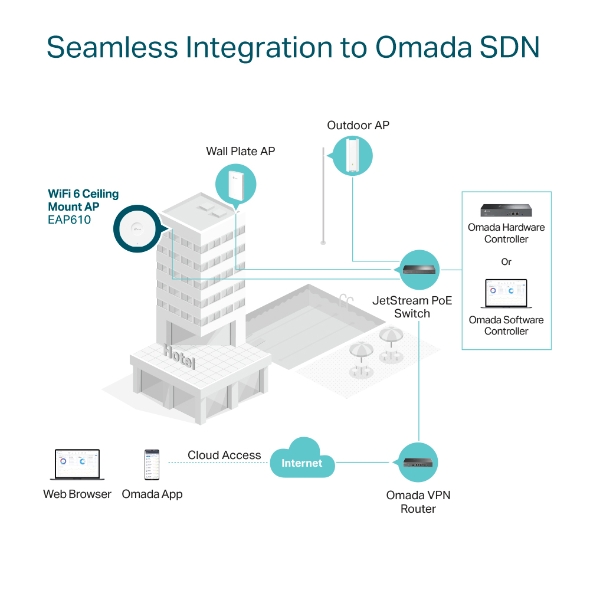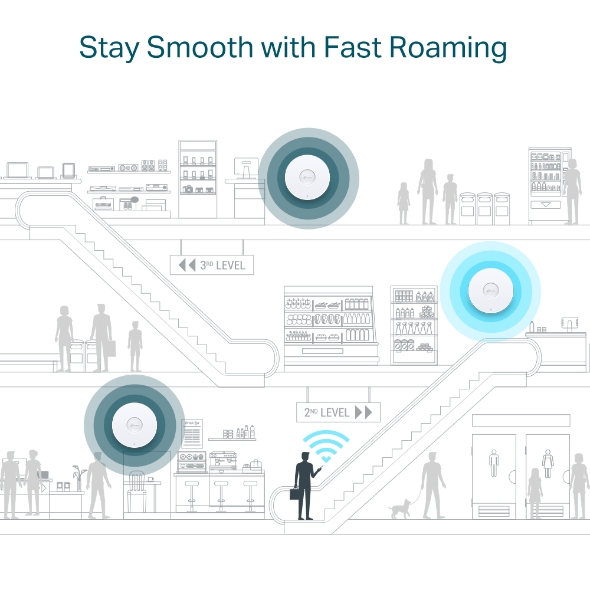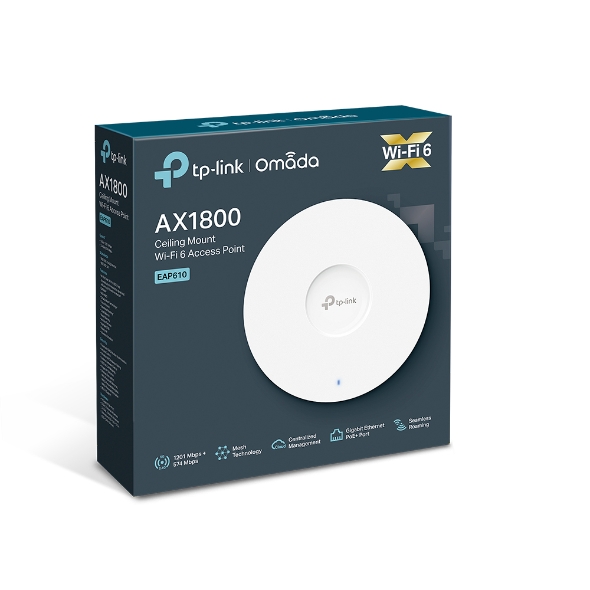 Point d'accès plafonnier WiFi 6 AX1800 bi-bande
Débit WiFi 6 ultra-rapide : 574 Mbps simultanés sur 2,4 GHz et 1201 Mbps sur 5 GHz totalisent des vitesses Wi-Fi de 1775 Mbps.†
WiFi 6 haute efficacité : davantage d'appareils connectés peuvent profiter de vitesses plus rapides.
Administration centralisée Cloud : gérez l'ensemble du réseau localement ou depuis le cloud via l'interface utilisateur Web ou l'application Omada.
Itinérance transparente : même les flux vidéo et les appels vocaux ne sont pas affectés lorsque les utilisateurs se déplacent entre les emplacements. §
Omada Mesh : permet une connectivité sans fil entre les points d'accès pour une portée étendue et un déploiement flexible. §
Alimentation PoE+ : prise en charge à la fois l'alimentation par Ethernet (802.3at) et l'alimentation CC pour des installations flexibles.
Réseau Invité Sécurisé : avec plusieurs options d'authentification (SMS/Facebook Wi-Fi/Voucher, etc.) et de nombreuses technologies de sécurité WiFi.
En savoir plus sur Omada WiFi 6>​
En savoir plus sur Omada Cloud SDN>​
GARANTIE A VIE
Points clés
EAP610 est un point d'accès WiFi 6 AX1800 plafonnier, et est idéal pour la mise à niveau du réseau vers WiFi 6, comme les bureaux, les campus, les commerces et les hôtels. Avec la technologie WiFi 6, il offre des vitesses plus rapides, moins de décalage et une capacité plus élevée. Les fonctions avancées, notamment Omada Mesh, Seamless Roaming, MU-MIMO, Captive Portal, renforcent encore la sécurité, l'efficacité et la couverture du réseau.
De plus, ce produit est intégré au système de réseau défini par logiciel (SDN) d'Omada et peut être géré de manière centralisée avec un accès au cloud via le contrôleur matériel ou le contrôleur logiciel Omada. La capacité de contrôler, d'ajuster et de visualiser l'ensemble du réseau à partir de n'importe quel PC connecté rend la gestion Wi-Fi d'entreprise centralisée plus efficace que jamais.
Passez au WiFi 6, dynamisez votre entreprise
Le WiFi 6 offre des vitesses plus rapides, moins de décalage et une capacité plus élevée.
Débits WiFi 6 supérieurs
La mise à niveau vers le WiFi 6 avec des vitesses allant jusqu'à 1775 Mbps (simultanément 574 Mbps sur 2,4 GHz et 1201 Mbps sur 5 GHz) apporte des vitesses 50% plus rapides que le WiFi 5 † . De plus, chaque application se sent plus fluide avec des vitesses de connexion Wi - Fi est considérablement améliorée, ‡ Alimenté par 4 flux spatiaux, 1024 QAM, et plus les temps de symbole OFDM.
Meilleure efficacité pour plus d'appareils
Les fonctionnalités WiFi 6 telles que OFDMA et MU-MIMO gèrent plusieurs clients dans des environnements encombrés tels que des espaces de bureau typiques, des logements et de petites cliniques. Profitez de vitesses plus rapides sur plus d'appareils avec moins de décalage.‡
Software Defined Networking (SDN) avec Accès Cloud
La plate-forme SDN (Software Defined Networking) d'Omada intègre des périphériques réseau, notamment des points d'accès, des commutateurs et des routeurs, pour fournir une gestion cloud 100 % centralisée et créer un réseau hautement évolutif, le tout contrôlé à partir d'une seule interface.
• Contrôleurs matériels ou logiciels
• Gestion centralisée du cloud
• Multi-Site Cloud Management
• Intelligent Monitoring
En savoir plus sur Omada SDN >>
Déploiement facile et performances supérieures par Omada Mesh §
Couplage facile, moins de câblage
Avec la technologie Mesh, les EAP Omada vous évitent des fils supplémentaires en étendant sans fil votre signal WiFi plus loin et de manière plus flexible aux zones difficiles à câbler.
Performances réseau optimisées
L'auto-organisation intelligente optimise le meilleur chemin entre les EAP tandis que l'auto-guérison vous garantit de rester en ligne même lorsqu'un AP est perturbé.
Restez toujours fluide avec l'itinérance rapide §
Garantit aux clients de profiter d'un streaming ininterrompu lorsqu'ils se déplacent en basculant automatiquement les clients vers les points d'accès avec le signal optimal.
Facile à installer avec une conception industrielle raffinée et une prise en charge PoE
EAP610 prend en charge à la fois DC et 802.3at PoE+ pour des installations flexibles. L'ajout d'une apparence élégante et d'une conception de montage simple pour une fixation facile à un mur ou au plafond rend le déploiement sans effort et facile.
Sécurité et efficacité du réseau renforcées
Réseau invité sécurisé avec jusqu'à 16 SSID
L'accès au réseau invité offre une sécurité renforcée aux invités. Différents SSID permettent également une gestion flexible des accès.
Portail captif avec connexion WiFi et SMS Facebook
Le portail captif (y compris SMS, Facebook WiFi, Voucher) et l'authentification 802.1x aident à maintenir les invités autorisés à utiliser le réseau. Boostez votre entreprise avec une page marketing personnalisée.
WPA3 pour les réseaux publics ouverts sans souci
Avec une sécurité d'entreprise avancée et Enhanced Open™, WPA3 offre une plus grande sécurité des données pour les points d'accès Wi-Fi ouverts et non sécurisés auparavant.
Direction de bande
Déplace automatiquement les appareils à double bande sur la bande 5 GHz plus large pour des connexions plus rapides.
Équilibre de charge
Déplace automatiquement les appareils à double bande sur la bande 5 GHz plus large pour des connexions plus rapides.
Équité du temps d'antenne
Augmente le débit moyen du réseau dans les environnements fortement encombrés.
Gestion facile avec l'application Omada
Suivez les instructions de configuration sur l'application gratuite Omada pour vous installer en quelques minutes. Omada vous permet de configurer les paramètres, de surveiller l'état du réseau et de gérer les clients, le tout depuis le confort d'un smartphone ou d'une tablette.
Cliquez ici pour voir les appareils compatibles avec l'application Omada >>
CARACTERISTIQUES MATERIELLES
Interface
1× Gigabit Ethernet (RJ-45) Port (supports IEEE802.3at PoE)
Bouton
Reset
Alimentation
• 802.3at PoE• 12 V / 1 A DC
Consommation
• EU: 12.8 W (For PoE); 10.8 W (for DC)• US: 13.9W (For PoE); 11.8 W (for DC)
Dimensions (LxPxH)
243 × 243 × 64 mm
Type d'antenne
Internal Omni• 2.4 GHz: 2× 4 dBi• 5 GHz: 2× 5 dBi
Montage
Ceiling /Wall Mounting (Kits included)
Caractéristiques WiFi
Standards WiFi
IEEE 802.11ax/ac/n/g/b/a
Fréquence
2.4 GHz and 5 GHz
Débit du signal
5 GHz: Up to 1201 Mbps2.4 GHz: Up to 574 Mbps
Fonctions WiFi
• 1024-QAM• 4× Longer OFDM Symbol• OFDMA• Multiple SSIDs (Up to 16 SSIDs, 8 for each band)• Enable/Disable Wireless Radio• Automatic Channel Assignment• Transmit Power Control (Adjust Transmit Power on dBm)• QoS(WMM)• MU-MIMO • Seamless Roaming• Omada Mesh• Band Steering• Load Balance• Airtime Fairness • Beamforming• Rate Limit• Reboot Schedule• Wireless Schedule• Wireless Statistics based on SSID/AP/Client
Sécurité WiFi
• Captive Portal Authentication• Access Control• Wireless Mac Address Filtering• Wireless Isolation Between Clients• SSID to VLAN Mapping• Rogue AP Detection• 802.1X Support• WPA-Personal/Enterprise, WPA2-Personal/Enterprise, WPA3-Personal/Enterprise
Puissance de transmission
• CE:<20 dBm(2.4 GHz, EIRP)<23 dBm(5 GHz, EIRP)• FCC:<25 dBm (2.4 GHz)<25 dBm (5 GHz)
Administration
Omada App
Yes
Administration Centralisée
• Omada Hardware Controller (OC300)• Omada Hardware Controller (OC200)• Omada Software Controller
Accès Cloud
Yes (Through OC300, OC200, or Omada Software Controller)
Alertes Email
Yes
DEL ON/OFF
Yes
Administration de contrôle d'accès des adresses MAC
Yes
SNMP
v1, v2c, v3
Journal système local/distant
Local/Remote Syslog
SSH
Yes
Administration par interface WEB
HTTP/HTTPS
Administration Niveau 3
Yes
Administration Multi-sites
Yes
Administration VLAN
Yes
Autres
Certification
CE, FCC, RoHS
Contenu de l'emballage
• EAP610• Power Adapter• Ceiling/Wall Mounting Kits• Installation Guide
Système requis
Microsoft Windows XP, Vista, Windows 7, Windows 8, Windows10, Linux
Environnement
• Operating Temperature: 0–40 ℃
• Storage Temperature: -40–70 ℃
• Operating Humidity: 10–90% RH non-condensing
• Storage Humidity: 5–90% RH non-condensing
†Les débits de signal WiFi maximum sont les débits physiques dérivés des spécifications de la norme IEEE 802.11. Le débit de données WiFi et la couverture WiFI réels ne sont pas garantis et varieront en fonction 1) de facteurs environnementaux, y compris les matériaux de construction, les objets physiques et les obstacles, 2) les conditions du réseau, y compris les interférences locales, le volume et la densité du trafic, l'emplacement du produit, la complexité du réseau et la surcharge du réseau, et 3) les limitations du client, y compris les performances nominales, l'emplacement, la connexion, la qualité et l'état du client.
‡L'utilisation du Wi-Fi 6 (802.11ax) et des fonctionnalités telles que OFDMA et MU-MIMO nécessitent que les clients prennent également en charge les fonctionnalités correspondantes.
§Omada Mesh et Seamless Roaming nécessitent l'utilisation de contrôleurs Omada.
De United States?
Infos produits, événements, services pour votre pays.