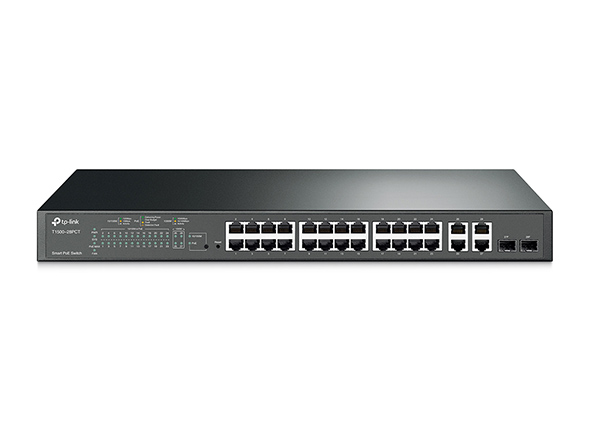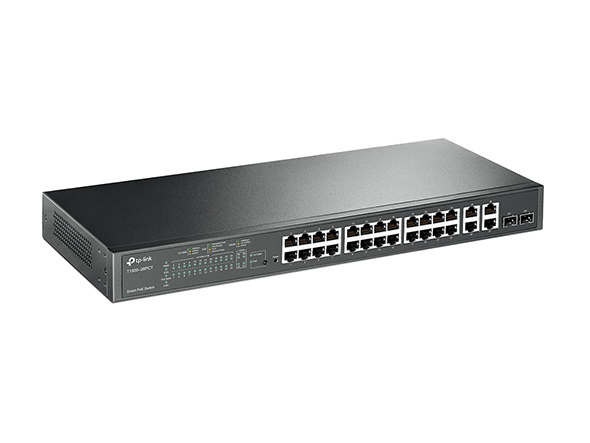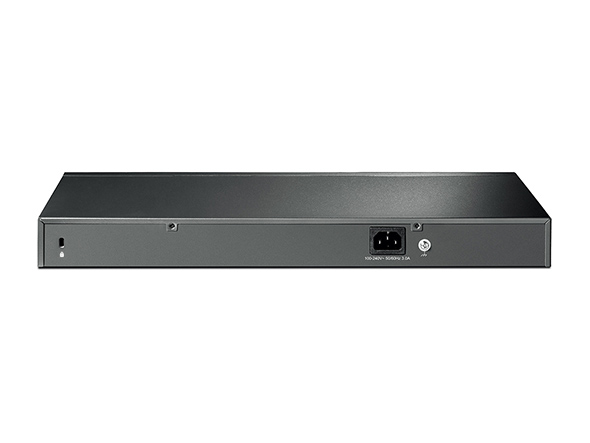 Smart Switch administrable 24 ports 10/100 Mbps PoE+ avec 4 ports Gigabit
Supporte 24 ports 802.3at/af compatible PoE+ pour une puissance totale de 180W
Le groupage IP-MAC-Port-VID, l'ACL, la sécurité par port, la défense DoS, le Storm control, le snooping DHCP, l'authentification 802.1X et Radius vous offrent des stratégies de sécurité efficaces.
Les fonctions QoS L2/L3/L4 et snooping IGMP permettent d'optimiser les applications voix et vidéo.
Les modes d'administration WEB/CLI, SNMP et RMON offrent une multitude de fonctionnalités de gestion.
Fonctions
Le switch Gigabit T1500-28PCT de TP-LINK fournit 24 ports 10/100 Mbps qui supportent PoE+ 802.3at/af, avec une puissance totale de 180W, largement suffisant pour prendre en charge des points d'accès sans fil ou des caméras IP PoE. Le switch fournit une haute performance, un QoS niveau entreprise, des stratégies de sécurité avancées et des fonctions de gestion avancées de niveau 2. De plus, le switch est équipé de 4 ports 10/100/1000Mbps, étendant la flexibilité de votre réseau. Ce switch administrable smart PoE est rentable pour les petites et moyennes entreprises. Le T1500G-28PCT est pourvu d'une solide sécurité et de fonctions de gestion. Des fonctionnalités de protection contre les tempêtes de type Braadcast, multicast ou unicast sont présentes. Les fonctions Qualité de Service (QoS, L2 à L4) offrent des capacités de gestion de trafic améliorées qui vous permettent de déplacer vos données de manière plus fluide et plus rapide.
Qui plus est, les interfaces de gestion Web, ajoutées aux fonctions SNMP et RMON, assurent une installation et une configuration plus rapides et réduisent le temps d'immobilisation du réseau. TP-LINK, pour les groupes de travail et les services demandant une commutation de niveau 2 rentable.
IEEE 802.3at/af-compatible Power over Ethernet
Le T1500G-28PCT supporte 24 ports RJ45 auto-négociés qui prennent en charge la fonction Power over Ethernet (PoE) pour une puissance totale de 180W. Ces ports PoE peuvent détecter et alimenter en courant électrique tout matériel téléalimenté (Powered Device) conforme à la norme IEEE 802.3af. Le courant électrique est transmis en même temps que les données dans un câble unique, permettant ainsi l'extension de votre réseau à des endroits dépourvus de toute prise électrique. Compacte et flexible, le T1500G-28PCT vous permettra d'installer plusieurs points d'accès, des caméras IP, des téléphone VoIP, etc.
Fonctionnalités QoS avancées
Le switch utilise des stratégies orientées QoS afin d'intégrer les services voix, données et vidéo au sein d'un seul et même réseau. L'administrateur peut attribuer des priorités au trafic à l'aide de différents moyens, priorité par port, 802.1P et DSCP pour garantir un fonctionnement toujours net, fluide et sans interruption aux applications utilisant la voix ou la vidéo. La fonction VLAN Voice supportée par le switch assure aux applications utilisant la voix un fonctionnement fluide et sans interruption.
Nombreuses fonctionnalités d'administration Niveau 2
Pour un champ d'application plus large des switches L2, le T1500-28PCT prend en charge une liste complète de fonctionnalités Niveau 2, dont le VLAN par balisage 802.1Q, la duplication de ports, STP/RSTP/MSTP, le protocole de contrôle d'agrégation de liens et la fonction contrôle de flux 802.3x. De plus, le switch propose des fonctionnalités avancées pour la maintenance du réseau, comme Loop Back Detection, Cable Diagnostics et IGMP Snooping.
Des fonctionnalités d'administration dédiées aux entreprises
T1500-28PCT est simple à utiliser et à administrer. Il prend en charge diverses fonctions d'administration standard comme par exemple une interface de gestion Web (GUI) intuitive. Le trafic lié à l'administration peut être sécurisé à l'aide des chiffrements SSL ou SSH. Grâce aux fonctions SNMP (v1/2/3) et RMON, le switch peut par ailleurs remonter de précieuses informations sur son état et envoyer des alertes lors d'événements inhabituels. .
Hospitality

TP-Link Omada allows hotels to build reliable WiFi networks. Hotel WiFi network solutions including network topology, design, features, installation, and products are introduced.

Full WiFi coverage and wired connections
Flexible guest control
Seamless roaming
Easy Management

Education

Due to its reliable, scalable, and secure network solution, TP-Link has been widely acknowledged by global customers in the Education market ranging from infant schools with a few APs up to colleges and universities with hundreds of APs.

Easy management
High-density WiFi
Full WiFi coverage and wired connections
VPN and security

Switches for Business WiFi

For small and medium-sized businesses, a network switch is the fundamental component to build their business network. TP-Link offers an extensive portfolio of network switches with abundant functions and flexible options for every stage of your business growth.

High-Speed Wired LAN Network
Manage with Ease
Abundant Security Strategies
Lower Yours Costs
Comprehensive Products
Soborka ISP

TP-Link Helps ISP Soborka Provide Better Service for Subscribers

Soborka ISP

TP-Link Helps ISP Soborka Provide Better Service for Subscribers

"TP-Link's products offer tremendous value, which allowed us to reduce the cost of updating our large network without compromising performance. Our customers are much more satisfied with the network since the upgrade. It has done a lot to improve our reputation." —Soborka's CEO
CARACTERISTIQUES MATERIELLES
Standards et Protocoles
IEEE 802.3i, IEEE 802.3u, IEEE 802.3ab, IEEE802.3z, IEEE 802.3ad, IEEE 802.3x, IEEE 802.3az, IEEE 802.1d, IEEE 802.1s, IEEE 802.1w, IEEE 802.1q, IEEE 802.1x, IEEE 802.1p, IEEE 802.3af, IEEE 802.3at
Interface
24 10/100Mbps RJ45 Ports
(Auto Negotiation/Auto MDI/MDIX)
4 10/100/1000Mbps RJ45 Ports
(Auto Negotiation/Auto MDI/MDIX)
2 Combo Gigabit SFP Slots
Interface réseau
10BASE-T: UTP category 3, 4, 5 cable (maximum 100m)
100BASE-TX/1000Base-T: UTP category 5, 5e or above cable
(maximum 100m)
1000BASE-X: MMF, SMF
Nombre de ventilateurs
2
Système de verrou physique
Yes
Consommation
Maximum(PoE on): 222.15W (220V/50Hz)
Budget PoE
192W
Dimensions (LxPxH)
440*220*44 mm
Montage
Rack Mountable
Consommation maximale
21.7W (220V/50Hz with no PD connected)
229.73W (110V/60Hz with 192W PD connected)
Max dissipation thermique
74.04 BTU/h (with no PD connected)
783.84 BTU/h (with 192W PD connected)
Performances
Bande passante/ backplane
12.8Gbps
Taux de transfert de paquets
9.5Mpps
Tableau d'adresses MAC
8k
Trame Géante
9216 Bytes
CARACTERISTIQUES LOGICIELLES
Qualité de Service QoS
• 802.1p CoS/ DSCP priority
• 8 priority queues
• Priority Schedule Mode
- SP (Strict Priority)
- WRR (Weighted Round Robin)
• Queue Weight Config
• Bandwidth Control
- Port/Flow based Rating Limit
• Smoother Performance
• Actions for flows
- Mirror(to supported interface)
- Redirect(to supported interface)
- Rate Limit
- QoS Remark
• Storm Control
- Multiple Control Modes(kbps/ratio/pps)
- Broadcast/Multicast/Unknown-Unicast Control

Fonctions N2
• Link Aggregation
- static link aggregation
- Up to 8 aggregation groups and up to 8 ports per group
- 802.3ad LACP
• Spanning Tree Protocol
- 802.1D STP
- 802.1w RSTP
- 802.1s MSTP
- STP Security: Loop back detection, TC Protect, BPDU Filter/Protect, Root Protect
• Loopback Detection
• Flow Control
- 802.3x Flow Control
• Mirroring
- Port Mirroring
- One-to-One
- Many-to-One
- Flow-Based
- Ingress/Egress/Both
- CPU Mirroring
• Device Link Detect Protocol(DLDP)


Multidiffusion N2
• 512 IPv4,IPv6 shared multicast groups
• IGMP Snooping
- IGMP v1/v2/v3 Snooping
- Fast Leave
- IGMP Snooping Querier
- IGMP Authentication
- Static Group Config
• MLD Snooping
- MLD v1/v2 Snooping
- Fast Leave
- MLD Snooping Querier
- Static Group Config
• Multicast VLAN Registration
• Multicast Filtering

Prise en charge IPv6
• IPv6 Dual IPv4/IPv6
• Multicast Listener Discovery(MLD) Snooping
• IPv6 neighbor discovery (ND)
• Path maximum transmission unit (MTU) discovery
• Internet Control Message Protocol (ICMP) version 6
• TCPv6/UDPv6
• IPv6 applications
- DHCPv6 Client
- Ping6
- Tracert6
- Telnet(v6)
- IPv6 SNMP
- IPv6 SSH
- IPv6 SSL
- Http/Https
- IPv6 TFTP

VLAN
• VLAN Group
- Max. 4K VLAN Groups
• 802.1Q tag VLAN
• MAC VLAN
• Protocol VLAN
• GVRP
• Voice VLAN
Liste de contrôle d'accès
• Support up to 230 entries
• Time-Range
- Time Slice
- Week Time-Range
- Absolute Time-Range
- Holiday
• Time-based ACL
• MAC ACL
- Source MAC
- Destination MAC
- VLAN ID
- User Priority
- Ether Type
• IP ACL
- Source IP
- Destination IP
- IP Protocol
- TCP Flag
- TCP/UDP Source Port
- TCP/UDP Destination Port
- DSCP/IP TOS
• IPv6 ACL
• Combined ACL
• Rule Operation
- Permit/Deny
• Policy Action
- Mirror
- Rate Limit
- Redirect
- QoS Remark
• ACL Rules Binding
- Port Binding
- VLAN Binding

Sécurité
• AAA
• 802.1X
- Port based authentication
- MAC(Host) based authentication
- Authentication Method includes PAP/EAP-MD5/EAP-TLS/EAP-TTLS/EAP-PEAP
- MAB
- Guest VLAN
- Support Radius authentication and accountability
• IP/IPv6-MAC Binding
- 512 Binding Entries
- DHCP Snooping
- DHCPv6 Snooping
- ARP Inspection
- ND Detection
• IP Source Gurad
- 253 Entries
- Source IP+Source MAC
• IPv6 Source Gurad
- 183 Entries
- Source IPv6 Address+Source MAC
• DoS Defend
• Static/Dynamic/Permanent Port Security
- Up to 64 MAC addresses per port
• Broadcast/Multicast/Unicast Storm Control
- kbps/ratio/pps control mode
• Port Isolation
• Secure web management through HTTPS with SSLv3/TLS1.0
• Secure Command Line Interface (CLI) management with SSHv1/SSHv2
• IP/Port/MAC based access control

Administration
• Web-based GUI and CLI management
• SNMPv1/v2c/v3
• SNMP Trap/Inform
• RMON (1,2,3,9 groups)
• SDM Template
• DHCP/BOOTP Client
• Dual Image, Dual Configuration
• CPU Monitoring
• Cable Diagnostics
• EEE
• System Log
• 802.1ab LLDP/ LLDP-MED


MIBs
• MIB II (RFC1213)
• Interface MIB (RFC2233)
• Ethernet Interface MIB (RFC1643)
• Bridge MIB (RFC1493)
• P/Q-Bridge MIB (RFC2674)
• RMON MIB (RFC2819)
• RMON2 MIB (RFC2021)
• Radius Accounting Client MIB (RFC2620)
• Radius Authentication Client MIB (RFC2618)
• Remote Ping, Traceroute MIB (RFC2925)
• Support TP-Link private MIBs

Autres
Certification
CE, FCC, RoHS
Contenu de l'emballage
T1500-28PCT
Power Cord
Installation Guide
Resource CD
Rackmount Kit
Rubber Feet
Système requis
Microsoft® Windows® XP, Vista™ Windows 7 or Windows 8, MAC® OS, NetWare®, UNIX® or Linux.
Environnement
Operating Temperature: 0℃~40℃
Storage Temperature: -40℃~70℃
Operating Humidity: 10%~90% non-condensing
Storage Humidity: 5%~90% non-condensing
De United States?
Infos produits, événements, services pour votre pays.