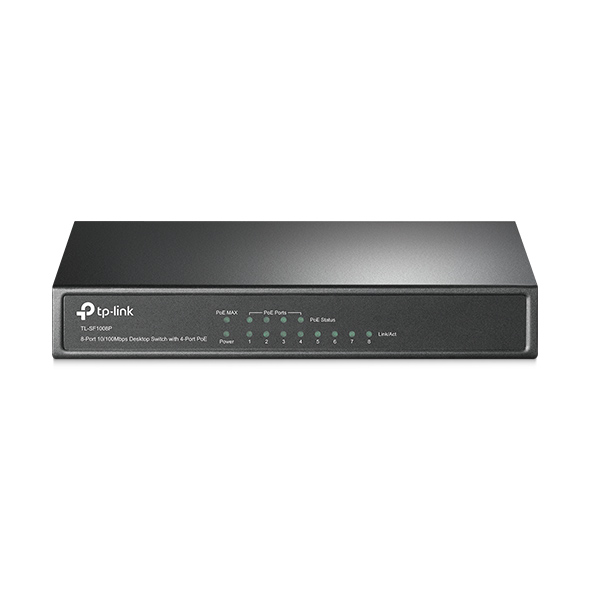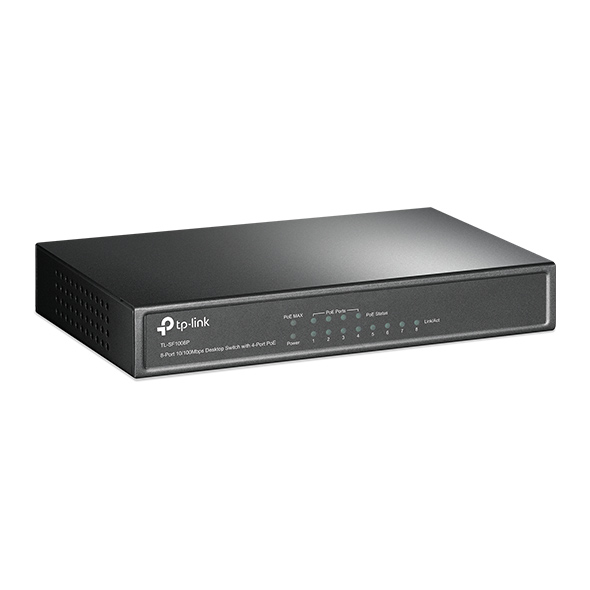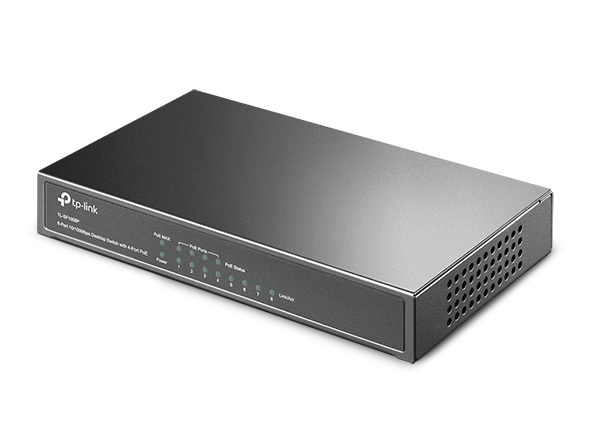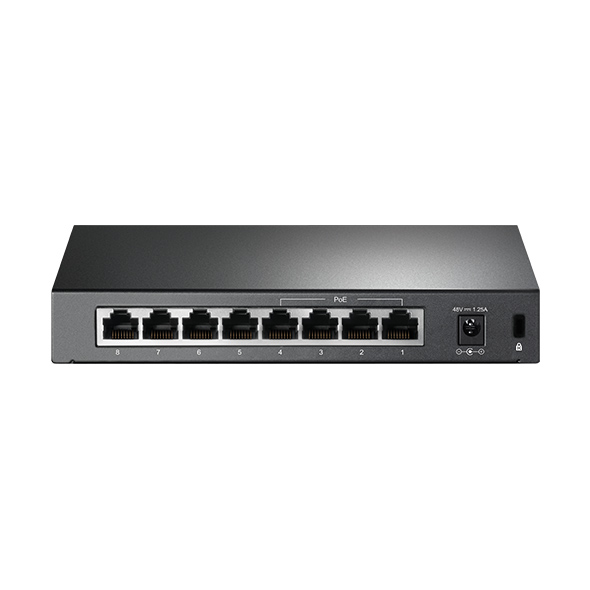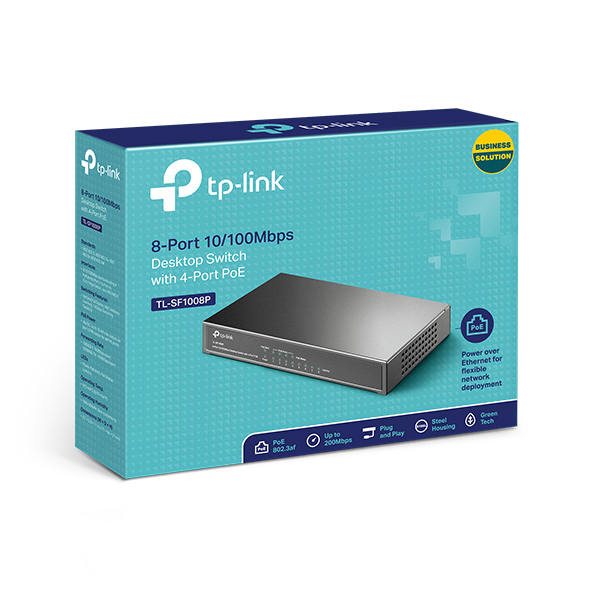 Switch de bureau 8 ports 10/100Mbps - 4 Ports PoE
Quatre ports PoE transfèrent les données et l'alimentation sur un seul câble.
Un appareil téléalimenté compatible IEEE 802.3af permet d'étendre le réseau domestique et professionnel.
Ne nécessite aucune configuration ni installation.
Fonctions
Le switch de bureau TL-SF1008P PoE 8 ports 10/100 Mbps non administrable, ne requiert aucune configuration et offre 4 ports PoE (Power over Etherner). Il détecte et alimente automatiquement tous les appareils conformes à IEEE802.3af. Dans ce cas l'alimentation est fournie en même temps que les données transférées sur un cordon ethernet standard vous permettant ainsi d'étendre votre réseau dans des zones dépourvues de prises électriques dans lesquels vous souhaitez installer point d'accès téléphone ou caméra ip compatibles IEEE802.3af.
Fonctionnement du produit PoE
4 des 8 ports RJ45 auto-négociés (port 1 à port 4) du switch prennent en charge la fonction Power over Ethernet (PoE). Ces ports PoE peuvent détecter et alimenter en courant électrique tout matériel téléalimenté (Powered Device) conforme à la norme IEEE 802.3af. Le courant électrique est transmis en même temps que les données dans un câble unique, permettant ainsi l'extension de votre réseau à des endroits dépourvus de toute prise électrique. Il vous sera alors par exemple possible d'y installer un point d'accès, une caméra IP, un téléphone Internet, etc.
- Gestion de la surcharge de consommation
Le TL-SF1008P propose la fonction priorité* qui aide à protéger le système quand ses ressources sont au plus bas. Si la consommation de l'appareil PoE téléalimenté est > = 57 W, une priorité d'alimentation est activée aux ports PoE et éventuellement l'alimentation du port le moins prioritaire est coupée.
- Priorité d'alimentation des ports
Ordre de priorité d'alimentation des ports (1>2>3>4) : Cette fonction aide à protéger le système quand l'alimentation est surchargée. Par exemple, si les ports 1, 2 et 4 utilisent 15,4 W (l'énergie maximale pour un port est 15,4 W), le système utilise 46,2 W au total (la DEL PoE max. est rouge). Si un autre appareil téléalimenté est inséré dans le port 3 avec 12 W, alors le système coupe le port 4 pour protéger le système. Cela signifie que les ports 1 et 2 utiliseront 15,4 W, le port 3 utilisera 12 W et le port 4 ne sera pas alimenté.
Facile à utiliser
Le TL-SF1008P est facile à installer et à utiliser. La configuration et l'installation ne sont pas nécessaires. Conçu pour être posé sur un bureau ou fixé à un mur, il combine performance et qualité remarquables, le switch de bureau TL-SF1008P de TP-LINK PoE 8 ports 10/100 Mbps est un excellent choix pour étendre votre réseau personnel ou professionnel.
Switches for Surveillance

For general surveillance, TP-Link has designed a variety of PoE Switches to meet the requirements of most IPCs. Many robust features provide value well beyond basic networking needs, creating a versatile and reliable surveillance network to grow your business.

Long-Range PoE
Auto Camera Recovery
Enhanced Network Security

Hospitality

TP-Link Omada allows hotels to build reliable WiFi networks. Hotel WiFi network solutions including network topology, design, features, installation, and products are introduced.

Full WiFi coverage and wired connections
Flexible guest control
Seamless roaming
Easy Management

Education

Due to its reliable, scalable, and secure network solution, TP-Link has been widely acknowledged by global customers in the Education market ranging from infant schools with a few APs up to colleges and universities with hundreds of APs.

Easy management
High-density WiFi
Full WiFi coverage and wired connections
VPN and security
CARACTERISTIQUES MATERIELLES
Interface
8 10/100Mbps RJ45 Ports
AUTO Negotiation/AUTO MDI/MDIX
Interface réseau
10BASE-T: UTP category 3, 4, 5 cable (maximum 100m)
EIA/TIA-568 100Ω STP (maximum 100m)
100BASE-TX: UTP category 5, 5e cable (maximum 100m)
EIA/TIA-568 100Ω STP (maximum 100m)
Nombre de ventilateurs
Fanless
Système de verrou physique
Yes
Alimentation externe
External Power Adapter(Output: 48VDC / 1.25A)
Taux de transfert de paquets
1.1904 Mpps
Ports PoE (RJ45)
Standard: 802.3 af compliant
PoE Ports: Port1- Port4
Power Supply: 57W
Bande passante en retour
1.6Gbps
Tableau d'adresses MAC
2K
Trame Géante
2 KB
Capacité de switch
1.6 Gbps
Dimensions (LxPxH)
171*98*27 mm
Consommation maximale
2.66(220/50Hz. no PD connected)
65.92(220/50Hz. with 57W PD connected)
Max dissipation thermique
9.08BTU/h(no PD connected)
224.92BTU/h(with 57W PD connected)
CARACTERISTIQUES LOGICIELLES
Méthode de transmission
Store-And-Forward
Fonctions avancées
Compatible With IEEE 802.3af Compliant PDs
Priority Function
Mac Address Auto-Learning And Auto-Aging
IEEE802.3x Flow Control For Full-Duplex Mode And Backpressure For Half-Duplex Mode

Autres
Certification
FCC, CE, RoHS
Contenu de l'emballage
TL-SF1008P, Power Adapter, User Guide
Environnement
Operating Temperature: 0℃~40℃
Storage Temperature: -40℃~70℃
Operating Humidity: 10%~90% non-condensing
Storage Humidity: 5%~90% non-condensing

De United States?
Infos produits, événements, services pour votre pays.