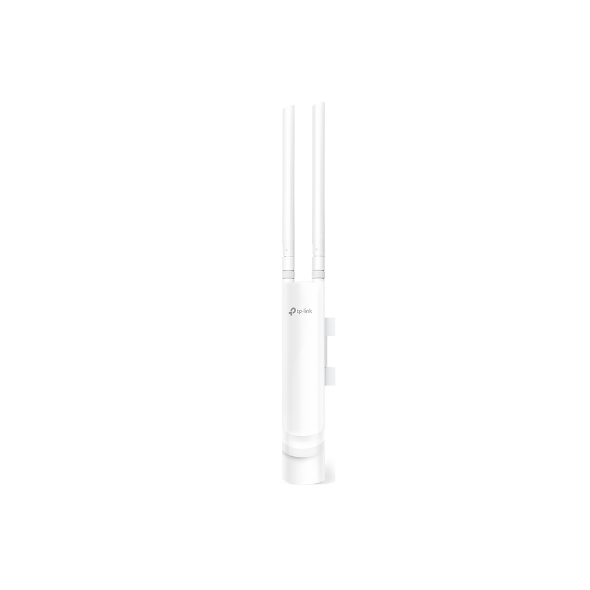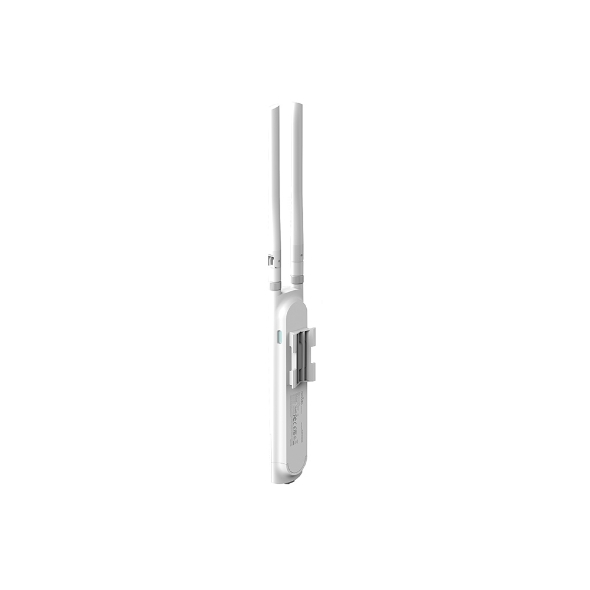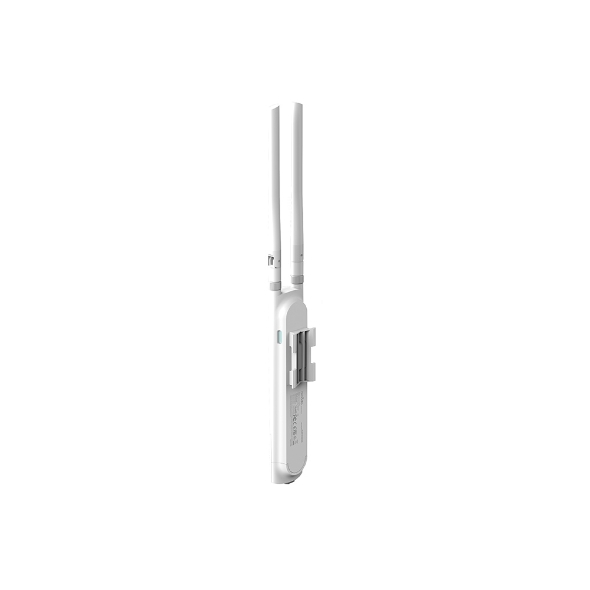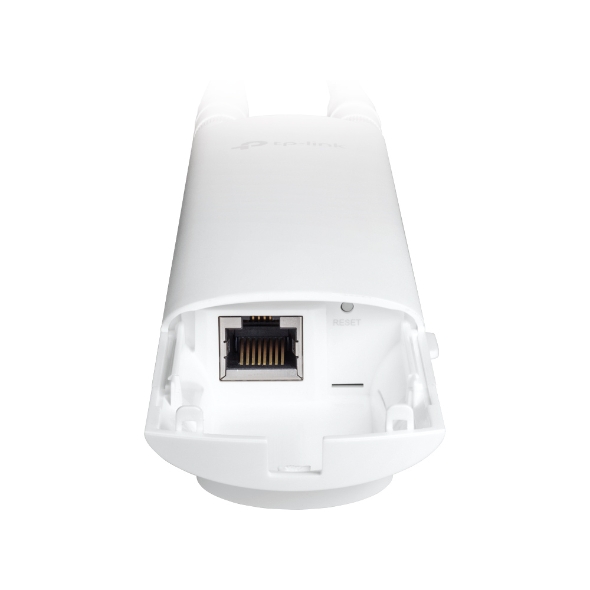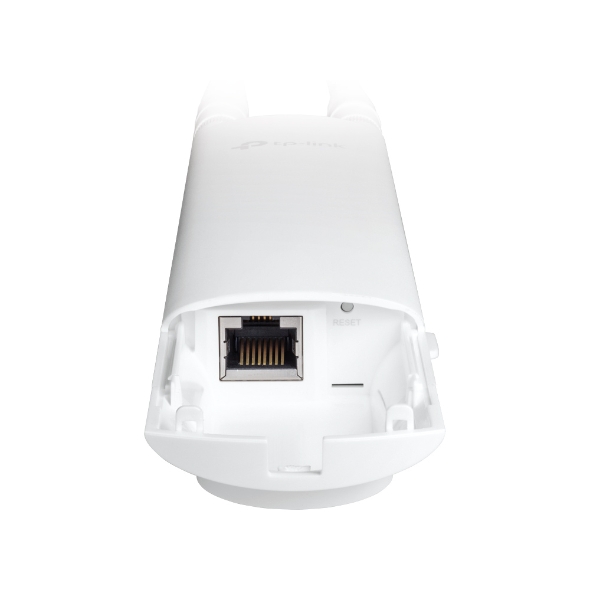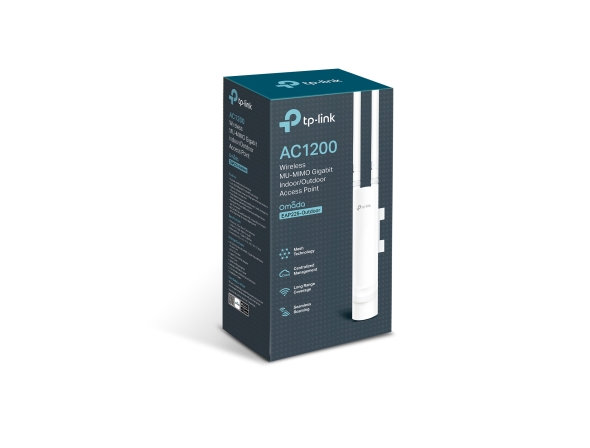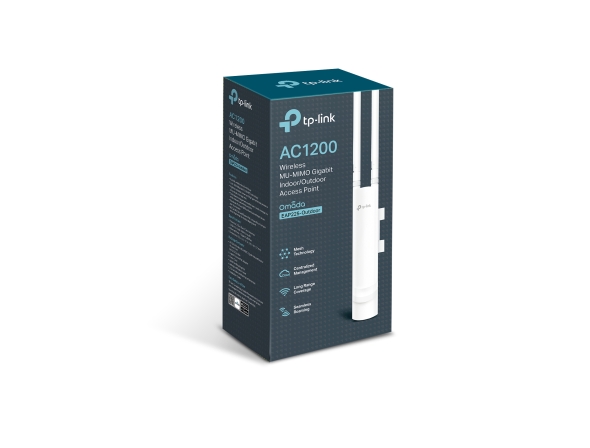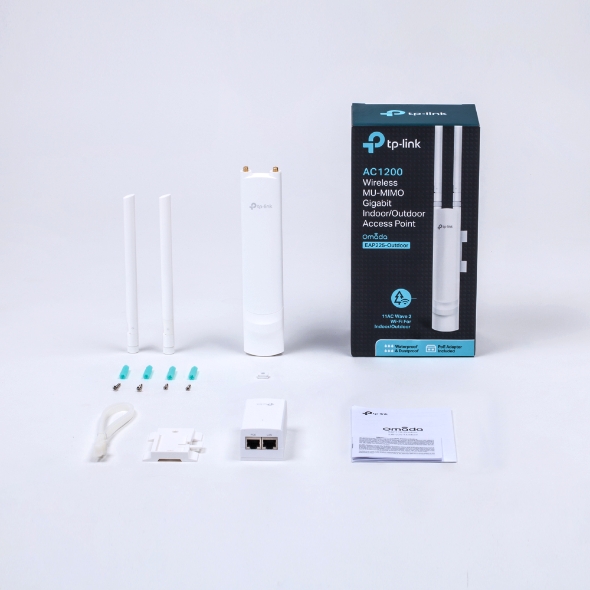 EAP225-Outdoor
Prochainement
Point d'accès Wi-Fi AC1200 MU-MIMO Gigabit Indoor/Outdoor
Boîtier durable et résistant aux intempéries pour les applications Wi-Fi extérieures
Jusqu'à 1200 Mbps avec la technologie MIMO 2 × 2
Certifié IP65
La puissance de transmission élevée et les antennes à gain élevé fournissent une zone de couverture à longue portée
Logiciel gratuit Omada Controller permet aux administrateurs de gérer facilement des centaines de points d'accès EAP
Portail captif fournit une méthode pratique d'authentification des invités
Facebook Wi-Fi et SMS authentication aider à stimuler votre entreprise
Compatible 802.3af / Passif PoE (adaptateur PoE inclus) pour un montage simple permettant un déploiement flexible
Allez plus loin avec le Wi-Fi 11AC Wave 2
Omada
EAP225-Outdoor
Technologie MU-MIMO avec débit Wi-Fi
L'EAP225-Outdoor prend en charge le débit simultané bi-ande jusqu'à 1200 Mbps. Équipé de la dernière technologie MU-MIMO 802.11ac Wave 2, EAP225-Outdoor peut communiquer avec plusieurs clients en même temps, ce qui le rend idéal pour les environnements haute densité.
EAP225-Outdoor
avec MU-MIMO
Design matériel haut niveau
Grâce à sa conception spéciale de son antenne, de son design, de ses options d'alimentation et de ses méthodes d'installation, l'EAP225-Outdoor peut parfaitement s'adapter à différents scénarios aussi bien à l'intérieur qu'à l'extérieur.
Antennes Amovibles
L'EAP225-Outdoor est équipé de 2 antennes amovibles omnidirectionnelles, ce qui signifie que d'autres antennes peuvent également être fixées pour répondre à vos besoins spécifiques.
Antennes Omni MIMO
Delicate Appearance Even Better for Indoor Applications
EAP225-Outdoor a la taille d'un téléphone, avec ses dimensions : 215 × 46 × 27 mm
215 mm
138 mm
Multiple options PoE pour une installation facile
L'EAP225-Outdoor prend en charge à la fois l'alimentation PoE 802.3af et PoE passive, peut être alimenté par un commutateur PoE ou l'adaptateur PoE fourni.
PoE Passif Gigabit Ethernet Port 802.3af PoE/24V
Déploiement Flexible
L'EAP225-Outdoor peut être facilement installé sur un mur ou sur un poteau avec les kits de montage fournis.
Le Wi-Fi qui tient la Distance
Avec une puissance de transmission élevée et des antennes omnidirectionnelles à gain élevé, EAP225-Outdoor offre une couverture sans fil stable dans une plage allant jusqu'à 200 m + * à 2,4 GHz et 300 m + * à 5 GHz dans les configurations extérieures.
* Basé sur des tests terrain. La portée de transmission réelle peut varier, selon l'environnement, le dispositif de réception, etc.
Coque spécialement conçue pour les intempéries
Environnement extérieur
Évalué comme IP65, une coque de ce point d'accès Wi-Fi est résistante aux intempéries et contre les conditions climatiques difficiles : humidité, poussière, etc.
Protection contre la foudre 4KV et protection ESD 15KV

Aucune entrée de poussière
Administration centralisée simplifiée
Gérez et surveillez facilement des centaines de EAP, à partir d'un seul emplacement. Le logiciel TP-Link Omada Controller fournit une interface de gestion intuitive. Contrôler et cartographier l'ensemble du réseau à partir de n'importe quel PC connecté. Il n'y a pas de coût supplémentaire, et pas besoin de formation spéciale. La gestion Wi-Fi pour entreprises n'a jamais été aussi efficace et rentable.
Omada Controller Software
Hospitality

TP-Link Omada allows hotels to build reliable WiFi networks. Hotel WiFi network solutions including network topology, design, features, installation, and products are introduced.

Full WiFi coverage and wired connections
Flexible guest control
Seamless roaming
Easy Management

Education

Due to its reliable, scalable, and secure network solution, TP-Link has been widely acknowledged by global customers in the Education market ranging from infant schools with a few APs up to colleges and universities with hundreds of APs.

Easy management
High-density WiFi
Full WiFi coverage and wired connections
VPN and security

Outdoor WiFi

TP-Link Omada outdoor WiFi access points offer smooth outdoor WiFi experience for outdoor events, WiFi outside home, or in the garden, yard, outdoor swimming pool, outdoor café, outdoor barns and shed. With Omada outdoor WiFi extenders, the outdoor wifi system is ideal for wirelessly connecting outdoor camera and outdoor speakers.

Long Outdoor WiFi Range
Outdoor WiFi for Camera and Outdoor Events, and WiFi Outside Home
Ideal for Outdoor WiFi in Garden, Outdoor Swimming Pool, and Outdoor Café.
Outdoor WiFi Extender with IP67 or IP65 Weatherproof Enclosure
CARACTERISTIQUES MATERIELLES
Interface
1× Gigabit Ethernet (RJ-45) Port (Support 802.3af PoE and Passive PoE)

Bouton
Reset
Alimentation
802.3af/A PoE
24V Passive PoE (+4,5pins; -7,8pins. PoE Adapter Included)
Consommation
10.5W
Dimensions (LxPxH)
215.7*45*37.7mm (without antenna & mounting kit)
403.8*90.7*55.2mm (with antenna & mounting kit)
Antenne
• 2.4 GHz: 2× 3 dBi
• 5 GHz: 2× 4 dBi

Etanche
IP65
Montage
Pole/Wall Mounting (Kits included)
Caractéristiques WiFi
Standards WiFi
IEEE 802.11a/b/g/n/ac
Fréquence
2.4 GHz, 5 GHz
Débit du signal
802.11ac: 5G:6.5 Mbps to 867Mbps(MCS0-MCS9,NSS = 1 to 2 VHT20/40/80) 2.4G:78Mbps to 300Mbps (MCS8-MCS9 VHT20/40, NSS=1 to 3)802.11n: 6.5 Mbps to 300 Mbps (MCS0-MCS15, VHT 20/40)802.11g: 6, 9, 12, 18, 24, 36, 48, 54 Mbps802.11b: 1, 5.5, 11Mbps802.11a: 6, 9, 12, 18, 24, 36, 48, 54 Mbps
Fonctions WiFi
Multiple SSIDs(Up to 16 SSIDs, 8 for each band)Enable/Disable Wireless RadioAutomatic Channel AssignmentTransmit Power Control (Adjust Transmit Power on dBm)QoS(WMM)MU-MIMOAirtime FairnessBeamformingBand SteeringLoad BalanceRate LimitReboot ScheduleWireless ScheduleWireless Statistics based on SSID/AP/Client
Sécurité WiFi
Captive Portal AuthenticationAccess ControlWireless Mac Address FilteringWireless Isolation Between ClientsSSID to VLAN MappingRogue AP Detection802.1X Support
Puissance de transmission
• CE: <20 dBm (2.4 GHz, EIRP), <27 dBm(5 GHz, EIRP)• FCC: <23 dBm (2.4 GHz), <22 dBm(5 GHz)
Administration
Omada App
Yes
Contrôleur Cloud Omada
Yes
Administration Centralisée
• Omada Cloud-Based Controller
• Omada Hardware Controller (OC300)
• Omada Hardware Controller (OC200)
• Omada Software Controller
Contrôleur Logiciel Omada
Yes
Accès Cloud
Yes
Alertes Email
Yes
Administration de contrôle d'accès des adresses MAC
Yes
SNMP
v1, v2c
Journal système local/distant
Yes
SSH
Yes
Administration par interface WEB
Yes
Administration Niveau 3
Yes
Administration Multi-sites
Yes
Administration VLAN
Yes
Autres
Certification
CE、FCC、RoHS
Contenu de l'emballage
Access Point EAP225-Outdoor
Passive PoE Adapter
Power Cord
Mounting Kits
Installation Guide
Waterproof Ruber Insert
Waterproof Antenna
Environnement
Operating Temperature: -30℃~70℃
Storage Temperature: -40℃~70℃
Operating Humidity: 10%~90% non-condensing
Storage Humidity: 5%~90% non-condensing

De United States?
Infos produits, événements, services pour votre pays.