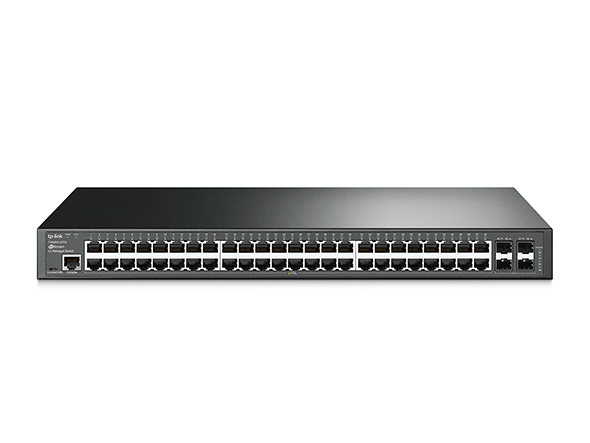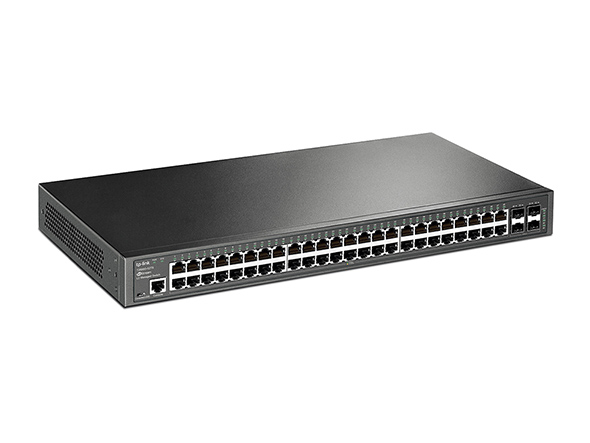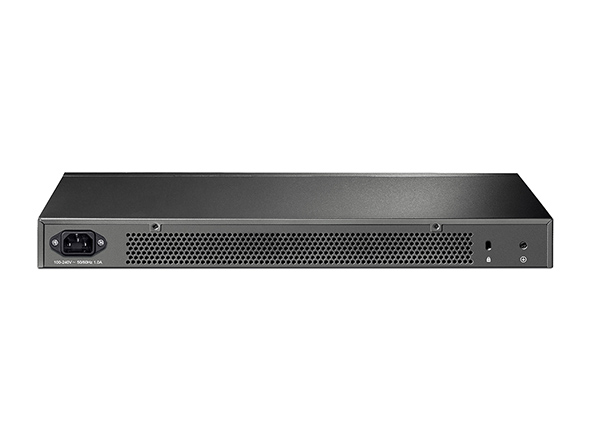 T2600G-52TS (TL-SG3452)
Switch JetStream™ administrable niveau 2+ - 48 ports Gigabit avec 4 emplacements combinés SFP
Connexions Ethernet Gigabit (48 ports) pour des transferts de données rapides
Fonction de niveau 2+ — Routage statique, pour la mise en place de routes de traffic interne pour une utilisation plus efficace des ressources réseau.
Le groupage IP-MAC-Port-VID, l'ACL, la sécurité par port, la défense DoS, le Storm control, le snooping DHCP, l'authentification 802.1X et Radius vous offrent des stratégies de sécurité efficaces.
Les fonctions QoS L2/L3/L4 et snooping IGMP permettent d'optimiser les applications voix et vidéo.
Supporte IPv6 avec le double stack IPv4/IPv6, MLD snooping, découverte réseau :IPv6 neighbor discovery
Les modes d'administration WEB/CLI, SNMP et RMON offrent une multitude de fonctionnalités de gestion.
Fonctions
Le switch administrable L2 JetStreamTM Gigabit T2600G-52TS de TP-LINK fournit 48 ports 10/100/1000 Mbps. Le switch fournit une haute performance, un QoS niveau entreprise, des stratégies de sécurité avancées et des fonctions de gestion avancées Layer 2. De plus, le switch est équipé de 4 emplacements combinés SFP, étendant la flexibilité de votre réseau. Ce switch administrable L2 JetStreamTM Gigabit est rentable pour les petites et moyennes entreprises. Le T2600G-52TS est pourvu d'une solide sécurité et de fonctions de gestion. Les fonctionnalités de groupage et Liste de contrôle d'accès (ACL) de l'IP-MAC-Port-VID protègent contre les tempêtes sur le réseau, les attaques ARP et par déni de service (DoS), etc. Les fonctions Qualité de Service (QoS, L2 à L4) offrent des capacités de gestion de trafic améliorées qui vous permettent de déplacer vos données de manière plus fluide et plus rapide. Qui plus est, les interfaces de gestion Web, ajoutées aux fonctions ligne de commande (CLI), SNMP et RMON, assurent une installation et une configuration plus rapides et réduisent le temps d'immobilisation du réseau. TP-LINK, pour les groupes de travail et les services demandant une commutation Layer 2 rentable et une fonctionnalité gigabit.
Réseau sécurisé
Cette gamme de switches JetStream3 de TP-LINK offre le groupage IP-MAC-Port-VID, la sécurité par port, Storm control et Snooping DHCP, qui protègent contre les tempêtes sur le réseau, les attaques ARP, etc. Elle intègre quelques attaques DoS typiques à sélectionner. Vous pouvez vous protéger de ces attaques plus facilement que jamais. En outre, la fonction Listes de Contrôle d'Accès (ACL, L2 à L4) conditionne l'accès aux ressources du réseau en filtrant les paquets en fonction des adresses MAC source et cible, de l'adresse IP, des ports TCP/UDP ou encore des ID VLAN. Le switch prend également en charge l'authentification 802.1X qui est utilisée en conjonction avec un serveur RADIUS, chargé pour sa part de récupérer quelques informations d'authentification avant d'autoriser l'accès au réseau. Prise en charge de la fonctionnalité VLAN invité pour permettre à des non-clients de 802.1X d'accéder aux ressources spécifiques du réseau.
Fonctionnalités QoS avancées
Le switch utilise des stratégies orientées QoS afin d'intégrer les services voix, données et vidéo au sein d'un seul et même réseau. L'administrateur peut attribuer des priorités au trafic à l'aide de différents moyens, priorité par port, 802.1P et DSCP pour garantir un fonctionnement toujours net, fluide et sans interruption aux applications utilisant la voix ou la vidéo. La fonction VLAN Voice supportée par le switch assure aux applications utilisant la voix un fonctionnement fluide et sans interruption.
Nombreuses fonctionnalités Layer 2
Pour un champ d'application plus large des switches L2, le T2600G-52TS prend en charge une liste complète de fonctionnalités L2, dont le VLAN par balisage 802.1Q, la duplication de ports, STP/RSTP/MSTP, le protocole de contrôle d'agrégation de liens et la fonction contrôle de flux 802.3x. De plus, le switch propose des fonctionnalités avancées pour la maintenance du réseau, comme Loop Back Detection, Cable Diagnostics et IGMP Snooping. La fonction snooping IGMP garantit que le switch redirige intelligemment le flux multicast uniquement aux abonnés concernés, tandis que le throttling/filtrage IGMP restreint les abonnés à certains ports afin de leur empêcher l'accès à un flux multicast non autorisé.
Support de l'IPv6
T2600G-52TS supporte les fonctions diverses lieés à l'IPv6 comme le Dual Stack IPv4/IPv6, MLD Snooping, Path Maximum Transmission Unit (PMTU) Discovery et IPv6 Neighbor Discovery. T2600G-52TS est certifié IPv6 Ready, ainsi votre réseau est prêt pour la nouvelle génération (NGN).
OAM*
Le T2600G-52TS supporte les fonctions 802.3ah OAM et Device Protocol Link Detection (DLDP) améliorant le moniteur et le dépannage des réseaux Ethernet, ce qui contribue à une facilité de la gestion du réseau.
Des fonctionnalités d'administration dédiées aux entreprises
Le T2600G-52TS est simple à utiliser et à administrer. Il prend en charge diverses fonctions d'administration standard comme par exemple une interface de gestion Web (GUI) intuitive ou l'interface ligne de commande (CLI) classique. Le trafic lié à l'administration peut être sécurisé à l'aide des chiffrements SSL ou SSH. Grâce aux fonctions SNMP (v1/2/3) et RMON, le switch peut par ailleurs remonter de précieuses informations sur son état et envoyer des alertes lors d'événements inhabituels. De plus, avec le protocole NDP/NTDP intégré, le switch supporte plus facilement d'être géré par le switch qui commande à travers la fonction clustering IP.
*cette fonctionnalité sera disponible avec le dernier firmware.
ISP Citynet

TP-Link Offered Citynet Reliable and High-Speed Data Transfer for Network Service

ISP Citynet

TP-Link Offered Citynet Reliable and High-Speed Data Transfer for Network Service

"I would like to emphasize that of the large number of devices deployed, not one of them has suffered any type of physical failure. There was a point at which the price of TP-Link's Jetstream series was something we no longer considered important since they're so reliable. We stopped looking at other manufacturers because we were so satisfied with the products we purchased." —Skynet

East European Comic Con

TP-Link Provides Internet Access for East European Comic Con for the Fourth Year Running

East European Comic Con

TP-Link Provides Internet Access for East European Comic Con for the Fourth Year Running

"TP-Link Romania have provided a high-quality service and the right equipment to meet our requirements in each of the projects we have worked on together. EECC2017 was their toughest challenge so far and they passed with flying colors." —Marius Radu, EECC Gaming Director
CARACTERISTIQUES MATERIELLES
Standards et Protocoles
IEEE 802.3i, IEEE 802.3u, IEEE 802.3ab, IEEE802.3z,
IEEE 802.3ad, IEEE 802.3az, IEEE 802.3x, IEEE 802.1d, IEEE 802.1s,
IEEE 802.1w, IEEE 802.1q, IEEE 802.1x, IEEE 802.1p

Interface
48 10/100/1000Mbps RJ45 Ports
(Auto Negotiation/Auto MDI/MDIX)
4 1000Mbps SFP Slots
1 RJ45 Console Port
1 Micro-USB Console Port

Interface réseau
10BASE-T: UTP category 3, 4, 5 cable (maximum 100m)
100BASE-TX/1000Base-T: UTP category 5, 5e or above cable
(maximum 100m)
1000BASE-X: MMF, SMF

Nombre de ventilateurs
Fanless
Système de verrou physique
Yes
Alimentation
100~240VAC, 50/60Hz
Consommation
Maximum: 33.52W (220V/50Hz)
Dimensions (LxPxH)
440 * 220 * 44 mm
Montage
Rack Mountable
Consommation maximale
33.52W (220V/50Hz)
Max dissipation thermique
114.37 BTU/h
Performances
Bande passante/ backplane
104Gbps
Taux de transfert de paquets
77.4Mpps
Tableau d'adresses MAC
16k
Trame Géante
9216 Bytes
CARACTERISTIQUES LOGICIELLES
Qualité de Service QoS
Support 802.1p CoS/DSCP priority
Support 8 priority queues
Queue scheduling: SP, WRR, SP+WRR
Port/Flow- based Rate Limiting
Voice VLAN

Fonctions N2 et N2+
Static Routing
DHCP Relay
IGMP Snooping V1/V2/V3
802.3ad LACP (Up to 14 aggregation groups, containing 8 ports per group)
Spanning Tree STP/RSTP/MSTP
BPDU Filtering/Guard
TC/Root Protect
Loopback detection
802.3x Flow Control
L2PT
VLAN
Supports up to 4K VLANs simultaneously (out of 4K VLAN IDs)
Port/ MAC/Protocol-based/Private VLAN
GARP/GVRP

Liste de contrôle d'accès
L2~L4 package filtering based on source and destination MAC address,
IP address, TCP/UDP ports, 802.1p, DSCP, protocol and VLAN ID
Time Range Based

Sécurité
IP-MAC-Port-VID Binding
AAA*
802.1x and Radius Authentication
DoS Defend
Dynamic ARP inspection (DAI)
SSH v1/v2
SSL v3/TLSv1
Port Security
Broadcast/Multicast/Unknown-unicast Storm Control

IPv6
Dual IPv4/IPv6 stack
Multicast Listener Discovery (MLD) Snooping
IPv6 neighbor discovery (ND)
Path maximum transmission unit (MTU) discovery
Internet Control Message Protocol (ICMP) version 6
TCPv6/UDPv6


Applications IPv6
DHCPv6 Client
Ping6
Tracert6
Telnet(v6)
IPv6 SNMP
IPv6 SSH
IPv6 SSL
Http/Https
IPv6 TFTP
IPv6 ACL*
IPv6 Interface*
IPv6 Routing*
DHCPv6 Relay*
DHCPv6 Snooping*

Administration
Web-based GUI and CLI management
SNMP v1/v2c/v3,compatible with public MIBs and TP-LINK private MIBs
RMON (1, 2, 3, 9 groups)
sFlow*
PPPoE Circuit ID*
DHCP Relay*
DHCP Server*
DHCP/BOOTP Client, DHCP Snooping, DHCP Option82
Dual Image
CPU Monitoring
Port Mirroring
Time Setting: SNTP
Integrated NDP/NTDP feature
Firmware Upgrade: TFTP & Web
System Diagnose: VCT
SYSLOG & Public MIBS
Password Recovery*

Autres
Certification
CE, FCC, RoHS
Contenu de l'emballage
JetStream 48-Port Gigabit L2 Managed Switch with 4 SFP Slots T2600G-52TS
Power Cord
Installation Guide
Resource CD
Rackmount Kit
Rubber Feet

Système requis
Microsoft® Windows® 98SE, NT, 2000, XP, Vista™ or Windows 7/8, MAC® OS, NetWare®, UNIX® or Linux.
Environnement
Operating Temperature: 0℃~40℃
Storage Temperature: -40℃~70℃
Operating Humidity: 10%~90% non-condensing
Storage Humidity: 5%~90% non-condensing

De United States?
Infos produits, événements, services pour votre pays.