What should I do if wireless connection cannot work on TP-Link Wi-Fi router?
This article will help you deal with the situation that only wireless connection on TP-Link Wi-Fi router cannot work step by step and case by case.
Case 1: Verify whether wired connection of Wi-Fi router is working or not.
Case 2: Verify whether all of your wireless devices cannot work with TP-Link Wi-Fi router.
Case 3: Make sure whether wireless signal is still broadcasted.
Case 4: Check whether you can link or connect to wireless signals or not.
If all of your devices can not even connect to TP-Link wireless signals, please do some troubleshooting as the following instructions.
Step 1. Please change the wireless channel width and channel. You may refer to Changing Channel and Channel Width on a TP-Link Router (new logo).
Note: For the 2.4GHz, please change the channel width to 20MHz, change the channel to the 1 or 6 or 11. For 5GHz, please change the channel width to 40MHz, change the channel to the 36 or 140.
Step 2. Please try to reset you router by pressing and holding reset button for 6s.
How to reset TP-Link router to factory defaults?
After resetting, please wait the indicators stable, then try to use the default password of the Wi-Fi printed on the label to connect the Wi-Fi.
Case 5. If all of your wireless devices can connect to wireless signals successfully, but there is no internet access. Please refer to the following instructions.
Step 1. Please check the IP address on your smartphone. You may refer to: How to find IP address
If the IP address is assigned by the router, at default it will be 192.168.0.XX. Usually this proves that your device is successfully connected to Wi-Fi. If your IP address is not assigned by the router as 192.168.0.XX at default settings. Please try to reconnect to our TP-Link Wi-Fi.
Step 2. If your client devices can get IP address automatically from router, please change DNS server on your Wi-Fi router.
1). Log into the TP-Link router by referring to How do I log into the web-based Utility (Management Page) of TP-Link wireless router?
2). Go to Advanced -> Network -> DHCP Server. Then change Primary DNS as 8.8.8.8 and Secondary DNS as 8.8.4.4.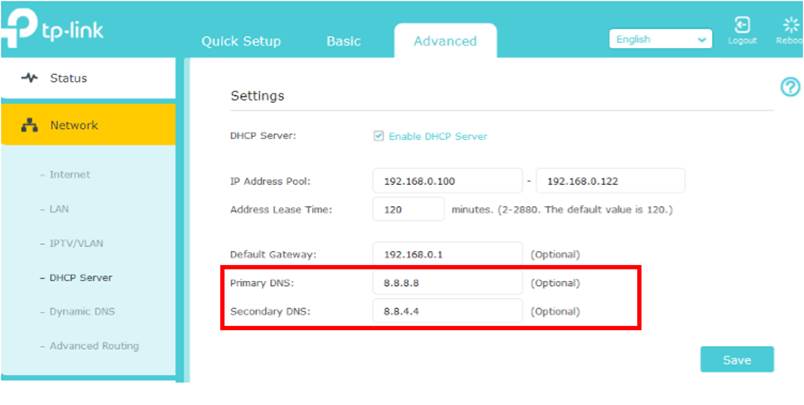 Step 3. Please make sure the router stay away from high-powered appliances. High-powered appliances will affect the wireless performance. Please keep away from high-power appliances to ensure the normal operation of the wireless network.
If above suggestions cannot solve your issue, please collect following information and contact TP-Link technical support.
A: The brand name, model number and operating system of your wireless devices
B: The model number of your TP-Link router.
C: Please tell us the hardware and firmware version of your TP-Link router.
D: Any error message displayed if you cannot get internet access, please give us a screenshot about it, No internet available, etc.
Get to know more details of each function and configuration please go to Download Center to download the manual of your product.
Is this faq useful?
Your feedback helps improve this site.
Sign Up for News & OffersTP-Link takes your privacy seriously. For further details on TP-Link's privacy practices, see TP-Link's Privacy Policy.
From United States?
Get products, events and services for your region.