How to set up Port Forwarding feature on the Deco
Port Forwarding allows you to make a device or service in your home network accessible by other devices over the internet, whilst ensuring your network remains protected.
Different services use different service ports, such as Port 80 for HTTP service, port 21 for FTP service, port 25 for SMTP service and port 110 for POP3 service. Please verify the service port number before the configuration.
Note: Currently, some Deco models only suppot 16 port forwarding entries. But don't worry, it will be extended to 64 in future firmware releases.
Here we take Deco M9 Plus as an example.
Step 1. Launch the Deco app, tap More at the bottom right corner, then click on Advanced.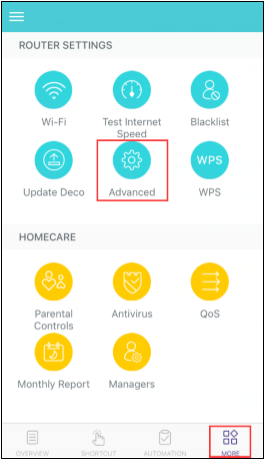 Step 2. Choose Port Forwarding.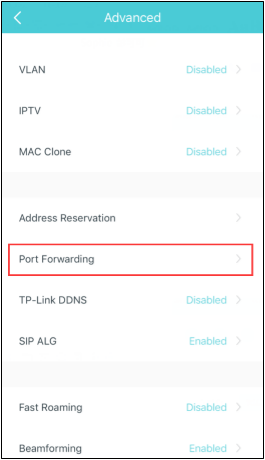 Step 3. Tap Create or the Add icon at the upper right corner.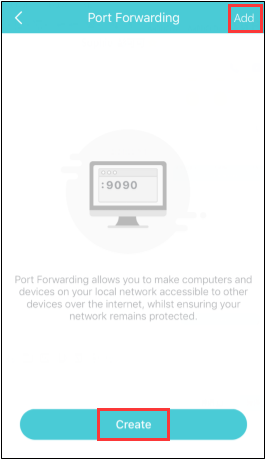 Step 4. Choose a Service Type, type in the Service Name, and tap Internal IP to select a device you want to open ports for, then type in its External Port and Internal Port (Service Port). Tap Done.
If you leave the Internal Port blank, the internal ports will be the same as the external ones.
For example, set up the External Port as 4500-5000, then leave the Internal Port blank, tap Done. In this case, the internal ports 4500-5000 will be opened automatically.
Note: Deco does not support the feature to enter the Internal IP address manually. In a normal case, if a device connects to Deco and gets an IP address, Deco will show the device when configuring the port forwarding feature without the need to enter the IP address manually.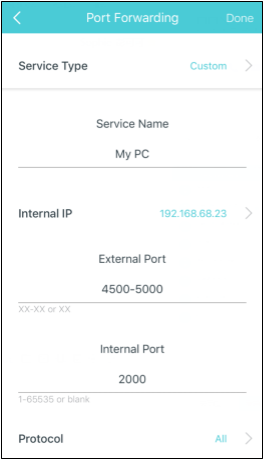 Step 5. Go back to the Advanced page, tap IPv4 and check the WAN IP address of the Deco system. Now you can try to use WAN IP:Port Number (External Port) to access the service from the outside network.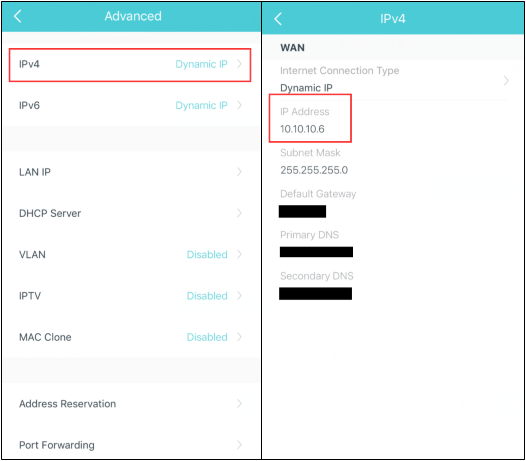 Note:
If the WAN IP address of the Deco is not a public IP address, but a private IP address, that means there is another NAT device connected to the WAN Port of the main Deco. You need to open the service ports on that device as well.
For how to verify the IP Address is a public one or private one, please refer to this link:
http://en.wikipedia.org/wiki/Private_network
Step 6. If you want to delete the port forwarding entries, please go to the More->Advanced->Port Forwarding page,
For iOS, click on the entry you want to delete, then click on Delete button.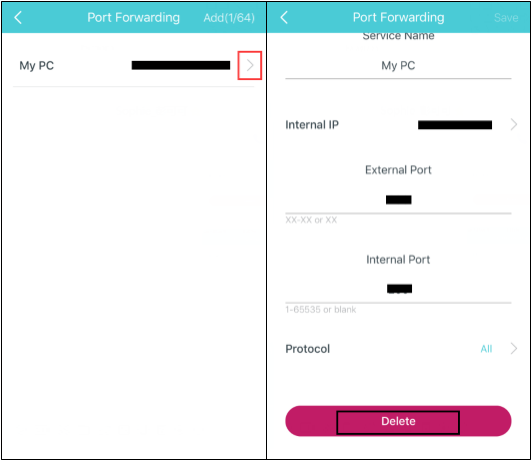 For Android, find the entry you want to delete, click on the three dots icon, press it and click on Delete.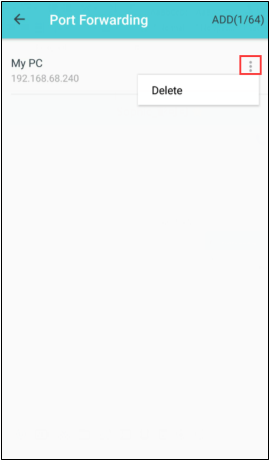 Is this faq useful?
Your feedback helps improve this site.
From United States?
Get products, events and services for your region.