TP-Link Builds Full-Covered WiFi with Centralized Management for an Accommodation in Brazil
END-CUSTOMER GENERAL PROFILE
Name: RedesSemFio
Industry: Accommodation
Capacity: 430 Rooms, 8 Floors
Location: Bragança Paulista, SP, Brazil
Used Products
• Load Balance Router
1× TL-R470T+
• Jetstream Switches
1× T1500G-10PS
• Omada Access Points
8× EAP225-Wall
1× EAP225-Outdoor
1× EAP225
• Omada Controller
1× OC200
BACKGROUND
RedesSemFio is looking for a full-featured network solution to provide fast, stable, and safe network access for accommodation while simplifying daily access management and network maintenance.
The 1000 m2 single-storey house has an "L" shape. One side of the building features 6 suites, and the other side has a game room, living-dining room, kitchen, barbecue area, and home theater. There is also a large outdoor area for relaxing that includes a swimming pool, hot tub, and lawn area.
CHALLENGE
TP-Link, together with its integrator RedesSemFio, investigated the building and pointed that the customized solution would need to meet the following requirements:
Full WiFi coverage in all areas, including every suite, indoor room, and outdoor area;
Powerful wireless signal to support the growth of guests in the network and ensure good user experience;
Secure WiFi access along with multiple authentication options and advanced technologies;
Flexible extension and high-quality media services for entertainment machines and video surveillance in the plan;
Easy centralized software management to simplify daily network management and maintenance; and
Flexible installation and deployment to blend with indoor decoration.
SOLUTION
TP-Link and RedesSemFio offered an integrated network solution for this accommodation.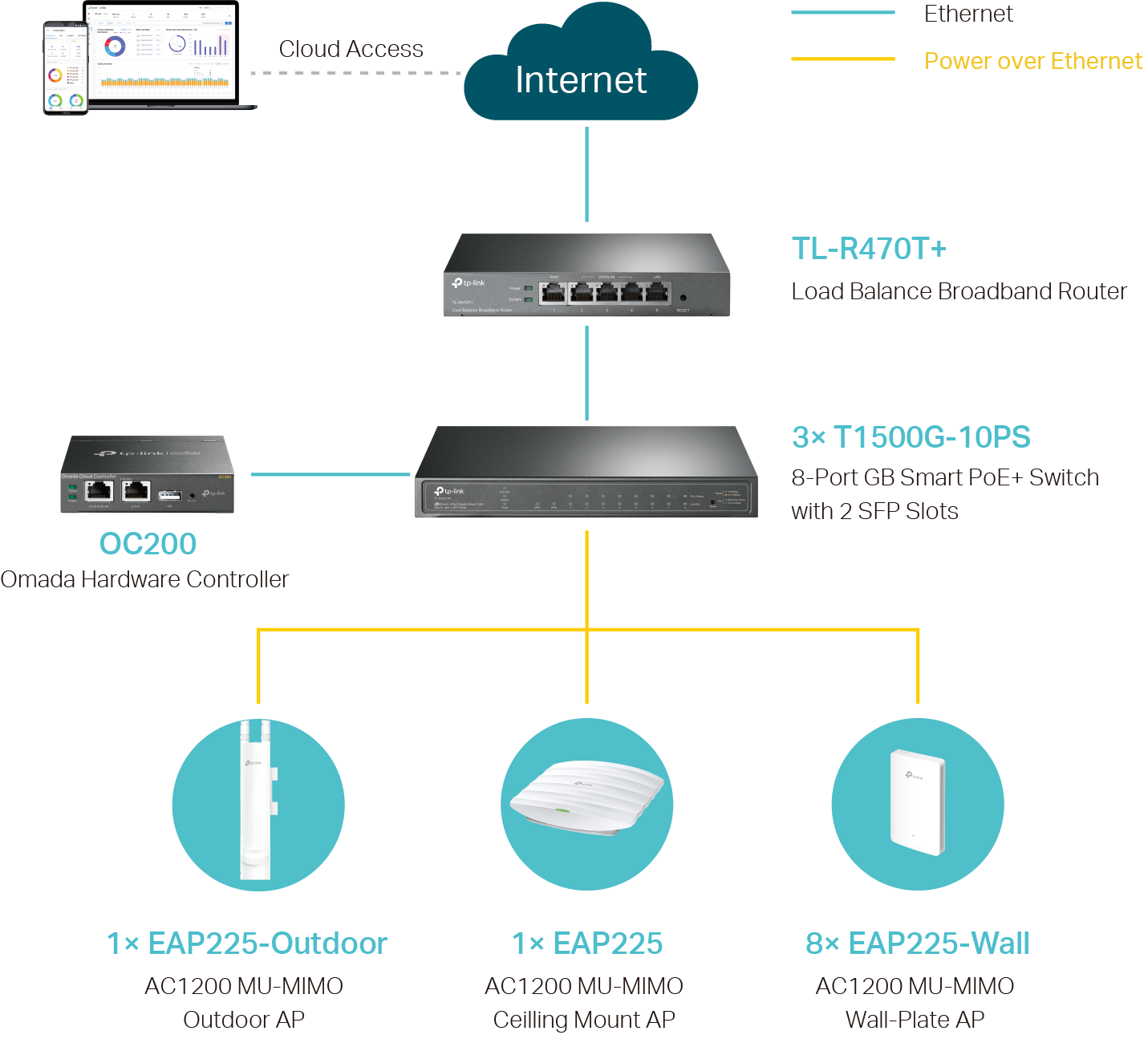 Full WiFi Coverage with Smooth and Uninterrupted User Experience
Omada EAPs extend the wireless network throughout the property. RedesSemFio installed eight wall plate APs and one ceiling mount AP in the rooms, allowing guests to access the network from anywhere on the grounds. One outdoor AP deployed in the garden ensured an uninterrupted user experience. All deployed APs provide fast dual-band WiFi with wireless speeds up to 1167 Mbps (simultaneous 300 Mbps on 2.4 GHz and 867 Mbps on 5 GHz).
Reliable Security with Portal Authentication and Advanced Technologies
TP-Link Omada APs authenticate guest access via various methods, such as Facebook, SMS, and voucher. All these security measures minimize the chance of unauthorized entities accessing the network. TP-Link JetStream switches support a complete lineup of advanced security features, such as IGMP Snooping, to prevent unauthorized multicast access.
Centralized Device and Network Management by Omada Controller
All EAPs are managed centrally by an OC200 (Omada Hardware Controller), which helps managers efficiently manage and configure the APs with its friendly user interface. With cloud access supported, managers can also keep track of the network status anywhere, anytime.
Flexible Network Extension and High-Quality Video and Voice Services
The TP-Link network solution can be easily extended for other equipment, such as game machines for entertainment and IP cameras for surveillance. TP-Link switches ensure that voice and video are always clear, smooth, and jitter-free via QoS and Voice VLAN for the home theater and game room.
Effortless Installation and Deployment with Minimized Impact on the Environment
Omada APs are well-designed with a compact appearance. They are easy to use and customizable to the environment. TP-Link and RedesSemFio mounted them to the wall with standard junction boxes to blend with indoor decoration. Eight-port gigabit PoE switches were chosen to transfer data and power via a single cable, simplifying the deployment and saving infrastructure cost.
BUSINESS RESULTS
The owner of this house is satisfied with the solution and highlights the following points:
Access the network stably by strong wireless signals throughout the property;
Enjoy fluent video and audio experience for the home theater, game room, and surveillance system;
Reliable and secure network access for both managers and guests by portal authentication and passwords;
Simplify network management and maintenance supported by centralized hardware controller; and
Easy and flexible installation of devices with little impact on the building and environment.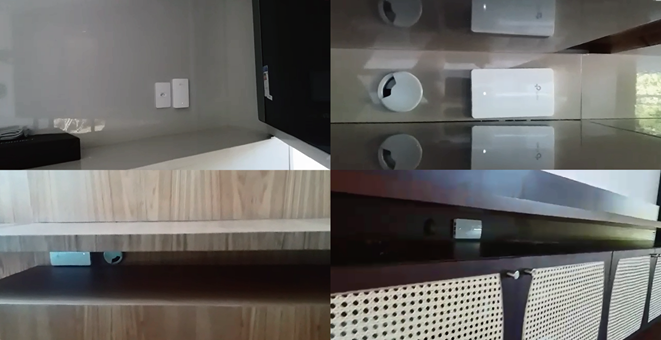 Through this project, TP-Link has cooperated with RedesSemFio to provide reliable and professional services, from site investigation, solution designing, network deployment to acceptance test. Its one-stop solution and professional products have significantly impressed the client, and TP-Link remains dedicated to improving itself.
Related Recommended Products
From United States?
Get products, events and services for your region.