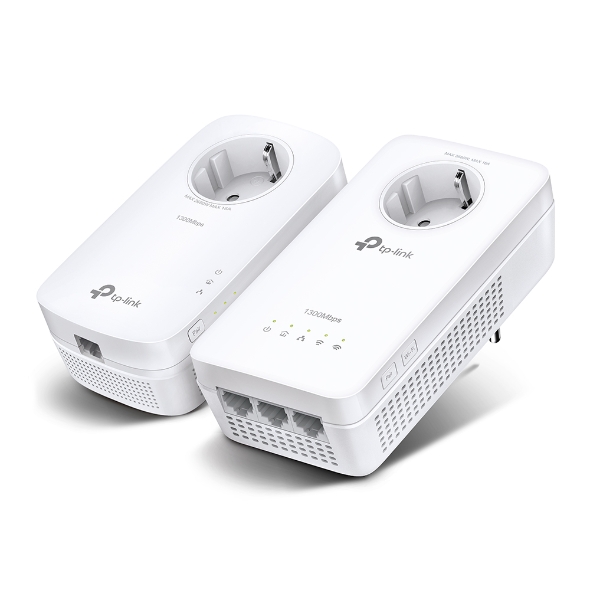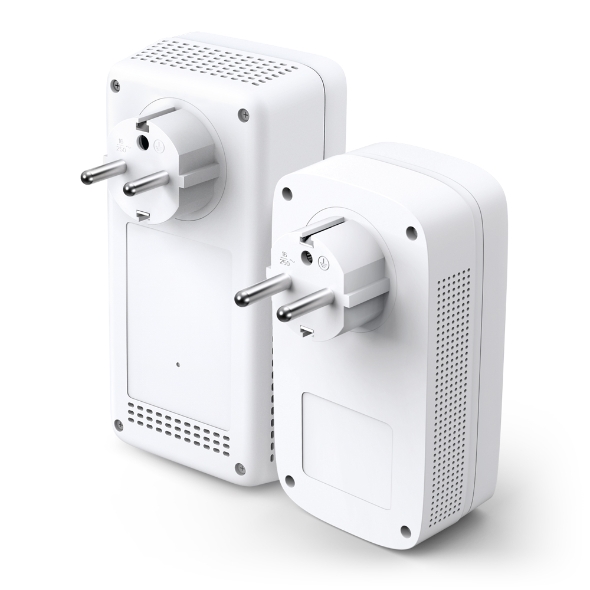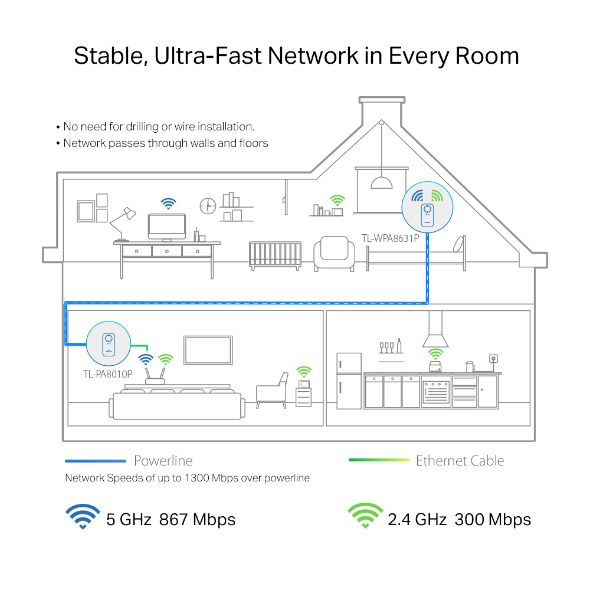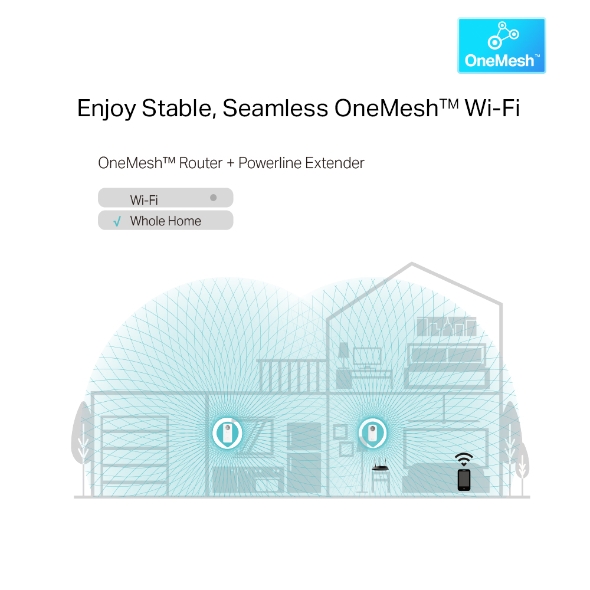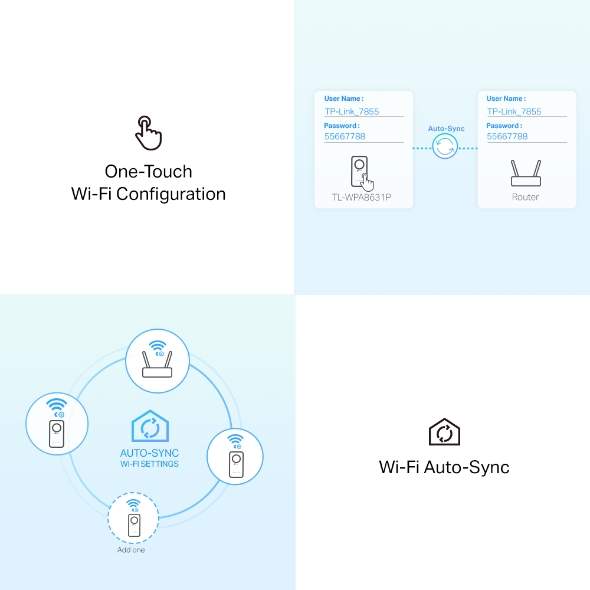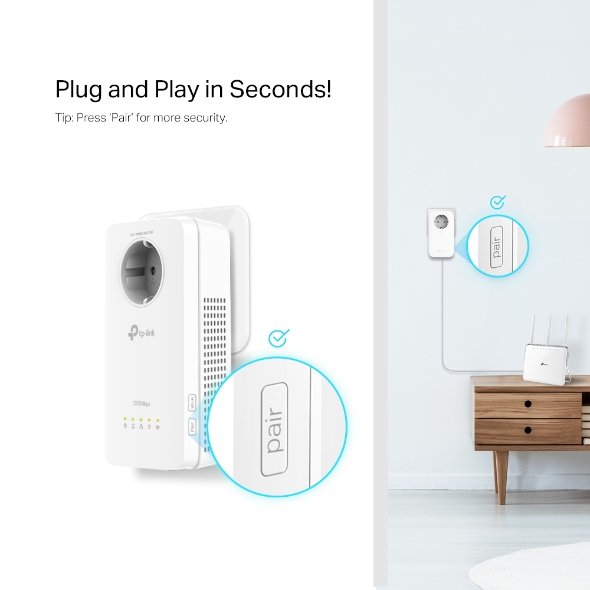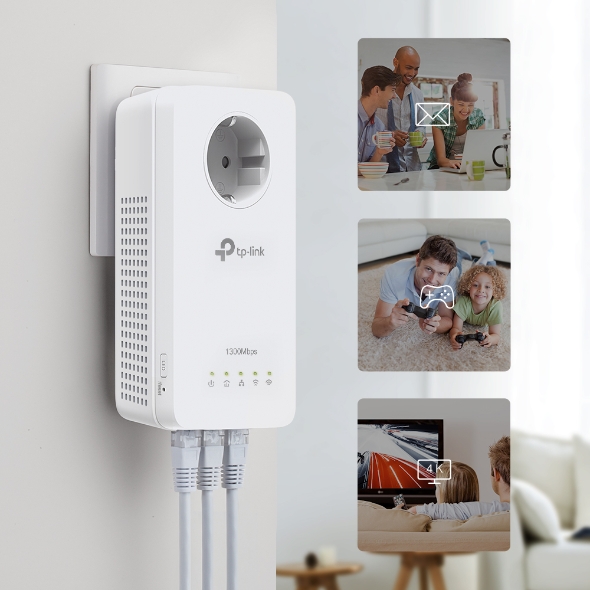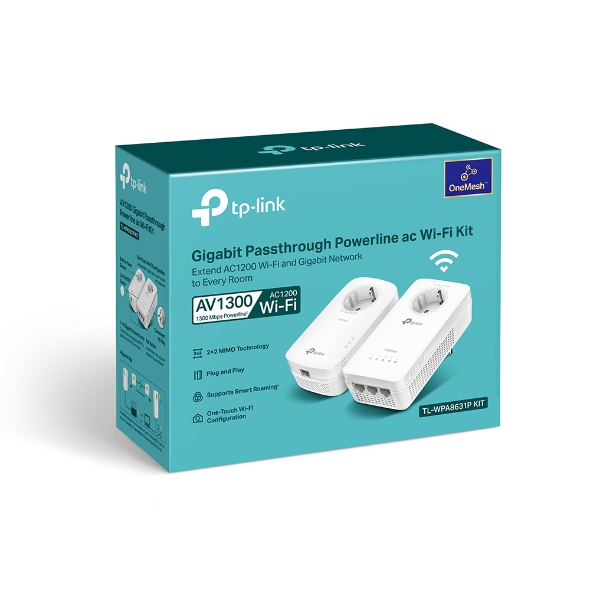 TL-WPA8631P KIT
KIT Powerline Wi-Fi AC Gigabit AV1300 con enchufe incorporado
HomePlug AV2 – Ofrece transferencias ultra rápidas de velocidad powerline de hasta 1300Mbps*
AC1200 – Doble banda Wi-Fi con velocidades de hasta 867Mbps en 5GHz y 300Mbps en 2.4GHz.*
OneMeshTM – funciona con tu router OneMeshTM para formar una red de malla unificada para una transmisión fluida mientras te desplazas por tu hogar
2X2 MIMO – Establece múltiples conexiones simultáneas para que disfrutes de velocidades powerline más altas y con mayor estabilidad
Botón de Clonado Wi-Fi – Copia automáticamente el nombre de red (SSID) y contraseña de tu router principal simplemente pulsando un botón y se aplica a toda la red Powerline
Auto Sincronización – Añade extensores adicionales a tu red powerline mediante el botón pair, sincronización uniforme de los ajustes para todos los dispositivos de red como por ejemplo SSID, contraseña, Programación Wi-Fi y Programación de LED
Plug and Play – configura tu red eléctrica y comienza a disfrutar de conexiones rápidas e inalámbricas en minutos
Enchufe de Corriente Extra – Podrás a la vez alimentar otros dispositivos a través del enchufe integrado
3 puertos Gigabit – brinde redes cableadas seguras para computadoras de escritorio, televisores inteligentes o consolas de juegos
Extiende la Red Gigabit a través de la Red Eléctrica de Tu Hogar
Kit Powerline AV1300 Gigabit Wi-Fi AC1200
TL-WPA8631P KIT
Red Estable, Súper Rápida, en Cualquier Habitación
Sin necesidad de agujerear o instalar cables.
La red pasa a través de paredes y suelos

2.4 GHz 300 Mbps

5 GHz 867 Mbps
El Kit Powerline con enchufe extiende el Wi-Fi AC1200 a cualquier zona del hogar.
Hasta
1300Mbps

AV1
500Mbps
AV2
1300Mbps
La última tecnología HomePlug AV2 ofrece velocidades de hasta 1300 Mbps
sobre Powerline, evitando la pérdida de velocidad durante las transferencias.

Powerline


Cable Ethernet
Disfruta de una Red Wi-Fi OneMesh™ Estable y sin Cortes
¿Te molestan las caídas de conexiones mientras te mueves por tu casa?
Con la última tecnología OneMeshTM, el kit puede funcionar junto con un router OneMeshTM existente para formar una red Mesh unificada. No más cambios de nombre de red Wi-Fi, disfruta de una transmisión ininterrumpida y un Wi-Fi AC1200 verdaderamente perfecto.
OneMesh™ Router + Range Extender

Router Tradicional con Extensor
Tecnología 2×2 MIMO para Transmisiones Eficientes
Más conexiones estables

2×2 MIMO es como agregar carriles adicionales a una carretera. Establece múltiples conexiones simultáneas para que disfrutes de velocidades más altas y una mayor estabilidad.

Transmisión SISO Tradicional
SISO - Single-input Single-output

Transmisión MIMO Avanzada
MIMO - Multi-input Multi-output

Rendimiento de larga distancia aumentado

2×2 MIMO con la tecnología Beamforming también ofrece el beneficio de una cobertura mejorada en todo el hogar, particularmente en que antes eran difíciles de alcanzar.

SISO

Larga Distancia

MIMO

Larga Distancia
2×2 MIMO acorta enormemente los tiempos de transmisión de datos, especialmente durante las horas pico.
Un Toque para una Red Unificada

Configuración Wi-Fi de 1 toque
Copia instantáneamente el nombre de red y contraseña del router para una fácil configuración.

Wi-Fi Auto-Sync
Aplica automáticamente cualquier cambio de configuración en la red. La configuración de Wi-Fi existente se sincronizará con el nuevo extensor al instante.
Plug and Play en Segundos!
Enchufa TL-PA8010P en la pared y conéctalo al router. Luego, enchufa el TL-WPA8631P en cualquier toma de corriente deseada.
Eso es. Ya terminaste!
Nota: Pulsa 'Pair' para una mayor seguridad.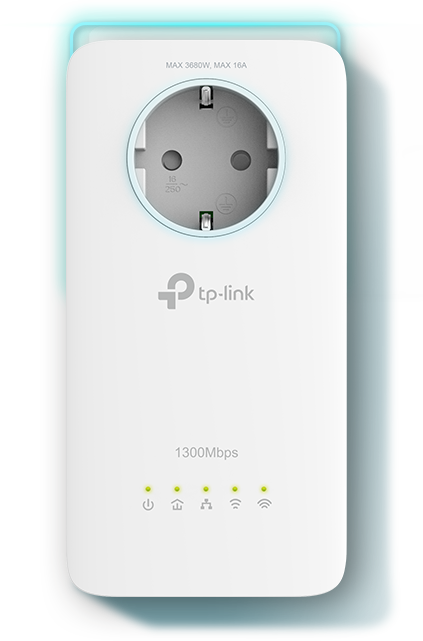 No Desperdicies Ninguna Toma de Corriente
El kit powerline con enchufe puede usarse como una toma de corriente tradicional, asegurando que no se desperdicie ningún enchufe. El filtro de ruido incorporado ayuda a evitar que el ruido de la señal eléctrica afecte el rendimiento de la línea eléctrica..
Más Puertos Gigabit Ethernet, Más Dispositivos
Equipado con 3 puertos Gigabit Ethernet, el kit proporciona conexiones por cable para video 4K, transmisión IPTV, juegos sin demoras y más.
Powerline Management on Your Smartphone
Manage your powerline WiFi through tpPLC app from your smartphone (Android, iOS), or download new tpPLC Utility on PCs to manage the powerline network.
View real-time powerline speed
LED control (also controlled by LED On/Off button)
Guest network
CARACTERÍSTICAS DE HARDWARE
Tipo de Enchufe
EU
Estándares y Protocolos
HomePlug AV2, IEEE 1901, IEEE 802.3, IEEE 802.3u, IEEE 802.3ab, IEEE 802.11b/g/n (2.4 GHz), IEEE 802.11a/n/ac (5 GHz)
Interface
3 Puertos Gigabit Ethernet
Botón
Pair, LED On/Off, Wi-Fi, Reset
Consumo de Energía
TL-WPA8631P: Máximo: 13.7W, Típico: 11W
TL-PA8010P: Máximo: 4.9W, Típico: 4.6W
Indicador LED
Power, Powerline, Ethernet, Wi-Fi (2.4 GHz), Wi-Fi (5 GHz)
Dimensiones (W X D X H)
TL-WPA8631P: 3.0 × 1.7 × 6.0 in. (75 × 42 × 152 mm)
TL-PA8010P: 2.8 × 1.7 × 5.2 in. (72 × 42 × 131 mm)
Rango
Hasta 300 metros sobre tu red eléctrica ya existente*
Compatibilidad
Compatible con cualquier adaptador powerline con el estándard HomePlug AV & HomePlug AV2*
Velocidades de Transmisión
Powerline: hasta 1300 Mbps
Ethernet: 10/100/1000 Mbps
CARACTERÍSTICAS DE SOFTWARE
Seguridad
Wireless: WPA-PSK/WPA2-PSK, WEP Encryptions,Powerline: 128-bit AES Encryption
Administración
TP-Link tpPLC App, o descarga la nueva utilidad tpPLC en un PC: www.tp-link.com/support/download
Modulation Technology
OFDM
Otros
Certificacion
CE, RoHS
Contenidos del Paquete
AV1300 Gigabit Passthrough Powerline ac Wi-Fi KIT:
1× TL-WPA8631P, 1× TL-PA8010P;
2× Cables Ethernet;
1× Guía Rápida de Instalación
Requisitos del Sistema
Requerimientos de Sistema
Windows 10/8.1/8/7/Vista/XP, Mac OS, Linux
Requerimientos de sistema para utilidad tpPLC:
Windows 10/8.1/8/7/Vista/XP y Mac OS X (10.7 o superior)
Ambiente
Temperatura de Funcionamiento: 0℃~40℃ (32℉ ~104℉)
Humedad de Funcionamiento: 10%~90% sin condensación
Humedad de Almacenamiento: 5%~90% sin condensación
* 1. Compatible con todos los adaptadores Powerline estándar HomePlug AV y AV2. Es posible que este producto no sea compatible con enrutadores o puertas de enlace con firmware que se haya modificado, esté basado en programas de código abierto o no sea estándar o esté desactualizado.
* 2. Las velocidades máximas de señal inalámbrica son las velocidades físicas derivadas de las especificaciones IEEE Standard 802.11. El rendimiento real de los datos inalámbricos y la cobertura inalámbrica no están garantizados y variarán como resultado de 1) factores ambientales, incluidos materiales de construcción, objetos físicos y obstáculos, 2) condiciones de la red, incluidas interferencias locales, volumen y densidad del tráfico, ubicación del producto, complejidad de la red y sobrecarga de la red, y 3) limitaciones del cliente, incluido el rendimiento, la ubicación, la conexión, la calidad y la condición del cliente.
* 3. Las velocidades máximas de señal Powerline son las velocidades físicas derivadas de las especificaciones HomeplugAV / AV2. El rendimiento real de datos de Powerline y el rango de Powerline no están garantizados y variarán como resultado de las condiciones de la red y los factores ambientales, incluida la interferencia eléctrica, el volumen de tráfico y la sobrecarga de la red, el disyuntor AFCI y el Powerline que se encuentra en un circuito separado.
From United States?
Get products, events and services for your region.