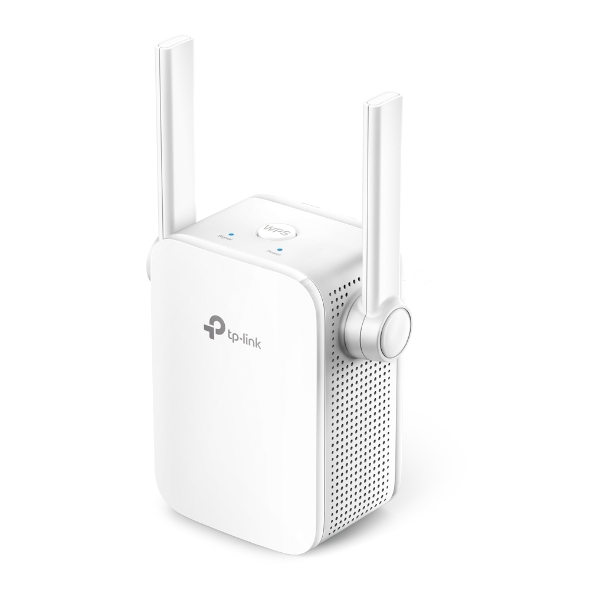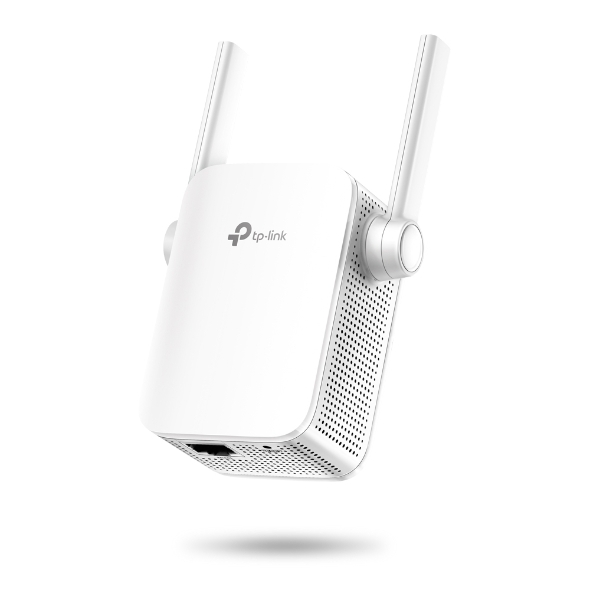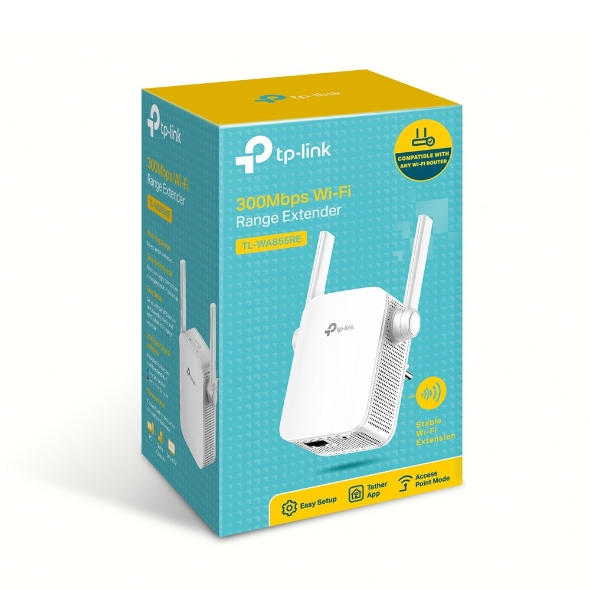 TL-WA855RE
Extensor de Cobertura Wi-Fi a 300Mbps
Aumenta la cobertura Wi-Fi existente para repartir conexiones inalámbricas y cableadas de manera rápida y fiable
Antenas externas para un conexión Wi-Fi más rápida y fiable
Soporta el modo AP con el que podrás crear un nuevo punto de acceso Wi-Fi
Extiende tu cobertura Wi-Fi de forma sencilla pulsando el botón "Range Extender"
Configura la Programación para el Ahorro de Energía del extensor de cobertura
La aplicación Tether permite un acceso y gestión fácil de manera mediante los dispositivos móviles
Funciona con cualquier Router Wi-Fi
Cobertura Primaria
Cobertura Extendida
Compacto. Potente.
A pesar de su pequeño tamaño, TL-WA855RE no pasa desapercibido gracias a la impresionante mejora de Wi-Fi en áreas de tu hogar a las que el router estándar es incapaz de alcanzar. El TL-WA855RE soporta velocidades inalámbricas de hasta 300Mbps y mantiene todos tus dispositivos preferidos funcionando a máxima velocidad.
Tan Potente Como Esperas
Las dos antenas externas con tecnología MIMO ayudan a situar al TL-WA855RE por encima del resto. La tecnología MIMO potencia tu red con un incremento notable de las velocidades inalámbricas, y las dos antenas externas aseguran que la señal inalámbrica sea estable y llegue al lugar donde más lo necesitas.
Extensión de Red Super Sencilla
Dos clicks y ¡Listo Para Conectarse!
Simplemente pulsa el botón "WPS" de tu router, y después pulsa el botón "Range Extender" del TL-WA855RE, y comienza a disfrutar de cobertura Wi-Fi en toda la casa.
Conexión Segura
El indicador LED Inteligente te permite encontrar la localización perfecta para el extensor, a través de un indicador de luz azul.
Buena conexión
Demasiado lejos del router
La Wi-Fi que Tú Quieres
El TL-WA855RE te ofrece la conexión Wi-Fi que te hace falta, mediante los dos Modos de Funcionamiento seleccionables.
Cuando Tu Router
Falla
El TL-WA855RE funciona como repetidor
para ayudarte con la mala cobertura Wi-Fi,
extendiendo la cobertura de la red de tu router principal, a las "zonas muertas".
Para Crear una Nueva Red Wi-Fi
Ahora puedes convertir este puerto Ethernet en tu propio hotspot Wi-Fi personal en tu habitación del hotel
Funcional Web UI que Te Da el Control
Descubre más sobre la nueva web UI >
Control de Cobertura Wi-Fi

Ajusta las configuraciones que afecten
a tu área de cobertura Wi-Fi

Control de Acceso

Seguridad en la red ,controlando quién
la utiliza

Programación Energética

Define el horario
para apagar/encender la red
Fácil Monitorización
y Gestión Remota
Tether es una aplicación intuitiva que permite a los usuarios monitorizar el estado del extensor de cobertura, controlando sus funciones y cambiando sus configuraciones desde cualquier dispositivo compatible de manera remota.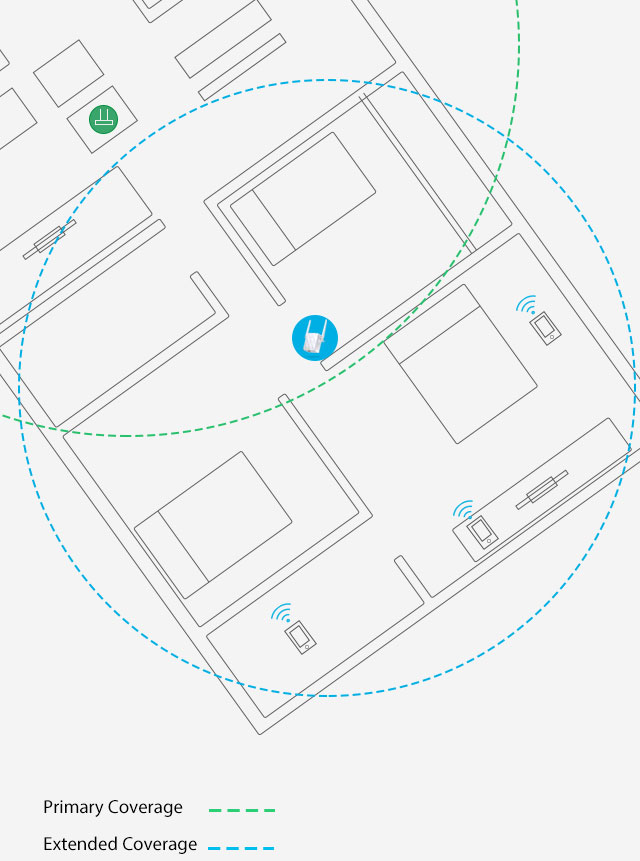 Compact. Strong.
Despite its compact size, it may be hard to ignore the TL-WA855RE due to the truly impressive way that it projects Wi-Fi access into the areas of your home that your standard router simply cannot reach. The TL-WA855RE supports wireless speeds of up to 300Mbps and keeps all of your favorite devices running as fast as possible.

As Powerful As You Expect
The two external antennas with MIMO technology help set the TL-WA855RE apart from the rest. MIMO technology enhances your network by dramatically increasing wireless speeds and the two external antennas ensure that a stable wireless signal reaches you where you need it most.
Effortless Network Expansion
Two Simple Taps and You are Ready to Connect
Just press the WPS button on your router, then press the Range Extender button on TL-WA855RE to begin enjoying simple, expanded Wi-Fi.

Connect with Confidence
The Intelligent LED indicator provides a simple, color-coded indication, allowing you to find the perfect location.
Good connection
Too far away from the router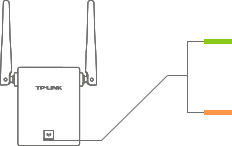 Wi-Fi As You Need
TL-WA855RE brings Wi-Fi as the way you need it with its two selectable Work Modes.

To Create a New Wi-Fi Network
Now you can turn that Ethernet port in your hotel room into your own personal Wi-Fi hotspot.
When Your Router
Fails You
The TL-WA855RE works as a repeater to save you from poor signal by expanding your router's network coverage to the primary "dead zones".
Functional Web UI Puts You in Control
Learn more about the new Web UI > Wi-Fi Coverage Control
Adjust settings that affect your wireless coverage area Access Control
Secure your network by controlling who uses it Power Schedule
Create a timetable to turn the network on/off as you desire
Easy Monitoring
and Remote Control
Tether is an intuitive app that allows users to conveniently monitor the state of your range extender, controlling its functions and altering its settings from any compatible mobile device remotely.
CARACTERÍSTICAS DE HARDWARE
Tipo de Enchufe
EU, UK, US
Interface
1 Puerto Ethernet RJ45 10/100M
Botón
Botón RE (Range Extender) y Botón Reset
Consumo de Energía
3W aproximadamente
Dimensiones (W X D X H)
52 x 34 x 65mm. (2.0x 1.3 x 2.6in)
Antenas
2 Antenas externas
CARACTERÍSTICAS INALÁMBRICAS
Estándares Inalámbricos
IEEE 802.11n, IEEE 802.11g, IEEE 802.11b
Frecuencia
2.4~2.4835GHz
Tasa de Señal
11n: Hasta 300Mbps (dinámico)
11g: Hasta 54Mbps (dinámico)
11b: Hasta 11Mbps (dinámico)

Sensibilidad de Recepción
270M: <-68dBm@10% PER
130M: <-68dBm@10% PER
108M: <-68dBm@10% PER
54M: <-68dBm@10% PER
11M: <-68dBm@8% PER
6M: <-68dBm@10% PER
1M: <-68dBm@8% PER
Potencia de Transmision
< 20 dBm (EIRP)
Modos Inalámbricos
Extensor de Cobertura y Modo AP
Funciones Inalámbricas
Filtrado Inalámbrico de Direcciones MAC
Función de Acceso a Dominio
Control de Potencia de Transmisión

Seguridad Inalámbrica
64/128/152-bit WEP
WPA-PSK / WPA2-PSK
OTROS
Certificacion
CE, RoHS
Contenido del paquete
Extensor de Cobertura Wi-Fi a 300Mbps Tl-WA855RE
Cable Ethernet RJ-45
Guía de Instalación Rápida

Requisitos del Sistema
Microsoft® Windows® 98SE, NT, 2000, XP, Vista o Windows 7, 8, 8.1, 10, Mac® OS, NetWare®, UNIX® o Linux.
Ambiente
Temperatura de Funcionamiento: 0°C~40°C (32°F~104°F)
Temperatura de Almacenamiento: -40°C~70°C (-40°F~158°F)
Humedad de Funcionamiento: 10%~90% sin condensación
Humedad de Almacenamiento: 5%~90% sin condensación

From United States?
Get products, events and services for your region.