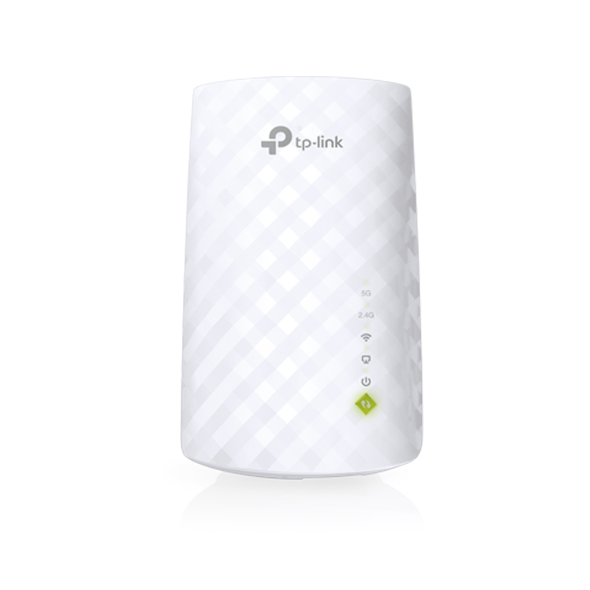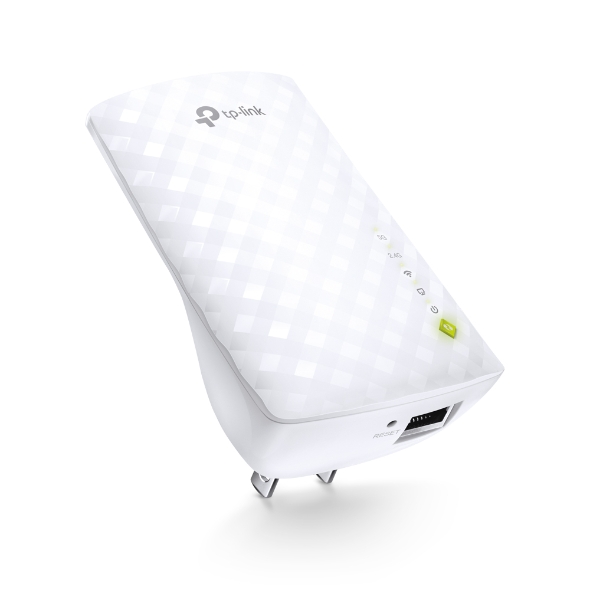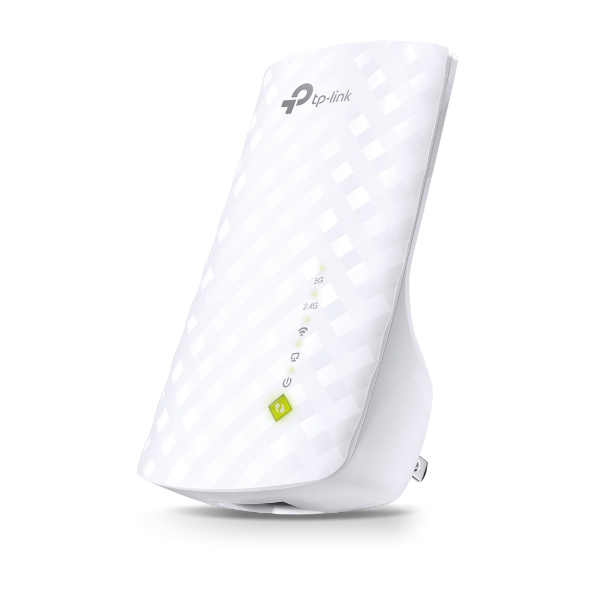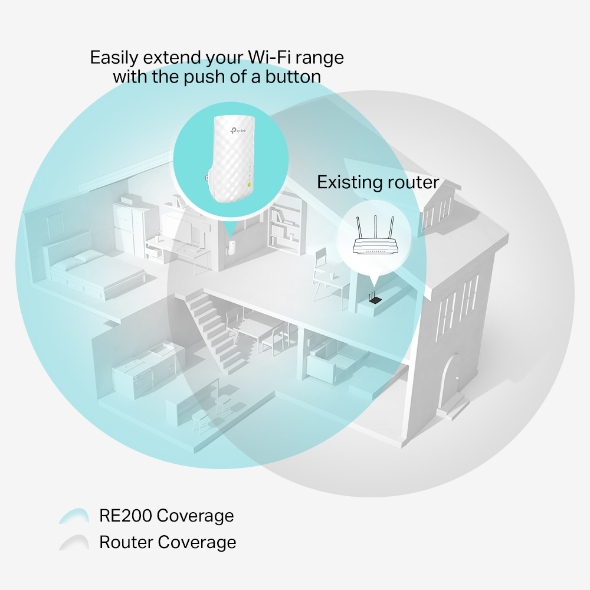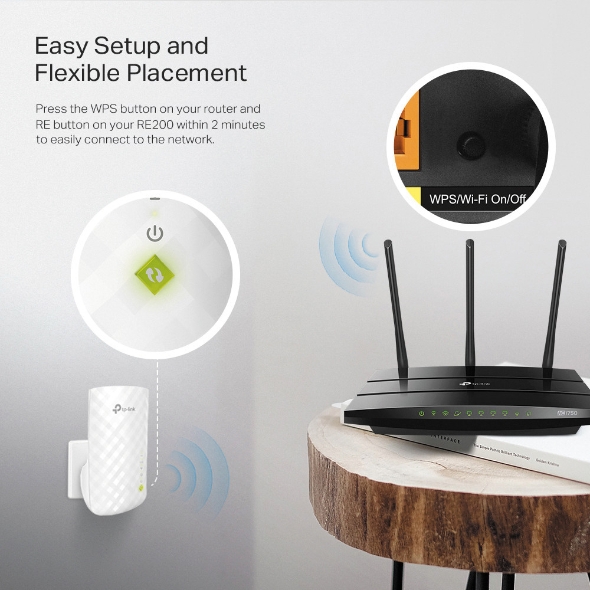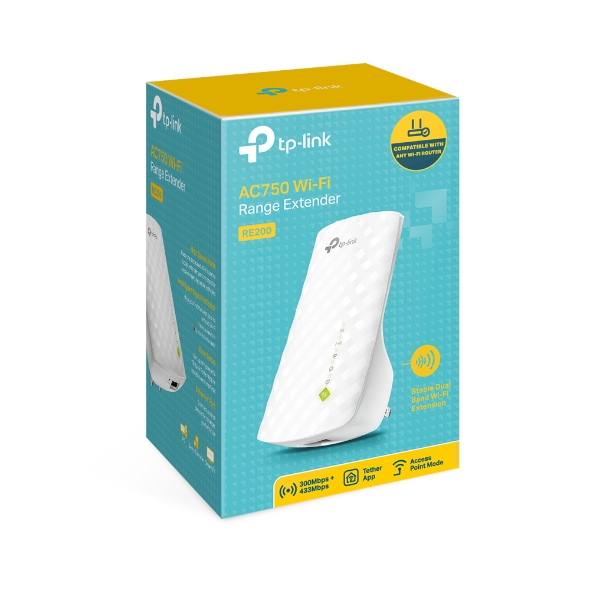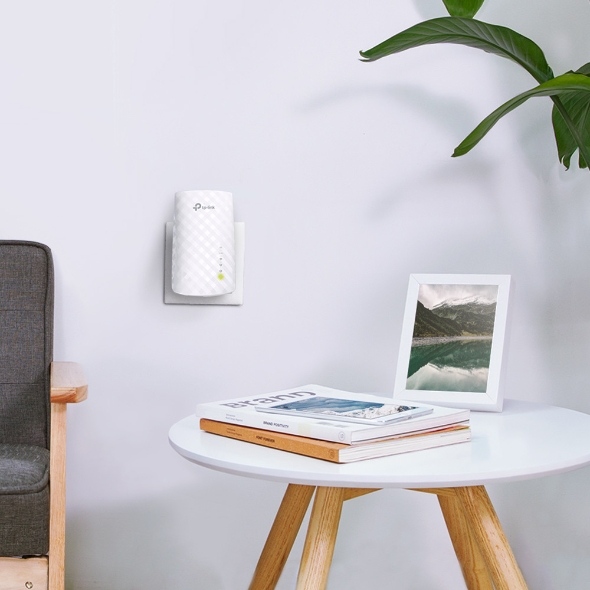 Extensor de Rango Wi-Fi AC750
Aumenta la Señal Inalámbrica a zonas anteriormente inaccesibles o difíciles de cablear
Compatible con 802.11 b/g/n y dispositivos Wi-Fi 802.11ac
Velocidades Banda Dual de hasta 750Mbps
Diseño compacto y montaje en pared, permite un manejo fácil e instalación flexible
El puerto Ethernet permtite al extensor conectar un dispositivo cableado como un puente inalámbrico
Amplía la Cobertura de tu Router para Extender tu Wi-Fi Doble Dual
El RE200 expande tu cobertura Wi-Fi existente con la tecnología 11AC Wi-Fi de próxima generación. Funciona con cualquier router estándar Wi-Fi y crea conexiones de banda dual fuertes en zonas de difícil acceso, lo que te permite disfrutar de la cobertura inalámbrica sin fisuras en tu hogar u oficina.
5GHz Wi-Fi
2.4GHz Wi-Fi
Existing Router Coverage
Expanded Extender Coverage
Próxima Generación 11AC Wi-Fi
Crea un acceso más rápido a dispositivos 802.11 b / g / n y 802.11ac Wi -Fi . El RE200 ofrece velocidades rápidas de doble banda Wi-Fi de hasta 750Mbps y proporciona conexiones confiables para computadoras portátiles, teléfonos inteligentes, tablets y otros dispositivos con capacidad inalámbrica.
*Las velocidades reales Wi-Fi pueden variar dependiendo de diversos ambientes de usuarios.
Disfruta de Súper Velocidades en el Modo de Alta Velocidad
Con la Tecnología de alta velocidad, El RE200 hace el mejor uso de las dos bandas Wi-Fi para establecer conexiones súper rápidas - ideal para la transmisión de video de alta definición, juegos en línea y otras tareas intensivas de banda ancha.
* En el modo de alta velocidad, el RE200 ofrece un máximo rendimiento pero la conexión se limita a una sola banda (2.4GHz or 5GHz).
Fácil configuración y Ubicación Flexible
Presiona el botón WPS en tu router y el botón Range Extender de tu RE200 dentro de 2 minutos para conectarte fácilmente a la red. Una vez conectado con un router existente, sólo tienes que desconectar y conectar el RE200 de vuelta en un lugar para una mejor calidad de señal y cobertura en tu casa, sin necesidad de configurar el extensor de nuevo.
* La banda usada cuando conectas por medio del botón WPS es indefinida algunas veces y depende de la configuración de tu router. Si deseas establecer una conexión WPS en ambas bandas de 2.4 GHz y 5 GHz, ve a la página de configuración web del RE200
TP-Link OneMesh™
OneMesh™ is a simple way to form a Mesh network with a single Wi-Fi name for seamless whole-home coverage. Just connect a OneMesh™ range
extender to a OneMesh™ router. No more searching around for a stable connection.
Smart Roaming

Uninterrupted streaming when moving around your home Extender

One Wi-Fi Name

No more switching Wi-Fi network names

Easy Creation

OneMesh™ Router + OneMesh™ Range Extender

Unified Management

Manage the whole unified network all in one Tether app
Traditional Router with Extender

OneMesh™ Router + Range Extender
Indicador de Señal Inteligente
Las Luces de señal inteligente indican la intensidad de señal que el RE200 recibe del router existente, que puede ayudar a encontrar la mejor ubicación para la cobertura Wi-Fi .
Good connection
Too far away from the router
No connection
Adaptador de Entretenimiento
El puerto Ethernet RE200 permite al Extensor funcionar como un adaptador inalámbrico para conectar dispositivos cableados cono Blu-ray, consolas de videojuegos, DVR y Smart TV. Al mismo tiempo el dispositivo puede compartir red inalámbrica.
CARACTERÍSTICAS DE HARDWARE
Tipo de Enchufe
US
Estándares y Protocolos
IEEE802.11ac,IEEE 802.11n, IEEE 802.11g, IEEE 802.11b
Interface
1 puerto Ethernet (RJ45) 10/100Mbps
Botón
Botón RE (Range Extender),Botón Reinicio
Consumo de Energía
Sobre 6.5W
Dimensiones (W X D X H)
4.3x 2.6 x 3.0 pulgadas. (110.0 x 65.8 x 75.2mm)
Antenas
3 Internas
CARACTERÍSTICAS INALÁMBRICAS
Frecuencia
2.4GHz & 5GHz
Tasa de Señal
GHz: Hasta de 433Mbps
2.4GHz: Hasta de 300Mpbs
Sensibilidad de Recepción
2.4G:
270M: -70dBm@10% PER
130M: -70dBm@10% PER
108M: -73dBm@10% PER
54M: -75dBm@10% PER
11M: -86dBm@8% PER
6M: -92dBm@10% PER
1M: -94dBm@8% PER
5G:
390M: -60dBm@10% PER
29.3M: -83dBm@10% PER
180M: -64dBm@10% PER
13.5M: -87dBm@10% PER
78M: -68dBm@10% PER
6.5M: -90dBm@10% PER
54M: -75dBm@10% PER
6M:-90dBm@10% PER
Potencia de Transmision
< 20 dBm (EIRP)
Modos Inalámbricos
Range Extender/Access Point
Funciones Inalámbricas
WMM (Wi-Fi Multimedia)
Estadísticas Inalámbricas
Función de Dominio de Entrada
Seguridad Inalámbrica
64/128/152-bit WEP WPA-PSK / WPA2-PSK
OTROS
Certificacion
FCC, RoHS
Contenido del paquete
Extensor de Rango Wi-Fi RE200 AC750
Cable Ethernet RJ-45
CD de Recursos
Guía de Instalación Rápida
Requisitos del Sistema
Microsoft® Windows® 98SE, NT, 2000, XP, Vista o Windows 7, 8, Mac® OS, NetWare®, UNIX® o Linux.
Ambiente
Temperatura de Funcionamiento: 0℃~40 ℃ (32 ℉~104℉)
Temperatura de Almacenamiento: -40℃~70 ℃ (-40 ℉~158℉)
Humedad de Funcionamiento: 10%~90% sin condensación
Humedad de Almacenamiento: 5%~90% sin condensación
From United States?
Get products, events and services for your region.