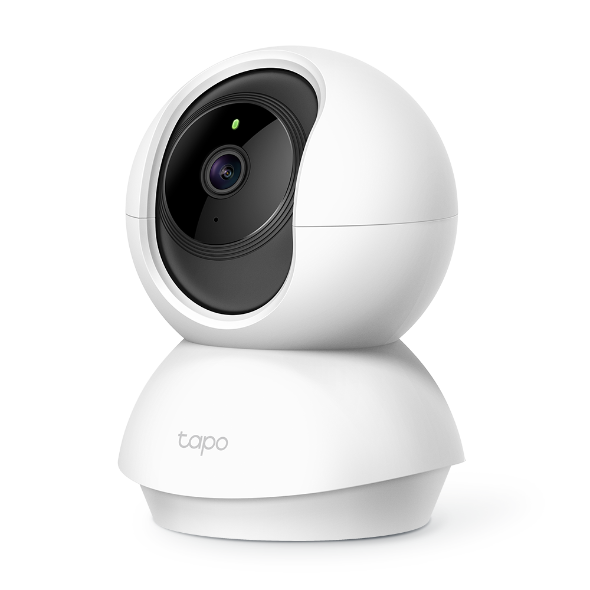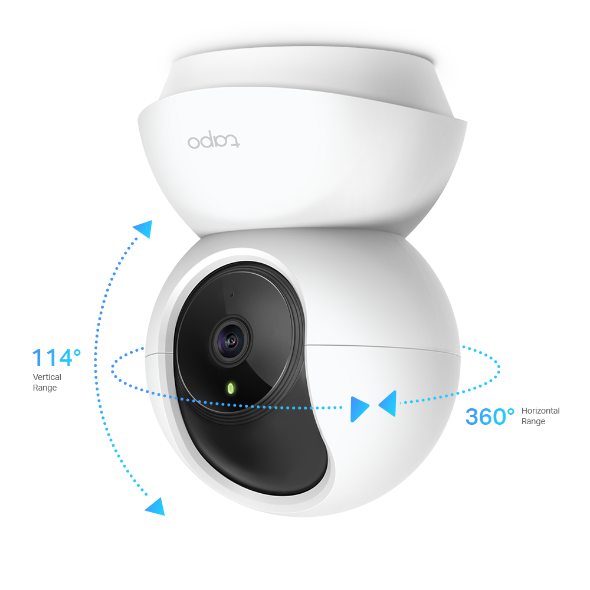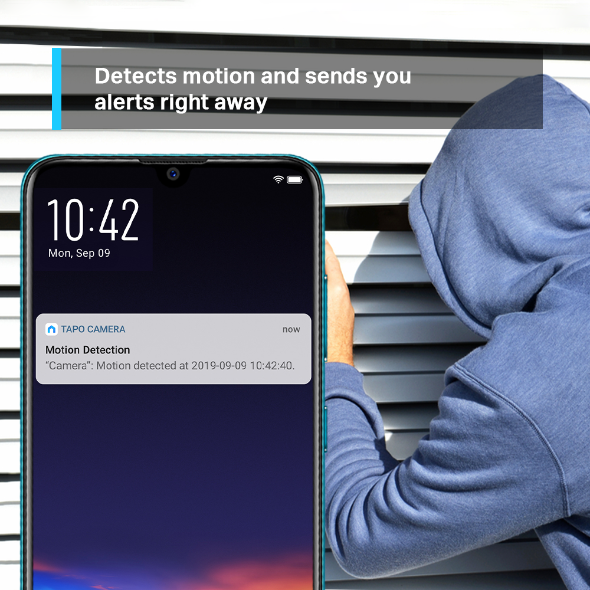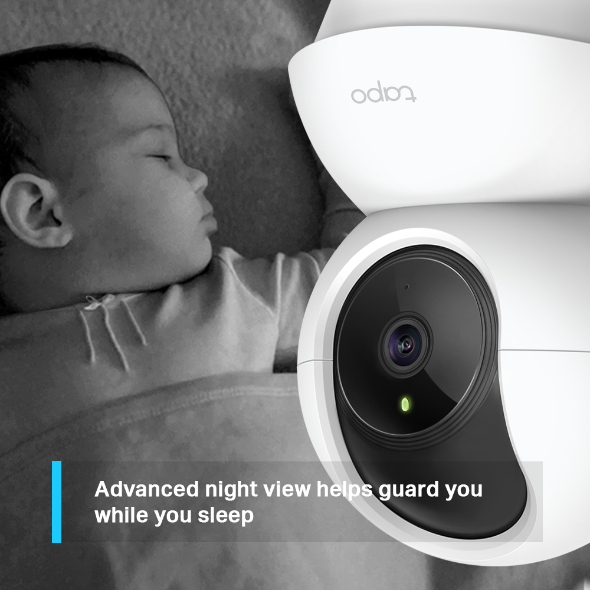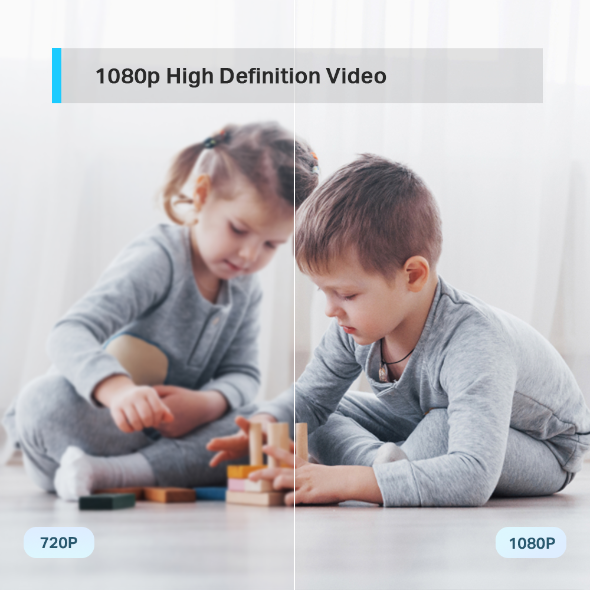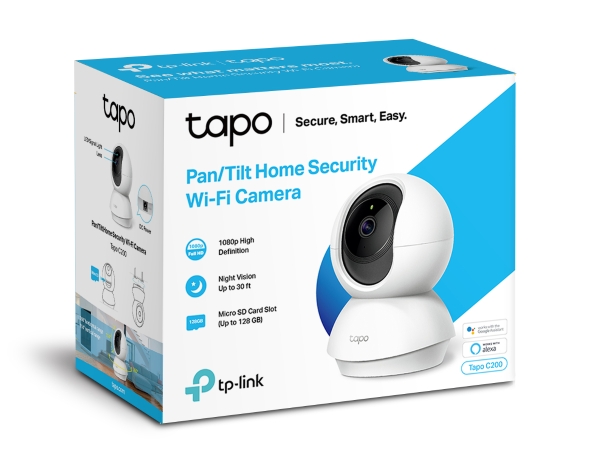 Cámara Wi-Fi de seguridad para el hogar Pan / Tilt
Video de alta definición: captura todos los detalles en una definición nítida de 1080p.
Vista nocturna avanzada: incluso de noche, la cámara puede proporcionar una distancia visual de hasta 30 pies.
Detección de movimiento y notificaciones: recibe una notificación si se detecta algo sospechoso.
Sonido y alarma de luz: disparador de luz y efectos de sonido para ahuyentar a los visitantes no deseados.
Audio bidireccional: comunícate con otros con el micrófono y el altavoz incorporados.
Almacenamiento seguro: admite tarjeta MicroSD (hasta 128 GB).
Seguro, inteligente, fácil.
Mira lo que más importa.
Cámara Wi-Fi de seguridad para el hogar Pan / Tilt
Tapo C200
Pan and Tilt

1080p
Imagen cristalina

Audio bidireccional

Visión nocturna

Detección de movimiento

Modo de privacidad
Detecta movimiento y te envía alertas de inmediato
El robo en el hogar es lo que queremos evitar. Coloque una cámara hacia la entrada de su hogar, garaje o sótano para garantizar la seguridad de su familia y propiedad.
Recibe una notificación cuando la cámara detecte movimiento en casa. Puede ser una advertencia de la llegada del paquete o una intrusión sospechosa. Dispara efectos de luz y sonido para ahuyentar a los visitantes no deseados.
La vista nocturna avanzada te mantiene seguro mientras duermes
Duerme seguro por la noche. Deja que su cámara vigile tu casa mientras está profundamente dormido. La visión nocturna por infrarrojos de 850 nm admite el filtro de cambio de color automático en condiciones de poca luz con una distancia visual de hasta 30 pies.
El modo de privacidad y el almacenamiento local seguro garantizan su privacidad
Puedes activar el modo de privacidad, que puede cerrar físicamente la lente de la cámara para garantizar aún más la seguridad de la privacidad. Además, la tarjeta Micro SD local funciona para evitar incidentes de piratería de Internet.
Modo de privacidad

Stop recording

128GB Micro SD Storage

Supports up to 128 GB (Micro SD card not included)
Video de alta definición
Captura cada detalle en una definición nítida de 1080p. Ve exactamente lo que sucede frente a tu cámara cada vez que este encendida. Averigua si tus hijos están seguros, bien cuidados o se están metiendo en problemas..
Vista en vivo y audio bidireccional
Cuando hagas un viaje, puedes asegurarte de que tus bebés no se metan en problemas o que su niñera los esté cuidando bien. El audio bidireccional te permite decirles que los extrañas (o evitar que compartan su comida).
¡Ay no, deja las galletas en paz!
Obten una vista detallada de su habitación
Una amplia gama de cobertura para capturar cada momento.
Rango horizontal
Rango vertical
Comparte cada momento memorable
Vale la pena compartir momentos encantadores y divertidos, especialmente con los seres queridos que están lejos. Manténlos al tanto de tu día a día y parte de tu vida con cada precioso segundo que compartan.
Un toque te conduce a lo que más te importa
La aplicación gratuita Tapo Camera pone todo lo que necesitas al alcance de tus dedos.
Elije una cámara específica y localiza lo que desea según la fecha.

La cámara grabará automáticamente videos según su horario, sin importar si detecta movimiento o no.

Cuando hagas clic en esa posición de guardado en la aplicación, se convertirá en ese ángel de inmediato.

Ve mas dispositivos, ya que contiene 4 vistas en una página y admite hasta 32 cámaras en una aplicación. Toca para obtener una vista más detallada.
Instalación fácil con configuración de AP suave
Puedes configurar la cámara con la útil aplicación en cuestión de minutos.
Descarga la aplicación Tapo Camera
Enciende tu cámara y conéctela
Sigue la guía en la aplicación
NETWORK
Seguridad
128 bit AES encryption with SSL/TLS
Wireless Rate
11Mbps(802.11b)54Mbps(802.11g)150Mbps(802.11n)
Frecuencia
2.4 GHz
Wireless Security
WPA/WPA2-PSK

VIDEO
Compresión de Video
H.264
Cuadros por segundo
15fps
Vídeo transmitido en vivo
1080p
SISTEMA
Certificación Regulatoria
FCC, IC, CE, NCC
Requisitos del sistema
iOS 9+, Android 4.4+
AMBIENTE
Temperatura en Funcionamiento
0°C~40°C (32°F~104°F)
Temperatura en Almacenamiento
-40°C~70°C (-40°F~158°F)
Humedad en Funcionamiento
10%~90%RH non-condensing
Humedad en Almacenamiento
5%~90%RH non-condensing
CONTENIDOS DEL PAQUETE
Contenido del paquete
Tapo Pan/Tilt Home Security Wi-Fi CameraPower AdapterQuick Start GuideMounting ScrewsMounting PlateCamera Base
HARDWARE
Botón
Reset button
LED Indicador
System LED
Entrada del Adaptador
100-240VAC, 50/60Hz, 0.3A
Salida del Adaptador
9.0V/0.6A
Dimensiones (W x D x H)
3.4 x 3.3 x 4.6 in. (86.6 x 85 x 117.7 mm)
CAMARA
Sensor de Imagen
1/2.9"
Resolución
1080p Full HD
Lens
F/NO: 2.4; Focal Length: 4mm
Night Vision
850 nm IR LED up to 30 ft
Rango de vista
360° horizontal, 114° vertical
AUDIO
Comunicación de audio
2-way audio
Audio Input & Output:
Built-in microphone and speaker
From United States?
Get products, events and services for your region.