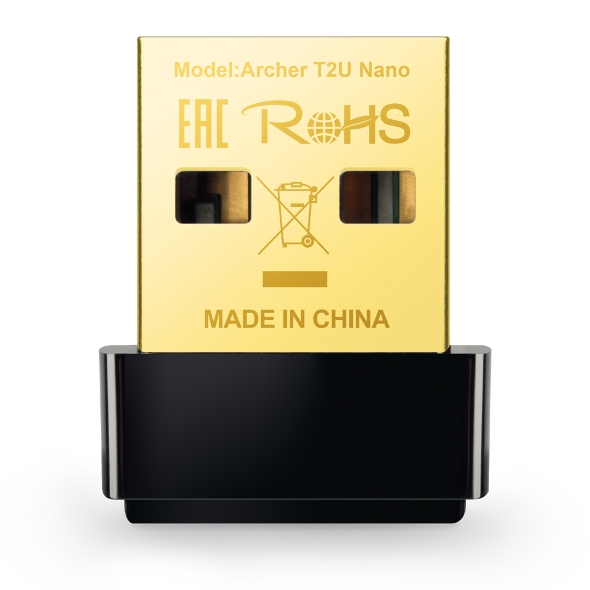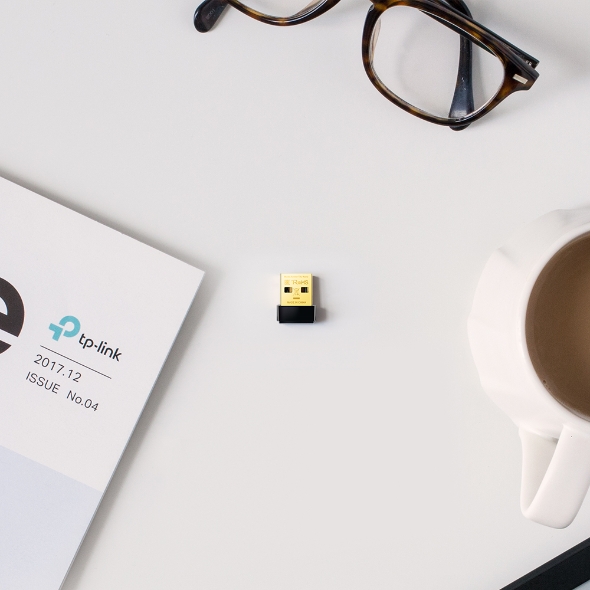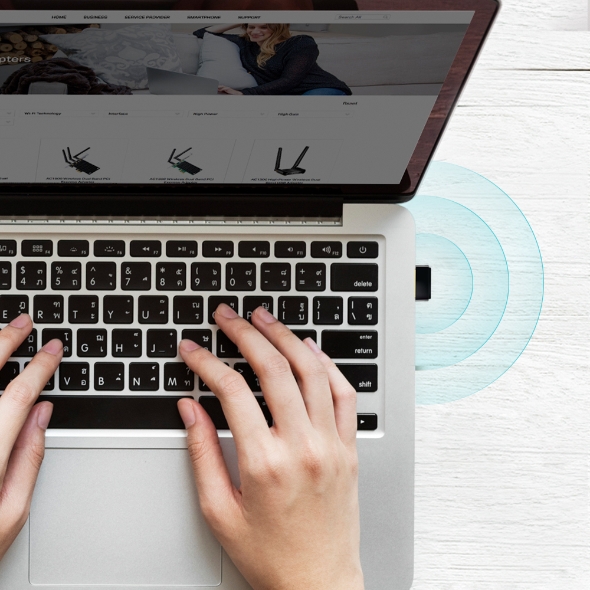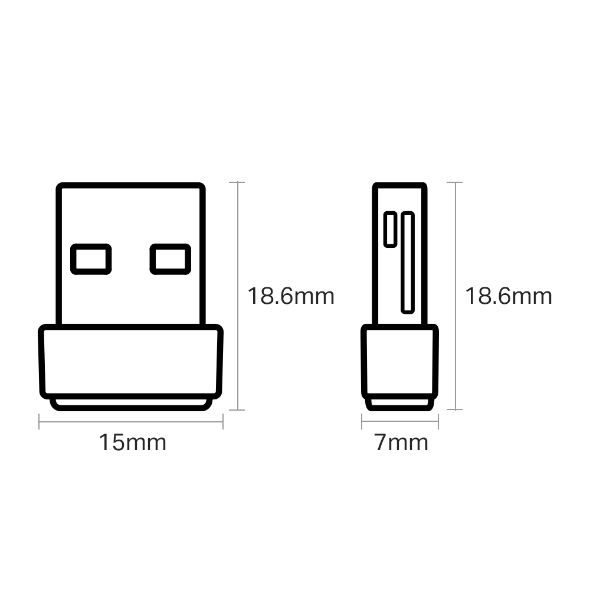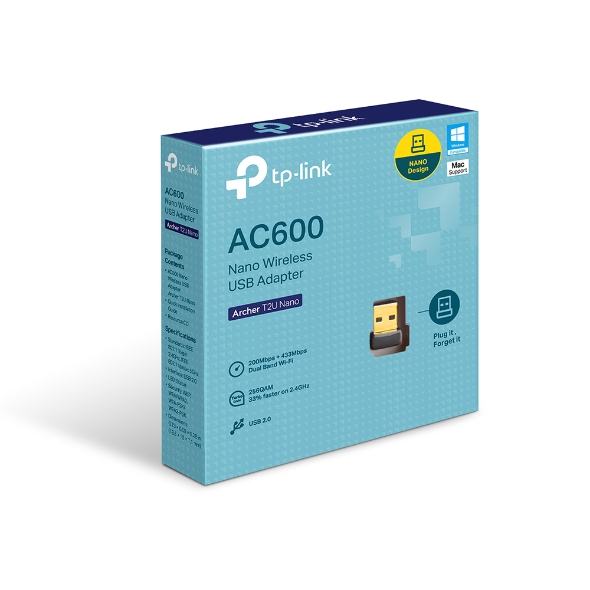 Adaptador inalámbrico Nano USB de doble banda AC600
Alta velocidad Wi-Fi – hasta velocidades de 600Mbps con 200Mbps en 2.4GHz y 433 Mbps a 5GHz, actualiza tus dispositivos a velocidades más altas de AC WiFi.
Doble banda Inalámbrica– 2,4 GHz y 5GHz banda de conectividad flexibles, actualiza tus dispositivos para trabajar con el último router de WiFi de doble banda para mayor velocidad y rango extendido.
Nano diseño – diseño pequeño y discreto le permite conectar y olvidarse de que esta conectado el dispositivo.
Sistema operativo: soporta Windows 10/8.1/8/7/XP, Mac OS X
Seguridad avanzada, soporta 64/128-bit WEP, WPA/WPA2 y WPA-PSK/WPA2-PSK estándares de cifrado
Conéctalo, Olvídate
Adaptador inalámbrico Nano USB AC600
Archer T2U Nano
Adaptador de Doble Banda de Alta Velocidad para Mejorar Conexiones
El Archer T2U Nano recibe señales Wi-Fi en dos bandas separadas. Compatible con la tecnología 256QAM aumenta 2,4 GHz velocidad de datos de 150Mbps a 200Mbps de 33% de rendimiento más rápido. 433Mbps en 5GHz es ideal para streaming de vídeo HD y juegos online, mientras que 200Mbps en 2.4GHz es perfecto para el uso normal como navegar por internet con tus dispositivos
433Mbps
en 5GHz
200Mbps
en 2,4 GHz
Diseño en Miniatura -
Conéctalo y Olvídate
Con su diseño elegante y tamaño miniatura, los usuarios pueden conectar el adaptador nano en cualquier puerto USB. tanto para viaje como para casa
Tamaño de viaje y conexión Wi-Fi Móvil - Ideal para Navegación Móvil
Crecimiento de los servicios públicos de conexión Wi-Fi viene con un inconveniente: puede que tenga que seleccionar y conectar a diferentes redes Wi-Fi mientras se mueve repetidamente.
Archer T2U Nano soporta Wi-Fi móvil y ayuda a los dispositivos conectarse al Wi-Fi más adecuado automáticamente, va a asegurar que tu red sea ininterrumpida, con este diseño pequeño, Archer T2U Nano es sin duda una gran opción para navegación móvil.
Fácil Instalación

Una interfaz de usuario amigable para una instalación sencilla.

Seguridad Avanzada

Estándares de cifrado WPA/WPA2 aseguran que tu conexión inalámbrica está a salvo de intrusos.

Sistema operativo

Soporta los sistemas operativos Windows, Mac OS.
CARACTERÍSTICAS INALÁMBRICAS
Estándares Inalámbricos
IEEE 802.11ac, IEEE 802.11a,
IEEE 802.11n, IEEE 802.11g, IEEE 802.11b

Frecuencia
5GHz
2.4GHz

Tasa de Señal
5GHz
11ac: Up to 433Mbps(dinámico)
11n: Up to 150Mbps(dinámico)
11a: Up to 54Mbps(dinámico)
2.4GHz
11n: Up to 200Mbps(dinámico)
11g: Up to 54Mbps(dinámico)
11b: Up to 11Mbps(dinámico)
Sensibilidad de Recepción
5GHz:
11a 6Mbps: -90dBm
11a 54Mbps: -73dBm
11n HT20 MCS0: -89dBm
11n HT20 MCS7: -70dBm
11n HT40 MCS0: -86dBm
11n HT40 MCS7: -67dBm
11ac VHT80 MCS0: -82dBm
11ac VHT80 MCS9: -56dBm
2.4GHz:
11b 1Mbps: -96dBm
11b 11Mbps: -88dBm
11g 6Mbps: -89dBm
11g 54Mbps: -74dBm
11n HT20 MCS0: -89dBm
11n HT20 MCS7: -72dBm
11n HT40 MCS0: -86dBm
11n HT40 MCS7: -66dBm

Potencia de Transmision
<20dBm (EIRP)
Modos Inalámbricos
Ad-Hoc / Modo Infraestructura
Seguridad Inalámbrica
Soporta 64/128 bit WEP, WPA-PSK/WPA2-PSK, 802.1x
Tecnología de Modulación
DBPSK, DQPSK, CCK, OFDM, 16-QAM, 64-QAM, 256-QAM
OTROS
Certificacion
CE, FCC, RoHS
Contenido del paquete
AC600 Nano Wireless USB Adapter Archer T2U NanoResource CDQuick Installation Guide
Requisitos del Sistema
Windows 10/8.1/8/7/XP (32/64bits),
Mac OS X 10.9-10.13

Ambiente
Temperatura de funcionamiento: 0 ° c ~ 40 ° c (32 ~ 104℉)
Temperatura de almacenamiento:-40 ° c ~ 70 ° c (-40℉ ~ 158 ° f)
Humedad de funcionamiento: 10% ~ 90% sin condensación
Humedad de almacenamiento: 5% ~ 90% sin condensación
* Máxima señal inalámbrica tarifas son las tarifas físicas derivadas de las especificaciones IEEE Standard 802.11. Real transferencia de datos inalámbrica y cobertura inalámbrica no están garantizados y pueden variar como resultado de factores 1) medio ambientales, incluyendo la construcción de materiales, objetos físicos y los obstáculos, las condiciones de red 2), incluyendo la interferencia local, volumen y limitaciones de densidad de tráfico, ubicación de productos, complejidad de la red y cabeza de red y 3) AP, incluyendo nominal rendimiento, ubicación, calidad de conexión y condiciones de AP.
* Uso de 256-QAM requiere APs también apoyar 256-QAM.
* Para garantizar la compatibilidad, puede que necesite actualizar los controladores del adaptador después de una actualización del sistema operativo. Usted puede encontrar los controladores más recientes en el centro de descarga en tp-link.com/en/download-center.
From United States?
Get products, events and services for your region.