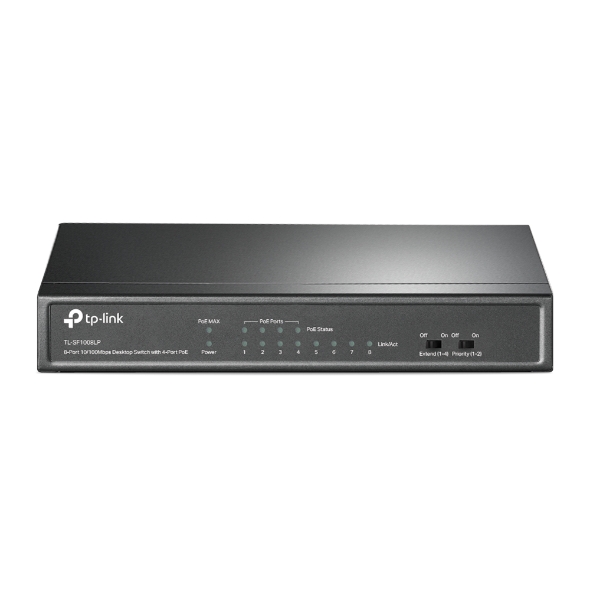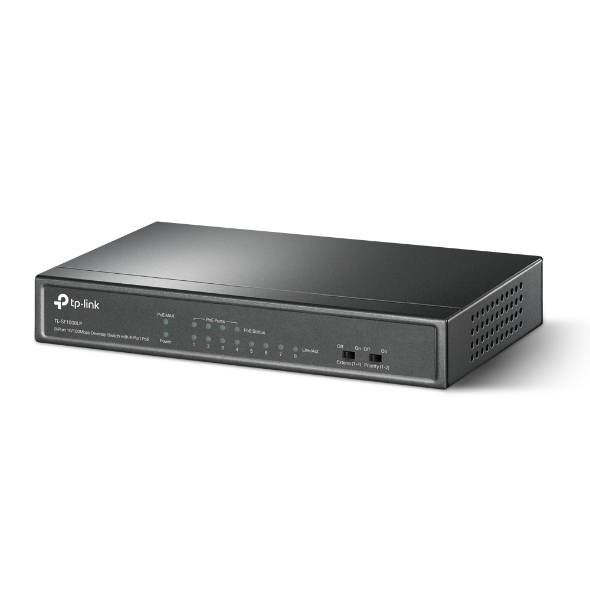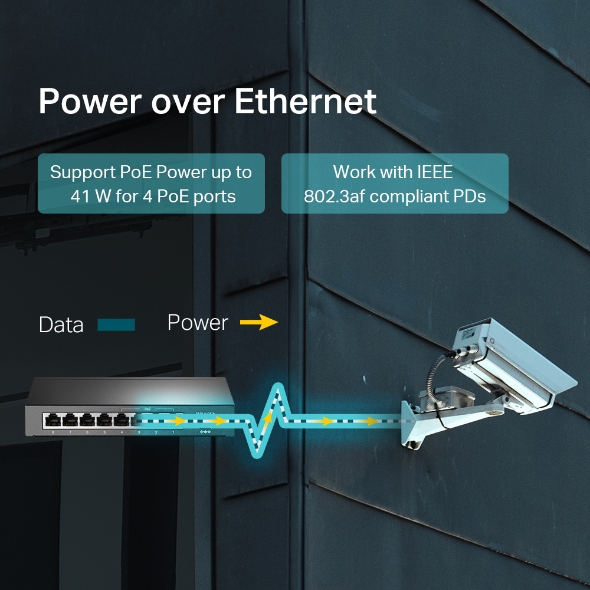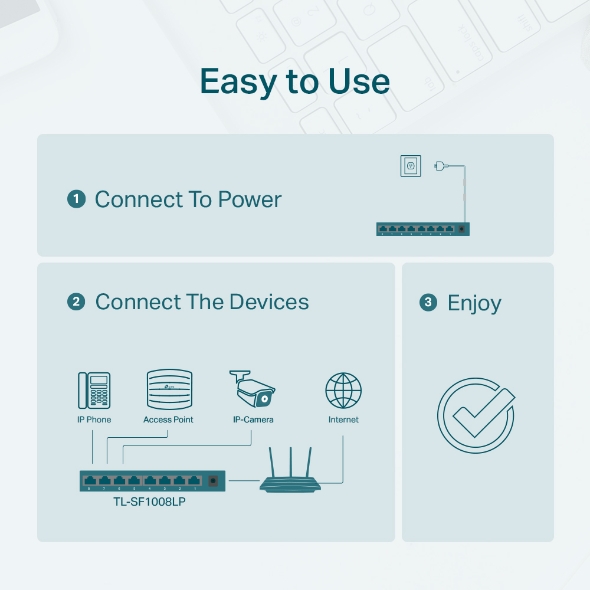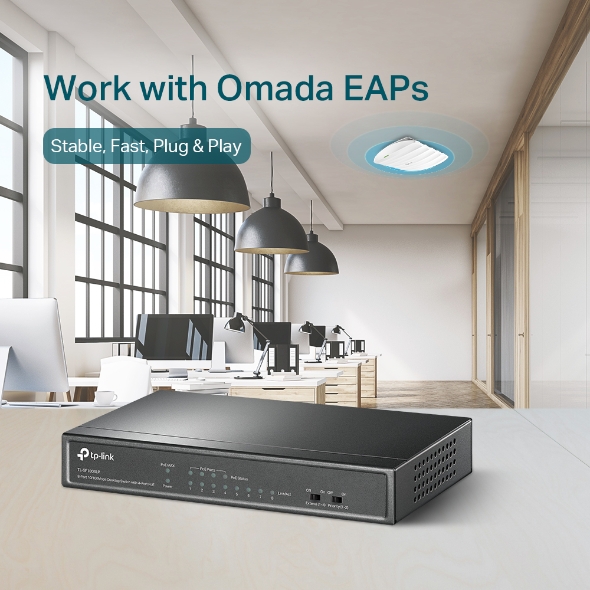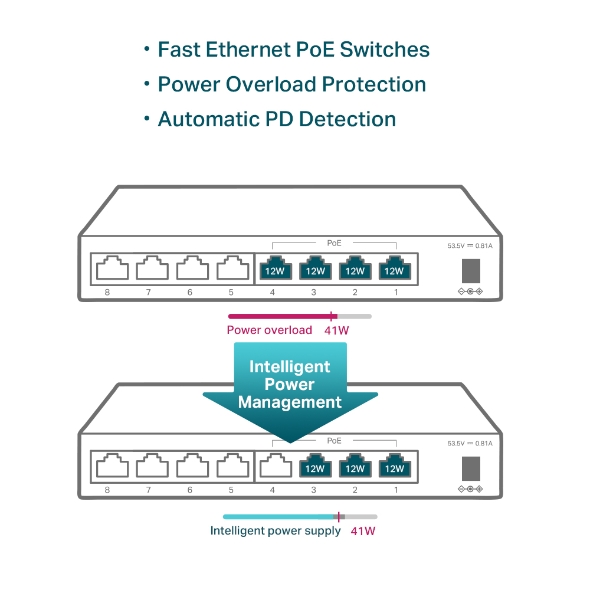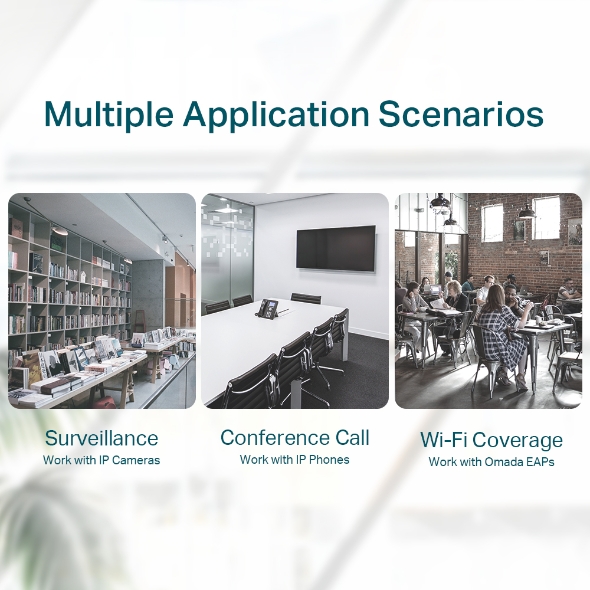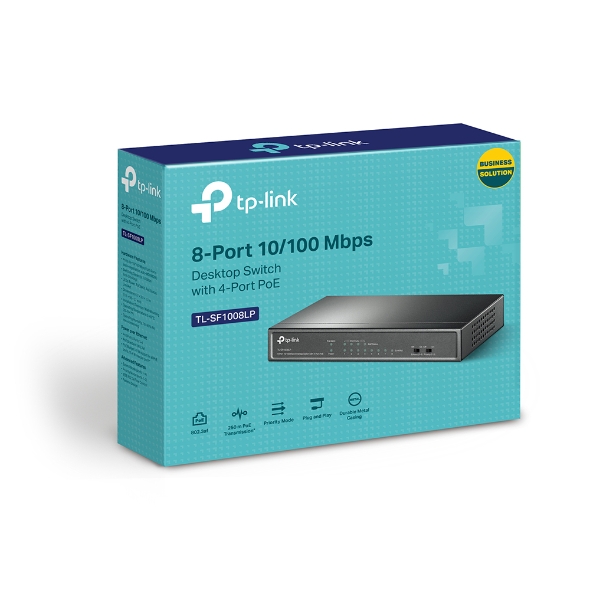 Switch de escritorio de 8 puertos a 10 / 100Mbps con PoE en 4 puertos
8 puertos RJ45 a 10/100 Mbps
4 puertos PoE que transfieren datos y energía en un solo cable
Funciona con PD compatibles con IEEE 802.3af
Rango de transmisión de datos y potencia de hasta 250 m en modo extendido **
El modo de prioridad garantiza la alta prioridad de los puertos 1–2 para garantizar la calidad de las aplicaciones sensibles
Admite alimentación PoE de hasta 41 W para todos los puertos PoE *
Plug and Play, no necesita configuración
Switch Fast Ethernet profesional con 4 puertos PoE
Plug and Play, con transmisión PoE para vigilancia de hasta 250 m.
TL-SF1008LP
Plug and Play, no necesita configuración

Distancia de transmisión hasta 250 m**

Modo Prioridad con 1 solo Click

Gestión de Energía Inteligente

Carcasa de metal duradera
Switch PoE de 4 puertos dedicado (PoE total de 41 W) para numerosas aplicaciones
El cumplimiento del estándar 802.3af PoE admite hasta 15.4 W en cada puerto PoE. El presupuesto total de energía de 41 W PoE * para los puertos 4 × PoE abre una amplia gama de aplicaciones, como vigilancia para oficinas, dormitorios y pequeñas empresas. Es totalmente compatible con cámaras IP, puntos de acceso, teléfonos IP, ordenadores, impresoras y más.
Llamadas en grupo
Teléfono IP
Cobertura Wi-Fi
Puntos de Acceso
4 Puertos PoE
Hasta 15.4 W en cada puerto
Potencial PoE Total de 41 W
TL-SF1008LP
Router
Internet
Plug and Play, No necesita Configuración
1

Enchufar

2

Dispositivos conectados

Internet

Puntos de Acceso

Cámara IP

Teléfono IP

Router

TL-SF1008LP

3

Disfruta
Ideal para Vigilancia IP
—Hasta 250 m de Transmisión
Con el modo extendido, la distancia de transmisión PoE alcanza hasta 250 m **, perfecto para la implementación de cámaras IP en grandes áreas.
Botón Modo Extendido
TL-SF1008LP (Modo Extendido On )
Hasta 250 m
Extensión por puerto es de 10 Mbps
×4
Hasta 4 cámaras IP
TL-SF1008LP (Modo Extendido Off)
100 m
Por defecto es de 100 Mbps/port
×4
Hasta Cuatro Cámaras IP
Cámara IP
Cámara IP
Prioridad Video
Calidad Garantizada
La calidad de las aplicaciones sensibles, como el monitoreo de video en áreas comerciales críticas, está garantizada al ofrecer opciones de mayor prioridad para los puertos 1–2 cuando el Modo de prioridad de un toque está activado.
Botón de modo de prioridad
Sobrecarga de energía
41W
Administración inteligente de energía
Fuente de alimentación inteligente
41W
12W
12W
12W
12W
12W
12W
12W
Administración Inteligente de Energía
Cuando el consumo de energía total excede los 41 W, la administración de energía inteligente reducirá la energía del puerto de menor prioridad. Esto garantiza la fuente de alimentación del puerto de alta prioridad y protege el dispositivo de la sobrecarga de energía. También detecta y proporciona automáticamente la energía requerida para tus dispositivos PoE mientras protege tus equipos PoE y no PoE de daños.
Metal de Alta Calidad
27mm
171mm
98mm
Carcasa de Metal Duradera
Los componentes interiores del TL-SF1008LP están protegidos por una carcasa metálica de alta calidad para garantizar una larga vida útil del producto. Tras superar una serie de rigurosas pruebas de fiabilidad, TL-SF1008LP ofrece un rendimiento del switch en el que puedes confiar.
Diseño Sobremesa Compacto

Montaje en pared

Diseño sin ventilador
Switches for Surveillance

For general surveillance, TP-Link has designed a variety of PoE Switches to meet the requirements of most IPCs. Many robust features provide value well beyond basic networking needs, creating a versatile and reliable surveillance network to grow your business.

Long-Range PoE
Auto Camera Recovery
Enhanced Network Security

Hospitality

TP-Link Omada allows hotels to build reliable WiFi networks. Hotel WiFi network solutions including network topology, design, features, installation, and products are introduced.

Full WiFi coverage and wired connections
Flexible guest control
Seamless roaming
Easy Management

Education

Due to its reliable, scalable, and secure network solution, TP-Link has been widely acknowledged by global customers in the Education market ranging from infant schools with a few APs up to colleges and universities with hundreds of APs.

Easy management
High-density WiFi
Full WiFi coverage and wired connections
VPN and security
CARACTERÍSTICAS DE HARDWARE
Interface
• Puertos 8 × 10/100 Mbps RJ45 (los puertos 1–4 admiten 802.3af PoE)
• Autonegociación
• AUTO MDI / MDIX
Medios de Red
• 10BASE-T: cable UTP categoría 3, 4, 5 (máximo 100 m)
• EIA / TIA-568 100Ω STP (máximo 100m)
• 100BASE-TX: UTP categoría 5, cable 5e (máximo 100 m)
• EIA / TIA-568 100Ω STP (máximo 100m)
Cantidad de Ventiladores
Sin ventilador
Cerradura de Seguridad Física
Si
Fuente de Alimentación Externa
Adaptador de corriente externo (Salida: 53.5 V DC / 0.81 A)
Tasa de Reenvío de Paquete
1.1904 Mpps
Puertos PoE (RJ45)
• Estándar: compatible con 802.3 af
• Puertos PoE: puertos 1–4
• Fuente de alimentación: 41 W
Sitio de Banda Ancha
1.6 Gbps
Tabla de Dirección Mac
2K
Jumbo Frame
2 KB
Capacidad de Switcheo
1.6 Gbps
Dimensiones (W X D X H)
171 × 98 × 27 mm (6.7 × 3.9 × 1.1 in)
Consumo Máximo de energía
• 2.2 W (220 V / 50 Hz. Sin PD conectado)
• 47,1 W (220 V / 50 Hz. Con 41 W PD conectado)
Disipación Máxima de Calor
• 7.5 BTU / h (sin PD conectado)
• 160,61 BTU / h (con 41 W PD conectados)
CARACTERÍSTICAS DE SOFTWARE
Método de Transmisión
Almacenamiento y envío
Funciones Avanzadas
Compatible con PD compatibles con IEEE 802.3af
• Botón de modo extendido (puertos 1–4)
• Botón de modo de prioridad (puertos 1–2)
• Autoaprendizaje de direcciones Mac y envejecimiento automático
• Control de flujo IEEE802.3x para modo dúplex completo y contrapresión para modo semidúplex

OTROS
Certificacion
FCC, CE, RoHS
Contenido del paquete
• TL-SF1008LP
• Adaptador de corriente
• Guía de instalación
Ambiente
• Temperatura de funcionamiento: 0–40 ℃ (32–104 ℉)
• Temperatura de almacenamiento: -40–70 ℃ (-40–158 ℉)
• Humedad de funcionamiento: 10–90% HR sin condensación
• Humedad de almacenamiento: 5–90% HR sin condensación

* Los cálculos del presupuesto PoE se basan en pruebas de laboratorio. El presupuesto real de energía PoE no está garantizado y variará como resultado de las limitaciones del cliente y los factores ambientales.
** La velocidad de los puertos en modo extendido disminuirá a 10 Mbps. La distancia de transmisión real puede variar debido al consumo de energía de los dispositivos alimentados por PoE o la calidad y el tipo del cable.
From United States?
Get products, events and services for your region.