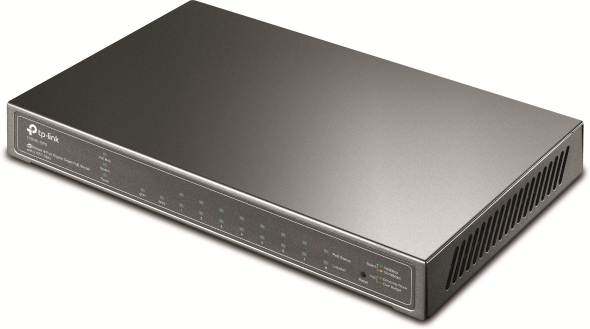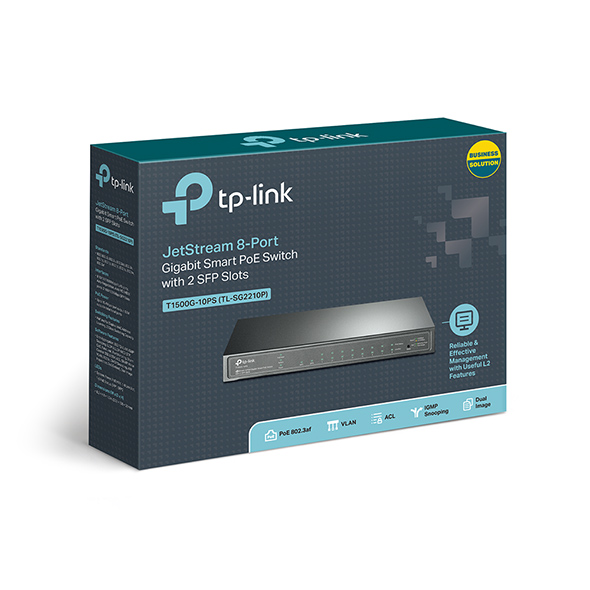 T1500G-10PS (TL-SG2210P)
Switch Smart Gigabit PoE de 8 Puertos con 2 Ranuras SFP
8 puertos que soportan el estándar 802.3af con una alimentación total de 53W y con caractaerísticas de adminsitración de energía PoE
Conexiones Gigabit Ethernet en todos los puertos proporcionando la máxima velocidad de transferencia de datos
Funcionalidades de seguridad avanzada incluyendo Vinculación IP-MAC-Puerto, ACL, Seguridad de Puerto, Defensa ante DoS, Control de Tormentas, DHCP Snooping, Auntenticación 802.1X y Radius
QoS L2/L3/L4 QoS e IGMP snooping de manera a optimizar las aplicaciones de vos y vídeo
Modos de gestión WEB/CLI, SNMP, RMON ofrecen abundantes funciones de gestión
Imagen Dual de Firmwar mejora la fiabilidad y el funcionamiento de su red
Que Hace Este Producto
El Smart Switch T1500G-10PS de TP-Link JetStream cuenta con 8 puertos RJ45 gigabits y 2 ranuras SFP, todos los puertos RJ45 admiten el estándar 802.3af con una potencia total de 53W y funciones de administración de energía PoE útiles. El switch proporciona un alto rendimiento, QoS a nivel de empresa, estrategias de seguridad útiles y características de gestión de nivel 2.
El Smart Switch T1500G-10PS JetStream de TP-Link está especialmente diseñado para las redes de pequeñas y medianas empresas que requieren una gestión de red eficiente. T1500G-10PS viene con un conjunto completo de características, tales como Grupo de agregación de enlaces, VLAN 802.1Q, Listas de control de acceso (ACL), Calidad de servicio (QoS L2 a L4), Control de tormentas e IGMP Snooping para proporcionar a una pequeña o mediana empresa una red orientada al crecimiento, garantizando al mismo tiempo el rendimiento y la fiabilidad. Además, su interfaz de administración web es fácil de usar, lo que quiere decir que la configuración es rápida con menos tiempo de inactividad, proporcionando la solución ideal para su red de negocios.
Energía sobre Ethernet najo estándar IEEE 802.3af
El T1500G-10PS incluye 8 puertos PoE IEEE 802.3af con una potencia PoE total de 53W para alimentar cualquier dispositivo compatible con estándar 802.3af. Es una opción eficiente y rentable para trabajar con puntos de acceso inalámbricos, cámaras de vigilancia, teléfonos IP y otros dispositivos compatibles con PoE, sin necesidad de los cables o líneas de alimentación. Compacto y flexible, el T1500G-10PS es ideal por la flexibilidad que ofrece la tecnología PoE para desplegar puntos de acceso inalámbricos o redes de cámaras IP para proyectos o pequeños negocios.
Características Avanzadas de QoS
Para integrar voz, datos y video en una red, el switch aplica políticas eficientes de QoS. El administrador puede decidir la prioridad del tráfico basándose en una variedad de medios, incluyendo prioridad por puerto, prioridad 802.1P y prioridad DSCP, para asegurar que la voz y el vídeo estén siempre limpios, suaves y libres de cortes. En combinación con la VLAN de voz que soporta el switch, la aplicación de voz funcionará con un rendimiento mucho más suave.
Abundantes Funcionalidades de Capa 2
Para una mayor aplicación de los switches de capa 2, el T1500G-10PS soporta una completa gama de características de capa 2, incluyendo la etiqueta VLAN 802.1Q, aislamiento de puertos, Port Mirroring, STP / RSTP / MSTP, Protocolo de control de agregación de enlaces y función de control de flujo 802.3x. Además, los switches proporcionan funciones avanzadas para el mantenimiento de la red, como la detección de Loop Back, diagnósticos de cable e IGMP Snooping. IGMP Snooping asegura que el switch envíe la transmisión de multidifusión de forma inteligente sólo a los dispositivos subscritos mientras que la limitación y filtración IGMP restringen a cada dispositivo a nivel de puerto para evitar el acceso no autorizado a multidifusión.
Funcionalidades de Gestión a Nivel Empresarial
El T1500G-10PS es fácil de usar y administrar. Soporta varias características de gestión amigables, como un intuitivo Interfaz Gráfico de Usuario web (GUI) o el estándar de industria para la Interfaz de de Línea de Comandos (CLI), SNMP (v1/2/3) y soporte RMON que permite al switch ser sondeado para obtener información y enviar capturas de eventos anormales.
Hospitality

TP-Link Omada allows hotels to build reliable WiFi networks. Hotel WiFi network solutions including network topology, design, features, installation, and products are introduced.

Full WiFi coverage and wired connections
Flexible guest control
Seamless roaming
Easy Management

Education

Due to its reliable, scalable, and secure network solution, TP-Link has been widely acknowledged by global customers in the Education market ranging from infant schools with a few APs up to colleges and universities with hundreds of APs.

Easy management
High-density WiFi
Full WiFi coverage and wired connections
VPN and security

Switches for Business WiFi

For small and medium-sized businesses, a network switch is the fundamental component to build their business network. TP-Link offers an extensive portfolio of network switches with abundant functions and flexible options for every stage of your business growth.

High-Speed Wired LAN Network
Manage with Ease
Abundant Security Strategies
Lower Yours Costs
Comprehensive Products
CARACTERÍSTICAS DE HARDWARE
Estándares y Protocolos
IEEE 802.3i, IEEE 802.3u, IEEE 802.3ab, IEEE802.3z, IEEE 802.3ad, IEEE 802.3x, IEEE 802.3af, IEEE 802.1d, IEEE 802.1s, IEEE 802.1w, IEEE 802.1q, IEEE 802.1x, IEEE 802.1p
Interface
8 Puertos RJ45 10/100/1000Mbps
2 ranuras SFP
(Auto Negociación/Auto MDI/MDIX)
Medios de Red
Cable 10BASE-T: UTP categoria 3, 4, 5 (máximo 100m)
Cable 100BASE-TX/1000Base-T: Categoría UTP 5, 5e o superior (máximo 100m)
Cantidad de Ventiladores
Sin Ventilador
Cerradura de Seguridad Física
No
Fuente de Alimentación
100~240VAC, 50/60Hz
Adaptador de Energía Externa(Output: 48VDC/1.25A)
Puertos PoE (RJ45)
Estándar: 802.3af
Puertos PoE: 8 Puertos
Potencia máxima: 53W
Dimensiones (W X D X H)
209 * 126 * 26mm
Consumo Máximo de energía
9.92W (220V/50Hz sin PD conectado)
64.89W (110V/60Hz con PD 53W conectado)
Disipación Máxima de Calor
33.85 BTU/h (sin PD conectado)
221.40 BTU/h (con PD 53W conectado)
RENDIMIENTO
Ancho de Banda / Backplane
20Gbps
Tasa de Reenvío de Paquetes
14.9Mpps
Tabla de MAC Address
8K
Jumbo Frame
9KB
CARACTERÍSTICAS DE SOFTWARE
Calidad de servicio
• Prioridad 802.1p CoS/ DSCP
• 8 colas prioridad
• Modo Agendado Prioridad
- SP (Strict Priority)
- WRR (Weighted Round Robin)
• Config Carga en Cola
• Control Ancho de Banda
- Límitación en base a Puerto/Flujo
• Performance más fluída
• Acciones por flujos
- Mirror
- Redirección
- Limitador de Velocidad
- QoS Remark
• Control de Tormentas
- Múltiples Modos de Control(kbps/ratio/pps)
- Control Broadcast/Multicast/Unknown-Unicast

L2 Features
• Link Aggregation
- static link aggregation
- Up to 8 aggregation groups and up to 8 ports per group
- 802.3ad LACP
• Spanning Tree Protocol
- 802.1D STP
- 802.1w RSTP
- 802.1s MSTP
- STP Security: Loop back detection, TC Protect, BPDU Filter/Protect, Root Protect
• Loopback Detection
• Flow Control
- 802.3x Flow Control
• Mirroring
- Port Mirroring
- One-to-One
- Many-to-One
- Flow-Based
- Ingress/Egress/Both
- CPU Mirroring
• Device Link Detect Protocol(DLDP)
L2 Multicast
• 512 IPv4,IPv6 shared multicast groups
• IGMP Snooping
- IGMP v1/v2/v3 Snooping
- Fast Leave
- IGMP Snooping Querier
- IGMP Authentication
- Static Group Config
• MLD Snooping
- MLD v1/v2 Snooping
- Fast Leave
- MLD Snooping Querier
- Static Group Config
• Multicast VLAN Registration
• Multicast Filtering

Soporte IPv6
• IPv6 Dual IPv4/IPv6
• Multicast Listener Discovery(MLD) Snooping
• IPv6 neighbor discovery (ND)
• Path maximum transmission unit (MTU) discovery
• Internet Control Message Protocol (ICMP) version 6
• TCPv6/UDPv6
• IPv6 applications
- DHCPv6 Client
- Ping6
- Tracert6
- Telnet(v6)
- IPv6 SNMP
- IPv6 SSH
- IPv6 SSL
- Http/Https
- IPv6 TFTP
VLAN
• VLAN Group
- Max. 4K VLAN Groups
• 802.1Q tag VLAN
• MAC VLAN
• Protocol VLAN
• GVRP
• Voice VLAN
ultáneamente (de 4K VLAN IDs)
Lista de control de acceso
• Support up to 230 entries
• Time-Range
- Time Slice
- Week Time-Range
- Absolute Time-Range
- Holiday
• Time-based ACL
• MAC ACL
- Source MAC
- Destination MAC
- VLAN ID
- User Priority
- Ether Type
• IP ACL
- Source IP
- Destination IP
- IP Protocol
- TCP Flag
- TCP/UDP Source Port
- TCP/UDP Destination Port
- DSCP/IP TOS
• IPv6 ACL
• Combined ACL
• Rule Operation
- Permit/Deny
• Policy Action
- Mirror
- Rate Limit
- Redirect
- QoS Remark
• ACL Rules Binding
- Port Binding
- VLAN Binding
Seguridad
• AAA
• 802.1X
- Autenticación en base a puerto
- Autenticación en base a MAC(Host)
- Métodos de autenticación incluidos PAP/EAP-MD5/EAP-TLS/EAP-TTLS/EAP-PEAP
- MAB
- VLAN invitados
- Soporte Autenticación Radius y accountability
• Unión IP/IPv6-MAC
- 512 Entrads de unión
- DHCP Snooping
- DHCPv6 Snooping
- Inspección ARP
- Detección ND
• Origen Segura IP
- 253 Entradas
- IP Origen+ MAC Origen
• Origen Segura IPv6
- 183 Entradas
- Dirección Origen IPv6+origen MAC
• Defensa DoS
• Seguridad de Puerto Estática/Dinámico/Permanente
- Hasta 64 direcciones de MAC por puerto
• Control de Tormentas Broadcast/Multicast/Unicast
- Modo de control kbps/ratio/pps
• Aislamiento de Puerto
• Gestión web segura vía HTTPS con SSLv3/TLS1.0
• Interfaz Línea de Comandos segura (CLI) con SSHv1/SSHv2
• Control de Acceso en base a IP/Port/MAC

Administración
• Interfaz web GUI
• Interfaz de Línea de Comandos (CLI) vía puerto de consola, telnet
• SNMPv1/v2c/v3
• SNMP Trap/Inform
• RMON (1,2,3,9 groups)
• SDM Template
• DHCP/BOOTP Cliente
• Imagen y Configuración Dual
• Monitorización CPU
• Diagnóstico Cable
• EEE
• System Log
• 802.1ab LLDP/ LLDP-MED

MIBs
• MIB II (RFC1213)
• Interface MIB (RFC2233)
• Ethernet Interface MIB (RFC1643)
• Bridge MIB (RFC1493)
• P/Q-Bridge MIB (RFC2674)
• RMON MIB (RFC2819)
• RMON2 MIB (RFC2021)
• Radius Accounting Client MIB (RFC2620)
• Radius Authentication Client MIB (RFC2618)
• Remote Ping, Traceroute MIB (RFC2925)
• Support TP-Link private MIBs

OTROS
Certificacion
CE, FCC, RoHS
Contenido del paquete
T1500G-10PS
Adaptador de Energía
Guía de Instalación
CD de Recursos
Patas de Goma
Requisitos del Sistema
Microsoft® Windows® 98SE, NT, 2000, XP, Vista™ o Windows 7/8, MAC® OS, NetWare®, UNIX® o Linux.
Ambiente
Temperatura de Funcionamiento: 0℃~40℃ (32℉~104℉);
Temperatura de Almacenamiento: -40℃~70℃ (-40℉~158℉)
Humedad de Funcionamiento: 10%~90%RH sin condensación
Humedad de Funcionamiento: 5%~90%RH sin condensación
From United States?
Get products, events and services for your region.