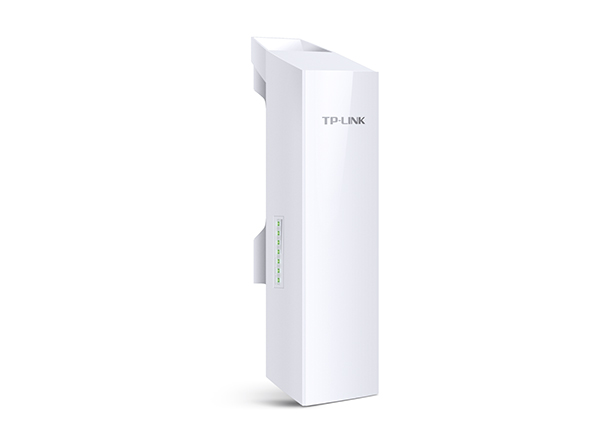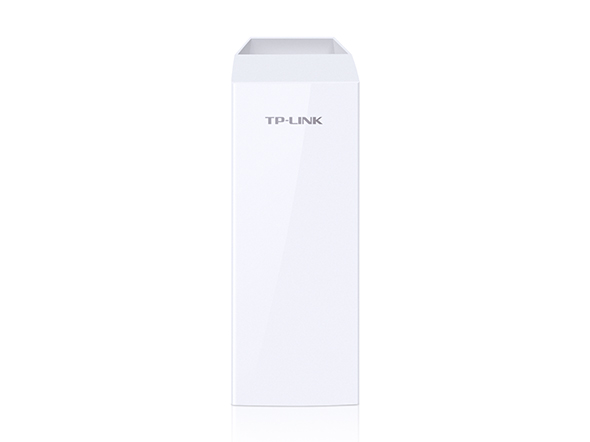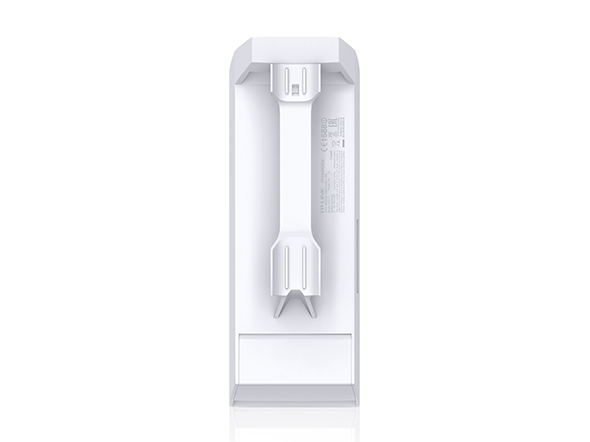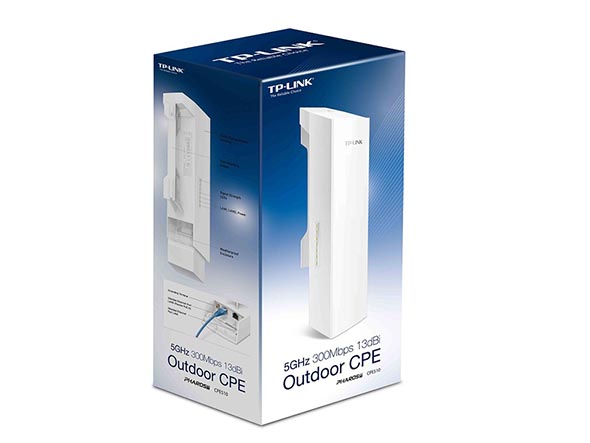 CPE510
CPE de Exterior 5GHz 300Mbps 13dBi
Incorpora antena de 13dBi 2x2 MIMO direccional de doble polarizado
Potencia de transmisión ajustable de 0 a 27dBm / 500mw
Optimizaciones a nivel de sistema para la transmisión inalámbrica de más de 15 kilometros de largo alcance
La Tecnología TP-LINK Pharos MAXtream TDMA (Time-Division-Multiple-Access) mejora el rendimiento del producto, la capacidad y rendimiento de latencia, ideal para aplicaciones PTMP
Sistema de Administración Centralizada - Control Pharos
Modos de operación,

AP / Cliente / Repetidor / AP Router / AP Cliente Router (WISP)

Adaptador PoE pasivo soporta hasta 60 metros (200 pies). Alimentación a través de la implementación de Ethernet y permite que el dispositivo se restablecerá de forma remota
Conexión punto a multipunto
TP-LINK's 5GHz 300Mbps 13dBi Outdoor CPE, el CPE510 se dedica a soluciones rentables para aplicaciones al aire libre de redes inalámbricas. Con su aplicación de gestión centralizada, es ideal para conexiones punto a punto, punto a multipunto y aplicaciones exteriores de cobertura Wi-Fi. Rendimiento profesional, junto con un diseño fácil de usar, hace del CPE510 una opción ideal tanto para usuarios domésticos como empresariales.
Diseño Hardware para Empresa
Con Qualcomm Atheros chipsets de nivel empresarial, antenas de alta ganancia y un material de gran calidad, caja especialmente diseñada, y la fuente de alimentación PoE, CPE510 está especialmente diseñado para uso en exteriores y puede operar sin problemas en casi cualquier clima, con temperaturas de funcionamiento desde -30 ℃ (- 22 ℉) a 70 ℃ (158 ℉).
Qualcomm Atheros chipsets de nivel empresarial a 560MHz
Tx de alta potencia y Rx de alta sensibilidad de radio de delante a atrás
Sistema Avanzado Antena
Antena de alta ganancia, polarización dual
Reflexión metálica que asegura una mayor ganancia
y una menor interferencia de ruido.
Patrón de Polarización V-Pol
Patrón de Polarización H-Pol
Transmisión Inalámbrica de más de 15 km de alcance
Un diseño que rompe las barreras del rango tradicional de transmisión Wi-Fi, por lo que CPE510 es un producto ideal para aplicaciones al aire libre para redes inalámbricas.
15km+
Tecnología TDMA TP-LINK MAXtream
A medida que aumenta la escala de red, la competencia y
las colisiones wireless entre los CPEs y las estaciones base será tan enorme que el rendimiento real de la red caerá,
dando como resultado un grave impacto en la experiencia del usuario final. Para mitigar estos efectos, la CPE510 utiliza tecnología TDMA MAXtream .
Control Pharos – Sistema de Gestión Central
CPE510 también viene equipado con un software de gestión centralizada que ayuda a los usuarios a gestionar fácilmente todos los dispositivos de
su red desde un solo ordenador – Pharos Control. Las funciones como la detección de dispositivos, la monitorización del estado,
la actualización de firmware, y el mantenimiento de la red se pueden manejar usando Pharos Control.
PharOS
Sistema de gestión basado en la web, fácil de usar, que permite a los profesionales realizar configuraciones más específicas.
CPE510 para Exteriores de 13dBi y 5GHz a 300Mbps
Polarización Dual de 13dBi
Antena Direccional
Modo de Operación: Punto de Acceso / Cliente / Repetidor / Router AP / Router AP Cliente (WISP)
Protección contra Rayos de hasta 6000V
Carcasa resistente
Protección ESD 15KV
Adaptador PoE Pasivo
CPE510
CPE210
TL-WA7510N
TL-WA7210N
TL-WA5210G

Rendimiento Inalámbrico

Velocidad Inalámbrica

5GHz 300Mbps

2.4GHz 300Mbps

5GHz 150Mbps

2.4GHz 150Mbps

2.4GHz 54Mbps

Potencia de Transmisión

27dBm

27dBm

27dBm

27dBm

27dBm

Antena

13dBi

9dBi

15dBi

12dBi

12dBi

MIMO

√

√

-

-

-

Cobertura

15km+

5km+

5km+

5km+

2km+

Hardware

Procesador

560MHz

560MHz

400MHz

400MHz

180MHz

Memoría

64MB DDR2

64MB DDR2

32MB DDR

32MB DDR

16MB DDR

Compatibilidad

802.11a/n

802.11b/g/n

802.11a/n

802.11b/g/n

802.11 b/g

Interfaz Antena Externa

-

-

1 * RP-SMA

1 * RP-SMA

1 * RP-SMA

Protección Carcasa

√(IPX5)

√(IPX5)

√

√

√

Puertos Duales Ethernet

√

√

-

-

-

Passthrough PoE

√

√

-

-

-

Terminal de tierra

√

√

√

√

√

Protección contra Rayos
Cable Ethernet

√

√

-

-

-

Protección ESD

15kV

15kV

15kV

15kV

15kV

Protección contra rayos

6kV

6kV

4kV

4kV

4kV

Fuente de Alimentación

24V Adaptador
PoE Pasivo
24V Adaptador
PoE Pasivo

12V Adaptador de Corriente + PoE Pasivo Injector

Software

Modo de Operación

Modo Punto de Acceso / Cliente / Bridge/Repetidor / Router AP / Router AP Cliente (WISP)

Modo TDMA MAXtream

√

√

-

-

-

Canal de Ancho de Banda

5/10/20/40MHz

5/10/20/40MHz

20/40MHz

20/40MHz

20MHz

Control de Potencia de Transmisión

Stepping 1dBm

Stepping 1dBm

Stepping 3dBm

Stepping 3dBm

-

Alineación de Antena

√

√

√

√

√

Monitor de Rendimiento

√

√

-

-

-

Analizador De Espectro

√

√

-

-

-

Herramienta de Test de Velocidad Iperf

√

√

-

-

-

Soporta Pharos Control
(Aplicación de Gestión Central de Red)

√

√

-

-

-
Wireless Networking for Elevators

TP-Link Omada offers a wireless solution for elevators: a wireless point-to-point link delivering a throughput of up to 867 Mbps. Wireless coverage extends to the entire shaft to connect surveillance cameras or digital signage directly to your network. Record real-time video to an NVR with virtually no hard wiring required—so there are no cables to wear out.

Easy Installation and Auto-Paring
Stable Connections at High-Speeds
Ideal for Elevator Camera
No Complex Cabling
Multi-Customer and Multi-Site Management
CARACTERÍSTICAS DE HARDWARE
Procesador
Qualcomm Atheros Empresarial AR9350B 560MHz CPU, MIPS 74Kc
Memoria
64MB DDR2 RAM, 8MB Flash
Interface
1 Puerto Ethernet Blindado 10/100Mbps (LAN0, en Pasivo PoE)
1 Puerto Ethernet Blindado 10/100Mbps (LAN1, Passive PoE Passthrough)
1 Terminal puesta a tierra
1 Botón Reset
Fuente de Alimentación
Passive Power over Ethernet via LAN0 (+4,5pins; -7,8pins)
Rango de Voltaje: 16-27VDC
Consumo de Energía
13 Watts Max
Nota: Cuando se implementa usando PoE pasivo, la potencia extraída de la fuente de alimentación será más alto por una cierta cantidad dependiendo de la longitud del cable de conexión.
Dimensiones (W X D X H)
224 x 79 x 60 mm
Tipo de Antena
2 Antenas Direccionales Incorporadas de 13dBi con Polarizado Dual

Beam Width: 45° (H-Plane) / 30° (E-Plane)

Note: Para más detalles, lee la hoja de datos
Protección
Protección 15KV ESD
Protección Contra Rayos 6000V
Cercado
Material plástico de ASA estabilizado al aire libre
IPX5 Certificación a prueba de agua
CARACTERÍSTICAS INALÁMBRICAS
Estándares Inalámbricos
IEEE 802.11a/n (con Pharos MAXtream deshabilitado)
Protocolo Propietario
Modo TDMA (con Pharos MAXtream habilitado)
Velocidades Inalámbricas
Hasta 300Mbps (40MHz,Dinámica)
Hasta 144.4Mbps (20MHz,Dinámica)
Hasta 72.2Mbps (10MHz,Dinámica)
Hasta 36.1Mbps (5MHz,Dinámica)
Frecuencia
5.15~5.85GHz
Nota: la frecuencia de funcionamiento disponible puede variar en función de las limitaciones de los países o regiones en los que se utiliza el dispositivo.
Sensibilidad de Recepción
• 802.11a:
54M: -75dBm, 48M: -76dBm, 36M: -83dBm, 6-24M: -95dBm
• 802.11n:
MCS15: -73dBm, MCS14: -74dBm, MCS13: -76dBm,
MCS12: -80dBm, MCS11: -83dBm, MCS10: -88dBm,
MCS9: -90dBm, MCS8: -93dBm, MCS7: -73dBm,
MCS6: -74dBm, MCS5: -76dBm, MCS4: -80dBm,
MCS3: -83dBm, MCS2: -88dBm, MCS1: -90dBm, MCS0: -93dBm
Potencia de Transmisión
27dBm / 500mw (potencia ajustable por 1dBm)

Nota: la potencia de transmisión máxima puede variar a través de diferentes canales en función de las limitaciones de los países o regiones en los que se utiliza el dispositivo.
CARACTERÍSTICAS DE SOFTWARE
Configuraciones Inalámbricas
Tecnología Pharos MAXtream TDMA
Modos 802.11a/n
Ancho de Canal Seleccionable: 5/10/20/40MHz
Selección Automática de Canal
Transmisión de Control de Potencia
Selección dinámica de frecuencias (DFS)
WDS Activar / Desactivar
Seguridad:Encriptación WPA/WPA2, WPA-PSK/WPA2-PSK (AES/TKIP) , Encriptación 64/128/152-bit WEP
SSID Broadcast Activado / Descativado
Multi-SSID con VLAN Tagging (AP mode only)
Ajuste de tiempo de espera Distancia/ACK
Filtro de Dirección MAC Inalámbrica
Inalámbrico Avanzado:
> Beacon Interval/RTS Threshold/Fragmentation
>Threshold/DTIM Interval/AP Isolation/Short GI/Wi-Fi Multimedia
Administración
Administración y Descubrimiento Remotoa través de la aplicación Pharos Control
Administración basada en HTTP/HTTPS
Registro de Sistema
SNMP Agent(v2c)
Ping Watch Dog
DDNS Dinámica
Servidor SSH
Herramientas de sistema
Indicadores de Calidad de Señal Inalámbricas:
Intensidad de Señal/Ruido/Transmisión CCQ/CPU/Monitores de Memoria: Throughput/Estaciones/Interfaces/ARP/Rutas/WAN/DHCP
Analizador de Espectro
Examen de Velocidad
Ping
Traceroute
Optimizaciones a Nivel de Sistema
IGMP Optimizado / proxy para aplicaciones de multidifusión
Hardware watch dog
POE ADAPTER FEATURES
Dimensions(W x D x H)
110*57*33.5mm
Interfaces
1 AC Jack with Earth Ground
1 Puerto Ethernet Blindado 10/100Mbps (Alimentación + Datos)
1 Puerto Ethernet Blindado 10/100Mbps (Datos)
Botón
Botón Remote Reset
Power Status LEDs
0~0.8A: Verde
0.8A~1.0A: Rojo
Input
100-240VAC, 50/60Hz
Input Voltage
100VA~240VAC @ 50Hz~60Hz
Input Current
0.8A Max @ 100VAC
Output
24VDC, 1.0A Max
+4, 5pins; -7, 8pins. (Soporta hasta 60m Power over Ethernet)
Output Voltage
24VDC(+4,5pins; -7,8pins)
Eficiencia
>80%
Certifications
CE/FCC/UL/IC/GS/PSB/C-tick/SAA/S-Mark/KC-mark
OTROS
Certificacion
CE, FCC, RoHS, IPX5
Contenido del paquete
CPE De Exterior Inalámbrico
Adaptador Pasivo PoE 24V 1A
Correas par Montaje en Poste
Cable de alimentación AC
Guía de instalación
Requisitos del Sistema
Microsoft Windows 98SE, NT, 2000, XP, Vista™ o Windows 8, Windows 7, MAC OS, NetWare, UNIX o Linux.
Nota: Te recomendamos utilizar uno de los siguientes navegadores web para una experiencia de usuario mejorada: Google Chrome, Safari y Firefox. No se recomiendan los navegadores IE.
Ambiente
Temperatura de Funcionamiento: -30°C~70°C (-22℉~158℉)
Temperatura de Almacenamiento: -40℃~70℃ (-40℉~158℉)
Humedad de Funcionamiento: 10%~90% sin condensación
Humedad de Almacenamiento: 5%~95% sin condensación
From United States?
Get products, events and services for your region.