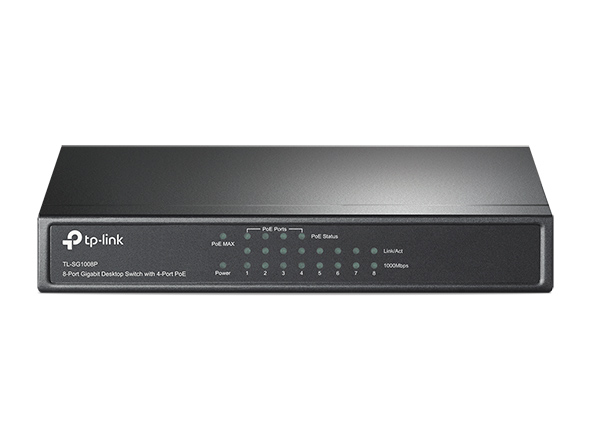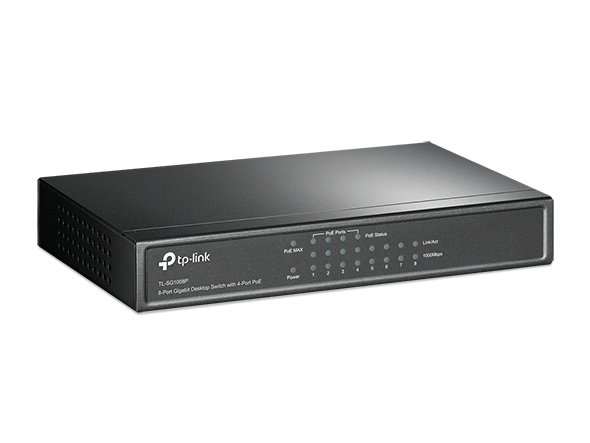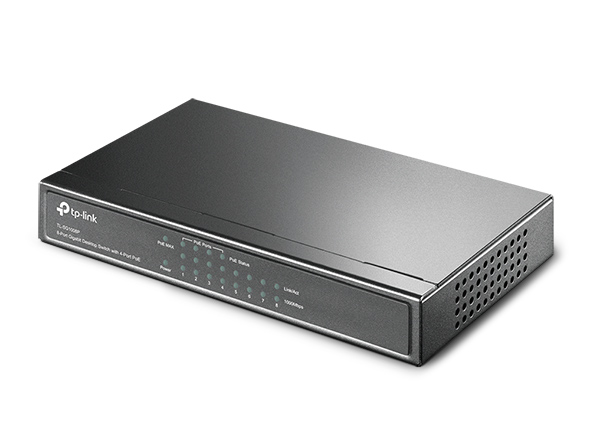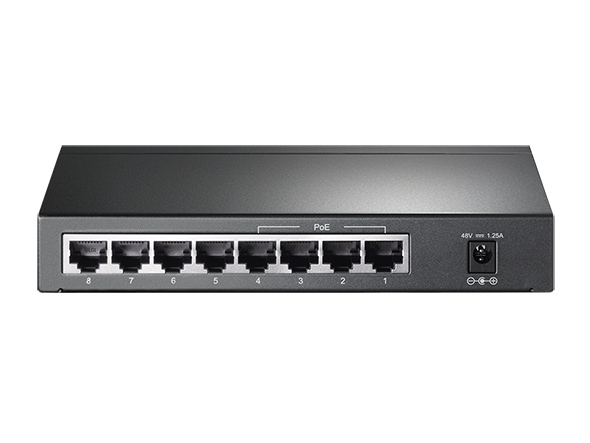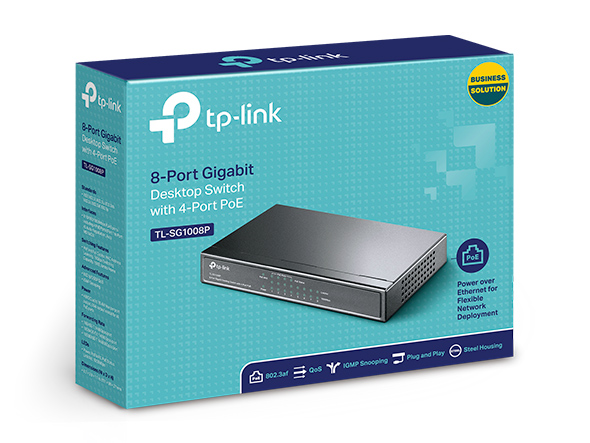 8-Port-Gigabit-Desktop-Switch mit 4 PoE-Ports
Acht 10/100/1000Mbps-RJ45-Ports
Vier PoE-Ports, die Daten und Strom über ein einziges Kabel übertragen können
Kann IEEE802.3af-kompatible Netzwerkgeräte wie Accesspoints, IP-Telefone oder IP-Kameras mit Strom speisen
Plug&Play, keine Konfiguration erforderlich
Produktfunktionalitäten
Der 8-Port-Gigabit-Desktop-PoE-Switch TL-SG1008P ermöglicht eine nahtlose Netzwerkverbindung. Er kombiniert Fast-Ethernet- mit Gigabit-Ethernet-Netzwerkfähigkeiten.
Power over Ethernet
4 der 8 Autoabstimmungs-RJ45-Ports (Port 1 bis 4) des Switches unterstützen Power over Ethernet (PoE). Diese PoE-Ports können PoE-kompatible Netzwerkgeräte automatisch erkennen und IEEE802.3af-Powered-Devices (PDs) mit Strom versorgen. Der elektrische Strom wird dabei zusammen mit den Daten über ein einziges Kabel transportiert. So können Sie Ihr Netzwerk einfach und problemlos dort erweitern, wo keine Stromleitungen oder Steckdosen vorhanden sind, jedoch PoE-fähige Geräte wie Accesspoints, IP-Kameras oder IP-Telefone betrieben werden sollen.
Verhalten bei Überlastung
Der TL-SG1008P hat eine Prioritäts*-Funktion, die dabei hilft, das System zu schützen, wenn die Systemleistung überbeansprucht wird. Sobald der gesamte Stromverbrauch der PoE-gespeisten Geräte größer oder gleich 53W ist, werden unter den PoE-Ports Prioritäten zugeordnet. Das System entscheidet dann über die Stromverteilung und schaltet die Energiezufuhr am Port mit der niedrigsten Priorität ab.
Port-Priority-Funktion
*Port-Priority: (Port 1 > Port 2 > Port 3 > Port 4): Diese Funktion ist dazu da, das System zu schützen, wenn die PoE-Leistung überbeansprucht wird. Nutzen die Ports 1, 2 und 4 jeweils die maximale Leistungsabgabe von 15,4W pro Port, beträgt die Gesamtleistung 46,2W. Wird noch ein zusätzliches Powered Device mit 10W an Port 3 angeschlossen, schaltet das System Port 4 ab, um Schäden am Gerät zu vermeiden. Das bedeutet, dass an Port 1 und 2 jeweils 15,4W und an Port 3 10W verbraucht werden können. An Port 4 wird keine Leistung abgegeben.
Einfache Handhabung
Der TL-SG1008P ist Dank Plug&Play einfach zu installieren. Er erfordert keinerlei Konfiguration. Mit seinem kompakten Desktop-Design und seiner performanten Leistung ist TP-LINKs TL-SG1008P eine großartige Wahl zur Erweiterung Ihres Heim- oder Büronetzes.
Switches for Surveillance

For general surveillance, TP-Link has designed a variety of PoE Switches to meet the requirements of most IPCs. Many robust features provide value well beyond basic networking needs, creating a versatile and reliable surveillance network to grow your business.

Long-Range PoE
Auto Camera Recovery
Enhanced Network Security

Hospitality

TP-Link Omada allows hotels to build reliable WiFi networks. Hotel WiFi network solutions including network topology, design, features, installation, and products are introduced.

Full WiFi coverage and wired connections
Flexible guest control
Seamless roaming
Easy Management

Education

Due to its reliable, scalable, and secure network solution, TP-Link has been widely acknowledged by global customers in the Education market ranging from infant schools with a few APs up to colleges and universities with hundreds of APs.

Easy management
High-density WiFi
Full WiFi coverage and wired connections
VPN and security
HARDWARE-FUNKTIONEN
Schnittstelle
8 10/100/1000Mbit/s-RJ45-Ports mit Autoabstimmung und Auto-MDI/MDIX
Kabel
10BASE-T: UTP-Kabel der Kategorie 3 oder höher (maximal 100m)
100BASE-TX: UTP-Kabel der Kategorie 5 oder höher (maximal 100m)
1000BASE-T: UTP-Kabel der Kategorie 6 oder höher (maximal 100m)
Anzahl Lüfter
0
Physischer Diebstahlschutz
Yes
Energieverbrauch
Maximal 65,2W bei 55W PoE-Last (230V/50Hz)
Maximal 5,5W ohne PoE (230V/50Hz)
Externe Spannungsversorgung
Externer Spannungsadapter
Ausgang: 48V/1,25A Gleichspannung
Paketweiterleitungsrate
11.904 Mpps
PoE-Ports
Standard: IEEE802.3af
4 PoE-Ports
Maximale Gesamtleistung: 55W
Switchingkapazität
16 Gbit/s
MAC-Adresstabelle
8k
Jumbo-Frames
16 KB
Switchingkapazität
16 Gbps
Abmessungen (B*T*H)
171mm*98mm*27mm
Maximale Leistungsaufnahme
• 5.39 W (220/50 Hz no PD connected)• 75 W (220/50 Hz with 64 W PD connected)
Maximale Wärmeabgabe
• 18.38 BTU/h (no PD connected)• 225.75 BTU/h (with 64 W PD connected)
SOFTWARE-FUNKTIONEN
Übertragungsmethode
Store-and-forward
Erweiterte Funktionen
Kompatibel zu IEEE802.3af-konformen PDs
Vorrangsfunktion
Auto-Learning und Auto-Aging für MAC-Adressen
Flusskontrolle nach IEEE802.3x
IEEE802.1p/DSCP-QoS
SONSTIGES
Zertifizierung
CE
FCC
RoHS
Verpackungsinhalt
TL-SG1008P
Spannungsadapter
Installationsanleitung
Systemanforderungen
Verbrauch
Maximal 5,5 Watt (wenn kein PD angeschlossen)
Maximal 65,2 Watt (davon 55W für angeschlossene PDs)
Umgebung
Betriebstemperatur: 0°C..40°C
Lagertemperatur: -40°C..70°C
Betriebsfeuchtigkeit: 10%..90%, nicht kondensierend
Lagerfeuchtigkeit: 5%..90%, nicht kondensierend
Auszeichnungen

Recommended

TL-SG1008P received the Recommended Award from Hexus in UK

2013, UK
Von United States?
Erhalten Sie Produkte, Events und Leistungen speziell für Ihre Region