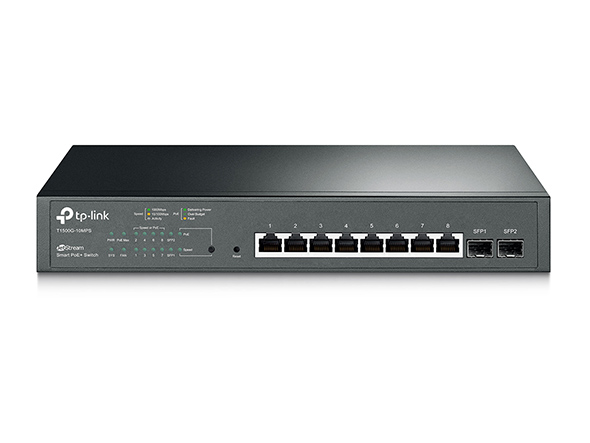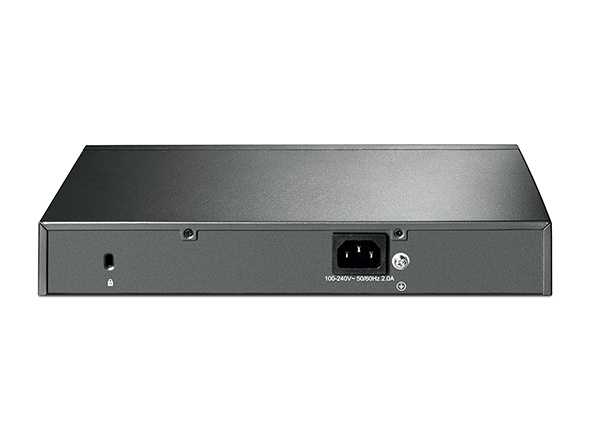 T1500G-10MPS
JetStream-8-Port-Gigabit-Smart-PoE+-Switch mit 2 SFP-Slots
Acht zuverlässige PoE-Ports nach 802.3af/at, mit einer Gesamtleistung von 116W und nützlichen PoE-Power-Management-Funktionen
Die Gigabit-Ethernet-Verbindungen der Ports sorgen für einen Highspeed-Datentransfer
Erweiterte Sicherheits-Features wie IP-MAC-Port-Binding, ACL, Portsicherheit, DoS-Abwehr, Storm-Control, DHCP-Snooping, 802.1X- und Radius-Authentication
L2/L3/L4-QoS und IGMP-Snooping optimieren Sprach- und Videoanwendungen
Verwaltung über Weboberfläche, CLI, SNMP und RMON
Dual-Image für höhere Zuverlässigkeit und bessere Verfügbarkeit Ihres Netzwerks
TP-Links Gigabit-Smart-Switch-T1500G-10MPS ist mit acht Gigabit-RJ45-Ports und zwei SFP-Slots ausgestattet. Diese unterstützen den 802.3af/at-(PoE+)-Standard mit einer PoE-Gesamtleistung von 116W und weiteren nützlichen PoE-Funktionen. Das Gerät bietet High-Performance, QoS auf Unternehmensebene, nützliche Sicherheitseinstellungen sowie eine Vielzahl an Layer-2-Funktionen.
TP-Links Gigabit-Smart-Switch-T1500G-10MPS wurde speziell für kleine- bis mittelgroße Business-Netzwerke entwickelt, bei denen es auf ein effizientes Netzwerk-Management ankommt. Der T1500G-MPS bietet eine Vielzahl unterschiedlicher Eigenschaften wie Link-Aggregation, 802.1Q-VLAN, Access Control Lists (ACL), Quality of Service (L2 bis L4), Storm-Control und IGMP-Snooping um ein kleines- bis mittelgroßes Netzwerk zu errichten, das Zuverlässigkeit und Leistung gewährleistet. Durch die simpel zu bedienende Web-Oberfläche wird nur wenig Zeit zur Installation und Konfiguration benötigt und die Downtime-Zeiten erheblich verkürzt; die ideale Lösung für Ihr Business-Netzwerk.
Zuverlässiges Power over Ethernet nach IEEE 802.3af/at
Der T1500-10MPS unterstützt auf seinen acht Ports Power over Ethernet nach IEEE802.3af/at mit einer Gesamtleistung von 116W. Diese kostengünstige Möglichkeit, Ihr Netzwerk mit diversen Geräten zu erweitern, lässt unnötige Kabel verschwinden und reduziert damit Ihren Einrichtungsaufwand. Der T1500G-MPS, kompakt und flexibel, ist ideal dazu geeignet, Ihr ganzes IP-basiertes "Small-Business-Netzwerk" zu versorgen.
Erweiterte QoS-Funktionen
Damit Sprach-, Daten- und Serviceanwendungen problemlos in einem Netzwerk integriert sind, verwendet das Gerät unterschiedliche Vorgehensweisen. Als Administrator können sie je nach Wunsch Prioritäten im Datenverkehr setzen, um z.B. Videos und Sprachanwendungen ruckelfrei und reibungslos nutzen zu können (Port-Priority, 802.1P-Priority, DSCP-Priority). In Verbindung mit Voice-VLAN, werden die Sprachanwendungen bevorzugt und laufen somit noch flüssiger.
Eine Vielzahl an Layer-2-Funktionen
Der T1500G-10MPS unterstützt die folgenden Layer-2-Funktionen: 802.1Q-Tag-VLAN, Port-Isolation, Port-Mirroring, STP/RSTP/MSTP; Link-Aggregation-Control-Protocol und die Flusskontrolle nach 802.3x. Zusätzlich bietet der Switch fortgeschrittene Möglichkeiten zur Netzwerkwartung wie Loop-Back-Erkennung, Kabeldiagnose und IGMP-Snooping. Mittels IGMP-Snooping kann der Switch Multicast-Streams je nach Priorität nur dem gewünschten Nutzer zukommen lassen, während die Funktionen IGMP-Throttling und/‑Filtering den Multicast-Zugang für andere User beschränken.
Management-Funktionen auf Unternehmensebene
Der T1500-10MPS ist einfach zu installieren und zu steuern. Auch durch viele nützliche Funktionen, wie die intuitive Weboberfläche oder das Standard-Command-Line-Interface (CLI) wird er noch benutzerfreundlicher. Die SNMP-(v1/2/3) sowie die RMON-Unterstützung ermöglichen es, vom Switch wichtige Informationen abzurufen und für bestimmte Ereignisse Traps einzurichten.
Hospitality

TP-Link Omada allows hotels to build reliable WiFi networks. Hotel WiFi network solutions including network topology, design, features, installation, and products are introduced.

Full WiFi coverage and wired connections
Flexible guest control
Seamless roaming
Easy Management

Education

Due to its reliable, scalable, and secure network solution, TP-Link has been widely acknowledged by global customers in the Education market ranging from infant schools with a few APs up to colleges and universities with hundreds of APs.

Easy management
High-density WiFi
Full WiFi coverage and wired connections
VPN and security

Switches for Business WiFi

For small and medium-sized businesses, a network switch is the fundamental component to build their business network. TP-Link offers an extensive portfolio of network switches with abundant functions and flexible options for every stage of your business growth.

High-Speed Wired LAN Network
Manage with Ease
Abundant Security Strategies
Lower Yours Costs
Comprehensive Products
HARDWARE-FUNKTIONEN
Standards und Protokolle
IEEE802.3i
IEEE802.3u
IEEE802.3ab
IEEE802.3z
IEEE802.3ad
IEEE802.3x
IEEE802.3af
IEEE802.3at
IEEE802.1d
IEEE802.1s
IEEE802.1w
IEEE802.1q
IEEE802.1x
IEEE802.1p
Schnittstelle
8 10/100/1000Mbit/s-RJ45-PoE+-Ports
2 100/1000Mbit/s-SFP-Slots
Kabel
10BASE-T: UTP-Kabel der Kategorie 3 oder höher (maximal 100m)
100BASE-TX: UTP-Kabel der Kategorie 5 oder höher (maximal 100m)
1000BASE-T: UTP-Kabel der Kategorie 6 oder höher (maximal 100m)
100Base-FX: MMF, SFP-Modul
1000BASE-X: MMF, SMF
Anzahl Lüfter
1
Physischer Diebstahlschutz
Yes
Spannungsversorgung
100..240V/50..60Hz Wechselspannung
Energieverbrauch
Mit PoE: maximal 136,6W
Ohne PoE: maximal 20,6W
PoE+-Ports
Standard: IEEE802.3at/af
Anzahl Ports: 8
Maximale Leistungsabgabe: 116W
Abmessungen (B*T*H)
294mm*180mm*44mm
Montage
Rack Mountable
Maximale Leistungsaufnahme
15.61W (220V/50Hz with no PD connected)139.52W (220V/50Hz with 116W PD connected)
Maximale Wärmeabgabe
53.26 BTU/h (with no PD connected)476.04 BTU/h (with 116W PD connected)
PERFORMANCE
Switchingkapazität
20Gbit/s
Paketweiterleitungsrate
14,9Mpps
MAC-Adresstabelle
8k
Paketpufferspeicher
512kB
Jumbo-Frames
9kB
SOFTWARE-FUNKTIONEN
Quality of Service
802.1p-CoS/DSCP-Priorität
4 Prioritätswarteschlangen
Queue-Scheduling: SP, WRR, SP+WRR
Port-/flussbasierte Datenratenbegrenzung
Voice-VLAN
Layer2-Funktionen
IGMP-Snooping V1/V2/V3
802.3ad-LACP (Bis zu 6 Aggregationsgruppen mit 4 Ports pro Gruppe)
Spanning-Tree STP/RSTP/MSTP
BPDU-Filterung/Guard
TC/Root-Protect
Loopback-Erkennung
Flusskontrolle nach IEEE802.3x
LLDP, LLDP-MED
Layer2-Multicast
• 512 IPv4,IPv6 shared multicast groups• IGMP Snooping - IGMP v1/v2/v3 Snooping - Fast Leave - IGMP Snooping Querier - IGMP Authentication - Static Group Config• MLD Snooping - MLD v1/v2 Snooping - Fast Leave - MLD Snooping Querier - Static Group Config• Multicast VLAN Registration• Multicast Filtering
IPv6 Support
• IPv6 Dual IPv4/IPv6• Multicast Listener Discovery(MLD) Snooping• IPv6 neighbor discovery (ND)• Path maximum transmission unit (MTU) discovery• Internet Control Message Protocol (ICMP) version 6• TCPv6/UDPv6• IPv6 applications - DHCPv6 Client - Ping6 - Tracert6 - Telnet(v6) - IPv6 SNMP - IPv6 SSH - IPv6 SSL - Http/Https - IPv6 TFTP
VLAN
Bis zu 512 VLANs aus 4k VLAN-IDs
Zugriffskontrollliste
L2..L4-Paket-Filterung basierend auf Quell- und Ziel-MAC-Adresse, IP-Adresse und TCP/UDP-Ports
Sicherheit
Portsicherheit
DHCP-Snooping
IP-/MAC-Adress-Port-Bindung
ARP-Inspektion
802.1x- und RADIUS-Authentifizierung
SSHv1/v2
SSLv3/TLSv1
Schutz vor Broadcast-, Multicast- und Unknown-Unicast-Angriffen
DoS-Abwehr
Verwaltung
Weboberfläche und CLI (über Telnet)
SNMP v1/v2c/v3, kompatibel zu öffentlichen MIBs und TP-Link-eigenen MIBs
RMON (Gruppen 1, 2, 3, 9)
CPU-Überwachung
Port-Mirroring
Zeiteinstellung über SNTP
Firmware-Upgrade: TFTP und Web
Systemdiagnose: VCT
Systemprotokoll und öffentliche MIBs
Dual-Image
MIBs
• MIB II (RFC1213)• Interface MIB (RFC2233)• Ethernet Interface MIB (RFC1643)• Bridge MIB (RFC1493)• P/Q-Bridge MIB (RFC2674)• RMON MIB (RFC2819)• RMON2 MIB (RFC2021)• Radius Accounting Client MIB (RFC2620)• Radius Authentication Client MIB (RFC2618)• Remote Ping, Traceroute MIB (RFC2925)• Support TP-Link private MIBs
SONSTIGES
Zertifizierung
CE
FCC
RoHS
Verpackungsinhalt
T1500G-10MPS
Spannungskabel
Installationsanleitung
CD
Rackmountkit
Gummifüßchen
Systemanforderungen
Microsoft® Windows® 2000/XP/2003/Vista/2008/7/2012/8/10
MacOS®
NetWare®
UNIX®
Linux
Umgebung
Betriebstemperatur: 0°C..40°C
Lagertemperatur: -40°C..70°C
Betriebsfeuchtigkeit: 10%..90%, nicht kondensierend
Lagerfeuchtigkeit: 5%..90%, nicht kondensierend
Von United States?
Erhalten Sie Produkte, Events und Leistungen speziell für Ihre Region