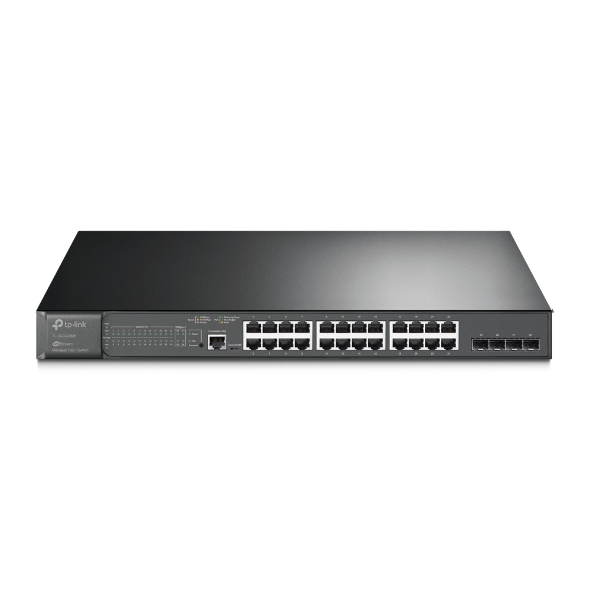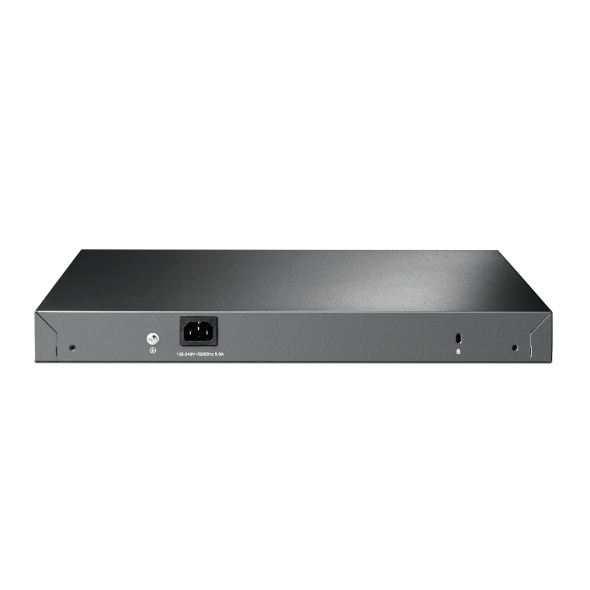 TL-SG3428MP
JetStream-28-Port-Gigabit-L2-Managed-Switch mit 24 PoE+-Ports
384W PoE-Leistung: 24× 802.3at/af konforme PoE+ ports mit einer Gesamtleistung von 384W*.
Komplett Gigabit: 24× gigabit PoE+ ports und 4× gigabit SFP Slots ermöglichen Hochgeschwindigkeitsübertragungen.
In Omada-SDN integriert: Zero-Touch Provisioning (ZTP)**, Zentralisiertes Cloudmanagement und intelligent Netzwerküberwachung.
Zentralisiertes Management: Der Cloudzugriff und die Omada-App ermöglichen eine sehr konfortable, einfache Verwaltung.
Statisches Routing: Routet internes Datenverkehr für eine effizientere Netzwerknutzung.
Solide Sicherheitsstrategien: IP-MAC-Port Binding, ACL, Port Security, DoS Defend, Storm conntrol, DHCP Snooping, 802.1X, Radius Authentication und mehr.
Optimierte Voice- und Video-Anwendungen: L2/L3/L4 QoS und IGMP Snooping.
Standalone-Management : Web, CLI (Console Port, Telnet, SSH), SNMP, RMON und nd Dual Image ermöglichen ein vollständiges Management.
Mehr über die TP-Link PoE-Technologie erfahren >
Mehr über die Omada Cloud SDN erfahren >​

Zentrale Verwaltung
Praktischer Gigabit-Switch mit
PoE + mit 24 Ports für ein vollständiges Omada-Netzwerk
JetStream Gigabit L2 Managed Switch mit 28 Ports und PoE + mit 24 Ports
TL-SG3428MP
PoE + Ausgang

24 × Gigabit PoE + -Ports mit einem Gesamtbudget von 384 W *

Zentrales Cloud-Management

Integration von SDN-Lösungen für ein hocheffizientes Netzwerk

Robuste Sicherheitsstrategien

Investitionsschutz im LAN-Bereich

Erweiterte L2 + -Funktionen

Statisches Routing, IGMP-Snooping
802.1 Q-VLAN und mehr
Spezielle 24 PoE + -Ports (384 W Budget) für zahlreiche Anwendungen
Der Switch verfügt über 24 × 802.3af / an kompatiblen PoE + -Ports und unterstützt ein PoE-Gesamtbudget von bis zu 384 W. * Er wurde für die Verwendung eines einzelnen Ethernet-Kabels für die Daten- und Energieübertragung entwickelt und bietet eine flexible Bereitstellung für PoE-unterstützte Geräte wie drahtlose Geräte Access Points, IP-Kameras und IP-Telefone senken die Infrastrukturkosten für kleine Unternehmen.
24x Gigabit PoE + -Ports
Bis zu 30 W an jedem Port
Insgesamt 384 W Leistungsbudget
TL-SG3428MP
Router
Internet
IP Kamera
IP Handy
Zugangspunkt
Software Defined Networking (SDN) mit Cloud-Zugriff
Die Software-Defined Networking (SDN) -Plattform von Omada integriert Netzwerkgeräte, einschließlich Access Points, Switches und Gateways, und bietet ein 100% zentrales Cloud-Management. Omada erstellt ein hoch skalierbares Netzwerk, das über eine einzige Schnittstelle gesteuert wird. Es werden nahtlose drahtlose und kabelgebundene Verbindungen bereitgestellt, die sich ideal für den Einsatz in den Bereichen Gastgewerbe, Bildung, Einzelhandel, Büros und mehr eignen.
Sicheres Netzwerk
Zu den Sicherheitsfunktionen gehören IP-MAC-Port-VID-Bindung, Port-Sicherheit, Sturmkontrolle und DHCP-Snooping zur Abwehr einer Reihe von Netzwerkbedrohungen. Eine integrierte Liste gängiger DoS-Angriffe ist verfügbar, sodass sie leichter als je zuvor verhindert werden können. Darüber hinaus beschränkt die Funktion Zugriffssteuerungslisten (ACL, L2 bis L4) den Zugriff auf vertrauliche Netzwerkressourcen, indem Pakete basierend auf Quell- und Ziel-MAC-Adresse, IP-Adresse, TCP / UDP-Ports oder VLAN-ID verweigert werden. Der Netzwerkzugriff der Benutzer kann über die 802.1X-Authentifizierung gesteuert werden, die mit einem RADIUS / Tacacs + -Server zusammenarbeitet, um den Zugriff nur zu gewähren, wenn gültige Benutzeranmeldeinformationen angegeben sind.
Erweiterte QoS
Sprach- und Videoverkehr können basierend auf IP-Adresse, MAC-Adresse, TCP-Portnummer, UDP-Portnummer und mehr priorisiert werden. Mit QoS (Quality of Service) bleiben Sprach- und Videodienste reibungslos, auch wenn die Bandbreite knapp ist.
Reichlich vorhandene L2- und L2 + -Funktionen
Eine vollständige Reihe von L2-Funktionen wird unterstützt, einschließlich 802.1Q-VLAN, Portspiegelung, STP / RSTP / MSTP, Link Aggregation Control Protocol und 802.3x Flow Control. Erweitertes IGMP-Snooping stellt sicher, dass der Switch Multicast-Streams intelligent nur an die entsprechenden Teilnehmer weiterleitet, wodurch unnötiger Datenverkehr vermieden wird, während durch IGMP-Drosselung und -Filterung jeder Teilnehmer auf Portebene eingeschränkt wird, um unbefugten Multicast-Zugriff zu verhindern. Statisches Routing ist eine einfache Methode zur Segmentierung des Netzwerks und zur internen Weiterleitung des Datenverkehrs über den Switch, um die Effizienz zu verbessern.
ISP-Funktionen
QinQ-, L2PT-, PPPoE ID Insertion- und IGMP-Authentifizierungsfunktionen werden speziell für Dienstanbieter entwickelt. 802.3ah OAM und DLDP (Device Link Detection Protocol) bieten eine einfache Überwachung und Fehlerbehebung von Ethernet-Verbindungen.
IPv6-Unterstützung
IPv6-Funktionen wie Dual IPv4 / IPv6-Stapel, MLD-Snooping, IPv6-ACL, DHCPv6-Snooping, IPv6-Schnittstelle, PMTU-Erkennung (Path Maximum Transmission Unit) und IPv6 Neighbor Discover garantieren, dass Ihr Netzwerk für das Next Generation Network (NGN) bereit ist, ohne Ihr Netzwerk zu aktualisieren Hardware.
Verwaltungsfunktionen auf Unternehmensebene
Einfache Verwaltung über eine intuitive webbasierte grafische Benutzeroberfläche (GUI) oder eine branchenübliche Befehlszeilenschnittstelle (CLI). Bei beiden Verwaltungsmethoden wird der Datenverkehr durch SSL- oder SSH-Verschlüsselung geschützt. Durch die Unterstützung von SNMP (v1 / v2c / v3) und RMON kann der Switch nach wertvollen Statusinformationen abgefragt und Traps zu abnormalen Ereignissen gesendet werden.
Switches for Surveillance

For general surveillance, TP-Link has designed a variety of PoE Switches to meet the requirements of most IPCs. Many robust features provide value well beyond basic networking needs, creating a versatile and reliable surveillance network to grow your business.

Long-Range PoE
Auto Camera Recovery
Enhanced Network Security

Switches for Business WiFi

For small and medium-sized businesses, a network switch is the fundamental component to build their business network. TP-Link offers an extensive portfolio of network switches with abundant functions and flexible options for every stage of your business growth.

High-Speed Wired LAN Network
Manage with Ease
Abundant Security Strategies
Lower Yours Costs
Comprehensive Products
HARDWARE-FUNKTIONEN
Schnittstelle
• 24× 10/100/1000Mbit/s RJ45-Ports
• 4× Gigabit-SFP-Slots
• 1× RJ45 Console Port
• 1× Micro-USB Console Port
Anzahl Lüfter
2
Spannungsversorgung
100-240 V AC~50/60 Hz
PoE+-Ports
• Standard: 802.3at/af konform
• PoE+ Ports: 24 Ports, bis zu 30W je Port
• PoE-Budget: 384W
Abmessungen (B*T*H)
17.3 × 13.0 × 1.7 in (440 × 330 × 44 mm)
Montage
Rack Mountable / Im Rack montierbar
Maximale Leistungsaufnahme
• 31.0 W (110 V/60 Hz) (no PD connected)• 463.8 W (110 V/60 Hz) (with 384 W PD connected)
Maximale Wärmeabgabe
• 105.78 BTU/h (110 V/60 Hz) (no PD connected)• 1582.49 BTU/h (110 V/60 Hz) (with 384 W PD connected)
PERFORMANCE
Switchingkapazität
56 Gbit/s
Paketweiterleitungsrate
41.66 Mpps
MAC-Adresstabelle
8K
Jumbo-Frames
9 KB
SOFTWARE-FUNKTIONEN
Quality of Service
• 8 priority queues• 802.1p CoS/DSCP priority• Queue scheduling- SP (Strict Priority)- WRR (Weighted Round Robin)- SP+WRR• Bandwidth Control- Port/Flow based Rating Limiting• Smoother Performance• Action for Flows- Mirror (to supported interface)- Redirect (to supported interface)- Rate Limit- QoS Remark
Layer2- und Layer2+-Funktionen
• Link Aggregation- Static link aggregation- 802.3ad LACP- Up to 8 aggregation groups and up to 8 ports per group• Spanning Tree Protocol- 802.1d STP- 802.1w RSTP- 802.1s MSTP- STP Security: TC Protect, BPDU Filter, BPDU Protect, Root Protect, Loop Protect• Loopback Detection- Port-based- VLAN based• Flow Control- 802.3x Flow Control- HOL Blocking Prevention• Mirroring- Port Mirroring- CPU Mirroring- One-to-One- Many-to-One- Tx/Rx/Both
Layer2-Multicast
• Supports 511 (IPv4, IPv6) IGMP groups• IGMP Snooping- IGMP v1/v2/v3 Snooping- Fast Leave- IGMP Snooping Querier- IGMP Authentication• IGMP Authentication• MVR• MLD Snooping- MLD v1/v2 Snooping- Fast Leave- MLD Snooping Querier- Static Group Config- Limited IP Multicast• Multicast Filtering: 256 profiles and 16 entries per profile
VLAN
• VLAN Group- Max 4K VLAN Groups• 802.1q Tagged VLAN• MAC VLAN: 12 Entries• Protocol VLAN: Protocol Template 16, Protocol VLAN 16• GVRP• VLAN VPN (QinQ)- Port-Based QinQ- Selective QinQ• Voice VLAN
Zugriffskontrollliste
• Time-based ACL• MAC ACL- Source MAC- Destination MAC- VLAN ID- User Priority- Ether Type• IP ACL-Source IP- Destination IP- Fragment- IP Protocol- TCP Flag- TCP/UDP Port- DSCP/IP TOS- User Priority• Combined ACL• Packet Content ACL• IPv6 ACL• Policy- Mirroring- Redirect- Rate Limit- QoS Remark• ACL apply to Port/VLAN
Sicherheit
• IP-MAC-Port Binding- DHCP Snooping- ARP Inspection- IPv4 Source Guard• IPv6-MAC-Port Binding- DHCPv6 Snooping- ND Detection- IPv6 Source Guard• DoS Defend• Static/Dynamic Port Security- Up to 64 MAC addresses per port• Broadcast/Multicast/Unicast Storm Control- kbps/ratio/pps control mode• IP/Port/MAC based access control• 802.1X- Port based authentication- Mac based authentication- VLAN Assignment- MAB- Guest VLAN- Support Radius authentication and accountability• AAA (including TACACS+)• Port Isolation• Secure web management through HTTPS with SSLv3/TLS 1.2• Secure Command Line Interface (CLI) management with SSHv1/SSHv2
IPv6
• IPv6 Dual IPv4/IPv6• Multicast Listener Discovery (MLD) Snooping• IPv6 ACL• IPv6 Interface• Static IPv6 Routing• IPv6 neighbor discovery (ND)• Path maximum transmission unit (MTU) discovery• Internet Control Message Protocol (ICMP) version 6• TCPv6/UDPv6• IPv6 applications- DHCPv6 Client- Ping6- Tracert6- Telnet (v6)- IPv6 SNMP- IPv6 SSH- IPv6 SSL- Http/Https- IPv6 TFTP
Layer3-Funktionen
• 16 IPv4/IPv6 Interfaces• Static Routing- 48 static routes• Static ARP• 316 ARP Entries• Proxy ARP• Gratuitous ARP• DHCP Server• DHCP Relay• DHCP L2 Relay
Verwaltung
• Web-based GUI• Command Line Interface (CLI) through console port, telnet• SNMPv1/v2c/v3- Trap/Inform- RMON (1, 2, 3, 9 groups)• SDM Template• DHCP/BOOTP Client• 802.1ab LLDP/LLDP-MED• DHCP AutoInstall• Dual Image, Dual Configuration• CPU Monitoring• Cable Diagnostics• EEE• Password Recovery• SNTP• System Log
Erweiterte Funktionen
• Support Omada Hardware Controller (OC200/OC300), Software Controller, Cloud-Based Controller• Automatic Device Discovery• Batch Configuration• Batch Firmware Upgrading• Intelligent Network Monitoring• Abnormal Event Warnings• Unified Configuration• Reboot Schedule• ZTP (Zero-Touch Provisioning)*
SONSTIGES
Zertifizierung
CE, FCC, RoHS
Verpackungsinhalt
• TL-SG3428MP Switch
• Kaltgerätekabel
• Schnellinstallationsanleitung
• Rackmount-Kit
• Gummifüße

Umgebung
• Betriebstemperatur: 0–45 ℃ (32–113 ℉);
• Lagertemperatur: -40–70 ℃ (-40–158 ℉)
• Betriebsluftfeuchtigkeit: 10–90% RH nicht kondensierend
• Lagerluftfeuchtigkeit: 5–90% RH nicht kondensierend

*Die PoE-Leistung basiert auf Laborbedingungen. Die tatsächliche, maximale PoE-Leistung kann nicht garantiert werden, da sie von der Einsatzumgebung und dem PoE-Client abhängt.
**Zero-Touch Provisionierung benötigt den cloudbasierten Omada Controller
Von United States?
Erhalten Sie Produkte, Events und Leistungen speziell für Ihre Region