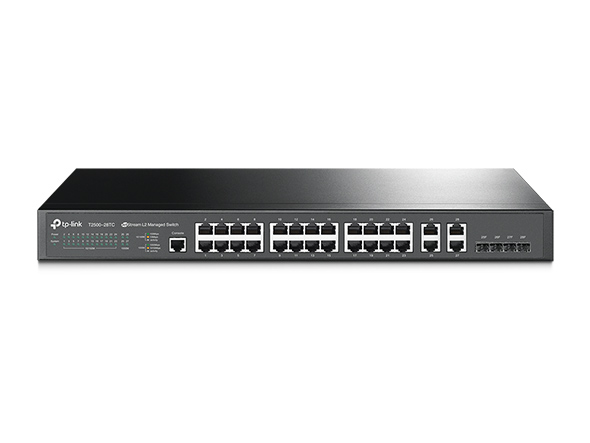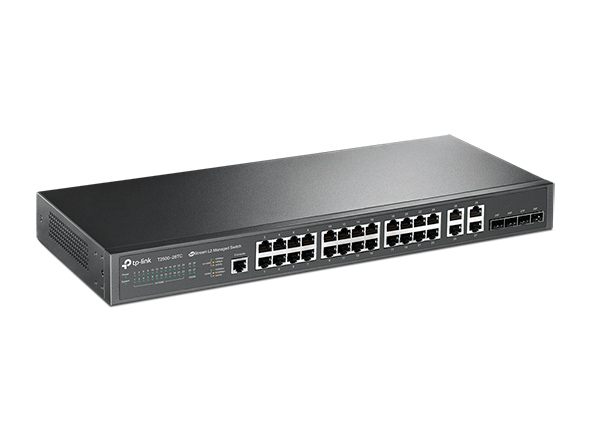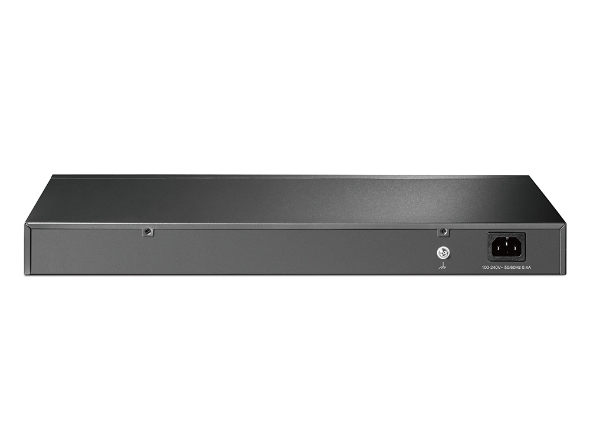 T2500-28TC (TL-SL5428E)
JetStream-24-Port-10/100Mbit/s-+4-Port-Gigabit-L2-Managed Switch
AAA, ACL, 802.1x-Authentifizierung, Portsicherheit, IP-Filtering, Storm-Control, DHCP-Snooping, IP-Source-Guard und DoS-Abwehr erlauben wirkungsvolle Sicherheitsstrategien
DDM erlaubt es, alle SFP-Module des Switches zu überwachen
L2/L3/L4-QoS und IGMP-Snooping optimieren Voice- und Videoapplikationen
Management über Weboberfläche, CLI (Konsole/Telnet/SSH), SNMP und RMON
Produktfunktionalitäten
Entwickelt für Arbeitsgruppen und ganze Abteilungen, bietet TP-Links T2500-28TC alle benötigten Layer-2-Management-Funktionen. Er liefert maximalen Durchsatz, wo Sie ihn benötigen - in leistungshungrigen Arbeitsgruppen oder als Aggregation-Layer-Gerät in Business-Netzen. Darüber hinaus sorgt der T2500-28TC mit seinen 4 SFP-Ports für größtmögliche Flexibilität.
Der L2-Managed-Switch verfügt über fortschrittlichste Sicherheits- und Verwaltungsfunktionen. Eine fortgeschrittene Access Control List (ACL, L2 bis L4) bietet eine komplette Absicherung und Schutz vor Eindringlingen, ARP- und Denial-of-Service(DoS)-Attacken usw. Quality of Service (QoS, L2 bis L4) bietet verbessertes Traffic-Management, damit ihr Datenstrom nicht abreißt. Weiterhin haben Sie über die einfach zu bedienende Weboberfläche und ein CLI sowie SNMP und RMON vielfältige Konfigurationsmöglichkeiten. Für Anforderungen von Arbeitsgruppen und Abteilungen bietet dieser kostengünstige Layer-2-Switch T2500-28TC Ihnen die ideale Lösung.
Ein sicheres Netz
Der T2500-28TC unterstützt IP-/MAC-Adress-/Port-Binding, Portsicherheit, Storm-Control und DHCP-Snooping, um vor gewissen Angriffen zu schützen. Weiterhin grenzen die L2..L4-Zugriffskontrolllisten (ACLs, L2 bis L4) die Angriffsmöglichkeiten auf Ihre Ressourcen ein, indem Pakete abhängig von Quell- und Ziel-IP-/MAC-Adresse, TCP-/UDP-Port und sogar VLAN-ID verworfen werden können. Zudem unterstützt der Switch 802.1X, was Clients die Authentifizierung über einen externen RADIUS-Server ermöglicht. Die Gast-VLAN-Funktion ist in der Lage, Nicht-802.1X-Clients eingeschränkten Zugriff zu erlauben.
Nicht blockierende Architektur
TP-Links Jetstream L2-Managed Switch T2500-28TC bietet mit der Non-Blocking-Switching-Lösung 10/100 Mbit/s schnelle Ethernet-Verbindung. Mit der Switching-Kapazität des T2500-28TC erreichen Sie insgesamt 12,8 Gbit/s. Das Gerät umfasst 24 10/100 Mbit/s- sowie vier Gigabit-Ports. Diese vier Ports sind Como-Gigabit-Ports, die automatisch deaktiviert werden, sobald die 1000BASE-X-SFP-Slots benutzt werden.
Ethernet-OAM*
Der T2500-28TC bietet OAM nach IEEE802.3ah sowie Device-Detection-Protocol (DLDP)-Funktionen, was für verbesserte Überwachung und Fehlerbehebung in Ihrem Netzwerk sorgt.
*Diese Funktion ist in der aktuellen Firmware erhalten.
DDM
Mit der Funktion DDM (Digital Diagnostic Monitoring) haben Sie den gesamten Überblick über den aktuellen Status Ihres Gerätes wie die Alarm-, Warnungs-, Temperaturgrenzwert-, Leistungszufuhrgrenzwert und Rx-Power-Einstellungen.
Verbesserte Sprach- und Videoanwendungen
Der Switch verfügt über umfassende QoS-Eigenschaften für die Integration von Sprach-, Daten- und Videodiensten in einem Netz. Der Administrator legt die Priorität des Verkehrs basierend auf mehreren Variablen fest, u. a. TCP- oder UDP-Portnummern, um sicherzustellen, dass die Sprach- und Videoübertragung immer klar, reibungslos und frei von Störungen ist.
Auch für andere Multimedia-Anwendungen wie IPTV, bietet der T2500-28TC nützliche Funktionen. Dazu gehört beispielsweise das IGMP-Snooping das eine intelligente Weiterleitung von Multicast-Streams gewährleistet. Gleichzeitig sorgen das IGMP-Throttling und -Filtering dafür, dass jeder Nutzer nur auf einer einzigen Ebene operiert und somit unautorisierter Zugriff verhindert wird.
Management-Features auf Enterprise-Ebene
Der T2500-28TC ist benutzer- und verwaltungsfreundlich. Er unterstützt viele standardmäßige Managementfunktionen, wie z. B. die intuitive Weboberfläche (GUI) oder SNMP (v1/2/3). Der Datenverkehr auf Administrationsebene ist durch SSL- oder SSH-Verschlüsselungen abgesichert.
RMON ermöglicht den Abruf wertvoller Statusinformationen über den Switch sowie den Versand von Traps zu abnormalen Ereignissen.
HARDWARE-FUNKTIONEN
Standards und Protokolle
IEEE802.3i
IEEE802.3u
IEEE802.3ab
IEEE802.3z
IEEE802.3ad
IEEE802.3x
IEEE802.1d
IEEE802.1s
IEEE802.1w
IEEE802.1q
IEEE802.1x
IEEE802.1p
Schnittstelle
24 10/100Mbps-RJ45-Ports
4 10/100/1000Mbps-RJ45-Ports
4 1000Mbps-Combo-SFP-Slots
1 Konsolenanschluss
Kabel
10BASE-T: UTP-Kategorie 3 oder höher (maximal 100m)
100BASE-TX: UTP-Kategorie 5 oder höher (maximal 100m)
1000Base-T: UTP-Kategorie 6 oder höher (maximal 100m)
1000BASE-X: MMF, SMF
Anzahl Lüfter
0
Physischer Diebstahlschutz
No
Spannungsversorgung
100..240V/50..60Hz-Wechselspannung
Energieverbrauch
Maximal 15W (230V/50Hz)
Abmessungen (B*T*H)
440mm*180mm*44mm
Montage
Rack Mountable
Maximale Leistungsaufnahme
15W (220V/50Hz)
Maximale Wärmeabgabe
51.18 BTU/h
PERFORMANCE
Stacking
Virtuelles Stacking für bis zu 32 Geräte
Switchingkapazität
12,8Gbit/s
Paketweiterleitungsrate
9,5Mpps
MAC-Adresstabelle
8k
Jumbo-Frames
2048 Bytes
SOFTWARE-FUNKTIONEN
Quality of Service
4 Warteschlangen/Port
802.1p-/IP-DSCP-basierendes COS
TOS
Layer2-Funktionen
IGMP-Snooping: v1/v2/v3
802.3ad mit LACP
STP/RSTP/MSTP
BPDU-Filtering/Guard
Portspiegelung
Flusskontrolle
VLAN
Bis zu 4k VLANs zugleich
Port-/Tag-/Protokoll-basierendes VLAN
Privates VLAN
QinQ, GVRP
Zugriffskontrollliste
Paketflussfilter
Paketflussumleitung
Uhrzeit- und flussbasierendes QoS
Sicherheit
IP-MAC-Port-VID-Binding
IEEE802.1x (RADIUS): Port-/MAC-Adressbasierend, VLAN-Zuweisung, Gast-VLAN, QoS-Zuweisung
Supplicant-Unterstützung
DoS-Abwehr
Dynamische ARP-Inspektion (DAI)
SSH: v1/v2
SSL: v1.5/v2
Portsicherheit
Broadcast-Storm-Schutz
Gast-VLAN
IP-Source-Guard
IPv6
Dual-Stack
Multicast-Listener-Discovery(MLD)-Snooping
IPv6-Neighbor-Discovery (ND)
Path-Maximum-Transmission-Unit(MTU)-Discovery
Internet-Control-Message-Protocol(ICMP)-Version 6
TCPv6/UDPv6
IPv6-Anwendungen
DHCPv6-Client
Ping6
Tracert6
Telnet(v6)
IPv6-SNMP
IPv6-SSH
IPv6-SSL
HTTP/HTTPS
IPv6-TFTP
Verwaltung
Systemdiagnose: VCT
DDM
sFlow
SNMP: V1/V2/V3
RMON: Gruppen 1, 2, 3, 9
Command Line Interface: Telnet, Konsole
Uhrzeiteinstellung: SNTP
Firmware-Upgrade über TFTP und Web
DGCO- und BOOTP-Client
Systemprotokoll, öffentliche MIBs
SONSTIGES
Zertifizierung
CE
FCC
RoHS
Verpackungsinhalt
Switch
Spannungskabel
Schnellinstallationsanleitung
CD
Rackmount-Kit
Gummifüßchen
Systemanforderungen
Ethernet
Umgebung
Betriebstemperatur: 0°C..40°C
Lagertemperatur: -40°C..70°C
Betriebsfeuchtigkeit: 10%..90%, nicht kondensierend
Lagerfeuchtigkeit: 5%..90%, nicht kondensierend
Von United States?
Erhalten Sie Produkte, Events und Leistungen speziell für Ihre Region