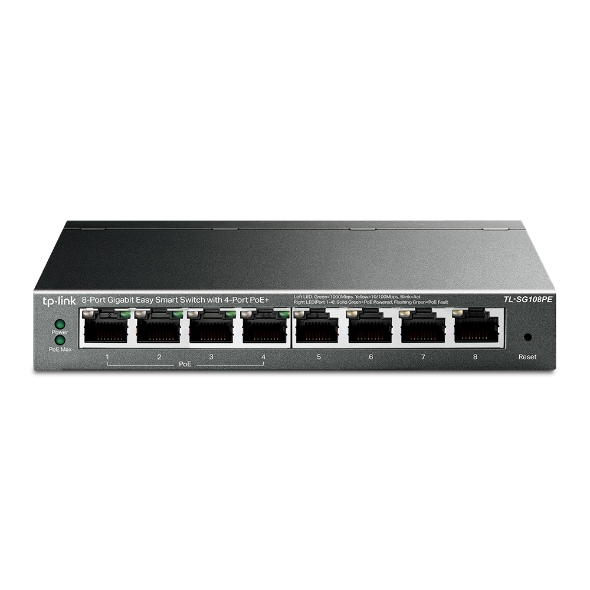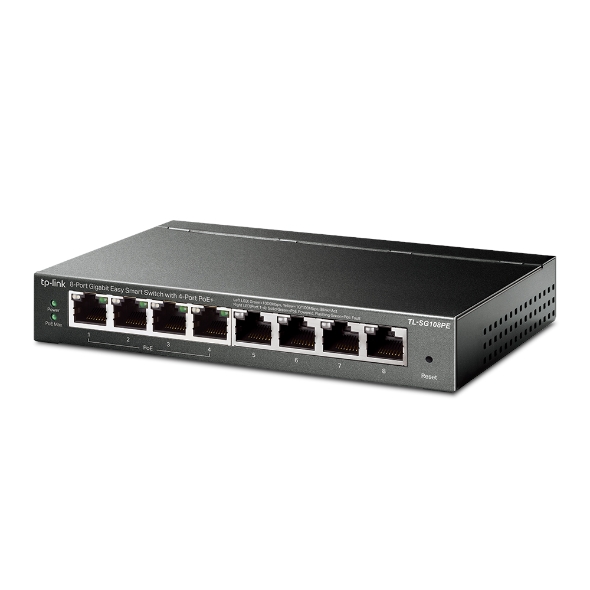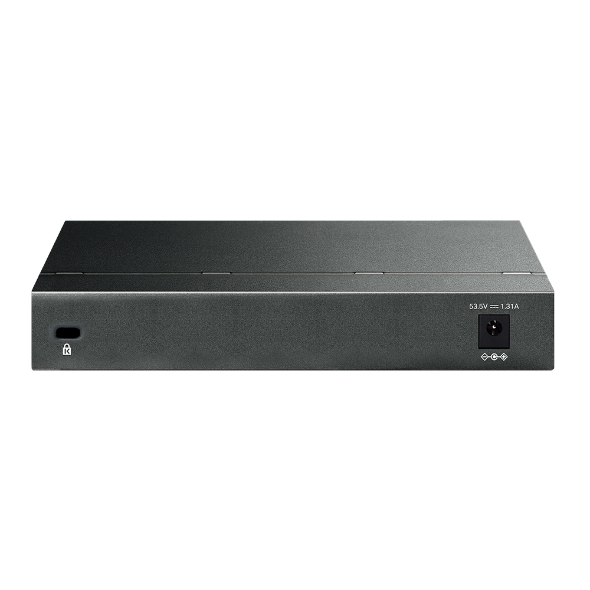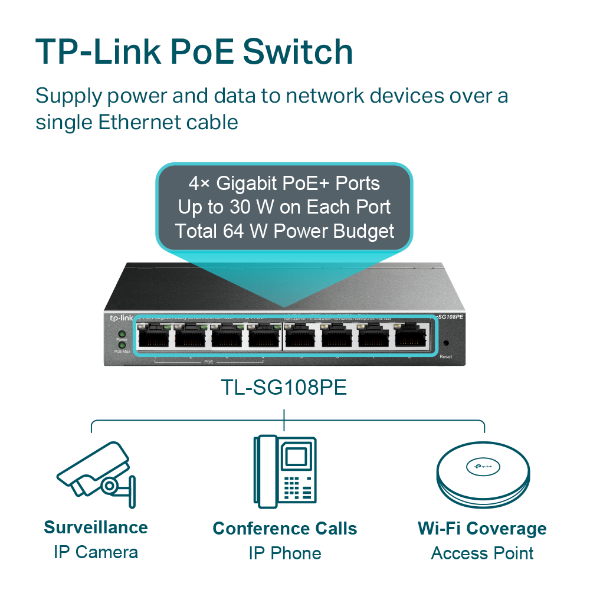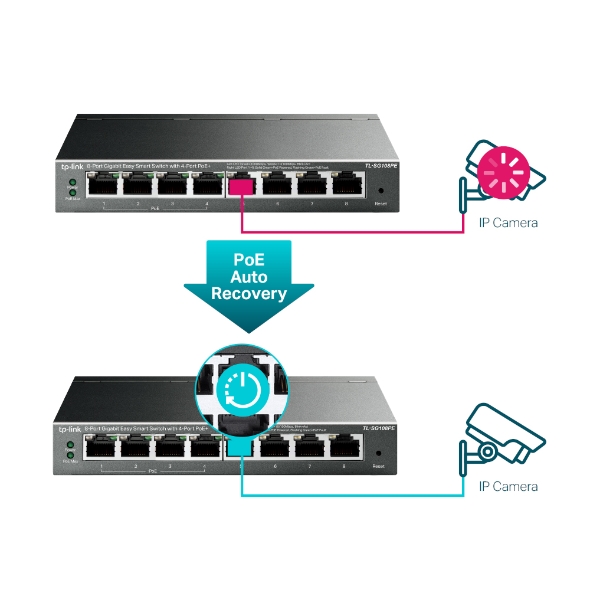 TL-SG108PE
8-Port Gigabit Easy Smart Switch
mit 4-Port PoE+
Acht RJ45-Ports mit 10/100/1000 Mbit/s
Ausgestattet mit vier 802.3af / at PoE + -Ports mit bis zu 30 W für jeden Port können Daten und Stromversorgung über ein einziges Kabel übertragen werden
Unterstützt PoE-Leistung bis zu 64 W für alle PoE-Ports *
Bietet Netzwerküberwachung, Priorisierung des Datenverkehrs, VLAN-Funktionen und automatische PoE-Wiederherstellung
Einfache Netzwerkeinrichtung über Plug-and-Play-Konnektivität
Die webbasierte Benutzeroberfläche und das Easy Smart Configuration Utility vereinfachen die Konfiguration
Das lüfterlose Design senkt den Energieverbrauch und eliminiert Betriebsgeräusche
Professioneller 8-Port Gigabit Easy Smart Switch mit 4-Port PoE +
Einfach zu bedienender Mehrzweck-PoE-Switch mit leistungsstarker Leistung
TL-SG108PE
-

64W PoE Budget *

-

Gigabit Ports

-

Einfach zu verwenden

-

VLAN

-

QoS für die Verkehrspriorisierung

-

Intelligentes Management

-

PoE Auto Recovery
Mehrere Anwendungsszenarien
Der TL-SG108PE ist vollständig kompatibel mit PoE-Geräten wie IP-Kameras, Access Points und IP-Telefonen. Es funktioniert auch mit nicht mit PoE verkabelten Geräten wie PCs, Druckern und IPTV.
Überwachung

Funktioniert mit IP-Kameras

Telefonkonferenz

Funktioniert mit IP-Telefonen

Wi-Fi-Abdeckung

Funktioniert mit Omada EAPs

Kabelverbindungen

Funktioniert mit PCs und Druckern
Spezielle 4 PoE + -Ports (64-W-Budget) für zahlreiche Anwendungen
Die Einhaltung des 802.3af / at PoE + -Standards unterstützt bis zu 30 W an jedem PoE-Port. Das gesamte 64-W-PoE-Leistungsbudget * für die 4 × Gigabit-PoE + -Ports bietet eine breite Palette von Anwendungen, z. B. Überwachung, Büros, Schlafsäle und kleine Unternehmen. Es ist voll kompatibel mit IP-Kameras, Access Points, IP-Telefonen, Computern, Druckern usw.
IP Kamera
IP Handy
Zugangspunkt
TL-SG108PE
Router
Internet
4 × Gigabit PoE + -Ports
Bis zu 30 W an jedem Port
Gesamt 64 W Leistungsbudget *
Einstecken

Geräte anschließen

IP Kamera

IP Handy

Zugangspunkt

Internet

TL-SG108PE

Genießen
Mehrwertfunktionen bringen unerwartete Erfahrungen
QoS für ein verzögerungsfreies Erlebnis

Gewährleistet einen reibungslosen Datenverkehr für latenzempfindliche Anwendungen wie Sprache und Video

IGMP-Snooping für die Multicast-Optimierung

Gewährleistet ein besseres Netzwerkerlebnis, insbesondere für Anwendungen wie IPTV, indem die Bereitstellung von Multimedia-Datenverkehr optimiert wird.

VLAN für Sicherheit

Hilft beim Erstellen eines Netzwerks mit höherer Sicherheit und besserer Gesamtleistung, indem das Netzwerk in kleinere Gruppen unterteilt wird
Verwaltungsdienstprogramm
Benutzeroberfläche
Management einfach machen
TL-SG108PE bietet Netzwerküberwachung für Benutzer zur Beobachtung des Verkehrsverhaltens. Über seine webbasierte Benutzeroberfläche und sein Verwaltungsdienstprogramm bietet der TL-SG108PE eine Vielzahl nützlicher Funktionen, darunter Netzwerküberwachung, Priorisierung des Datenverkehrs und verbesserte QoS.
Mehrere Funktionen garantieren einen stabilen Betrieb
Selbstheilung des Systems mit PoE Auto Recovery

Der Switch erkennt die PD-Geräte wie Kameras und APs automatisch und startet sie neu, wenn sie offline gehen oder nicht mehr reagieren. Dies garantiert den stabilen Betrieb von Geräten mit PoE-Verbindung, ohne dass eine manuelle Überwachung und ein Neustart erforderlich sind.

Stromüberlastung

64 W.

Intelligente Stromversorgung

64 W.

Intelligentes Power Management zur Vermeidung von Stromüberlastung

Trennt automatisch die Stromversorgung von Ports mit niedrigerer Priorität, um die Stromversorgung der Ports mit hoher Priorität sicherzustellen, wenn der gesamte PoE-Stromverbrauch 64 W überschreitet. Dies schützt das Gerät vor Stromüberlastungsbetrieb.

PoE-Geräte

Nicht-PoE-Geräte

IP Kamera

IP Handy

Zugangspunkt

Computer

Drucker

IN DEM

Netzwerk-Videorecorder

Router

Hervorragende Kompatibilität mit der PD-Erkennung

Erkennt automatisch die erforderliche PoE-Leistung für Ihr Gerät und schützt Ihre Nicht-PoE-Geräte vor Beschädigung.
Robustes Metallgehäuse
Die Innenausstattungsteile des TL-SG108PE sind durch ein hochwertiges Metallgehäuse geschützt, um eine lange Produktlebensdauer zu gewährleisten. TL-SG108PE hat eine Reihe strenger Zuverlässigkeitstests bestanden und bietet eine Schaltleistung, auf die Sie sich verlassen können.
-

Kompaktes Desktop-Design

-

Wandmontage

-

Lüfterloses Design
Switches for Surveillance

For general surveillance, TP-Link has designed a variety of PoE Switches to meet the requirements of most IPCs. Many robust features provide value well beyond basic networking needs, creating a versatile and reliable surveillance network to grow your business.

Long-Range PoE
Auto Camera Recovery
Enhanced Network Security

Hospitality

TP-Link Omada allows hotels to build reliable WiFi networks. Hotel WiFi network solutions including network topology, design, features, installation, and products are introduced.

Full WiFi coverage and wired connections
Flexible guest control
Seamless roaming
Easy Management

Education

Due to its reliable, scalable, and secure network solution, TP-Link has been widely acknowledged by global customers in the Education market ranging from infant schools with a few APs up to colleges and universities with hundreds of APs.

Easy management
High-density WiFi
Full WiFi coverage and wired connections
VPN and security
HARDWARE-FUNKTIONEN
Standards und Protokolle
IEEE 802.3i, IEEE 802.3u, IEEE 802.3ab, IEEE 802.3af, IEEE 802.3x, IEEE 802.1q, IEEE 802.1p, IEEE 802.3at
Schnittstelle
Eight 10/100/1000Mbps RJ45 PortsAUTO Negotiation/AUTO MDI/MDIX
Kabel
10BASE-T: UTP category 3, 4, 5 cable (maximum 100m)
EIA/TIA-568 100Ω STP (maximum 100m)
100BASE-TX: UTP category 5, 5e cable (maximum 100m)
EIA/TIA-568 100Ω STP (maximum 100m)
1000BASE-T: UTP category 5, 5e, 6 or above cable (maximum 100m)
EIA/TIA-568 100Ω STP (maximum 100m)

Anzahl Lüfter
Fanless
Spannungsversorgung
External Power Adapter (Output: 53.5 VDC/1.31 A)
PoE-Ports
Standard: 802.3 af/at compliantPoE Ports: Port 1- Port 4PoE Power Budget: 64W
Abmessungen (B*T*H)
6.2 × 4.0 × 1.0 in (158 × 101 × 25 mm)
Maximale Leistungsaufnahme
4.43 W (220V / 50Hz with no PD connected)75.13 W (220V / 50Hz with 64 W PD connected)
Maximale Wärmeabgabe
15.11 BTU/h (with no PD connected)256.19 BTU/h (with 64 W PD connected)
PERFORMANCE
Switchingkapazität
16 Gbps
Paketweiterleitungsrate
11.9 Mpps
MAC-Adresstabelle
4 K
Paketpufferspeicher
1.5 Mb
Jumbo-Frames
16 KB
SOFTWARE-FUNKTIONEN
Quality of Service
Support Port-Based/802.1p/DSCP priority
Support 4 priority queues
Rate Limit
Storm Control

Layer2-Funktionen
IGMP Snooping V1/V2/V3Static Link AggregationPort MirroringCable DiagnosticsLoop Prevention
VLAN
Supports up to 32 VLANs simultaneously (out of 4K VLAN IDs)
MTU/Port/Tag VLAN

PoE
Extend Mode**PoE Auto Recovery
Verwaltung
Web-based GUI
Easy Smart Configuration Utility

Übertragungsmethode
Store-And-Forward
SONSTIGES
Zertifizierung
FCC, CE, RoHS
Verpackungsinhalt
TL-SG108PEPower AdapterInstallation GuideRubber Feet
Systemanforderungen
Microsoft® Windows® for running Utility
Umgebung
Operating Temperature: 0℃~40℃ (32℉~104℉)
Storage Temperature: -40℃~70℃ (-40℉~158℉)
Operating Humidity: 10%~90%RH non-condensing
Storage Humidity: 5%~95%RH non-condensing

* PoE-Budgetberechnungen basieren auf Labortests. Das tatsächliche PoE-Strombudget kann nicht garantiert werden und variiert aufgrund von Kundenbeschränkungen und Umweltfaktoren.
** Die Geschwindigkeit der Ports im Erweiterungsmodus wird auf 10 Mbit/s herabgestuft. Die tatsächliche Übertragungsentfernung kann aufgrund des Stromverbrauchs von PoE-Geräten oder der Kabelqualität und des Kabeltyps variieren.
Von United States?
Erhalten Sie Produkte, Events und Leistungen speziell für Ihre Region