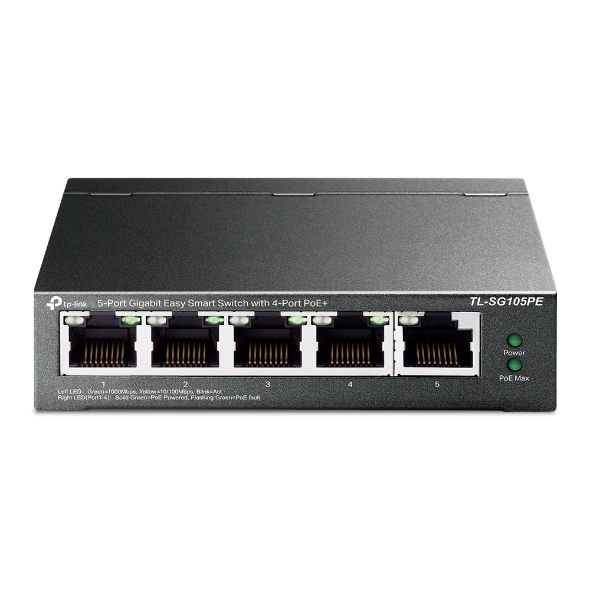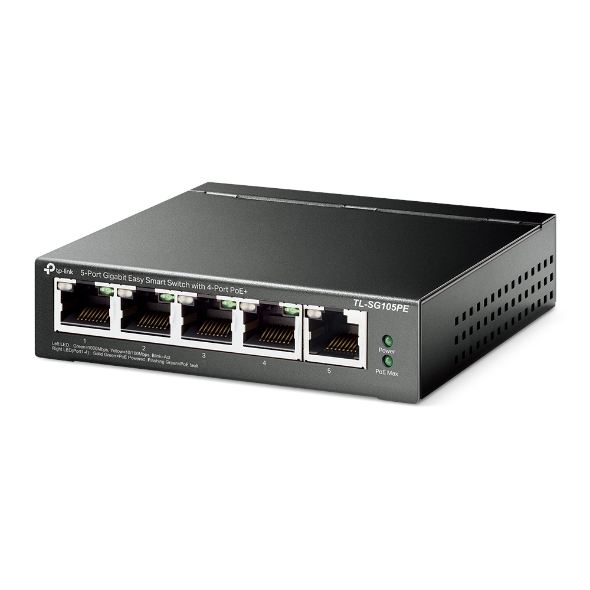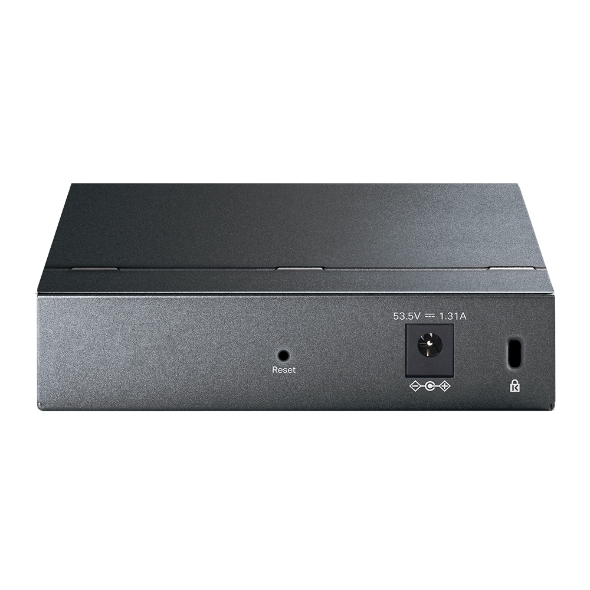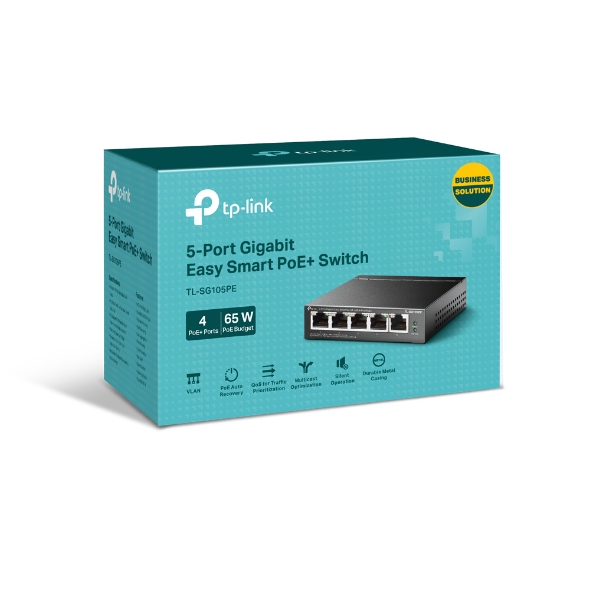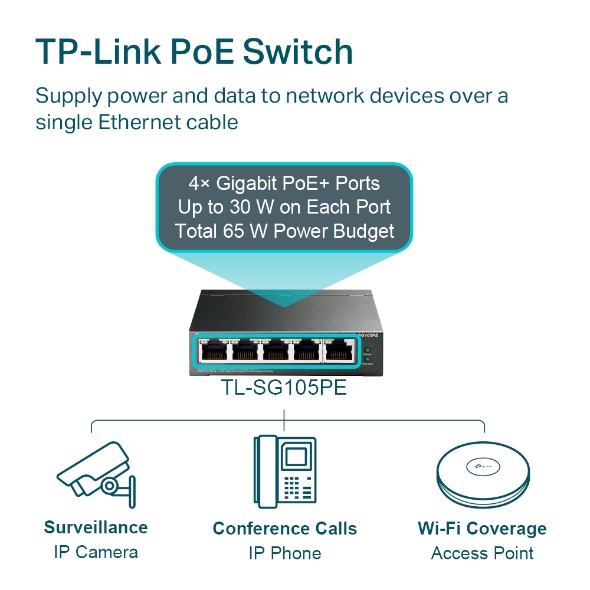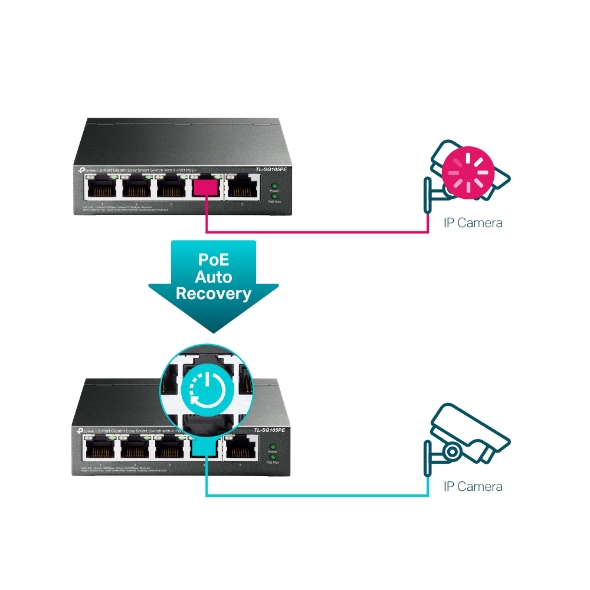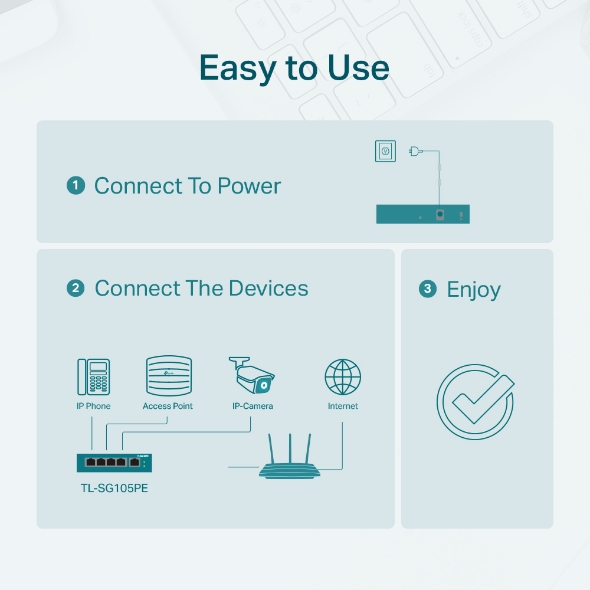 TL-SG105PE
5-Port-Gigabit-Easy-Smart-Switch
mit 4 PoE+-Ports
Fünf 10/100/1000Mbit/s RJ45-Ports
Ausgestattet mit vier 802.3af/at PoE+-Ports mit bis zu 30W für jedes Port, Daten und Strom werden über ein einziges Kabel übertragen
Unterstützt ein PoE-Budget von bis zu 65 W insgesamt für alle PoE-Ports*
Ermöglicht Netzwerküberwachung, Übertragungspriotisierungen, VLAN und die automatische PoE-Wiederherstellung
Einfache Netzwerkeinrichtung und Plug & Play
Eine Web-Oberfläche und das einfache Easy-Smart-Configuration-Utility vereinfachen die Konfiguration
Lüfterloses Design reduziert den Stromverbrauch und ermöglicht dne lauslosen Betrieb.
Professionelles 5-Port-Gigabit-Easy-Smart-Switch mit 4 PoE+-Ports
Einfach zu verwenden, für eine Vielfalt an Einsatzmöglichkeiten und eine starke PoE-Leistung
TL-SG105PE
-

65W PoE-Budget*

-

Gigabit-Ports

-

Plug & Play und eine einfache Bedienung

-

VLAN

-

QoS für die Priorisierung von Übertragungen

-

Intelligentes Management

-

Automatische Wiederherstellung von PoE-Geräten
Für viele Anwendungsbereiche
Der TL-SG105PE ist vollständig mit PoE-Geräten wie IP-Kameras, Accesspoints und IP-Telefone kompatibel. Der Switch funktioniert auch mit Geräten, die keine PoE-Versorgung benötigen, wie PCs, Drucker und IPTVs.
Überwachungssysteme

Versorgt und verbindet IP-Kameras

Telefonie

Versorgt und verbindet IP-Telefone

WLAN-Versorgung

Versorgt und verbindet WLAN Accesspoints

LAN-Verbindungen

Verbindet PCs und Drucker
4 dedizierte PoE+-Ports mit 65 W Budget für eine Vielzahl an Anwendungen
Der TL-SG105PE bietet eine PoE-Versorgung nach den Standards 802.3af/at PoE+ mit bis zu 30 W je PoE-Port. Das 65 W PoE-Budget* für 4 Gigabit-PoE+-Ports ermöglicht eine Vielzahl an Einsatzmöglichkeiten, wie zum Beispiel für Überwachungssysteme, Büros, Wohnheime und Betriebe. Der Switch ist vollständig mit standardisierte PoE-Clients kompatibel, wie IP-Kameras, Accesspoints, IP-Telefone, Computer, Drucker u. v. m..
IP-Kamera
IP-Telefon
Accesspoint
TL-SG105PE
Router
Internet
4 Gigabit-PoE+-Ports
Bis zu 30 W je Port
65 W PoE-Budget*
Einstecken

Geräte verbinden

IP-Kamera

IP-Telefon

Accesspoint

Internet

TL-SG105PE

Verwenden
Viele zusätzliche Funktionen ermöglichen ungeahnte Lösungen
QoS für eine Verzögerungsfreie Übertragung

Sichert eine flüssige Übertragung für Latenzempfindliche Anwendungen wie für Audio- und Videoübertragungen

IGMP Snooping für Multicast-Übertragungen

Sichert eine optimale Netzwerkübertragung besonders für Anwendungen wie IPTV.

VLAN für Sicherheit, Schnelligkeit und Zuverlässigkeit.

Unterstützt bei der Erstellung von Netzwerken, um die Sicherheit und Leistung enorm zu erhöhen, indem das Netzwerk in kleinere Segmente unterteilt wird.
Management-Utility
Benutzeroberfläche
Netzwerkverwaltung leicht gemacht
Der TL-SG105PE bietet eine Netzwerküberwachung, damit Nutzer den Datenübertragungen einsehen können. Über die Web-Oberfläche oder Management-Utility bietet der TL-SG105PE eine Vielzahl an nützliche Funktionen wie die Netzwerküberwachung, Übertragungspriorisierung und erweitertes QoS.
Viele Eigenschaften garantieren den stabilen Betrieb
IP-Kamera

IP-Kamera

Auto-
PoE-Geräte-
Neustart

Selbständige Systemwiederherstellung von verbundenen PoE-Geräten

Der Switch erkennt automatisch, wenn versorgte Geräte wie Accesspoints und Kameras offline gehen oder ausfallen und startet diese Geräte über die PoE-Versorgung neu. So wird ein stabiler Betrieb der verbundenen PoE-Geräte ohne dass eine Überwachung und ein manuelles eingreifen für diese Geräte notwendig ist.

PoE-Überlastung

65 W

Intelligente PoE-Versorgung

65 W

Intelligente PoE-Versorgung

Intelligente PoE-Versorgung

Falls die benötigte PoE-Leistung 65W überschreitet, greift die intelligente PoE-Versorgung ein und unterbricht die Versorgung des Ports mit der geringsten Priorität und dadurch steht mehr PoE-Leistung den übrigen Ports zur Verfügung. So wird die PoE-Versorgung der Ports mit einer höheren Priorität gewährleistet und der Switch vor einer Überspannung geschützt.

PoE-Geräte

Nicht-PoE-Geräte

IP-Kameras

IP-Telefon

Accesspoint

Computer

Drucker

NAS

Netzwerk-Video-Recorder

Router

Hohe Kompatibilität bei der Erkennung von PoE-Geräten

Erkennt automatisch PoE-Geräten und die benötigte PoE-Leistung und schützt dadurch nicht-PoE-Geräte.
Robustes Metallgehäuse
Die internen Komponenten von dem TL-SG105PE werden durch ein hochqualitatives Metallgehäuse geschützt, um eine lange Lebenszeit sicherzustellen. Strenge Qualitätskontrollen und umfangreiche Zuverlässigkeitstests geben dem TL-SG105PE eine Zuverlässligkeit auf der Sie setzen können.
-

Kompaktes Desktop-Design

-

Wandmontage

-

Lüfterloses Design
Switches for Surveillance

For general surveillance, TP-Link has designed a variety of PoE Switches to meet the requirements of most IPCs. Many robust features provide value well beyond basic networking needs, creating a versatile and reliable surveillance network to grow your business.

Long-Range PoE
Auto Camera Recovery
Enhanced Network Security

Hospitality

TP-Link Omada allows hotels to build reliable WiFi networks. Hotel WiFi network solutions including network topology, design, features, installation, and products are introduced.

Full WiFi coverage and wired connections
Flexible guest control
Seamless roaming
Easy Management

Education

Due to its reliable, scalable, and secure network solution, TP-Link has been widely acknowledged by global customers in the Education market ranging from infant schools with a few APs up to colleges and universities with hundreds of APs.

Easy management
High-density WiFi
Full WiFi coverage and wired connections
VPN and security
HARDWARE-FUNKTIONEN
Standards und Protokolle
IEEE 802.3i, IEEE 802.3u, IEEE 802.3ab, IEEE 802.3af, IEEE 802.3x, IEEE 802.1q, IEEE 802.1p, IEEE 802.3at
Schnittstelle
Fünf 10/100/1000Mbit/s RJ45-Ports
AUTO Negotiation/AUTO MDI/MDIX

Kabel
10BASE-T: UTP category 3, 4, 5 Kabel (maximal 100m)
EIA/TIA-568 100Ω STP (maximum 100m)
100BASE-TX: UTP category 5, 5e Kabel (maximal 100m)
EIA/TIA-568 100Ω STP (maximum 100m)
1000BASE-T: UTP category 5, 5e, 6 oder höher Kabel (maximal 100m)
EIA/TIA-568 100Ω STP (maximal 100m)

Anzahl Lüfter
Lüfterlos
Spannungsversorgung
Externes Netzteil (Leistung: 53.5 VDC/1.31 A)
PoE-Ports
Standard: Nach iEEE802.3 af/at
PoE-Ports: Port 1 bis Port 4
PoE-Budget: 65 W

Abmessungen (B*T*H)
99.8mm × 98mm × 25 mm
Maximale Leistungsaufnahme
4.52 W (220V/50Hz ohne verbundenes PoE-Gerät)
75.16 W (220V/50Hz mit 65 W PoE-Versorgung)
Maximale Wärmeabgabe
15.41 BTU/h (ohne verbundenes PoE-Gerät)
256.30 BTU/h (mit 65 W PoE-Versorgung)
PERFORMANCE
Switchingkapazität
10 Gbit/s
Paketweiterleitungsrate
7.44 Mpps
MAC-Adresstabelle
2 K
Paketpufferspeicher
1.5 Mb
Jumbo-Frames
16 KB
SOFTWARE-FUNKTIONEN
Quality of Service
Support Port-Based/802.1p/DSCP priority
Support 4 priority queues
Rate Limit
Storm Control

Layer2-Funktionen
IGMP Snooping V1/V2/V3
Static Link Aggregation
Port Mirroring
Kabel-Diagnose
Loop Prevention
PoE Auto Recovery (Automatische PoE-Wiederherstellung)
Verlängerungsmodus
VLAN
Unterstützt bis zu 32 VLANs gleichzeitig (aus 4K VLAN IDs)
MTU/Port/Tag VLAN

Verwaltung
Web-based GUI
Easy Smart Configuration Utility

Übertragungsmethode
Store-And-Forward
SONSTIGES
Zertifizierung
FCC, CE, RoHS
Verpackungsinhalt
TL-SG105PE
Netzteil
Installationsanleitung
Gummifüße

Systemanforderungen
Microsoft® Windows® for running Utility
Umgebung
Betriebstemperatur: 0°C~40°C (32°F~104°F)
Lagertemperatur: -40°C~70°C (-40°F~158°F)
Betriebsluftfeuchtigkeit: 10% ~ 90% nicht kondensierend
Lagerluftfeuchtigkeit: 5%~95% nicht kondensierend
*Das PoE-Budget ist unter Laborbedingen gemessen. Die tatsächliche Versorgung varriert je nach Client und Einsatzumgebung.
Von United States?
Erhalten Sie Produkte, Events und Leistungen speziell für Ihre Region