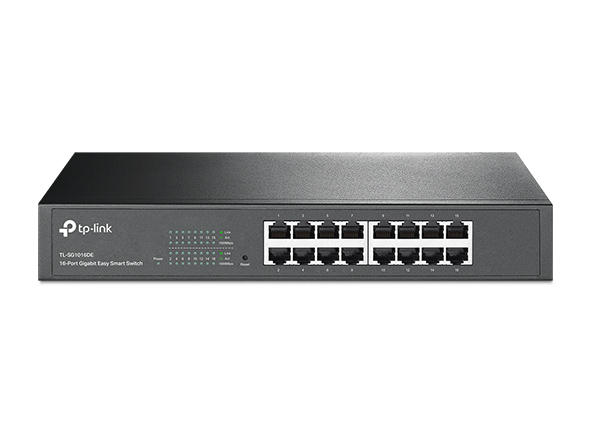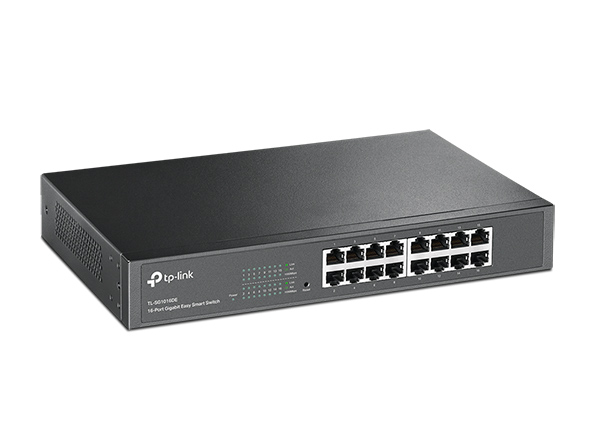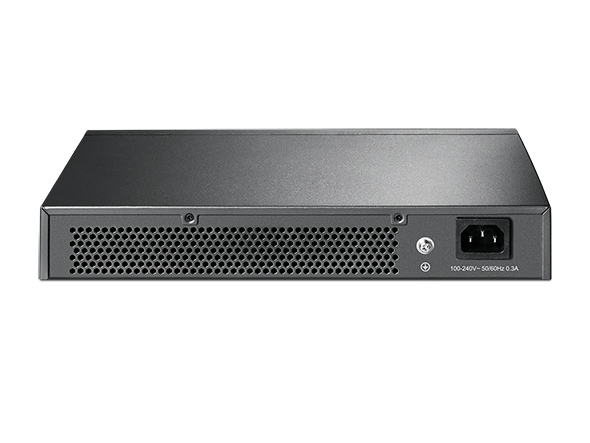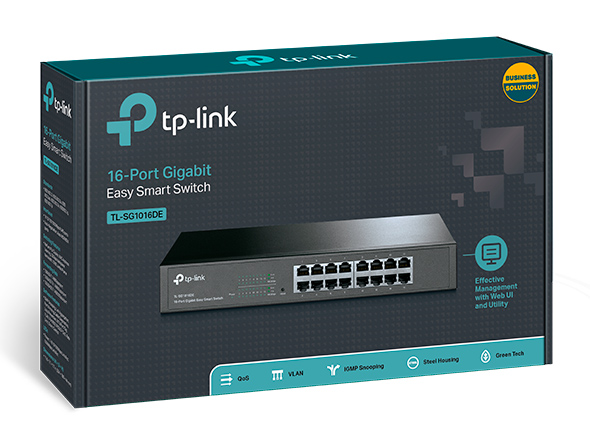 TL-SG1016DE
16-Port-Gigabit-Easy-Smart-Switch
16 10/100/1000Mbit/s-Ports
Netzüberwachung, Trafficpriorisierung und VLAN-Funktionen
Innovative energieeffiziente Green IT, spart bis zu 40% Energie
Plug-and-Play-Design
Zentrale Verwaltung all Ihrer Easy-Smart-Switches durch das Easy-Smart-Configuration-Utility
Produktfunktionalitäten
Der 16-Port-Gigabit-Easy-Smart-Switch TL-SG1016DE bietet kleinen und mittelgroßen Unternehmen eine einfache Möglichkeit, den Übergang zum Gigabit-Ethernet zu wagen. Dem Administrator bietet der Switch Basisfunktionen wie Portmirroring, Loopback-Erkennung und Kabeldiagnose. Zur Trafficoptimierung steht Ihnen VLAN (port- und tagbasierend) zur Verfügung. Weiterhin verbessern port- und tagbasierendes VLAN die Sicherheit, da Ihr Netz dadurch segmentiert wird. Darüber hinaus sparen Sie mit der innovativen, energieeffizienten Technik des TL-SG1016DE bis zu 40% Energie ein, womit dieser auch eine umweltfreundliche Lösung für Ihr Geschäftsnetz darstellt.
Simples und effektives Management
TP-LINKs Gigabit-Easy-Smart-Switch TL-SG1016DE bietet Ihnen verschiedene Möglichkeiten zur Netzüberwachung. Mittels Portmirroring, Loopback-Erkennung und Kabeldiagnose können Sie Verbindungsprobleme in Ihrem Netz erkennen und sogar lokalisieren. Weiterhin können Sie Datenverkehr anhand von Portpriorität und 802.1p-Priorität priorisieren, um sicherzustellen, dass VoIP und Videostreaming stets flüssig und verzögerungsfrei laufen.
Zur weiteren Verbesserung der Sicherheit und der Performance unterstützt der TL-SG1016DE MTU-VLAN, portbasierendes VLAN und 802.1q-basierendes VLAN. Mit seinen Basismanagementfunktionen ist der Easy-Smart-Switch eine Ebene oberhalb der Unmanaged Switches angesiedelt und bietet bei ähnlichem Preis einen großen Mehrwert.
Schalten Sie auf grün mit Ihrem Ethernet
Sie haben nun die Möglichkeit, sich für den grünen Weg zu entscheiden, wenn Sie zu einem Gigabit-Netzwerk upgraden wollen. Dieser 16-Port-Gigabit-Easy-Smart-Switch verfügt über die neueste innovative, energieeffiziente Technik, die Ihre Netzwerkkapazität bei gleichzeitig geringerem Energieverbruach wesentlich erweitern kann. Der TL-SG1016DE passt den Stromverbrauch automatisch an den Link-Status und die Kabellänge an, um den Kohlendioxid-Fußabdruck Ihres Netzwerks zu verbessern.
Strom runter, wenn Ports nicht aktiv sind
Wenn ein Computer oder ein Netzwerkgerät ausgeschaltet ist, verbraucht der entsprechende Port eines traditionellen Switchs weiterhin eine erhebliche Menge an Strom. Der TL-SG1016DE erkennt automatisch den Link-Status der einzelnen Ports und reduziert den Stromverbrauch derjenigen Ports, die sich im Leerlauf befinden.
Energiezuteilung nach Kabellänge
Im Idealfall würde ein kürzeres Kabel weniger Strom verbrauchen, weil weniger Energie über die Länge des Kabels verloren geht. Dies ist bei den meisten Geräten nicht der Fall, da sie die gleiche Menge an Energie über das Kabel schicken, unabhängig von seiner Länge. Der TL-SG1016DE analysiert die Länge des angeschlossenen Ethernet-Kabels und passt die Stromzuteilung entsprechend an, anstatt den Stromverbrauch auf dem Niveau der konventionellen Lösung zu halten.
Einfach zu bedienen
Die automatischen Funktionen dieses Gigabit-Switchs machen die Installation dank Plug-and-Play problemlos. Es ist keine Konfiguration erforderlich. Auto-MDI/MDIX eliminiert die Notwendigkeit für Crossover-Kabel. Autoabstimmung an jedem Port erkennt die Verbindungsgeschwindigkeit eines Geräts (10, 100 oder 1000Mbit/s) und passt sich intelligent an, um die Kompatibilität und die optimale Leistung sicherzustellen. Zudem ermöglichen Ihnen dynamische LED-Anzeigen die Echtzeitüberwachung Ihres Netzes.
HARDWARE-FUNKTIONEN
Standards und Protokolle
IEEE802.3
IEEE802.3u
IEEE802.3ab
IEEE802.3x
IEEE802.1q
IEEE802.1p
Schnittstelle
16 10/100/1000Mbit/s-RJ45-Ports mit Autoabstimmung und Auto-MDI/MDIX
Kabel
10BASE-T: UTP-Kabel der Kategorie 3 oder höher (maximal 100m)
100BASE-TX: UTP-Kabel der Kategorie 5 oder höher (maximal 100m)
1000BASE-T: UTP-Kabel der Kategorie 6 oder höher (maximal 100m)
Anzahl Lüfter
0
Physischer Diebstahlschutz
No
Spannungsversorgung
100...240V/50..60Hz Wechselspannung
Energieverbrauch
Maximum: 11,73W (230V/50Hz)
Abmessungen (B*T*H)
294mm*180mm*44mm
Montage
Rack Mountable
Maximale Leistungsaufnahme
10.54W (220V/50Hz)
Maximale Wärmeabgabe
35.94 BTU/h
PERFORMANCE
Switchingkapazität
32 Gbit/s
Switchingkapazität
23,8 Mbit/s
Paketweiterleitungsrate
23,8Mpps
MAC-Adresstabelle
8k
Paketpufferspeicher
512kB
Jumbo-Frames
9kB
SOFTWARE-FUNKTIONEN
Quality of Service
Portbasierende und 802.1p-basierende Priorisierung
4 Prioritätswarteschlangen
Datenratenbegrenzung
Sturmkontrolle
Layer2-Funktionen
IGMP-Snooping
Linkaggregation
Port-Mirroring
Kabeldiagnose
Loopback-Erkennung
VLAN
Bis zu 128 VLANs gleichzeitig nutzbar (IDs wählbar aus 4k VLAN-IDs)
MTU-/Port-/Tag-VLAN
Übertragungsmethode
Store-And-Forward
SONSTIGES
Zertifizierung
FCC
CE
RoHS
Verpackungsinhalt
TL-SG1016DE
Spannungskabel
Installationsanleitung
CD
Rackmontagekit
Gummifüßchen
Systemanforderungen
Microsoft® Windows® 2000/XP/2003/Vista/2008/7/2012/8/10
MacOS®
NetWare®
UNIX®
Linux
(das Management-Tool läuft nur unter Windows)
Umgebung
Betriebstemperatur: 0°C..40°C
Lagertemperatur: -40°C..70°C
Betriebsfeuchtigkeit: 10%..90%, nicht kondensierend
Lagerfeuchtigkeit: 5%..90%, nicht kondensierend
1. DSCP QoS is for V2 and later version.
Von United States?
Erhalten Sie Produkte, Events und Leistungen speziell für Ihre Region