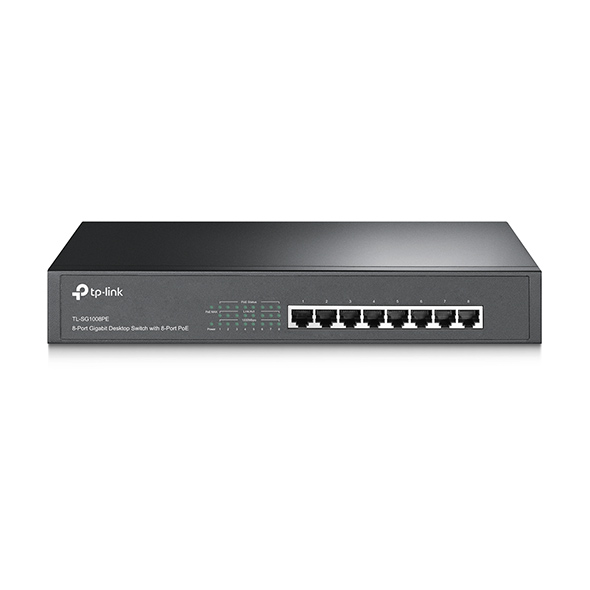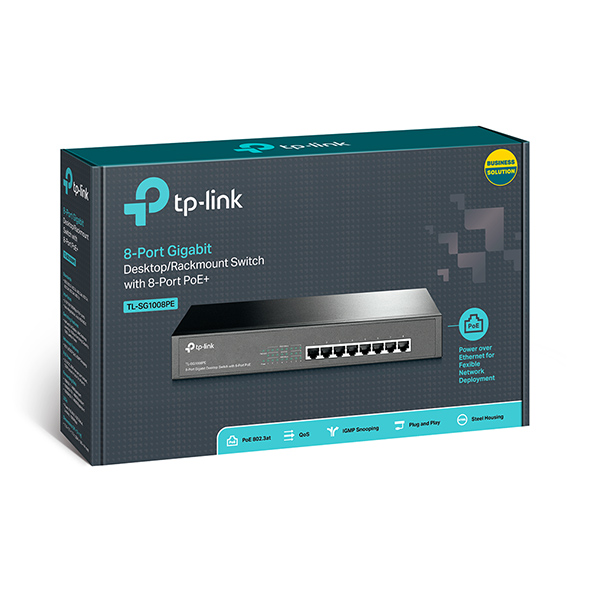 TL-SG1008PE
8-Port-Gigabit-Desktop-/Rackmount-PoE-Switch
Acht 10/100/1000Mbps-RJ45-Ports
Acht PoE+-Ports, die Daten und Strom mit einem einzigen Kabel übertragen können
Arbeitet mit IEEE802.3af/at-konformen PDs zusammen, vergrößert Ihr Heim- oder Büronetz
Innovatives Green-IT reduziert den Energieverbrauch um bis zu 75%*
Benötigt keine Konfiguration
*Die tatsächlichen Daten können von diesem Wert nutzungsabhängig abweichen.
Produktfunktionalitäten
Der 8-Port-Gigabit-Desktop-/Rackmount-PoE-Switch TL-SG1008PE unterstützt auf allen Ports den PoE+-Standard. Er bietet somit einen einfachen Weg zur Netzwerweiterung, da Spannung und Daten über ein einziges Kamel übertragen werden. Mit der maximalen Ausgangsleistung von 124W (max. 30 pro Port) kann der TL-SG1008PE mehr Geräte (wie z.B. Accesspoints, IP-Kameras oder IP-Telefone) speisen als sein Vorgängermodell TL-SG1008P. Durch die innovative Green-IT reduziert der Switch seinen Energieverbrauch um bis zu 75% und verbessert so die Ökobilanz Ihres Netzes.
Wie dieses Produkt funktioniert
Alle 8 Ports des TL-SG1008PE unterstützen Power over Ethernet Plus (PoE+). Diese PoE-Ports können IEEE802.3af/at-kompatible PoE-Geräte automatisch erkennen und mit Spannung versorgen. In dieser Situation wird der elektrische Strom zusammen mit den Daten in einem einzigen Kabel transportiert. Das Gerät macht es möglich, Ihr Netzwerk an Stellen zu erweitern, wo es keine Stromleitungen oder Steckdosen gibt, man jedoch trotzdem Geräte wie Accesspoints, IP-Kameras oder IP-Telefone etc. betreiben will.
Verhalten bei Überlastung
Der TL-SG1008PE hat eine Prioritätsfunktion, die dabei hilft, das System zu schützen, wenn die Systemleistung überbeansprucht wird. Wenn der gesamte Stromverbrauch der PoE-PDs größer oder gleich 124W ist, werden den verschiedenen PoE+-Ports unterschiedliche Prioritäten zugeordnet. Das System entscheidet dann über die Stromverteilung und schaltet die Energiezufuhr am Port mit der niedrigsten Priorität ab.
Port-Priority-Funktion
*Priorität (Port 1 > Port 2 > .... > Port 8): Diese Funktion ist dazu da, das System zu schützen, wenn die PoE-Leistung überbeansprucht wird. Wenn zum Beispiel die Ports 1, 2 und 4 jeweils 30W (als maximale Leistung pro Port) benutzen, beträgt die Gesamtleistung 120W. Wenn ein zusätzliches PD mit 25W an Port 3 angeschlossen wird, wird das System Port 4 abschalten, um Schäden am Gerät zu vermeiden. Das bedeutet, dass an Port 1 und 2 jeweils 30W und an Port 3 25W verbraucht werden können. An Port 4 wird keine Leistung abgegeben.
Einfache Handhabung
Der TL-SG1008PE ist einfach zu installieren und zu verwenden. Es ist keinerlei Konfiguration erforderlich. Mit dem Desktop-/Rackmount-Design, der hervorragenden Leistung und Qualität ist TP-LINKs TL-SG1008PE eine großartige Wahl zur Erweiterung Ihres Heim- oder Büronetzes.
HARDWARE-FUNKTIONEN
Schnittstelle
8 10/100/1000Mbit/s-RJ45-Ports mit Autoabstimmung und Auto-MDI/MDIX
Kabel
10BASE-T: UTP-Kabel der Kategorie 3 oder höher (maximal 100m)
100BASE-TX: UTP-Kabel der Kategorie 5 oder höher (maximal 100m)
1000BASE-T: UTP-Kabel der Kategorie 6 oder höher (maximal 100m
Anzahl Lüfter
1
Spannungsversorgung
100..240V/50..60Hz-Wechselspannung
Energieverbrauch
Maximal 133,8W mit PoE (230V/50Hz)
Maximal 9,8W ohne PoE (230V/50Hz)
PoE+-Ports
Standard: 802.3at/af
PoE+-Ports: 8
Maximale Leistungsabgabe: 124W
Switchingkapazität
16 Gbit/s
MAC-Adresstabelle
8k
Puffergröße
2Mb
Abmessungen (B*T*H)
294mm*180mm*44mm
Montage
Rack Mountable
Maximale Leistungsaufnahme
9.89W(220/50Hz. no PD connected)140.67W(110/60Hz. with 126W PD connected)
Maximale Wärmeabgabe
33.74BTU/h(no PD connected)492.56BTU/h(with 126W PD connected)
SOFTWARE-FUNKTIONEN
Erweiterte Funktionen
Kompatibel zu IEEE802.3af/at-kompatiblen Geräten
Prioritätsfunktion
Auto-Learning and Auto-Aging von MAC-Adressen
Flusskontrolle nach IEEE802.3x für Vollduplex und Backpressure für Halbduplex
Transfermethode
Store-And-Forward
SONSTIGES
Zertifizierung
FCC
CE
RoHS
Verpackungsinhalt
TL-SG1008PE
Spannungskabel
Installationsanleitung
Rackeinbausatz
Gummifüßchen
Systemanforderungen
Microsoft® Windows® 2000/XP/2003/Vista/2008/7/2012/8/10
MacOS®
NetWare®
UNIX®
Linux
Verbrauch
Maximal 9,5 Watt (wenn kein PD angeschlossen)
Maximal 140,1 Watt (davon 124W für angeschlossene PDs)
Umgebung
Betriebstemperatur: 0°C..40°C
Lagertemperatur: -40°C..70°C
Betriebsfeuchtigkeit: 10%..90%, nicht kondensierend
Lagerfeuchtigkeit: 5%..90%, nicht kondensierend
Auszeichnungen

Recommended Award

TL-SG1008PE received a Recommended Award from AVForums

2013, UK

Recommended

TL-SG1008PE received a Recommended award from PC Pro.

2013, UK
Von United States?
Erhalten Sie Produkte, Events und Leistungen speziell für Ihre Region