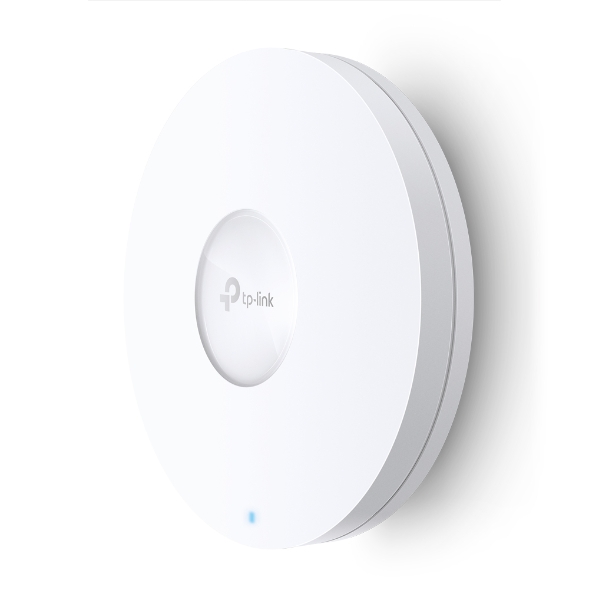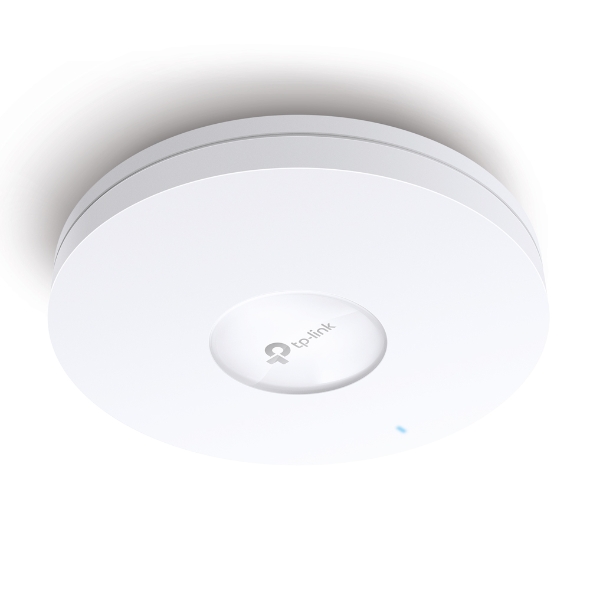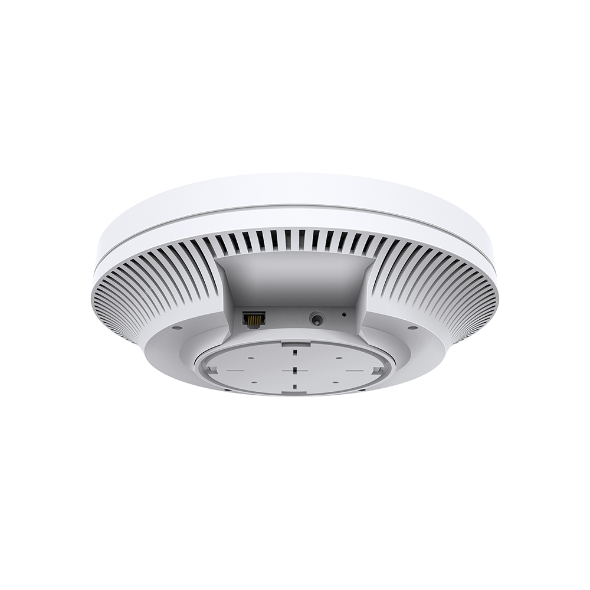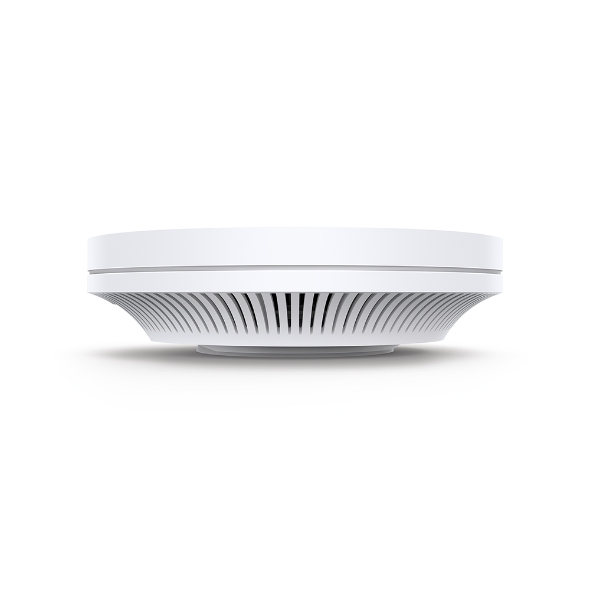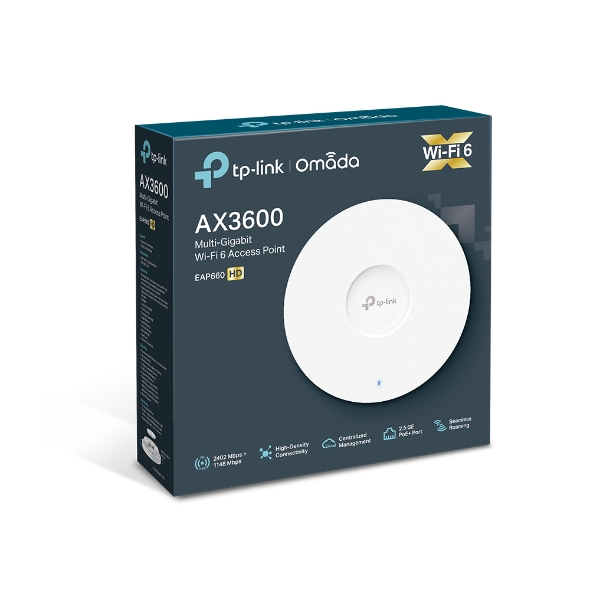 EAP660 HD
AX3600-Multigigabit-Dualband-WLAN-Accesspoint zur Deckenmontage
Ultra-schnelle Wi-Fi 6 Geschwindigkeiten: Gleichzeitiges 1148 Mbit/s im 2.4 GHz und 2402 Mbit/s im 5 GHz WLAN ergeben eine Gesamtbandbreite von 3550 Mbit/s im WLAN.†
Verbindungsstark bei hohe Endgerätedichten: 4× vergrößerte Kapazität bei der gleichzeitigen Verbindung von Endgeräten.‡
Integriert in der Omada-SDN: Zero-Touch Provisionierung (ZTP)§, Zentralisiertes Cloud-Management und intelligente Netzwerk-Monitoring.
Zentralisiertes Management: Cloudzugriff und die Omad-App ermöglichen eine sehr einfache und korfortable Einrichtung und Verwaltung.
2,5GE Netzwerkanschluss: Der 2,5 Gbit/s Netzwerkanschluss am Accesspoint ermöglicht die komplette WLAN-Bandbreite an das Netzwerk weiterzugeben, ohne dass Accesspoint ein Flaschenhals entsteht.
Nahtloses WLAN-Roaming: Selbst Video- und Voicechats spüren keinen Wechsel zwischen Accesspoints beim Bewegen.△
PoE+ Support: Versorgung mit praktischem PoE nach IEEE802.3at ermöglicht eine einfache, flexible Installation.
Sicheres Gast-Netzwerk: Verschiedene Authentifikationsmethoden wie z. B. SMS-, Facebook-, Voucher- und Nutzer-Authentifizierung, eine Vielfalt an WLAN-Sicherheitsfunktionen und die nue WPA3-Sicherheit bieten die höchste Sicherheit.
Ultra-Hochleistungs-AX3600-
WLAN für Umgebungen mit
hohe Endgerätedichte
EAP660 HD
Verbindungskapazitäten für hohe Endgerätedichte um das 4-fache× erhöht
Die neuen WiFi 6 Funktionen OFDMA* und MU-MIMO für den Up- und Download** erhöhen die Kapazität Ihres WLAN-Netzwerks um das 4-fache gegenüber Wi-Fi 5 (802.11ac) in High-Density Umgebungen, wodurch sich mehr Geräte zur gleichen Zeit verbinden können‡. Nutzen Sie den Leistungsvorsprung für gleichzeitige Nutzung des WLANs oder für hohe Endgerätedichten und erfahren Sie einen Netzwerk-Vorsprung für professionelle Netzwerke wie niemals zuvor.
Gastgewerbe

Spezielle Gastzugänge und eine komplette Abdeckung

Gastronomie

WLAN-Versorgung für jede Szenario, auch bei hohe Endgeräte-Dichten

Shopping Mall

Online-zu-Offline Social-Marketing

Geschäftsräume

Gesicherte, zuverlässige WLAN- und LAN-Verbindungen

Bahnhöfe

Stabilität auch in anspruchsvollste Umgebungen
Hohe WLAN-Geschwindigkeiten mit 8 gleichzeitige Datenströme
Die Omada Wi-Fi 6 Accesspoint profitieren von den neusten 802.11ax Technologien wie 1024 QAM und verbesserte OFDM WLAN-Symbole. Diese Neuerungen ermöglichen Geschwindigkeiten von bis zu 3550 Mbit/s, 2402 Mbit/s im 5 GHz Band und 1148 Mbit/s im 2.4 GHz Band†. Mit 8 gleichzeitigen Datenströme, erhöht sich der Durchsatz vor allem bei der gleichzeitigen WLAN-Nutzung von mehreren Geräten erheblich, um mehr Anwendung zu ermöglichen.
1024 QAM
25% mehr Daten
in einem Signal verpackt
Verlängerte OFDM-Symbole
11% höhere Geschwindigkeit
5GHz
4 Stream 802.11ac
1733Mbps
4 Stream 802.11ax
2402Mbps
2.4GHz
4 Stream 802.11ac
600Mbps
4 Stream 802.11ac
1148Mbps
Omada SDN — Die smarte Cloud-Lösung für professionelle Netzwerke
Omada ist eine Softwaredefinierte Netzwerkverwaltungsplattform (SDN) und integriert Netzwerkgeräte wie, Accesspoints, Switches and Gateways um ein leistungsstarkes professionelles Netzwerk, mit gesteigertem Effizienz, höhere Verlässlichkeit und mehr Sicherheit zu ermöglichen.
Wi-Fi 6 AP für hoch dichte Umgebungen
EAP660 HD
Wand-AP
Outdoor-AP
Decken-AP
JetStream-PoE-Switches
SafeStream-Security-Gateway
Cloudzugriff
Cloudbasierte
Omada-Controller
Sorgenfreies, zentrales, Cloud-Management:
100% zentralisiertes Cloud-Management für das gesamte Netzwerk, auch für unterschiedliche Standorte, alles von einer einzigen Oberfläche, von überall, zu jeder Zeit.
Optimierte LAN-Verbindung mit 2.5 GE-PoE+-Port
Ausgestattet mit einem 2.5-Gigabit-Ethernet-Port, der EAP660 HD liefert Leistungen eine herausragende Multi-Gigabit-Leistung, um auch die unersättliche Nachfrage für besseres und schnelleres WLAN zu erfüllen. Gleichzeitig ist die Kompatibilität mit 802.3at PoE+ für eine flexible Installation gegeben.
2.5 GE-PoE+-Port
Nahtloses WLAN-Roaming
802.11k/v-Roaming verschiebt automatisch WLAN-Endgeräte viel schneller zu dem Accesspoint mit dem besten Signal nahtlos, vor allem dann, wenn das WLAN-Endgerät sich zwischen Accesspoints bewegt.△ Dies gewährleistet auch, dass sich Anwendungen wie VoIP und Video Konferenzen ununterbrochen geführt werden können.
Maximieren Sie Ihre Netzwerk-Effizienz
mit einer Vielfalt an modernste Funktionen
Band-Steering

Weist automatisch Dualband-Geräte dem schnelleren 5GHz WLAN-Band zu, damit diese Geräte von ihrer maximalen Übertragungsgeschwindigkeit profitieren.

Load-Balance

Holt das mehr aus dem WLAN heraus, vor allem in Umgebungen mit einer hohen Dichte an WLAN-Endgeräten in professionelle Netzwerke.

Airtime-Fairness

Erhöht den durchschnittlichen WLAN-Durchsatz, vor allem bei einer hohen WLAN-Auslastung.
Problemlose Installation dank ausgereiftem Industriedesign
1 hochdrücken 2 einfach drehen zum Einrasten
Gesichertes Gastnetzwerk mit Facebook WLAN und SMS-Anmeldung
Gast-Netzwerke mit einer erhöht-gesicherten Gastzugang ermöglichen es, Ihr WLAN-Netzwerk zu teilen. Mit dem Captive-Portal können Sie den Gastzugriff steuern und sicherstellen, dann nur authentifizierte Gäste die Möglichkeit haben, Ihr Netzwerk zu verwenden. SMS und Facebook-WLAN-Anmeldung vereinfachen die Nutzung von dem Captive-Portal weiter. Vereinfachen Sie die WLAN-Konnektivität und erweitern Sie Ihr Unternehmen.
Hospitality

TP-Link Omada allows hotels to build reliable WiFi networks. Hotel WiFi network solutions including network topology, design, features, installation, and products are introduced.

Full WiFi coverage and wired connections
Flexible guest control
Seamless roaming
Easy Management

Education

Due to its reliable, scalable, and secure network solution, TP-Link has been widely acknowledged by global customers in the Education market ranging from infant schools with a few APs up to colleges and universities with hundreds of APs.

Easy management
High-density WiFi
Full WiFi coverage and wired connections
VPN and security

High-Density Environment

Equipped with enterprise chipsets, dedicated antennas, advanced RF functions, and auto channel selection and power adjustment, Omada Wi-Fi 6 and Wi-Fi 5 APs have high concurrency capacity for high-density environments.

Enhanced Multi-User Capability
Improved Dense WiFi Experience
Full WiFi Coverage
HARDWARE-FUNKTIONEN
Schnittstelle
1× 2.5 Gbps-Ethernet-Port (unterstützt IEEE802.3at PoE)
Taste
Reset
Spannungsversorgung
• 802.3at PoE• 12 V DC
Energieverbrauch
18.5 W
Abmessungen (B*T*H)
243mm × 243mm × 64mm
Antennentyp
Internal Omni• 2.4 GHz: 4× 4 dBi• 5 GHz: 4× 5 dBi
Montage
Ceiling /Wall Mounting (Kits included)
WLAN-FUNKTIONEN
WLAN-Standards
IEEE 802.11ax/ac/n/g/b/a
Frequenz
2.4 GHz und 5 GHz
Signalrate
• 5 GHz: Up to 2402 Mbps• 2.4 GHz: Up to 1148 Mbps
WLAN-Funktionen
• 1024-QAM• 4× Longer OFDM Symbol• OFDMA• Multiple SSIDs (Up to 16 SSIDs, 8 for each band)• Enable/Disable Wireless Radio• Automatic Channel Assignment• Transmit Power Control (Adjust Transmit Power on dBm)• QoS(WMM)• MU-MIMO • Seamless Roaming△• Omada Mesh△• Band Steering• Load Balance• Airtime Fairness • Beamforming• Rate Limit• Reboot Schedule• Wireless Schedule• Wireless Statistics based on SSID/AP/Client
WLAN-Sicherheit
• Captive Portal Authentication△• Access Control• Wireless Mac Address Filtering• Wireless Isolation Between Clients• SSID to VLAN Mapping• Rogue AP Detection• 802.1X Support• WEP, WPA-Personal/Enterprise, WPA2-Personal/Enterprise, WPA3-Personal/Enterprise
Sendeleistung
• CE:<20 dBm(2.4 GHz, EIRP)<23 dBm(5 GHz, EIRP)• FCC:<26 dBm (2.4 GHz)<26 dBm (5 GHz)
VERWALTUNG
Omada App
Ja
Centralized Management
• Omada Cloud-Based Controller• Omada Hardware Controller (OC300)• Omada Hardware Controller (OC200)• Omada Software Controller
Cloud Access
Ja, mit dem OC300, OC200, Omada Cloud-Based Controller, oder Omada Software Controller)
Benachrichtigung per E-Mail
Ja
LED abschaltbar
Ja
Managementzugriff MAC-Adress-basiert filterbar
Ja
SNMP
v1, v2c, v3
Lokales/Remote-Systemprotokoll
Local/Remote Syslog
SSH
Ja
Weboberfläche
HTTP/HTTPS
Layer3-Management
Ja
Multi-Site-Management
Ja
Management VLAN
Ja
SONSTIGES
Zertifizierung
CE, FCC, RoHS
Verpackungsinhalt
• EAP660 HD
• Netzteil
• Wand- oder Decken-Mounting-Kits
• Installationsanleitung
Systemanforderungen
Microsoft Windows XP, Vista, Windows 7, Windows 8, Windows10, Linux
Umgebung
• Operating Temperature: 0–40 ℃ (32–104 ℉)• Storage Temperature: -40–70 ℃ (-40–158 ℉)• Operating Humidity: 10–90% RH non-condensing• Storage Humidity: 5–90% RH non-condensing
†Die maximalen WLAN-Datenraten sind die physikalischen Raten, die aus den IEEE-Standard-802.11-Spezifikationen abgeleitet werden. Der tatsächliche drahtlose Datendurchsatz und WLAN-Abdeckung können nicht garantiert werden und variieren aufgrund von 1) Umweltfaktoren, einschließlich Baumaterialien, physischen Objekten und Hindernissen, 2) Netzwerkbedingungen, einschließlich lokaler Interferenzen, Datenübertragungsenge und -häufigkeit, den Produktstandort, die Netzwerkkomplexität und Netzwerk-Overhead sowie 3) Client-Einschränkungen, einschließlich die Nennleistung, Standort, Verbindung, Qualität und Endgerätedichte.
‡4 × Erhöhte Kapazität bezieht sich auf die Erhöhung des Median-Durchsatzes bei einer hohen Endgerätedicht im Vergleich zum zu einem gewöhnlichen 4 × 4 11ac-Accesspoint.
§Zero-Touch Provisionierung benötigt die Verwendung des Omada-Cloud-Based-Controller.
△Nahtloses WLAN-Roaming muss auch von dem Endgerät nach 802.11k/v unterstützt werden und weitere Einstellungen am Client benötigen. Die Leistung kann stark nach Endgerät variieren.
*Die Verwendung von OFDMA die doe OFDMA-Unterstützung der Endgeräte vorraus.
**UL MU-MIMO wird zukünftig mit einem Software-Update nachgereicht werden, da die Unterstzung durch Clients noch relativ gering ist.
Von United States?
Erhalten Sie Produkte, Events und Leistungen speziell für Ihre Region