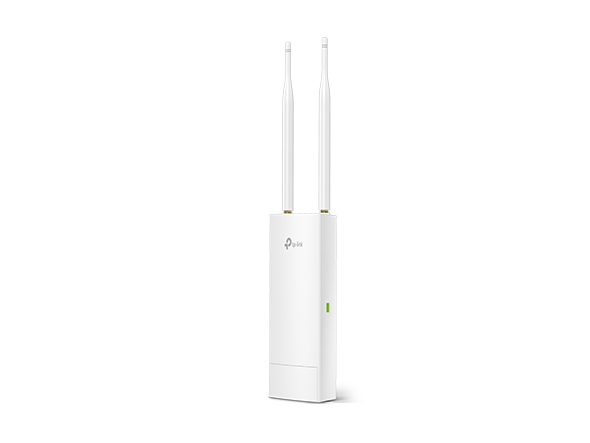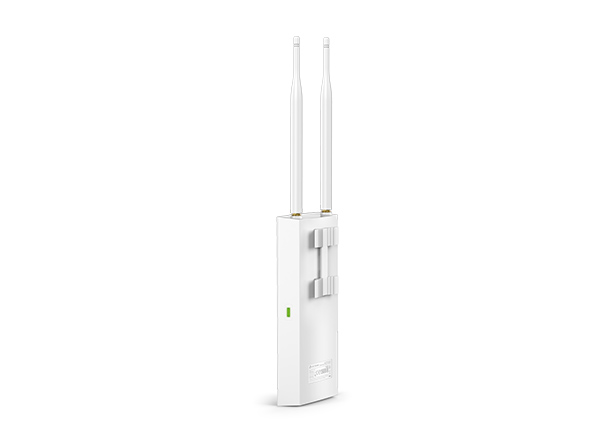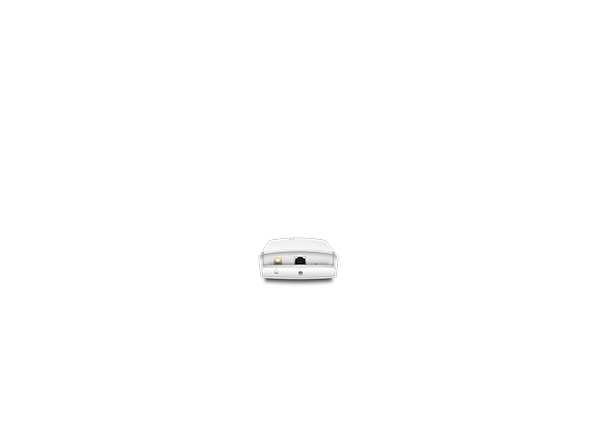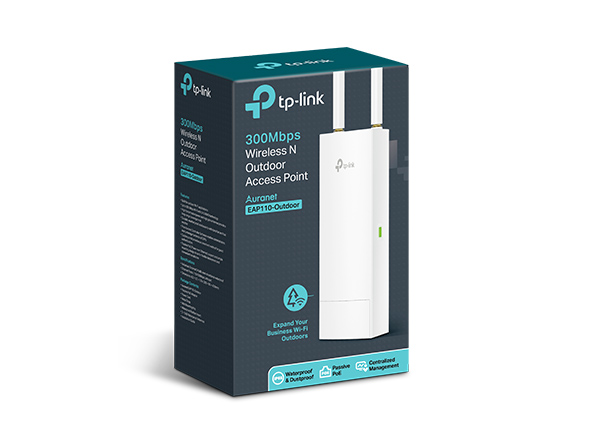 300 Mbps безжична N точка за достъп за монтаж на открито EAP110-Outdoor
Проектирана за Wi-Fi приложения на открито
До 300 Mbps Wi-Fi с 2x2 MIMO технология
Високата предавателна мощност и антените с голямо усилване осигуряват покритие на голямо разстояние
Здрав и устойчив на климатични влияния корпус, който издържа на хубаво и на лошо време
Поддръжка на пасивно PoE (захранване по Ethernet) и опростен монтаж за гъвкаво поставяне и удобна инсталация
Облачно централизирано управление и приложението Omada за ултра удобство и лесно управление
Сигурна мрежа за гости заедно с множество опции за удостоверяване (SMS / Facebook Wi-Fi / Ваучер и др.) И изобилни безжични технологии за сигурност
Поддържа управление на VLAN за разширено управление на мрежата
Enjoy Wi-Fi Outside, Finally
Omada
EAP110-Outdoor
Excellent Hardware Designs
With the special design of its antenna, appearance, power options and installation methods, EAP110-Outdoor can perfectly fit for different scenarios both indoors and outdoors.
Detachable Antennas
EAP110-Outdoor is designed with 2 Omni-directional detachable antennas, which means other antennas can also be attached for your specific demands.
Delicate Appearance Even Better for Indoor Applications
EAP110-Outdoor is just similar to a cellphone, with dimension: 8.5 × 1.8 × 1.1in. (215 × 46 × 27mm)
215mm
138mm
Supports Passive PoE for Easy Outdoor Set up
Do away with DC power adapters and power cords with passive Power over Ethernet (PoE), making outdoor deployment simple and fast.
10/100Mbps Ethernet Port 24V Passive PoE
Flexible Deployment
EAP110-Outdoor can be easily installed to a pole or on a wall with the mounting kits provided.
Wi-Fi That Goes the Distance
With high transmission power and two high-gain omnidirectional antennas,
EAP110-Outdoor provides stable wireless coverage at a range of up to 200 meters* in outdoor settings.
High Transmission Power
High-Gain Antennas
*Based on field tests. The Real transmission range may vary, according to the environment, receiving the device, etc.
Specially Designed Weatherproof Enclosure for
Outdoor Environment
Rated as IP65 during Ingress Protection testing, a resilient weatherproof enclosure protects the access points against the harsh outdoor condition.
Lightning Protection and ESD Protection
Cloud Centralized Management
- Anytime, Anywhere
Omada Hardware Controller OC200 and Omada Software Controller make it easy to manage and monitor the whole Omada network in real-time, while cloud service enables remote and secure access no matter where you find yourself.
Easy Management with the Omada App
Follow configuration instructions on the free Omada app to get set up in minutes. Omada lets you configure settings, monitor the network status and manage clients, all from the convenience of a smartphone or tablet.
Meet Our New Hero Product!
The OC200 Omada Hardware Controller is dedicated to providing centralized management for the whole Omada network.
Omada Hardware Controller
OC200
Hospitality

TP-Link Omada allows hotels to build reliable WiFi networks. Hotel WiFi network solutions including network topology, design, features, installation, and products are introduced.

Пълно хотелско Wi-Fi покритие и кабелни връзки
Гъвкав контрол на гостите
Непрекъснат роуминг в хотелските Wi-Fi мрежи
Лесно управление

Education

Due to its reliable, scalable, and secure network solution, TP-Link has been widely acknowledged by global customers in the Education market ranging from infant schools with a few APs up to colleges and universities with hundreds of APs.

Лесно управление
Wi-Fi с висока плътност
Пълно Wi-Fi покритие и кабелни връзки
VPN и сигурност

Outdoor WiFi

TP-Link Omada outdoor WiFi access points offer smooth outdoor WiFi experience for outdoor events, WiFi outside home, or in the garden, yard, outdoor swimming pool, outdoor café, outdoor barns and shed. With Omada outdoor WiFi extenders, the outdoor wifi system is ideal for wirelessly connecting outdoor camera and outdoor speakers.

Външен Wi-Fi обхват на дълго разстояние
Wi-Fi на открито за камери и събития на открито и Wi-Fi мрежа извън дома
Идеален за Wi-Fi на открито в градината, открития плувен басейн и кафене на открито.
Външен Wi-Fi удължител с IP67 или IP65 устойчив на атмосферни влияния корпус
Shuraa Facilities Management LLC

Shuraa Facilities Management LLC избира TP-link за внедряване на безжични услуги

Shuraa Facilities Management LLC

Shuraa Facilities Management LLC избира TP-link за внедряване на безжични услуги

"The hotel has overcome some of its Wi-Fi internet connectivity for guests following the implementation of TP-Link's solutions. In addition, it has been able to provide connectivity in more than 100 guest apartments without compromising of guest comfort and experience."
ХАРДУЕРНИ ХАРАКТЕРИСТИКИ
Интерфейс
Fast Ethernet (RJ-45) порт х1(поддържа пасивно PoE)

Бутон
Ресет

Захранване
24 V DC / 0,6 A пасивно PoE захранване

Консумирана енергия
6,3 W

Размери (Ш x Д x В )
8,2 × 3,7 × 1,7 инча (209 × 95 × 42.6 mm)

Тип антена
2х 5 dBi външни, ненасочени, водоустойчиви

Weatherproof Enclosure
IP65
Монтаж
Монтаж на стълб / на стена (включени монтажни комплекти)

Уочдог
Да

БЕЗЖИЧНИ ХАРАКТЕРИСТИКИ
Безжични стандарти
IEEE 802.11n/g/b
Честотa
2,4GHz
Скорост на сигнала
11n: до 300 Mbps (динамично)
11g: до 54 Mbps (динамично)
11b: до 11 Mbps (динамично)

Предавателна мощност
CE:
<20 dBm
FCC:
<27 dBm

Безжични функции
Множество SSID(до 8 SSID)
Активиране/деактивиране на безжичната комуникация
Автоматично задаване на канали
Контрол на предавателната мощност (настройка на предавателната мощност в dBm)
QoS(WMM)
Баланс на товарите
Ограничение на скоростта
График за рестартиране
Безжичен график
Безжична статистика на базата на SSID/AP/Клиент

Безжична сигурност
Портал за автентификация на посетителите
Контрол на достъпа
Безжично филтриране по МАС адрес
Безжична изолация между клиентите
SSID към VLAN мапинг
Откриване на измамни AP
Поддръжка на 802.1X
64/128/152-битово WEP / WPA / WPA2-Enterprise,
WPA-PSK / WPA2-PSK

MANAGEMENT
Omada App
Yes
Auranet Controller Software
Да

Centralized Management
• Omada Cloud-Based Controller - Coming soon
• Omada Hardware Controller (OC300) - Coming soon
• Omada Hardware Controller (OC200)
• Omada Software Controller
Cloud Access
Yes (Through OC200, Omada Software Controller)
Yes (Through OC300, Omada Cloud-Based Controller) - Coming soon
Сигнали по електронна поща
Да

Управление Вкл/Изкл на LED
Да

Управление на контрола на достъпа по МАС адрес
Да

SNMP
Да

Влизане в системата Локално/Отдалечение
Да

Telnet
Да

SSH
Yes
Уеб-базирано управление
HTTP/HTTPS
L3 управление
Да

Управление на множество сайтове
Да

Управление на VLAN
Да

ДРУГИ
Сертификати
CE, FCC, RoHS
Съдържание на пакета
300 Mbps безжична N точка за достъп за монтаж на открито, EAP110-Outdoor
Пасивен РоЕ адаптер
Захранващ кабел
Монтажни комплекти
Водоустойчива гумена вложка
Водоустойчиви антени
Ръководство за инсталация

Системни изисквания
Microsoft Windows XP, Vista, Windows 7, Windows 8, Windows10

Околна среда
Температура при работа: 0℃~40℃ (32℉~104℉)
Температура при съхранение: -40℃~70℃ (-40℉~158℉)
Влажност при работа: 10%~90% некондензираща
Влажност при съхранение: 5%~90% некондензираща

* Максималните скорости на безжичния сигнал са физическите скорости, получени от IEEE Standard 802.11 спецификации. Действителната безжична пропускане на данни и безжичното покритие не са гарантирани и ще варират в резултат на 1) фактори на околната среда, включително строителни материали, физически обекти и препятствия, 2) мрежови условия, включително локална намеса, обем и плътност на трафика, местоположение на продукта, сложност на мрежата и мрежови режийни разходи и 3) ограничения на клиента, включително номинална производителност, местоположение, връзка, качество и състояние на клиента.
* Защита срещу мълнии и електростатичен разряд може да бъде постигната чрез правилна настройка на продукта, заземяване и кабелна защита. Обърнете се към ръководството за инструкции и се консултирайте с ИТ специалист, който да ви помогне да настроите този продукт.
From United States?
Get products, events and services for your region.