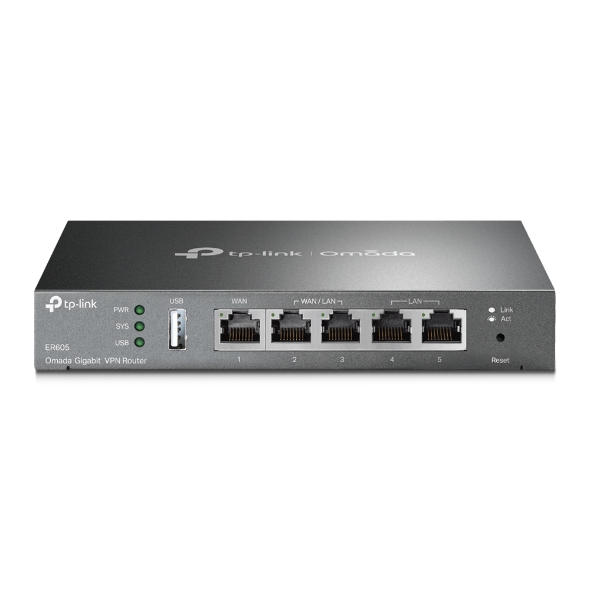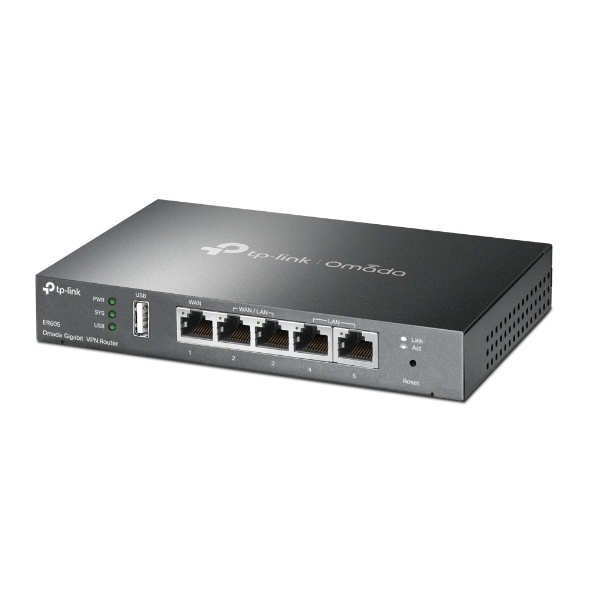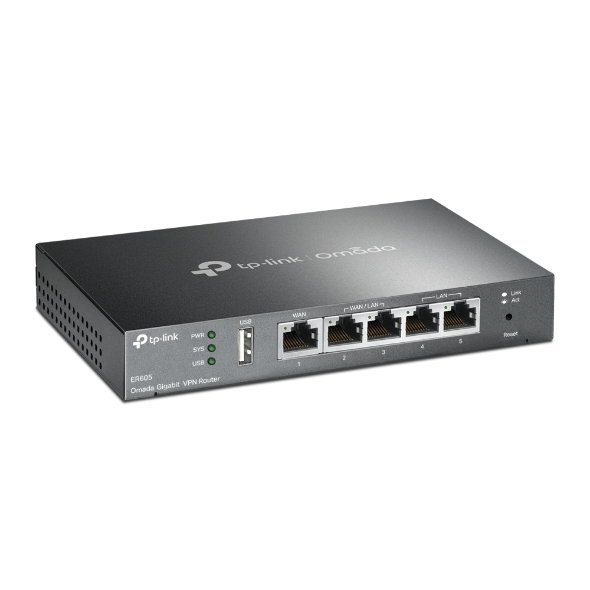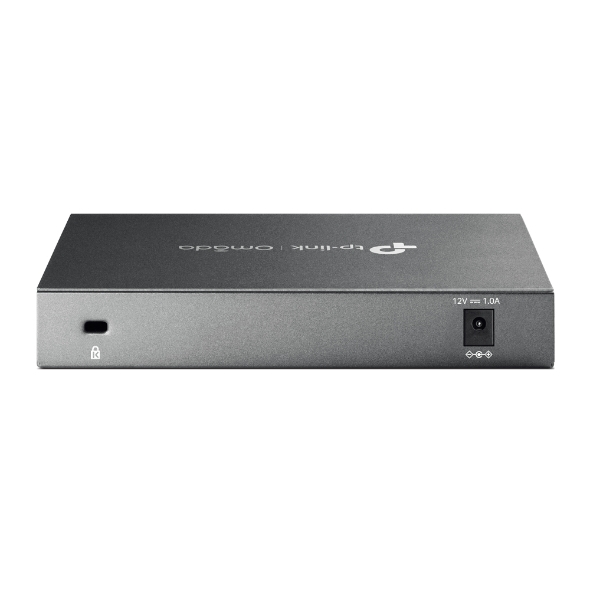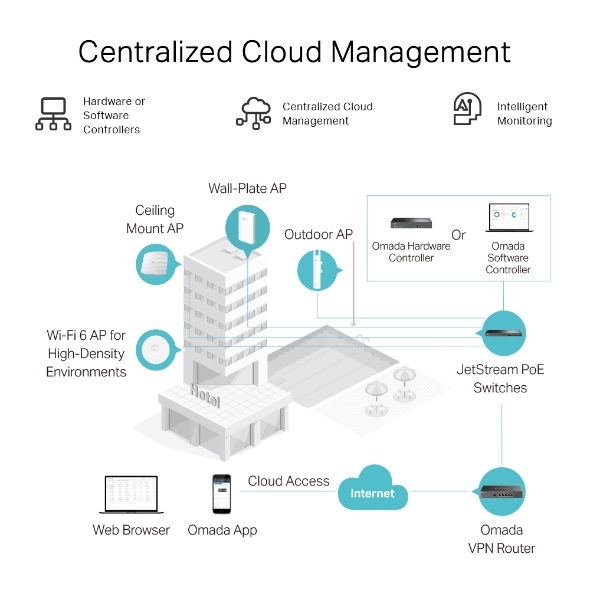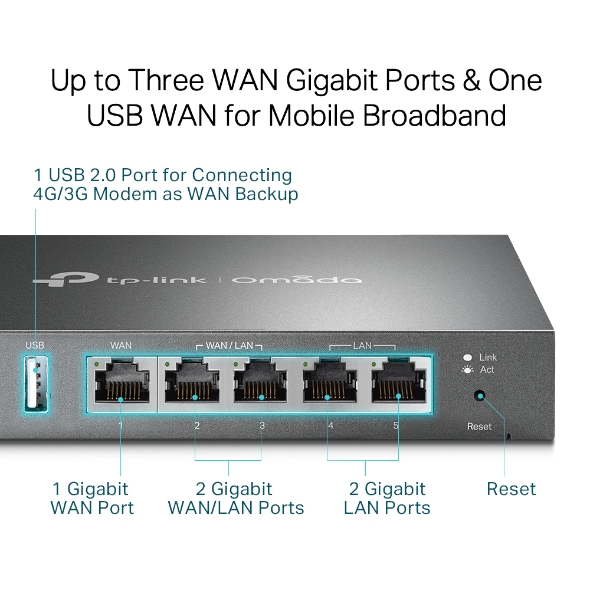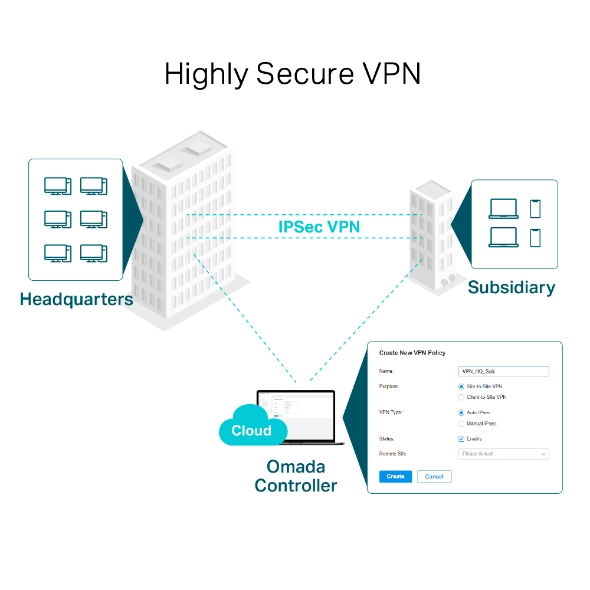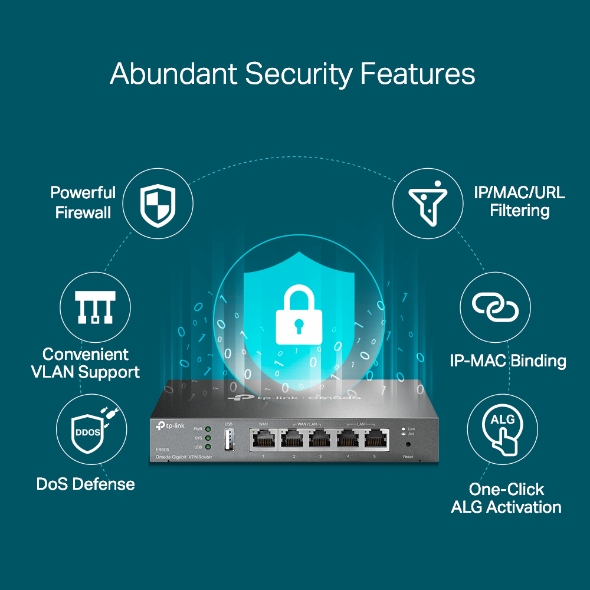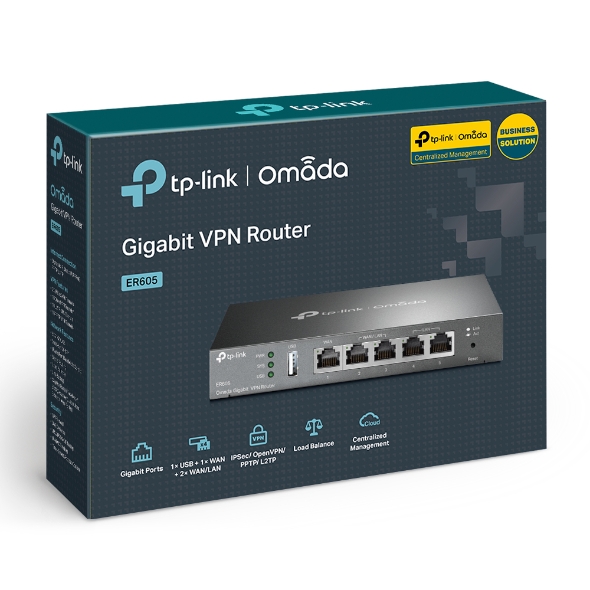 Integrated into Omada SDN: Centralized Cloud Management and Intelligent Monitoring.
Centralized Management: Cloud access and Omada app for convenience and easy management.
Five Gigabit Ports: High-speed wired connectivity.
Up to 3 WAN Ethernet Ports: 1 gigabit WAN port and 2 gigabit WAN/LAN ports with load balance raise the utilization rate of multi-line broadband.
One USB WAN Port for Mobile Broadband: Mobile broadband via 4G/3G modem is supported for WAN backup by connecting to the USB port.
Highly Secure VPN: Supports up to 20× LAN-to-LAN IPsec, 16× OpenVPN*, 16× L2TP, and 16× PPTP VPN connections.
Abundant Security Features: Advanced firewall policies, DoS defense, IP/MAC/URL filtering, and more security functions protect your network and data.
Centralized Management
Professional,
Secure, and Reliable Gigabit VPN Router
ER605
Centralized Management

Gigabit Ports

1 USB + 1 WAN + 2 WAN/LAN

Load Balance

IPSec/OpenVPN/ PPTP/L2TP

Powerful Firewall

VLAN

Omada App
Omada SDN—The Smarter Cloud Solution for Business Networking
As the gateway that seamlessly integrates into the Omada Software Defined Networking (SDN) platform, ER605 allows for remote and centralized management, anywhere, anytime. Standalone management via the Web UI or app is also available to maximize convenience.
Hardware or Software Controllers

Centralized Cloud Management

Intelligent Monitoring
Wi-Fi 6 AP for High-Density Environments
Omada Hardware Controller
Omada Software Controller
Up to Three WAN Gigabit Ports & One USB WAN for Mobile Broadband
Two freely interchangeable ports allow the router to support up to three WAN ports for various Internet access requirements. The multi-WAN Load Balancing function distributes data streams according to the bandwidth proportion of every WAN port to raise the utilization rate of multi-line broadband.
Mobile broadband via 4G/3G modem by connecting to the USB port is also supported for WAN backup.
1× USB 2.0 Port for Connecting 4G/3G Modem as WAN Backup
High-Security and High-Performance VPN
ER605 supports IPSec/PPTP/L2TP VPN over IPSec/SSL protocols. One-click auto IPSec VPN* greatly simplifies VPN configuration and facilitates network management and deployment. It also secures and encrypts private site-to-site data communications traveling over the internet. This version improves VPN performance by 4–5 times thanks to the open line of communication with Omada's user base.
Abundant Security Features
Powerful Firewall
Advanced firewall policies
protect your network and data.
Convenient VLAN Support
Create virtual network segments for
enhanced security and simplified
network management.
DoS Defense
Automatically detects and blocks Denial of Service
(DoS) attacks such as TCP/UDP/ICMP Flooding, Ping
of Death, and other related threats.
IP/MAC/URL Filtering
Forcefully prevent viruses and attacks
from intruders.
IP-MAC Binding
Reserves static IP assignment for
clients to defend against ARP
attacks and spoofing.
One-Click ALG Activation
One-Click ALG Activation for
applications such as FTP, H323, SIP,
IPSec and PPTP.
Internet Access Management Strategy
Administrators can moderate users' online behavior and easily specify employees' internet access rights and strategies via IP/MAC/URL Filtering and Access Control List (ACL). Captive Portal authentication facilitates network resource control by capturing, authenticating, and classifying user access. Appropriate network resources can also be allocated for particular users or guests.
Easy Management with the Omada App
Follow configuration instructions on the free Omada app to get set up in minutes. Omada lets you configure settings, monitor the network status, and manage clients, all from the convenience of a mobile device.
CARACTERÍSTICAS DE HARDWARE
Estándares y Protocolos
• IEEE 802.3, 802.3u, 802.3ab, IEEE 802.3x, IEEE 802.1q• TCP/IP, DHCP, ICMP, NAT, PPPoE, NTP, HTTP, HTTPS, DNS, IPSec, PPTP, L2TP, OpenVPN, SNMP
Interface
• 1 Fixed Gigabit WAN Port• 1 Fixed Gigabit LAN Port• 3 Changeable Gigabit WAN/LAN Ports
Medios de red
• 10BASE-T: UTP category 3, 4, 5 cable (Max 100m)EIA/TIA-568 100Ω STP (Max 100m)• 100BASE-TX: UTP category 5, 5e cable (Max 100m)EIA/TIA-568 100Ω STP (Max 100m)• 1000BASE-T: UTP category 5, 5e, 6 cable (Max 100m)
Botón
Reset Button
Fuente de alimentación
External 9V/0.85A DC Adapter
Flash
SPI 16MB
DRAM
128 MB
LED
PWR, SYS, WAN, LAN
Dimensiones (An x Pr x Al)
6.2 × 4.0 × 1.0 in (158 × 101 × 25mm)
Consumo máximo de energía
7.94 W
DESEMPEÑO
Sesión concurrente
25,000
New Sessions /Second
2,600
NAT (Static IP)
• Upload: 945.77 Mbps• Download: 945.56 Mbps• Bi-Directional: 1808.29 Mbps
NAT(DHCP)
• Upload: 945.93 Mbps• Download: 945.43 Mbps• Bi-Directional: 1808.11 Mbps
NAT(PPPoE)
• Upload: 940.44Mbps• Download: 940.52 Mbps• Bi-Directional: 1804.27 Mbps
NAT (L2TP)
• Upload: 845.64 Mbps• Download: 802.65 Mbps• Bi-Directional: 931.96 Mbps
NAT (PPTP)
• Upload: 771.66 Mbps• Download: 874.81 Mbps• Bi-Directional: 999.54 Mbps
64 Byte Packet Forwarding Rate
• Upload/Download: 1,402,238 pps• Bi-Directional: 1,681,548 pps
Rendimiento de VPN IPsec
41.5 Mbps
OpenVPN
• 21.70 Mbps
L2TP VPN Throughput
• Unencrypted: 864.65 Mbps• Encrypted: 47.11 Mbps
PPTP VPN Throughput
• Unencrypted: 703.20 Mbps• Encrypted: 76.65 Mbps
FUNCIONES BÁSICAS
Tipo de conexión WAN
• Static/Dynamic IP• PPPoE• PPTP• L2TP
Clon de MAC
Modify WAN/LAN MAC Address†
DHCP
• DHCP Server/Client• DHCP Address Reservation• Multi-net DHCP*• Multi-IP Interfaces*
IPv6
Developing‡
VLAN
802.1Q VLAN
IPTV
IGMP v2/v3 Proxy
FUNCIONES AVANZADAS
ACL
IP/Port/Protocol/Domain Name Filtering
camino avanzado
• Static Routing• Policy Routing
Control de Ancho de Banda
• IP/Port-based Bandwidth Control• Guarantee & Limited Bandwidth
Equilibrio de carga
• Intelligent Load Balance• Application Optimized Routing• Link Backup (Timing§, Failover)• Online Detection
NAT
• One-to-One NAT§• Multi-Net NAT• Virtual Server• Port Triggering§• NAT-DMZ• FTP/H.323/SIP/IPSec/PPTP ALG, UPnP
Seguridad
• SPI Firewall• VPN Passthrough• FTP/H.323/PPTP/SIP/IPsec ALG• DoS Defence, Ping of Death• Local Management
Límite de sesión
IP-based Session Limit
VPN
IPsec VPN
• 20 IPsec VPN Tunnels• LAN-to-LAN, Client-to-LAN• Main, Aggressive Negotiation Mode• DES, 3DES, AES128, AES192, AES256 Encryption Algorithm• IKEv1/v2*• MD5, SHA1 Authentication Algorithm• NAT Traversal (NAT-T)• Dead Peer Detection (DPD)• Perfect Forward Secrecy (PFS)*These functions require the use of Omada Hardware Controller, Software Controller, or Cloud-Based Controller
PPTP VPN
• PPTP VPN Server• 10 PPTP VPN Clients△• 16 Tunnels• PPTP with MPPE Encryption
L2TP VPN
• L2TP VPN Server• 10 L2TP VPN Clients△• 16 Tunnels• L2TP over IPSec
VPN abierta
• OpenVPN Server*• 10 OpenVPN Clients*△• 16 OpenVPN Tunnels*
SEGURIDAD
Filtración
WEB Group Filtering§URL FilteringWeb Security§
Inspección ARP
• Sending GARP Packets§• ARP Scanning§• IP-MAC Binding§
Defensa de ataque
• TCP/UDP/ICMP Flood Defense• Block TCP Scan (Stealth FIN/Xmas/Null)• Block Ping from WAN
Control de acceso
Source/Destination IP Based Access Control
AUTENTICACIÓN
Autenticación web
• No Authentication• Simple Password*• Hotspot(Local User / Voucher* / SMS* / Radius*)• External Radius Sever• External Portal Sever*• Facebook*
ADMINISTRACIÓN
Aplicación Omada
Yes
Gestión centralizada
• Omada Cloud-Based Controller• Omada Hardware Controller (OC300)• Omada Hardware Controller (OC200)• Omada Software Controller
Acceso a la nube
Yes (Through OC300, OC200, Omada Cloud-Based Controller, or Omada Software Controller)
Servicio
Dynamic DNS (Dyndns, No-IP, Peanuthull, Comexe)
Mantenimiento
• Time Setting• Diagnostic• Firmware Upgrade• Factory Defaults/Reboot• Backup&Restore• System Log• Remote Management• Statistics• Controller Settings• SNMP
Funciones de gestión
• Automatic Device Discovery• Intelligent Network Monitoring• Abnormal Event Warnings• Unified Configuration• Reboot Schedule• Captive Portal Configuration• ZTP (Zero-Touch Provisioning)**
OTROS
Certificación
CE, FCC, RoHS
contenidos del paquete
• Gigabti VPN Router ER605• Power Adapter• RJ45 Ethernet Cable• Quick Installation Guide
Requisitos del sistema
Microsoft® Windows® 10, 8, 7,Vista™, XP or MAC® OS, NetWare®, UNIX® or Linux
Ambiente
• Operating Temperature: 0–40 ℃ (32–104 ℉);• Storage Temperature: -40–70 ℃ (-40–158 ℉)• Operating Humidity: 10–90% RH non-condensing• Storage Humidity: 5–90% RH non-condensing
*These functions requires the use of Omada Hardware Controller or Software Controller.
† LAN MAC Address can be modified only in Standalone Mode.
§ These functions are supported only in Standalone Mode.
△ER605 can work as a VPN client and can connect with up to 10 VPN servers.
Desde United States?
Obtenga productos, eventos y servicios para su región.