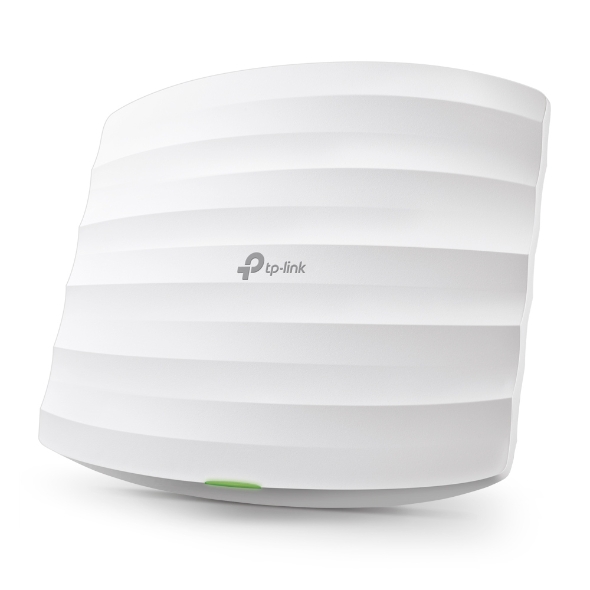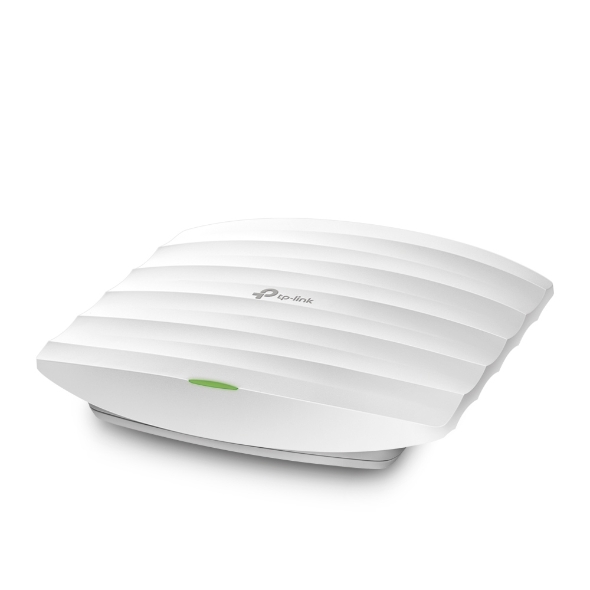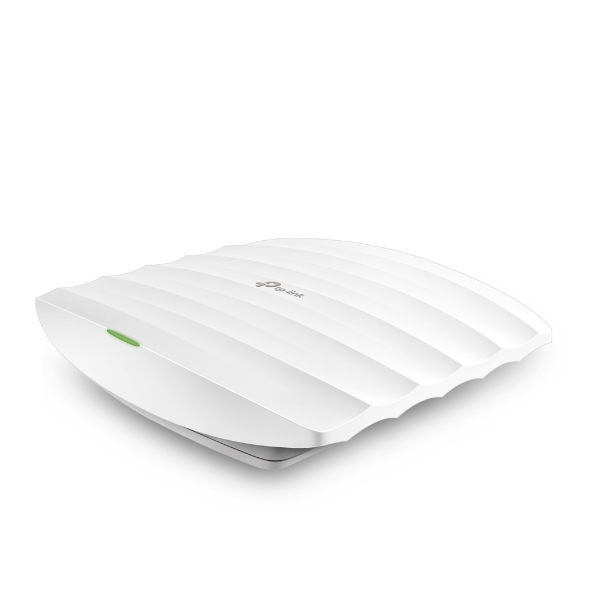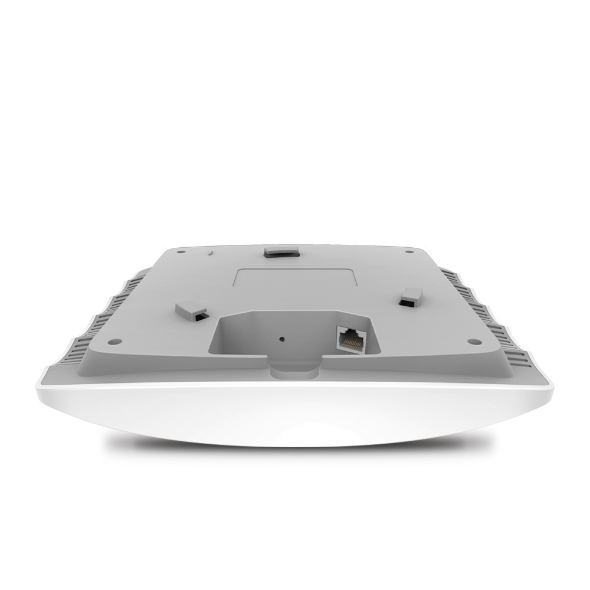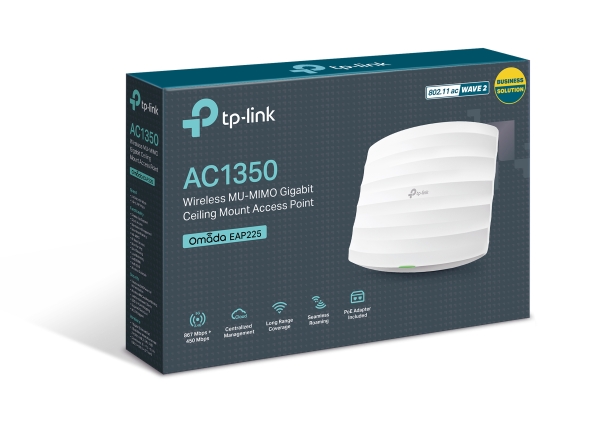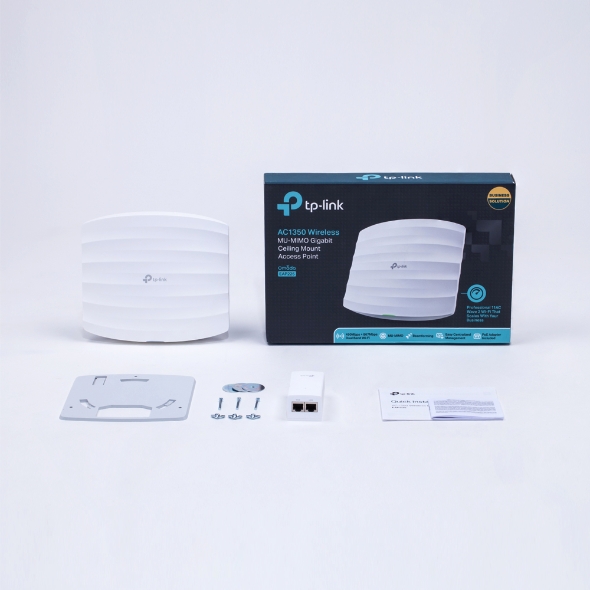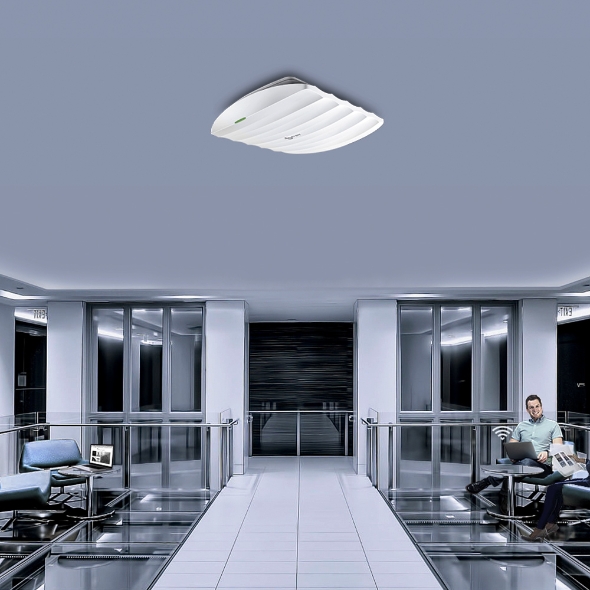 EAP225
Punto de acceso inalámbrico de Montaje en techo MU-MIMO Gigabit AC1350
450Mbps simultáneos en 2.4GHz y 867Mbps en 5GHz totalizan velocidades de Wi-Fi de 1317Mbps
Admite roaming continuo para que incluso las transmisiones de video y las llamadas de voz no se vean afectadas a medida que los usuarios se mueven entre ubicaciones
Administración centralizada en la nube y aplicación Omada para mayor comodidad y fácil administración
La compatibilidad con 802.3af y el soporte pasivo de PoE (adaptador PoE incluido) hace que la implementación sea fácil y flexible
Red de invitados segura junto con múltiples opciones de autenticación (SMS / Facebook Wi-Fi / Vale, etc.) y abundantes tecnologías de seguridad inalámbrica.
Dirección de banda Mueve automáticamente los dispositivos de doble banda a la banda más amplia de 5 GHz para conexiones más rápidas
MU-MIMO significa que los puntos de acceso transfieren datos simultáneamente con múltiples dispositivos, acelerando las conexiones
Beamforming concentra la señal hacia donde más la necesita, proporcionando una experiencia Wi-Fi rápida y estable
Los horarios se pueden configurar para que los puntos de acceso se reinicien automáticamente y el Wi-Fi se active / desactive en el momento que elija.
Una Solución Wi-Fi 802.11ac MU-MIMO de Clase Empresarial

Velocidades de Wi-Fi superiores con tecnología MU-MIMO
Equipado con la última tecnología 802.11ac Wave 2 MU-MIMO, el EAP225 ofrece fácilmente velocidades de Wi-Fi de doble banda de hasta 1350 Mbps a múltiples dispositivos al mismo tiempo.
SU-MIMO tradicional
(MIMO de usuario único) AP
envía datos a un dispositivo a la vez que causa más latencia
MU-MIMO
(MIMO multiusuario) EAP

envía simultáneamente datos a múltiples dispositivos para una velocidad más rápida
Cloud Centralized Management
- Anytime, Anywhere
Omada Hardware Controller OC200 and Omada Software Controller make it easy to manage and monitor the whole Omada network in real-time, while cloud service enables remote and secure access no matter where you find yourself.
Red segura de invitados con Facebook Wi-Fi y autenticación de SMS
El portal cautivo ayuda a mantener solo invitados autorizados para usar la red, presentando dispositivos con un método de autenticación conveniente y fácil de usar para otorgar acceso a Wi-Fi. La incorporación de la autenticación por SMS y Facebook simplifica aún más el portal cautivo para simplificar la conectividad e impulsar su negocio.
.
Múltiples opciones de PoE para una fácil instalación
EAP225 admite la fuente de alimentación 802.3af PoE y pasiva PoE, que puede alimentarse mediante un conmutador PoE o el adaptador PoE proporcionado, lo que hace que la implementación sea fácil y flexible.
Gigabit Ethernet
Puerto 802.3af PoE /
PoE pasivo de 24 V
Administración fácil con la aplicación Omada
Siga las instrucciones de configuración en la aplicación gratuita Omada para configurarlo en minutos. Omada le permite configurar ajustes, monitorear el estado de la red y administrar clientes, todo desde la comodidad de un teléfono inteligente o tableta.
Meet Our New Hero Product!
The OC200 Omada Hardware Controller is dedicated to providing centralized management for the whole Omada network.
Omada Hardware Controller
OC200
Más >
Soluciones Relacionadas
Hoteleria

TP-Link Omada allows hotels to build reliable WiFi networks. Hotel WiFi network solutions including network topology, design, features, installation, and products are introduced.

Full WiFi coverage and wired connections
Flexible guest control
Seamless roaming
Easy Management

Educacion

Due to its reliable, scalable, and secure network solution, TP-Link has been widely acknowledged by global customers in the Education market ranging from infant schools with a few APs up to colleges and universities with hundreds of APs.

Easy management
High-density WiFi
Full WiFi coverage and wired connections
VPN and security

Venta minorista

A good wireless network cannot only serve the network office system of the mall, but also bring a more comfortable shopping experience to customers. The TP-Link Omada SDN Solution empowers store owners to create a modern and compelling in-store experience for every customer.

Boost online business
Full WiFi coverage
Seamless roaming
High-concurrent clients
Easy management
Arion Hotel

La solución de red adecuada de TP-Link ha mejorado la experiencia de conexión general en Arion Hotel

Arion Hotel

La solución de red adecuada de TP-Link ha mejorado la experiencia de conexión general en Arion Hotel

"Sabíamos que nuestras instalaciones tenían problemas de cableado. Habíamos probado otras soluciones de redes sin éxito. Apreciamos mucho el hecho de que cuando nos acercamos a TP-Link y su socio (Go Group), no solo intentaron vendernos materiales, sino que también hicieron una encuesta basada en las necesidades y una encuesta del sitio. Fue crucial que el diseño, instalación y operación sugeridos, no se basara en la mejor solución disponible sino en la solución más adecuada, para nuestro caso, como dijo el Project Manager de TP-Link. El resultado fue mucho más de lo esperado. y contribuye a una experiencia de cliente notable, junto con una operación de hospitalidad fluida ". —- Gerente Comercial de Arion Hotel

Regional Hospital No.1

Providing Wi-Fi for Regional Hospital No.1 of the Tyumen Region

Regional Hospital No.1

Providing Wi-Fi for Regional Hospital No.1 of the Tyumen Region

"TP-Link Wi-Fi solution provided the Regional Hospital No.1 with Internet access for the patients, as well as enterprise Wi-Fi network to facilitate the Smart-medicine concept. The solution, offered by the partner "First integrator", is easily scalable and allows integration in other hospital units in the long term."
CARACTERÍSTICAS DE HARDWARE
Interface
Gigabit Ethernet (RJ-45) Port×1 (Support IEEE802.3af PoE and Passive PoE)
Bloqueo de seguridad física
Yes
Botón
Reset
Fuente de alimentación
802.3af/A PoE24V Passive PoE (+4,5pins; -7,8pins. PoE Adapter Included)
Consumo de Poder
EU: 10.5 W US: 12.6W
Dimensiones (An x Pr x Al)
8.1 × 7.1 × 1.5 in (205.5 × 181.5 × 37.1 mm)
Dimensiones
8.1 × 7.1 × 1.5 in. (205.5 × 181.5 × 37.1 mm)
Tipo de Antena
3 Internal Omni2.4GHz: 4dBi5GHz: 5dBi
Montaje
Ceiling /Wall Mounting (Kits included)
Watch Dog por Hardware
Yes
CARACTERÍSTICAS INALÁMBRICAS
Estándares inalámbricos
IEEE 802.11ac/n/g/b/a
Frecuencia
2.4GHz and 5GHz
Tasa de señal
5GHz:Up to 867Mbps2.4GHz:Up to 450Mbps
Funciones inalámbricas
Multiple SSIDs (Up to 16 SSIDs, 8 for each band)Enable/Disable Wireless RadioAutomatic Channel AssignmentTransmit Power Control (Adjust Transmit Power on dBm)QoS(WMM)Seamless RoamingBand SteeringLoad BalanceMU-MIMOAirtime FairnessBeamformingRate LimitReboot ScheduleWireless ScheduleWireless Statistics based on SSID/AP/Client
Seguridad inalámbrica
Captive Portal AuthenticationAccess ControlWireless Mac Address FilteringWireless Isolation Between ClientsSSID to VLAN MappingRogue AP Detection802.1X Support
Poder de transmision
CE:≤20dBm(2.4GHz,EIRP)≤23dBm(5GHz,EIRP)FCC:≤24dBm(2.4GHz)≤22dBm(5GHz)
ADMINISTRACIÓN
Acceso a la nube de Omada
Yes
Aplicación Omada
Yes
Controlador de nube Omada
Yes
Gestión centralizada
• Omada Cloud-Based Controller• Omada Hardware Controller (OC300)• Omada Hardware Controller (OC200)• Omada Software Controller
Software del controlador Omada
Yes
Acceso a la nube
Yes (Through OC300, OC200, Omada Cloud-Based Controller, or Omada Software Controller)
Software del controlador EAP
Yes
Alertas de correo electrónico
Yes
Control de LED ENCENDIDO / APAGADO
Yes
Gestión de control de acceso MAC
Yes
SNMP
v1,v2c
Registro del sistema Local / Remote Syslog
Local/Remote Syslog
Telnet
Yes
SSH
Yes
Gestión basada en web
HTTP/HTTPS
Gestión L3
Yes
Gestión de múltiples sitios
Yes
VLAN de administración
Yes
OTROS
Certificación
CE, FCC, RoHS
contenidos del paquete
AC1350 Wireless MU-MIMO Gigabit Ceiling Mount Access Point EAP225Passive PoE AdapterPower CordMounting KitsInstallation Guide
Requisitos del sistema
Microsoft Windows XP, Vista, Windows 7, Windows 8, Windows10, Linux
Ambiente
Operating Temperature: 0℃~40℃ (32℉~104℉)Storage Temperature: -40℃~70℃ (-40℉~158℉)Operating Humidity: 10%~90% non-condensingStorage Humidity: 5%~90% non-condensing
* Las velocidades máximas de señal inalámbrica son las velocidades físicas derivadas de las especificaciones IEEE Standard 802.11. El rendimiento real de los datos inalámbricos y la cobertura inalámbrica no están garantizados y variarán como resultado de 1) factores ambientales, incluidos materiales de construcción, objetos físicos y obstáculos, 2) condiciones de la red, incluidas interferencias locales, volumen y densidad del tráfico, ubicación del producto, complejidad de la red y sobrecarga de la red, y 3) limitaciones del cliente, incluido el rendimiento, la ubicación, la conexión, la calidad y la condición del cliente.
** Las funciones de MU-MIMO, Airtime Fairness y Beamforming, especificaciones de 3 antenas internas Omni, 450 Mbps en 2.4 GHz y Passive PoE solo son compatibles con EAP225 v3.
Desde United States?
Obtenga productos, eventos y servicios para su región.